Just as destination weddings are fast growing in popularity, so are destination wedding dresses. What exactly is a destination wedding dress, you ask? Well, it is nothing but a trendy, practical and cost-effective alternative to the traditional wedding gown. Keep in mind that just because destination wedding gowns are more 'informal' than their conservative counterparts, they are nothing less than spectacular with sleek and simple designs. This is the reason why more and more brides-to-be today are choosing to stray from the multi-layers of frill and lace in favor of the simplistic beauty of a destination wedding dress.
So, when it comes to choosing a destination wedding dress, what are your options? Here are eight unique and stunning wedding dress ideas perfect for your destination wedding… Take your pick!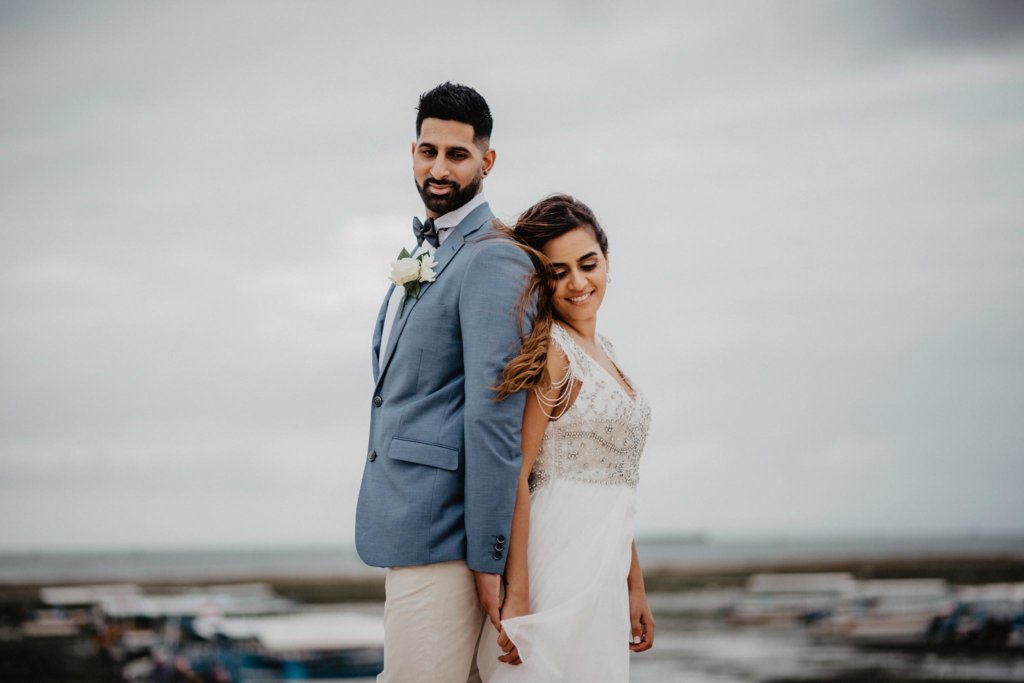 Style: #LD3734, Image Credit: Wah Photo
1. LD5845 – Ines Dress from Lily White Collection
Simple yet sophisticated, this sleeveless wedding dress is perfect for your destination wedding. This dress features a flattering v-neckline that emphasizes the bodice of the gown and is highlighted on either side by pleated straps that extend to the back of the dress. Its light tulle skirt allows for effortless movement and will help you stay relaxed and comfortable throughout your big day. The regal court train finishes off this A-line wedding gown in a stylish way.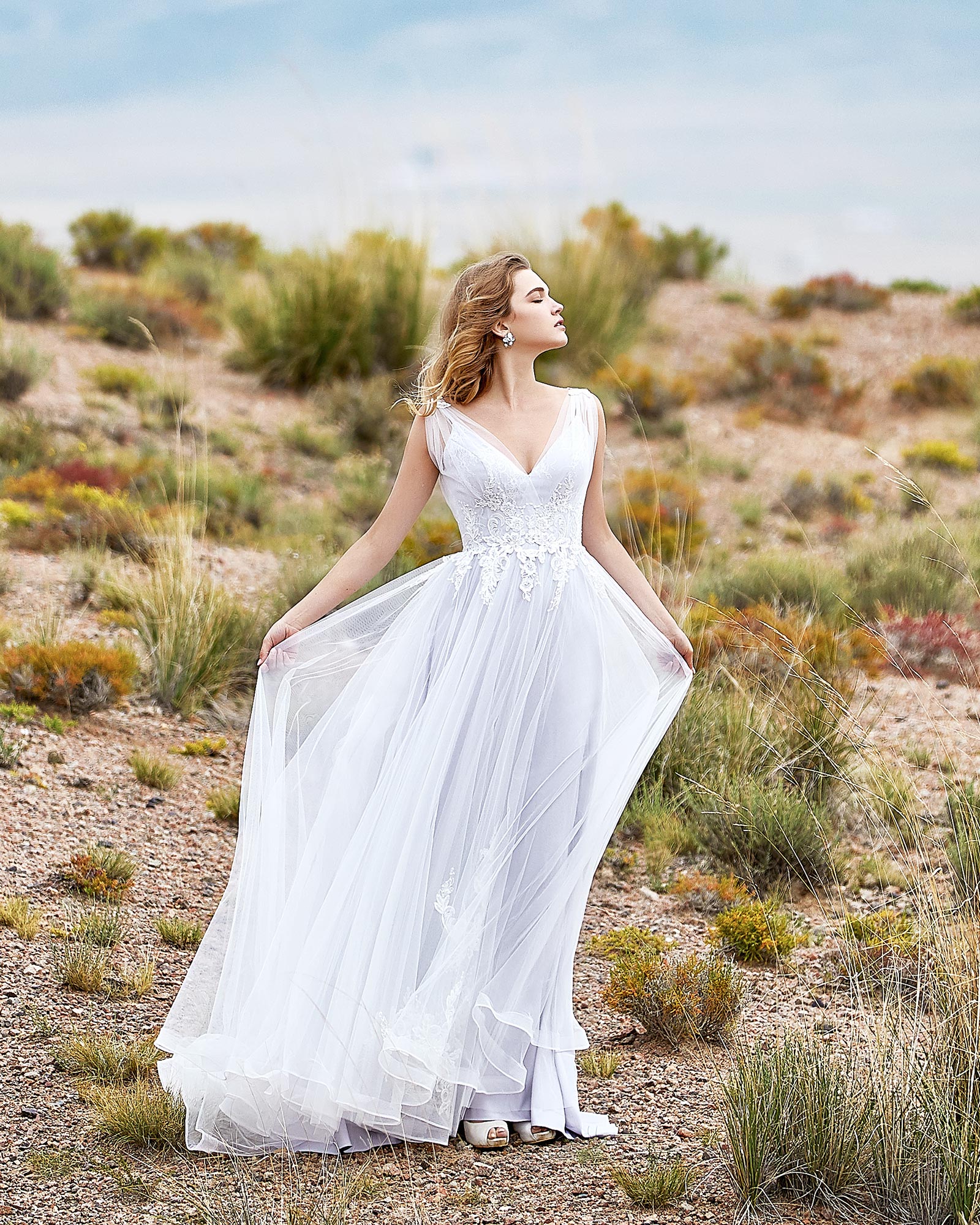 Style: #LD5845
2. LD5833 – Mona Dress from Lily White Collection
If you are looking for a light and chic dress for your destination wedding, what can be better than this sweep-brush train wedding gown? The soft tulle skirt of this gown makes for a figure-flattering A-line silhouette that will certainly make you look and feel more confident and beautiful. Bring some elegance (and excitement) to your wedding day with whimsical appliqués placed on the halter neckline and low back and embroidered feminine floral lace detailing.
Style: #LD5833
3. CWVT15002 from LB Studio Collection
Fall in love with this breathtaking sheath-column bridal gown that will not only make you feel fabulous but also add a little playfulness to your look. The sweetheart neckline with pretty shoulder straps surrounded by artfully-placed crystal beads and lace look wonderful. In addition, its low backless design that zips up beneath crystal buttons makes for a glamorous and dramatic look.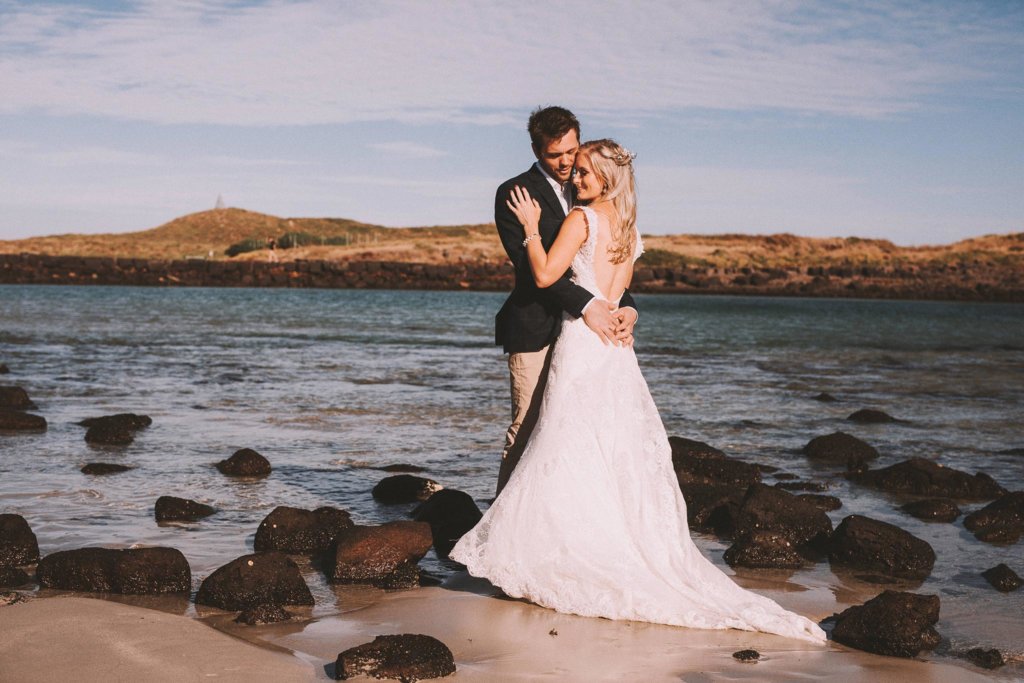 Style: #CWVT15002, Image Credit: Hacking Creative
4. CWXT14061 from LB Studio Collection
This gorgeous sheath wedding dress from Lily White Collection is perfect for the bride who wants to feel light, casual and romantic on her big day. Its open-back design is underlined with appliqués and beading that will add spark and a little eros to your bridal look. Embracing the curves in all the right places, its sheath-column silhouette can give any bride the much desirable hourglass frame.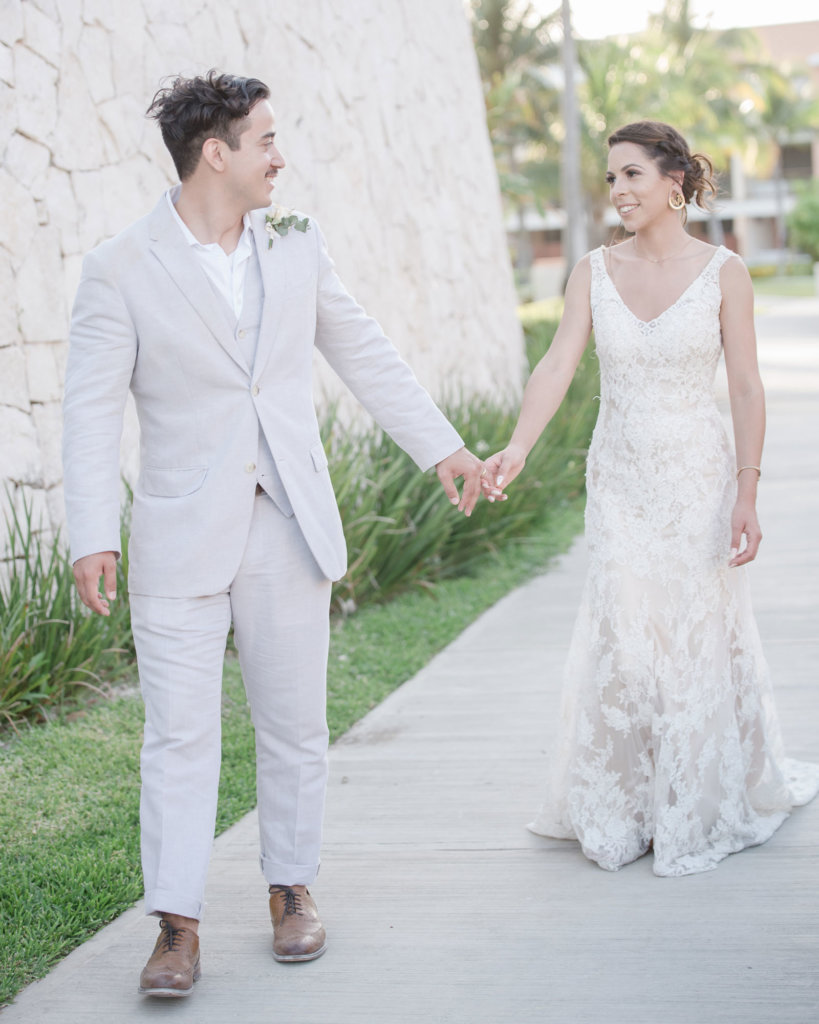 Style: #CWXT14061, Image Credit: Karissa Photography
5. LD2676 from LB Studio Collection
This Grecian-style sheath wedding dress is wonderful for both a romantic beach bride and a laidback boho bride. Gorgeous illusion lace back is the focal point of this beach wedding dress, while subtle lace details around the plunging neckline with short sleeves add a dramatic twist to the whole design. Pleated features and flowy chiffon skirt lend a contemporary and bohemian look to the bride. The elegant sweep-brush train crowns the look of the gown elegantly.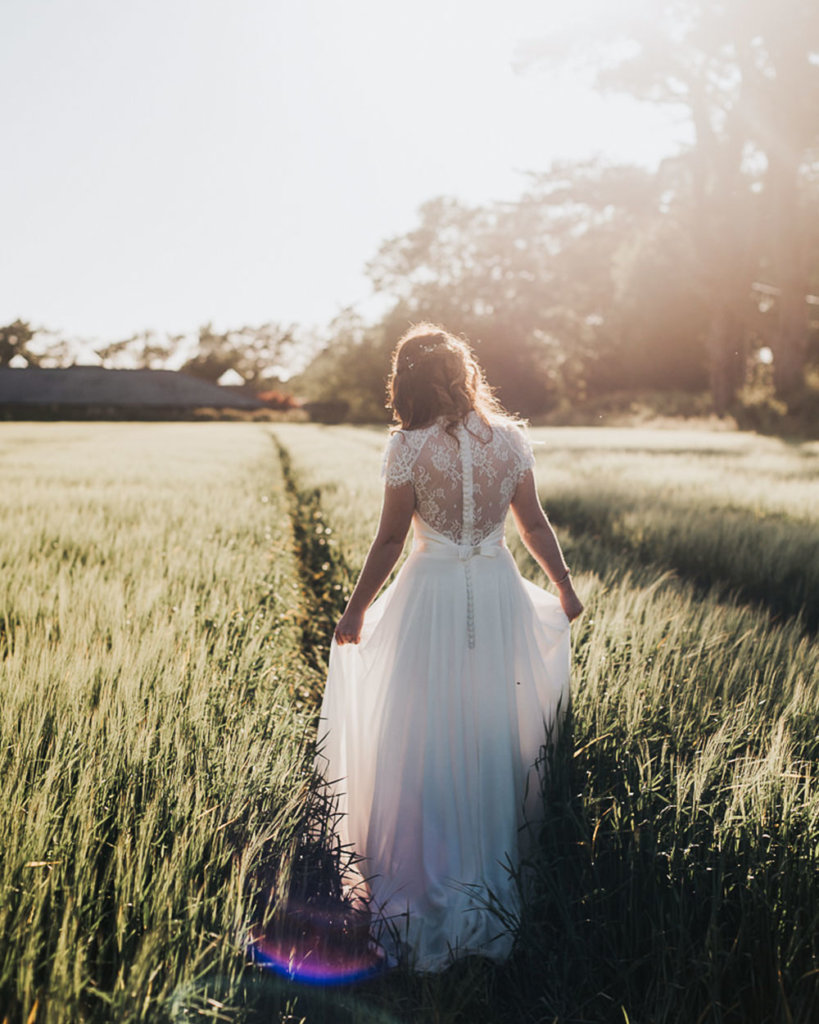 Style: #LD2676, Image Credit: From The Smiths Photography
6. LD3734 from LB Studio Collection
Make a sexy and authoritative statement with this sheath-column chiffon wedding dress. This pretty dress is highlighted with fine beading details and flowy patterns that any bride would love to have in her destination wedding dress. The open-back design with intricate beading details on the bodice of this gown will surely take your beachside affair to the next level.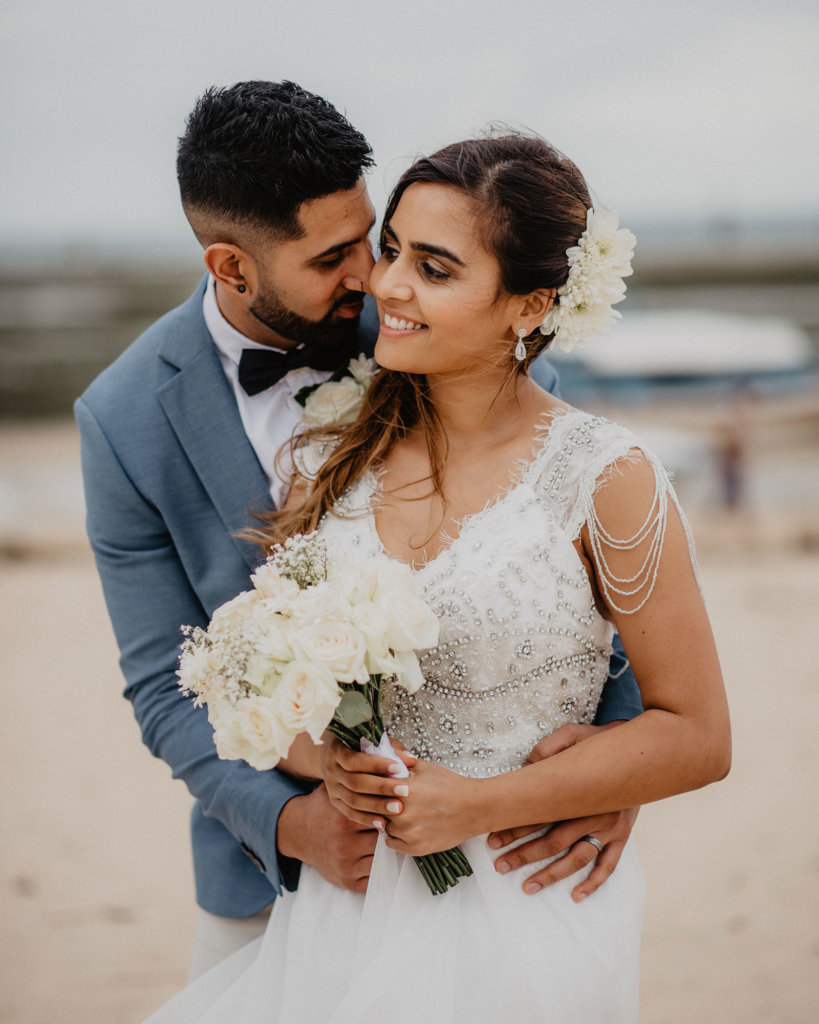 Style: #LD3734, Image Credit: Wah Photo
7. LD3569 from LB Studio Collection
Classic, ethereal and light, this A-line wedding dress is the perfect pick for every boho bride. It has an illusion back with pearl buttons and lace detailing that makes a captivating statement, while the Ivory lace appliquéd bodice has all that it takes to be the focal point of this stunning gown. The grand court train gives it a distinguished look.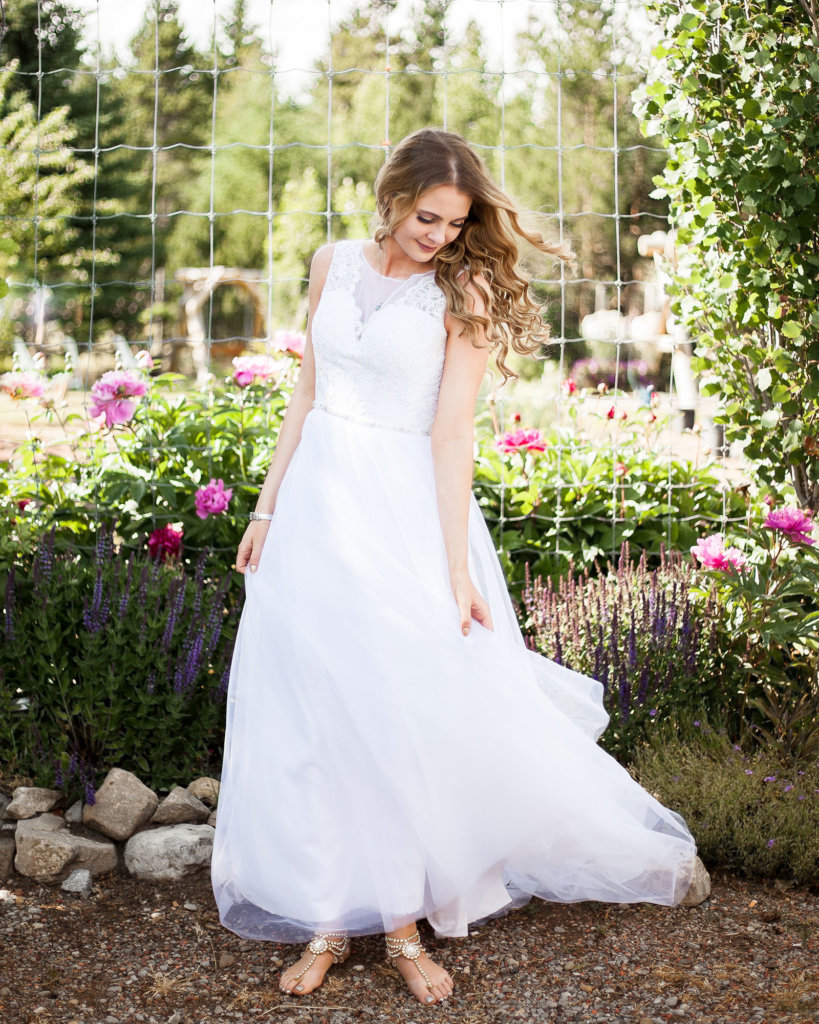 Style: #LD3569, Image Credit: Sally-Ann Taylor Photography
8. LD4317 from LB Studio Collection
Dramatic and glamorous, this gorgeous lace gothic wedding dress will take your guests' breaths away. Featuring an exquisite bateau neckline and fancy lace detailing with illusion neckline, this dress is perfect for brides seeking that lavish and vintage bridal look. The back of this gown features illusion lace detailing with the zipper closure that looks wonderful.
You have chosen the date. You have picked the wedding destination. Now, it is time to choose your wedding dress. Pick any one of these eight gorgeous wedding gowns and we assure you, you will look no less than a real-life Disney Princess when you walk down the aisle in your wedding gown.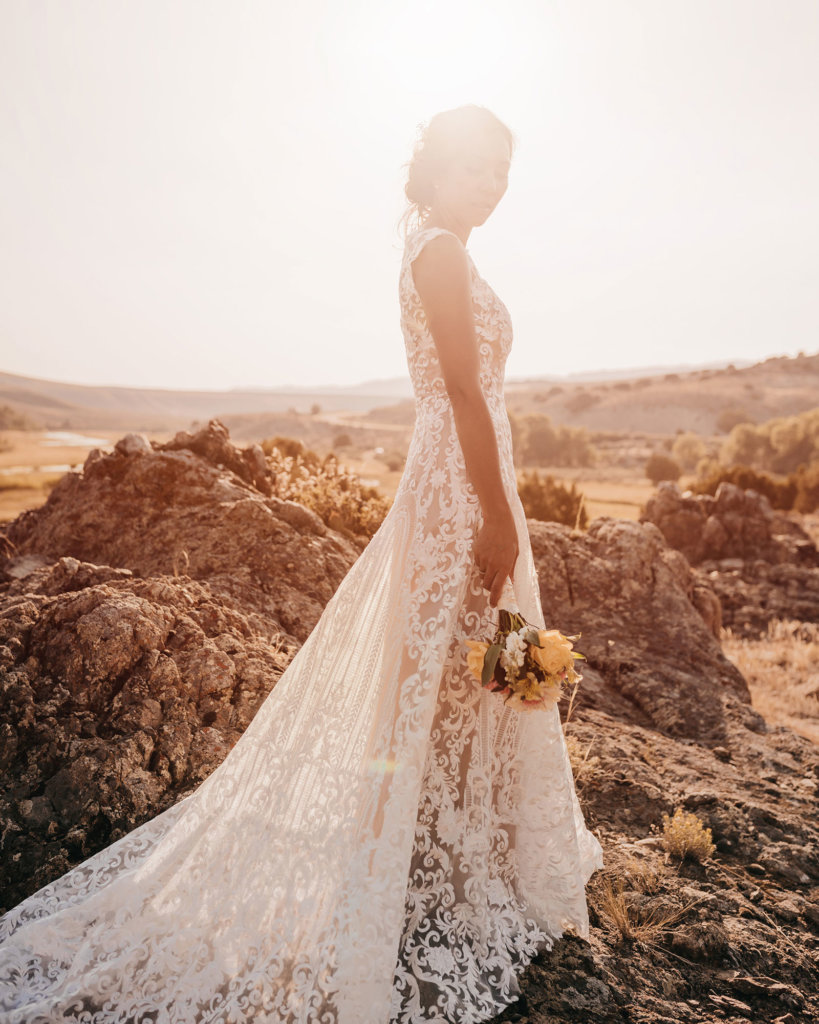 Style: #LD4317, Image Credit: Abby Fowles Photography