Being a bridesmaid is anything but easy – it's a large time and financial commitment. After all, there are certain responsibilities and duties that your bridesmaid has to become familiar with – from helping with pre-wedding tasks to being your emotional rock during the months leading up to your big day. So, naturally, it's important that you show your girls how much they mean to you – and how much you appreciate their willingness to help you. Without further ado, then, here are eight wonderful ways to make your bridesmaids feel special.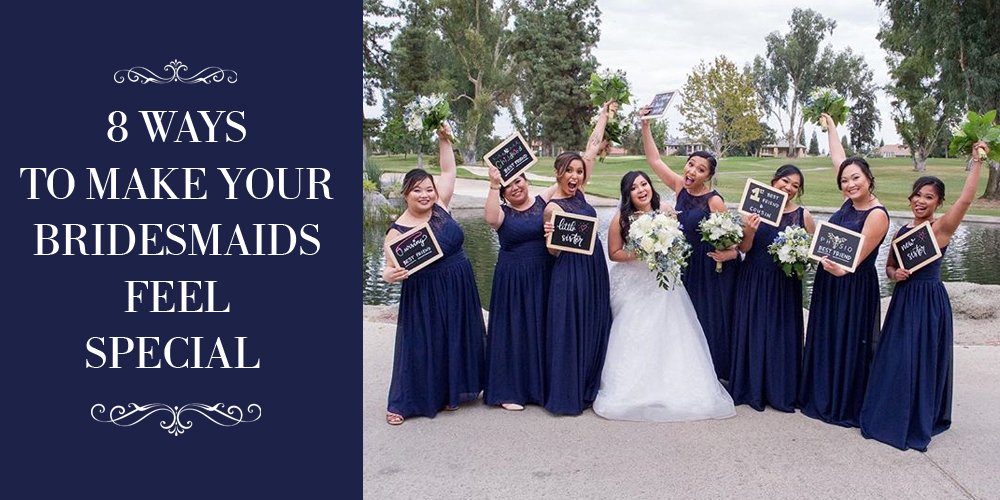 1. Propose to them in a special way
Before all else, you will need to pop the question to your bridesmaids in just the right way. You want to make them feel valued and special, so consider proposing them with a DIY card or a gift box full of their favorite chocolates.
2. Let them choose their own dress
Can you wear a dress that you don't dig? What if you also have to pay a lot of money for the same dress? Sounds terrible, doesn't it? Well, terrible is what your bridal party is going to feel when they have to wear a bridesmaid dress you picked for them, a dress they dislike! We understand that it's your big day and every little detail matters to you but bear in mind that each member of your bridal party may have their own preferences. This makes it virtually impossible to come across a 'one dress suits all' style that everyone will feel comfortable in. So, why not have your girls pick out their own dress and choose how they want to accessorize their look? This way, not only will they be comfortable throughout your wedding, but also feel very special.
3. Respect their life outside of your wedding
Your wedding is most likely the biggest day of your life, but that doesn't mean it should be your bridesmaids' only priority in life as well. You must show consideration for your bridal party's other personal responsibilities and own social lives and try to be accommodating to everyone's schedule when planning events. This also means you shouldn't get furious if any of your girls can't make it.
4. Don't have big expectations
You need to be mindful of the fact that not every attendant will work on the same budget. Take into account the total costs of your bridal party's expenses – including their gown, accessories, bridal shower, traveling and accommodation, etc. and make out whether it's a fair amount for them to shell out for your wedding.
5. Split the tasks and responsibilities
What better way to make your bridal party feel extra special than to present them with all the jobs and accountabilities their personalities and interests are best suited to. For example, if one of your girls loves baking, entrust her with the task of cake tasting.
6. Pamper night
While you're about to set off on the most unforgettable journey of your life, things like regular girls' nights aren't going to be as routine. So, treat your bridesmaids to a night of pampering (spray tans, beauty treatment, chick flicks, what have you!) the night before your wedding as a way to thank them for their willingness to help you throughout your wedding process. One last night with your girls will leave them feeling fabulous and really special ahead of the big day.
7. Thank them
Your bridesmaids have stood up for you, cheered for you, offered you advice, and cared for you. They had your back every time you freaked out – whether it be over your bridal gown or your spiraling financial plan. All of this just to make your big day unforgettable for you. So, after all their hard work, you must not fall short on befittingly expressing gratitude to your bridesmaids with a few meaningful gifts. We're not saying you need to spend a ton of cash on your gifts to show them how thankful you are. Something as simple as a thoughtful card will work wonders to making them feel special and valued.
8. Enjoy your big day with them
All things being said, what matters the most is that you genuinely have a good time with your bridal tribe. Just enjoy your day with them and drink to all the experiences you guys have participated in with each other. They will absolutely feel special knowing their hard work ultimately paid off.
Without a doubt, being a bridesmaid is demanding – what with all the patience, time and money involved. For that reason, make sure they at least know how thankful you are and how fortunate you feel to have them by your side.