When you think of your fairytale wedding, a stunning black wedding dress typically does not come into mind. Long gone are the days when wedding dresses only consisted of the colors white and ivory. Change up the scene with the darkest color on the palette.
In those colored wedding dresses, black stands for elegance and is timeless. What might be considered out of the norm and daring, could just be the perfect bridal dress for your big day! Here are some of our top picks for edgy black bridal dresses from real weddings!
1. The LBD
The LD3906 is what I would consider the little black dress amongst the wedding dresses. This amazing mermaid wedding dress is simply a work of art. It incorporates exquisite lace details throughout the dress to the scalloped train and gives the bride a romantic and elegant feel.
An eye-catcher is the strapless sweetheart neckline. Last but not least the back is adorned with shimmery beadwork that oozes lavishness and sophistication and is a guaranteed head turner.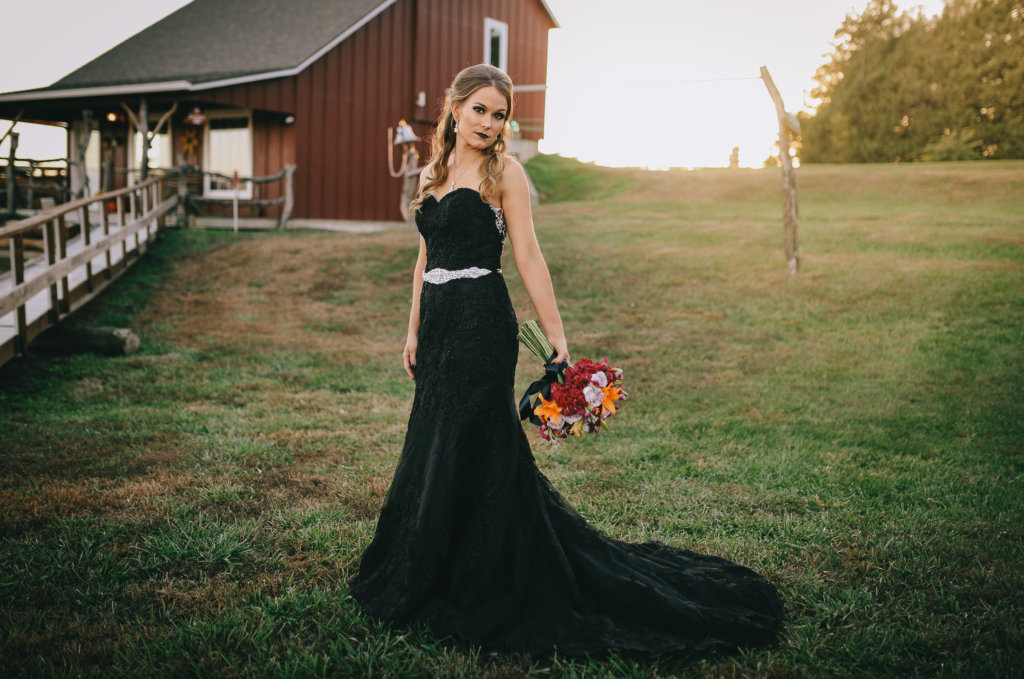 Style: #LD3906, Image Credit: Ali Rene Photography
2. The New Victorian
It's amazing how various colors bring out various vibes to a dress. In white or ivory, the LD4432 is very airy and fairylike. In black it becomes a modern take of the Victorian era dresses.
This beautiful A-Line dress features a V-Neck and consists of tulle and lace. The keyhole design on the back, various appliqués, and beading add a mesmerizing touch to it. Elegance and classiness do not fall short with this dress.
Style: #LD4432
3. The New Chic
Everyone has a favorite color or an idea of how they imagine their wedding dress will look. There is no need to shy away from dark colors. Although friends or family will most likely try to steer you away, acknowledge their concern and let them know that this is your big day and you have always wanted something else, something more.
The LD5445 (Retired) is a dress that could be straight out of "Breakfast with Tiffany". The gorgeous lacework that surrounds the upper part of the corset screams girly chic. The pearled sash around the waist is an added bonus and adds that vintage vibe.  (Explore the black dress list here)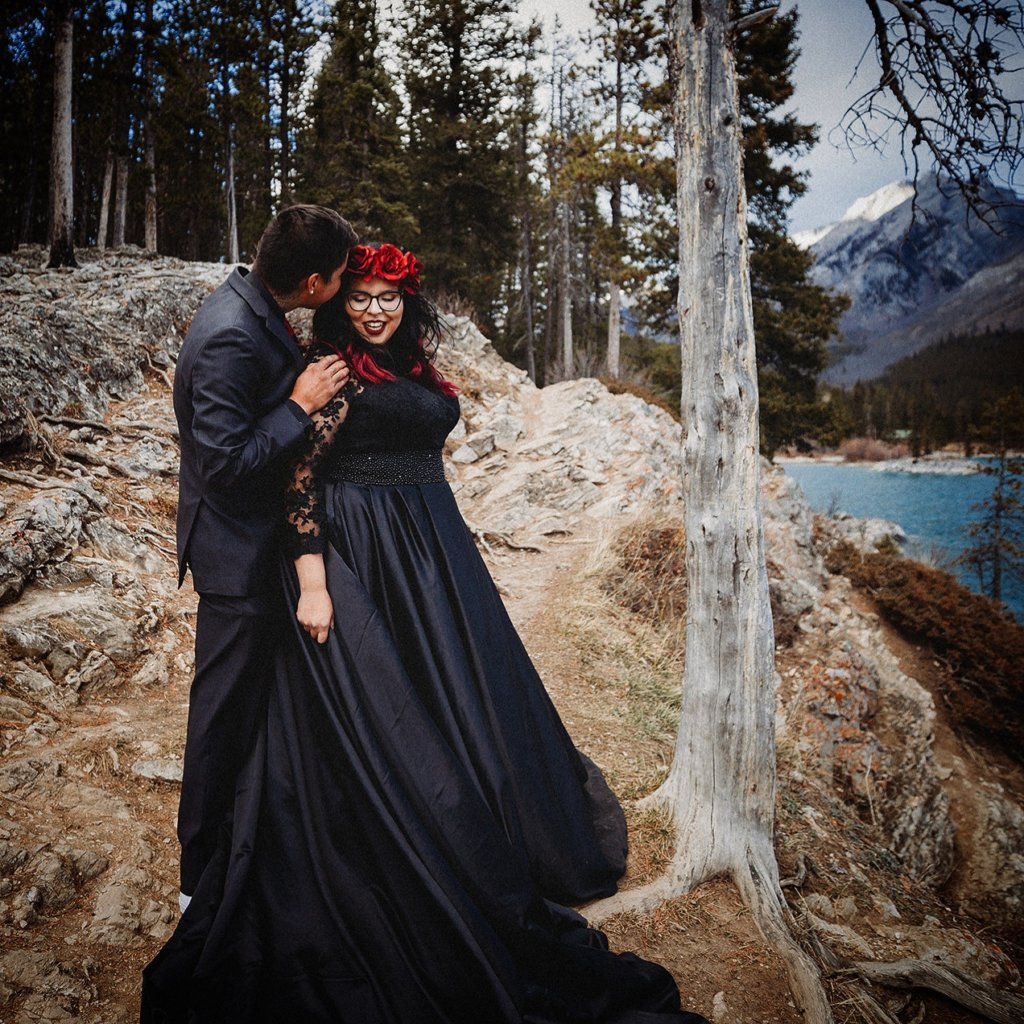 Style: #LD5445 (retired)
4. The Hollywood Star
Style LD5731 screams red carpet and looks stunning in any color but especially in black, it has bridal look that classic vintage Hollywood feel, like the old black and white movie. This A-line wedding dress features a beautiful laced v-neck and appliqués on the sleeves. With fabrics including satin, tulle, and lace it adds a soft and weightless touch.
You might be concerned that the intricate design is not as visible as on a lighter dress but do not be fooled, the adornments shimmer in the perfect lighting and add that special something to the glitz and glam.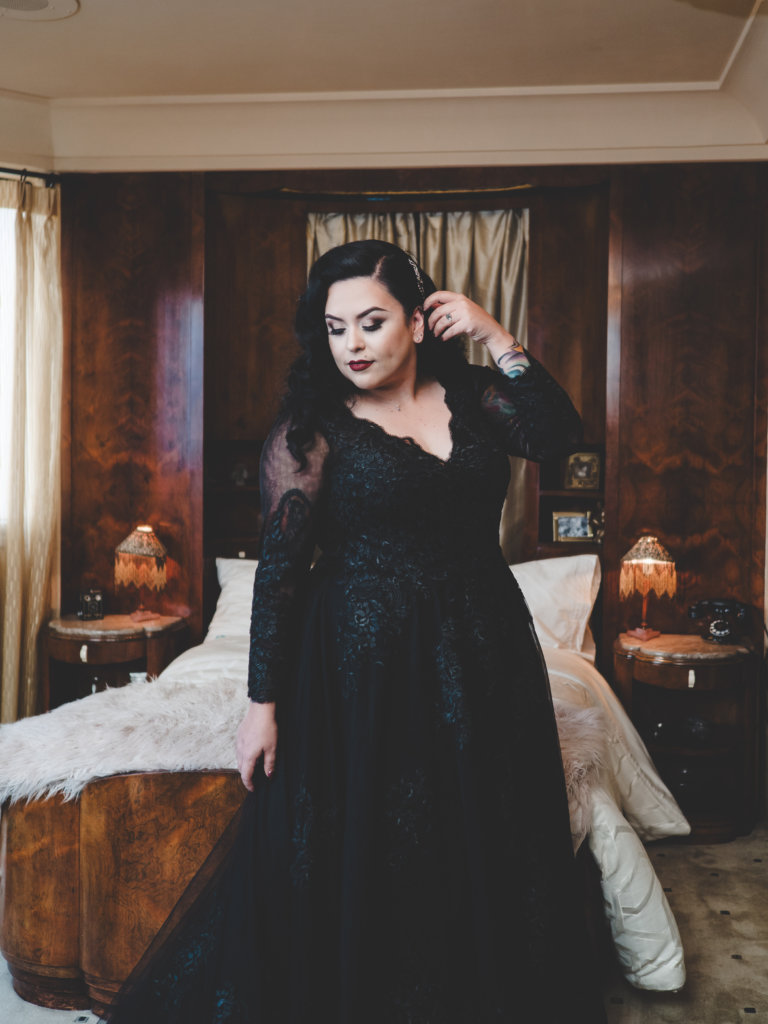 Style: #LD5731, Image Credit:  Reynaldo Obrero Photography
5. The Grace Kelly
In a perfect balance between modern edge and classic romance, the LD4902 with its off-the-shoulder gown features a corset bodice with delicate lace details and sparkling sequins. Its plunging V-back gives way to the voluminous tulle skirt, which finishes in a court train. A grosgrain ribbon completes the look and defines the waist. This is certainly a dress that brings out a sense of charm and mysticism on your wedding day.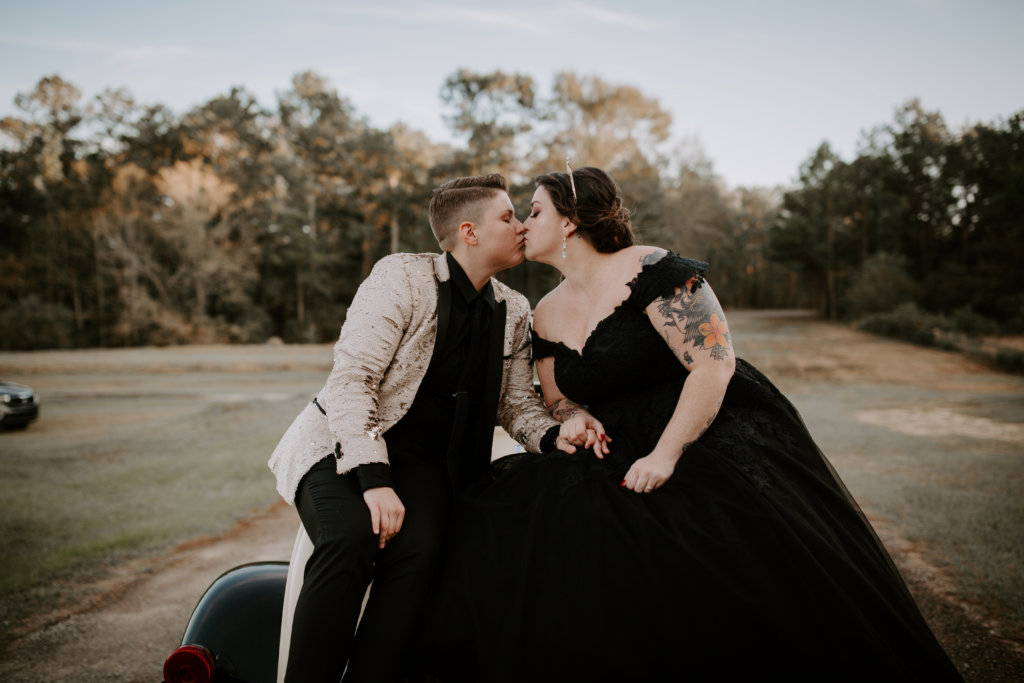 Style: #LD4902 (Retired), Image Credit: Sabrina Fattal Photography
Explore to find more black wedding dresses here.
Also, you may be interested in white wedding dresses. Take a look.