Being a bridesmaid is not plain sailing – and certainly not cheap. Between planning the bachelorette party and the bridal shower, there are many expenses that can all add up and become a major financial burden for your 'maids. The good news is, you can ease some of that burden by choosing non-expensive dresses for your bridal party. You do not have to sacrifice style and quality with the price either. These eight bridesmaid dresses, all under $120 (Yes, really!), can vouch for that.
1. Style #CB0280 – $99.99
If you want to add a touch of modern elegance to your bridesmaids' ensemble, this is the dress to pick. This stunning Freesia gown features a sleek A-line silhouette, a sexy open back and a glamorous sweep-brush train that will complement your own chic wedding dress admirably. The best part? It only has a price tag of $99.99!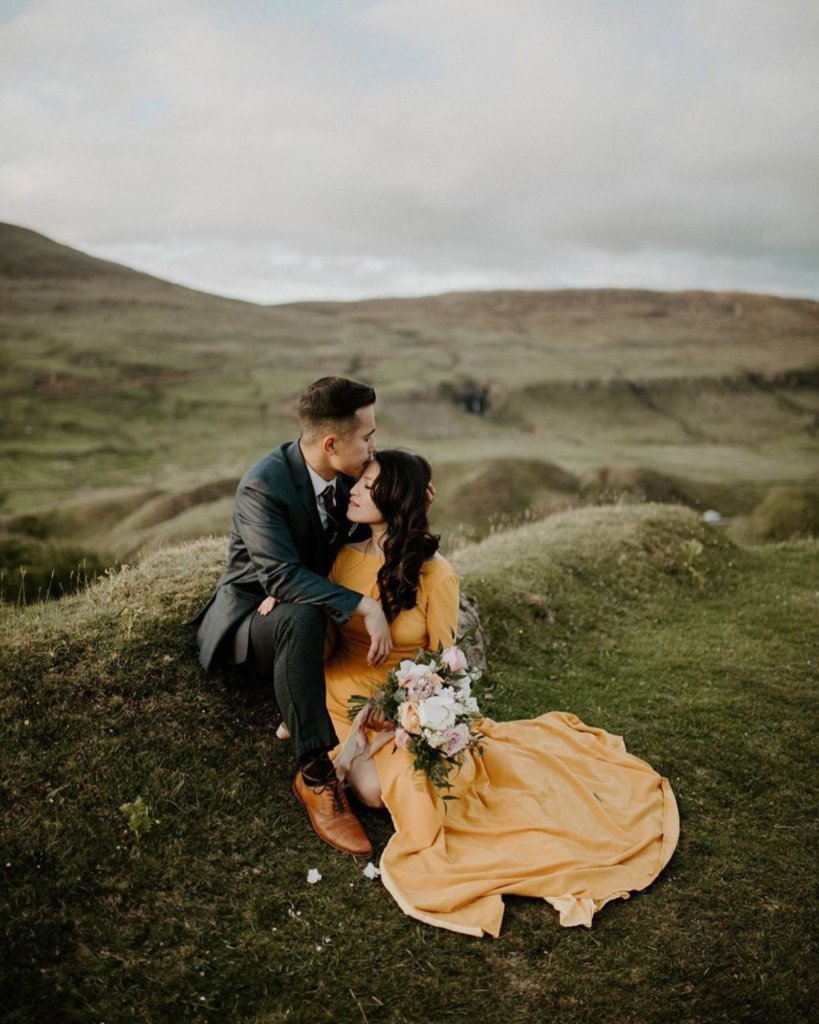 Style: #CB0280, Image Credit: Tamar Hope Photography
2. Style #PR3536- $115.00
With its trendy off the shoulder neckline, pleated and sleek bodice, and a chic floor-length skirt with side slit and a mere $115 price tag, we think this sheath gown is a steal. We particularly like its whimsical Barberry color that will work really, really well with your white wedding gown.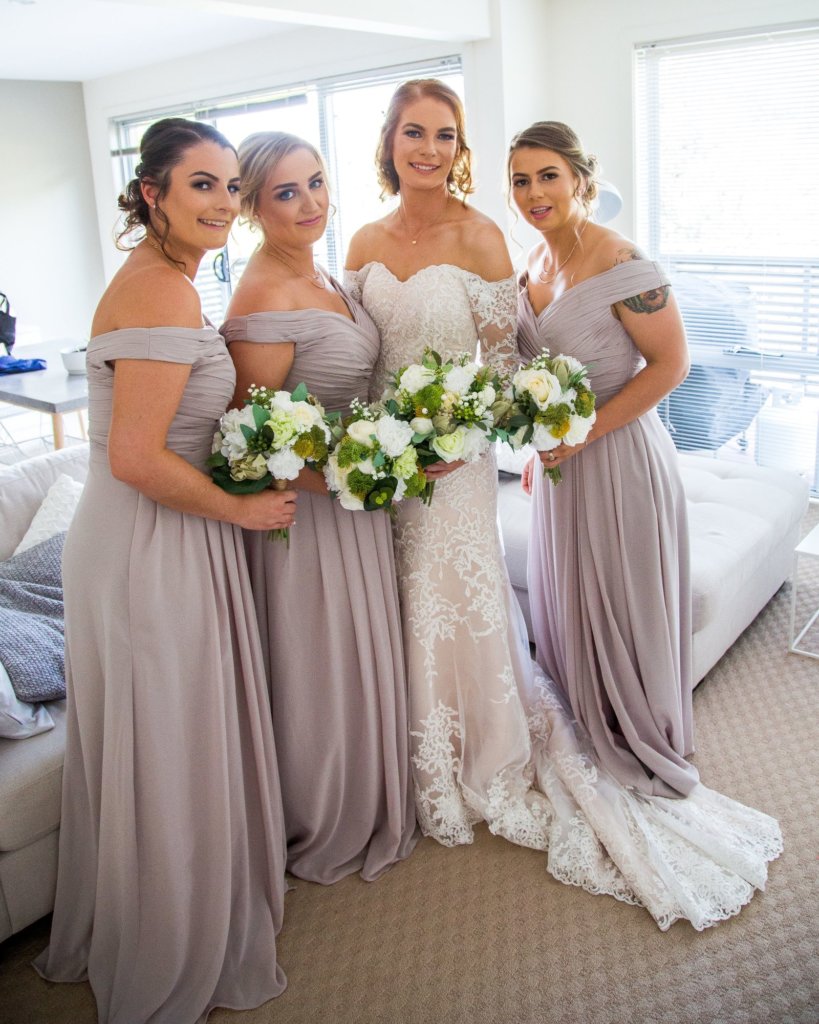 Styles(from left to right): #PR3536 & #LD3906, Image Credit: Kat cherry Photography
3. Style #PR3554 – $115.00
This gown may look very similar to the style PR3595 because, well, it has the same color and silhouette. But these are, in fact, two very different gowns. While the style PR3595 is romantic and graceful, this dress, with its lace appliquéd illusion neckline and side slit skirt, is sexy and glamorous.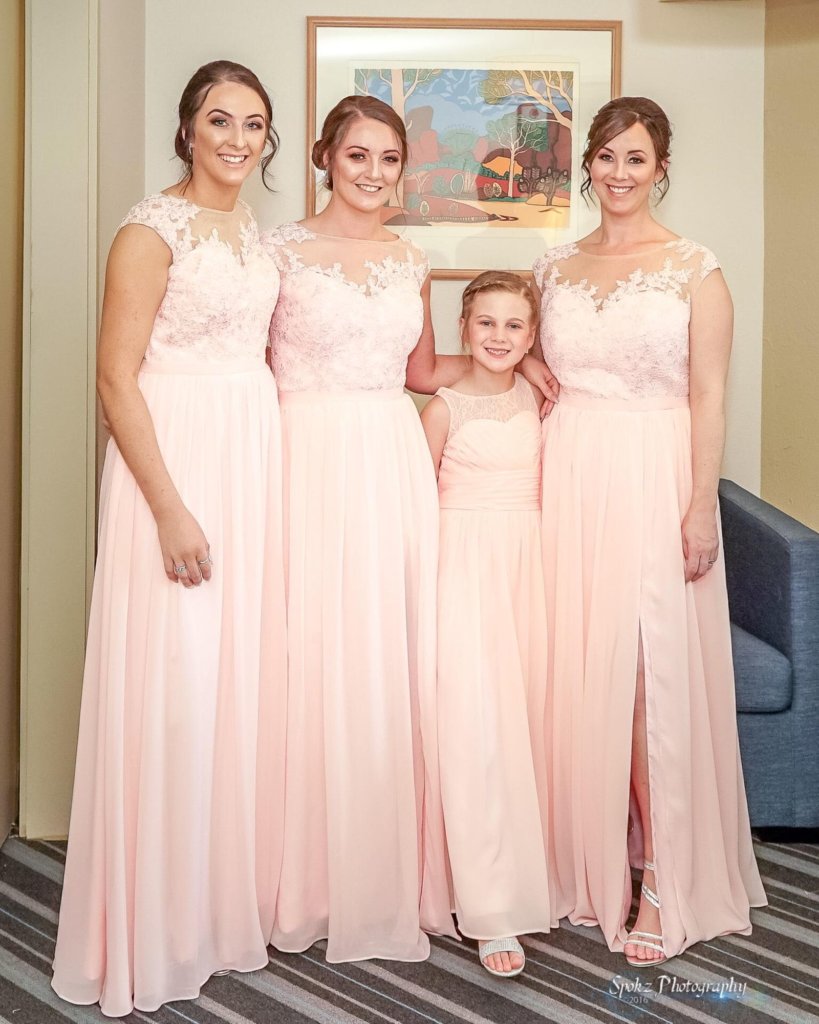 Styles(from left to right): #PR3554 & #COZK16005
4. Style #PR3263 – $119.00
This sleeveless sheath gown with an open back, lovely appliqué detailing and a regal sweep-brush train has a lot of character. Also, we cannot get enough of its beautiful Sea Pink color.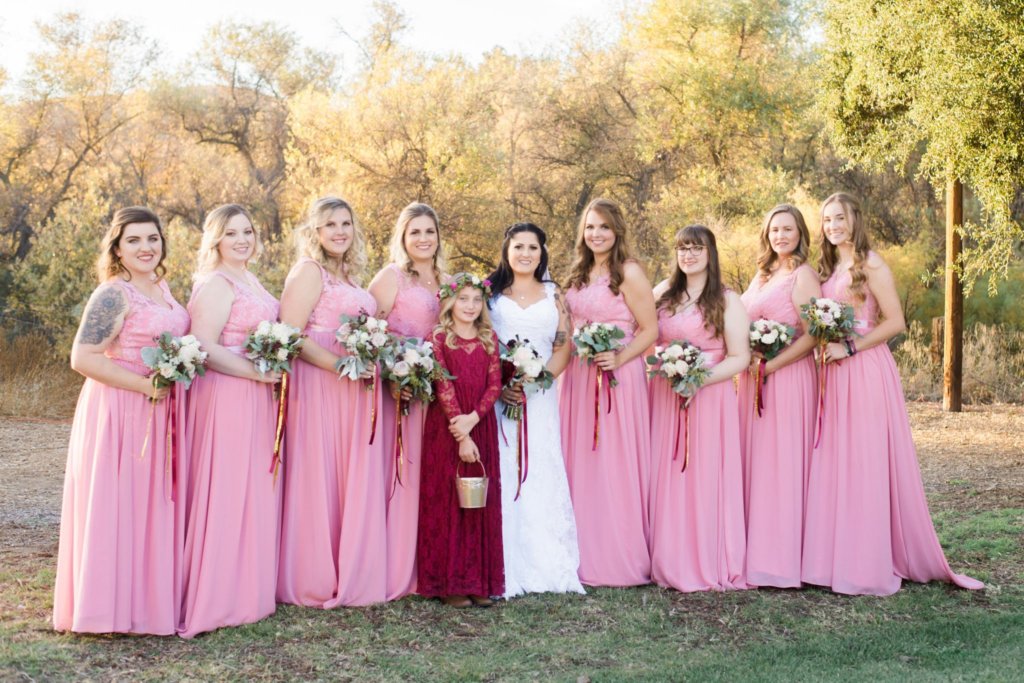 Styles(from left to right): #PR3263 & #CWVT15002, Image Credit: Golden Arrow Photography
5. Style #COZF140A1 – $99.00
There is no way your wedding dress won't look incredible side-by-side with this dazzling sheath gown in blue. Featuring two streamers on the front and two on the back, this airy chiffon gown will certainly enhance your bridesmaids' unique personalities, styles and bodies.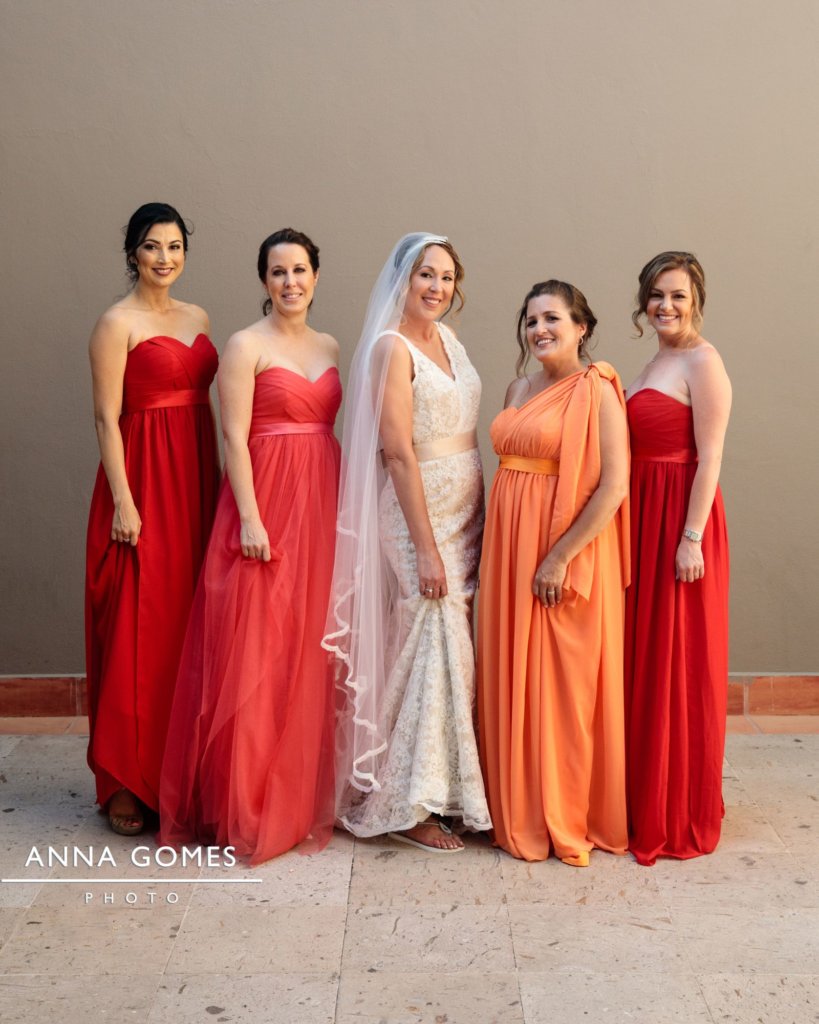 Styles(from left to right): #COZF1500B & #COZF140A1, Image Credit: Anna Gomes Photo
6. Style #PR3570 – $99.00
When in doubt, you cannot go wrong with a clean, contemporary dress in a soft hue. One of our most sought-after bridesmaid dresses, this gown is quite simple yet very elegant. Not to mention, we are smitten with its captivating linen shade and ruffles.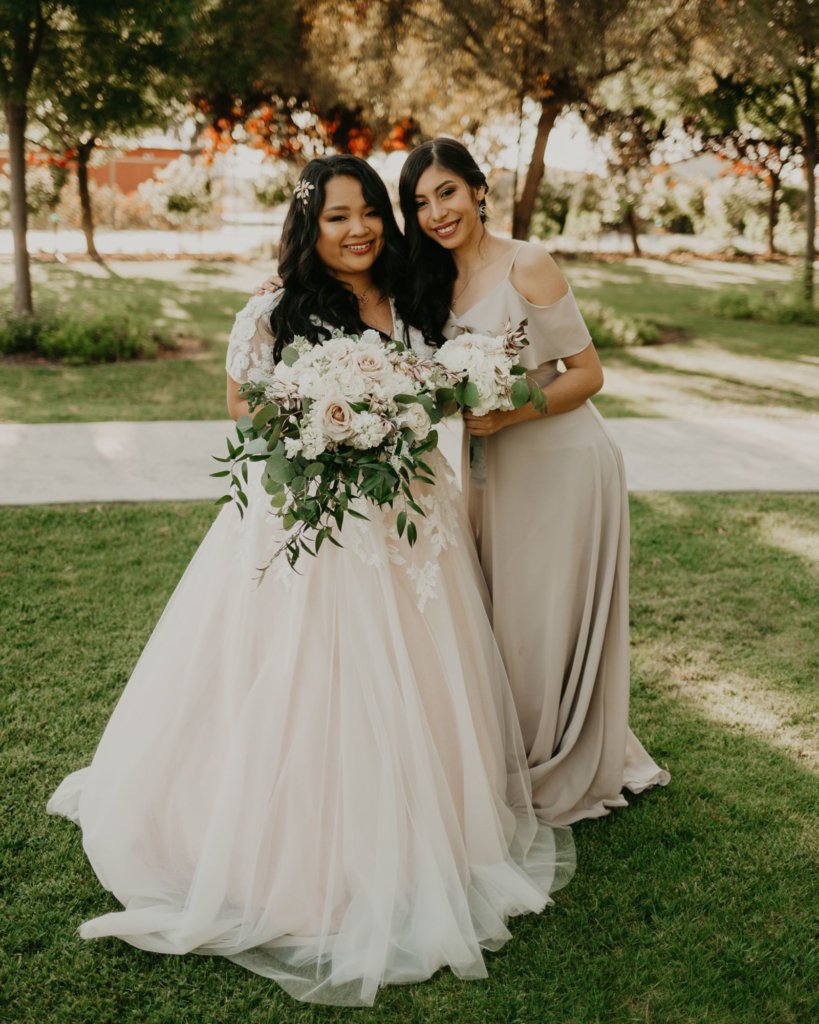 Styles(from left to right): #LD4432 & #PR3570, Image Credit: South of Indigo Photography
7. Style #LOZF15045 – $109.00
Do not be afraid to think outside the box when it comes to bridesmaid style! Featuring a sweetheart neckline, a pleated bodice and a flowing chiffon skirt, this incredible ombre gown will surely add a wow factor to your wedding. We are in love!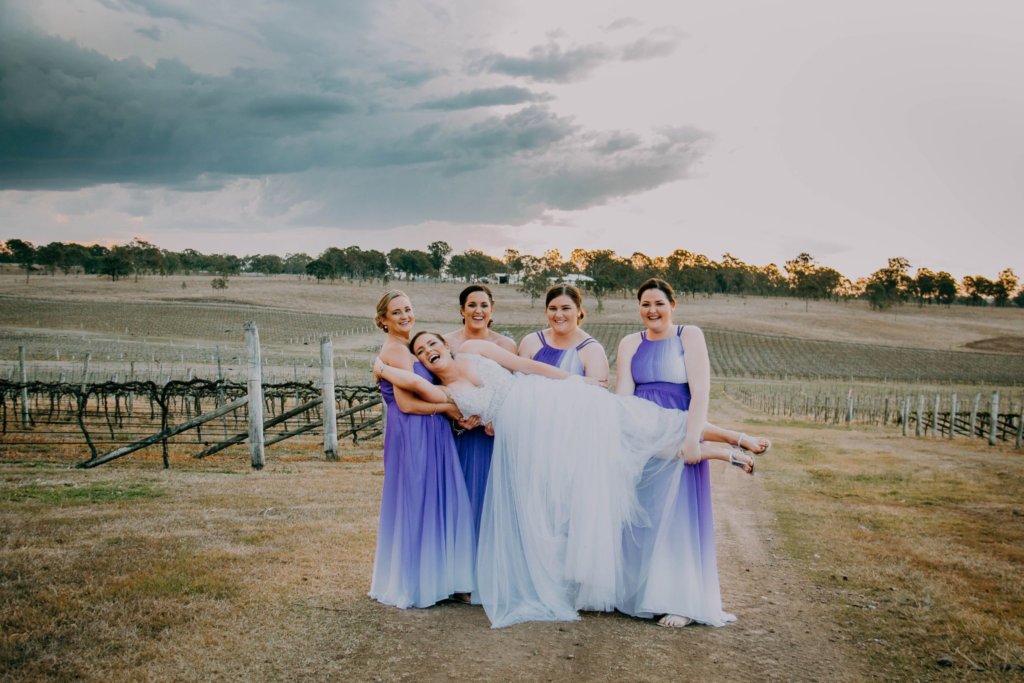 Styles(from left to right): #LOZF15045 & #COZF17008, Image Credit: CRH Photography
8. Style #COZF14002 – $109.00
What happens when you interweave delicate chiffon fabric, a snazzy plunging neckline, exquisite pleating and beading, and a smooth sheath silhouette? A breathtaking bridesmaid dress, that is what! This stunning gown in Sodalite Blue is a showstopper and will really up the fashion quotient at your wedding.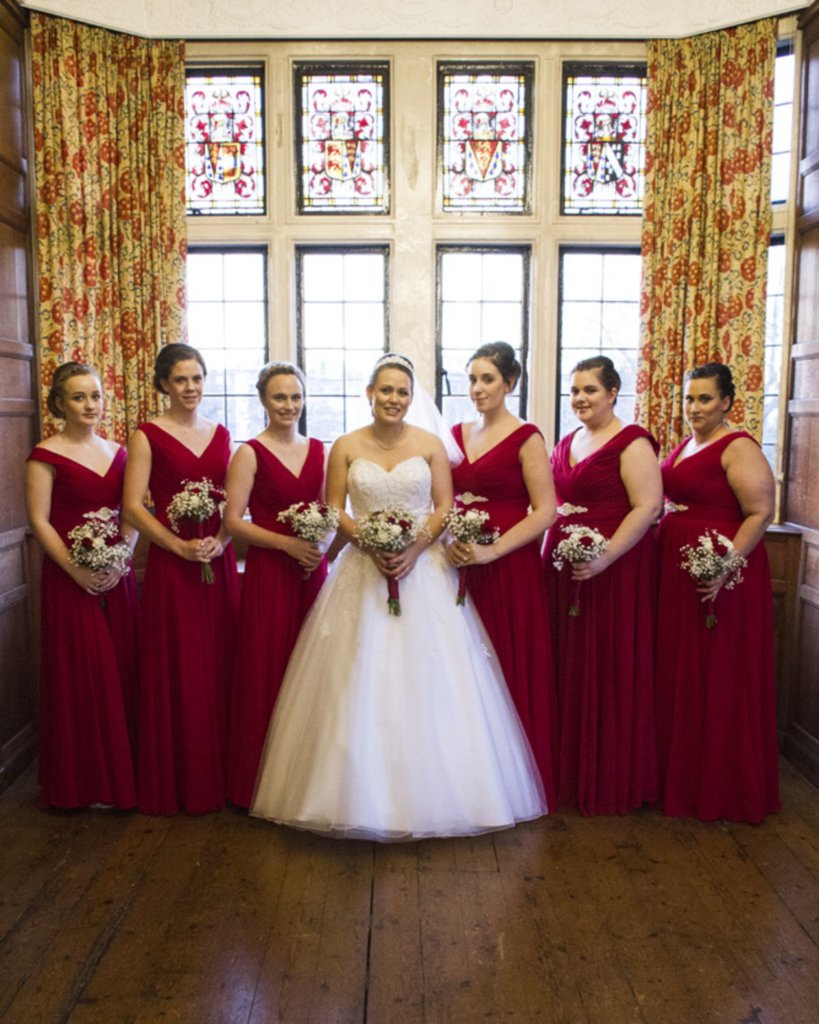 Style: #COZF14002
The cost of being a bridesmaid is ridiculously high these days, so saving where it is possible could really help you keep your bridal party happy. Well, what better way to save than by choosing dresses that will not break your bridesmaids' banks?
No budget limitations? Click here to see some of the best bridesmaid dress trends for 2020.