Without any doubt, your wedding gown is among the most important outfits you will ever have to pick out. Luckily, there is a wide range of exquisite wedding dresses for every season, and for every bride. But this is also where you are going to run into your biggest problem. See, the luxury of selection can also make choosing the perfect bridal gown a challenging task, especially if you don't see yourself walking down the aisle in a traditional princess gown.
Don't worry, though! We have got just the right dress style for you – bohemian!
For the most part, Boho bridal gowns use detailed lace and chiffon. These fabrics are excellent if you are hunting for a dress that can complement any type of wedding – a fun, laid-back nuptial or a more romantic, perhaps even a grand ceremony. Light, flowy and free-spirited, bohemian wedding dresses are as comfortable as they are beautiful. The essence of Boho style is tasteful, natural, and timeless. This explains why it is one of the hottest wedding dress trends for this year.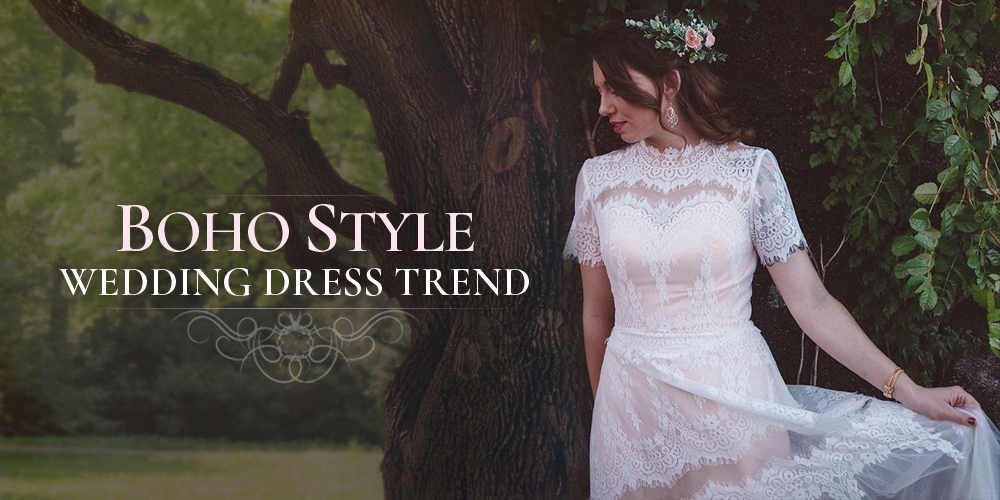 If you have decided to show off your personality on the most important day of your life with a beautiful Boho wedding dress, think about the following:
Sleeve style – Strapless, off the shoulder, spaghetti, capped, three-quarter length, and long sleeve wedding dresses: there are just so many sleeve styles to pick from. You would want to gravitate towards the style that can compliment your figure the best.
Neckline – Would you rather have a modest neckline or something a little more daring? Take a look at different necklines and make up your mind on which one will do the trick for you.
The back – A lot of Boho style wedding gowns focus on the back side of the bridal gown. Find out if a low-cut back style is for you or would you rather go for keyhole cuts.
If you are searching for the perfect bohemian wedding dress for your big day then look no further, we have covered. We have gone through the Internet with a fine-tooth comb to come up with these three most beautiful and versatile bohemian wedding dress styles for you. So without further ado, let's dive into our top picks!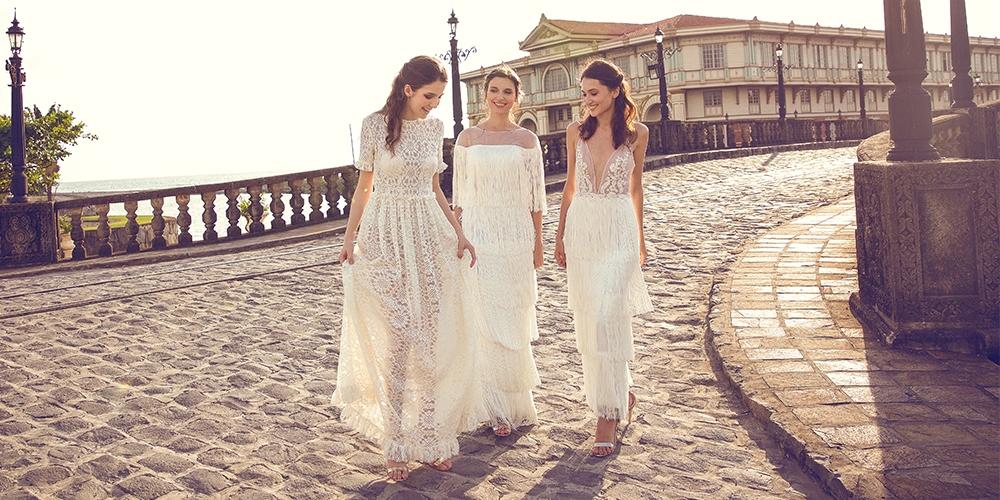 1. A-line wedding dress
Avant-garde a-line wedding dresses are elegant and perfect for any bride. If you want to blend the clean lines of a bohemian style with a touch of grandeur, then there are no two ways about it – an A-line dress is for you. Soft, romantic, and light, an A-line dress is made for an easy-going, relaxed and laidback bride. If you want to go for an organic bohemian look, you can consider dresses adorned with lace swirls and beading. An intricately detailed illusion-tulle back design and a small train will top off the look for a Boho-inspired celebration.
2. Mermaid wedding dress
If a figure-flattering silhouette is what you are after, then a mermaid dress is perfect for you. Mermaid wedding dresses may very well be one of the most easily distinguishable wedding dress silhouettes, but they are unbelievably versatile, and when paired with a bohemian style, they look absolutely flawless. For a gorgeous and a dramatic wedding look, pair your lovely dress with a detachable, beaded belt and a sweetheart neckline. Add a pastel bouquet and a beaded hairpiece to put the finishing touches to your bohemian wedding look.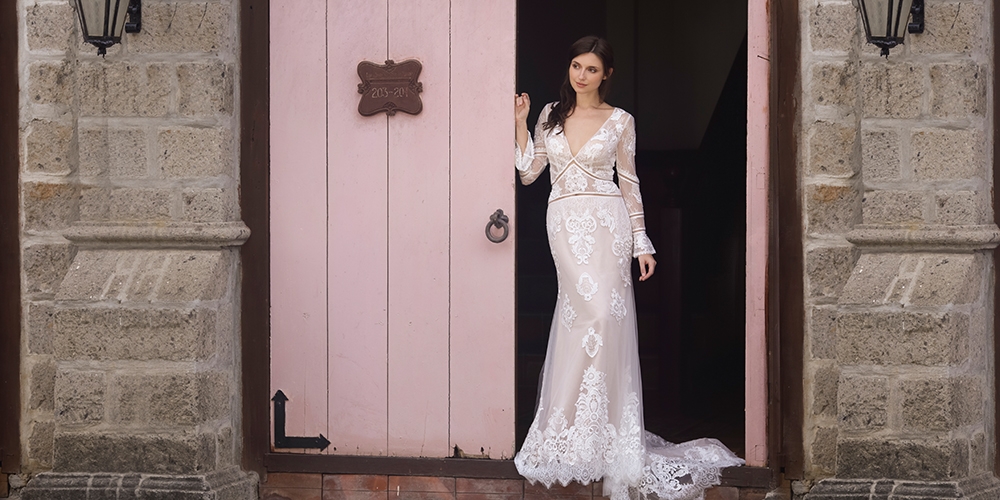 3. Lace wedding dress
There is definitely something enchanting about lace. The limitless versatility of this timeless fabric has long been the starting point of inspiration for a huge assortment of bridal dress styles. A lace wedding dress is the perfect brew of classic style and comfort with a touch of sexy that not only highlights your natural beauty while making you look stunning on your big day, but also keeps you comfortable throughout.
We are confident that the above style ideas have charged you with inspiration for your own Boho style wedding gown. The most popular trend in bridal gowns is all about fun, fresh looks that are a wonderful addition to any free and easy wedding celebration. Whether it is a countryside ceremony or an upscale city nuptial, with a Boho wedding gown, you will surely achieve the perfect look for your perfect day!