Everything that sees the light of day at your wedding should be fun and about you. Your first wedding dance is no exception. Although many brides-to-be dread it, you don't have to. See, the hard thing about a wedding is… getting married. It's a hard thing to stand up at the altar and making your vows in front of hundreds of people. Harder will be being married and creating a life-long, thriving marriage. But dancing? Dancing shouldn't be hard. Dancing should be fun, even if you're wearing a dress that hugs all your curves and is infamous for restricting too much movement – a lace mermaid wedding dress!
So, how can you make your first dance fun? Just so we're clear, we're talking "Monica and Ross doing the routine" type of fun, not "Chandler Bing dancing to just about anything" type of fun. Well, here are four tips that will help you let your inner Fred and Ginger out and have a good time, even if you're wearing a mermaid or a trumpet wedding dress.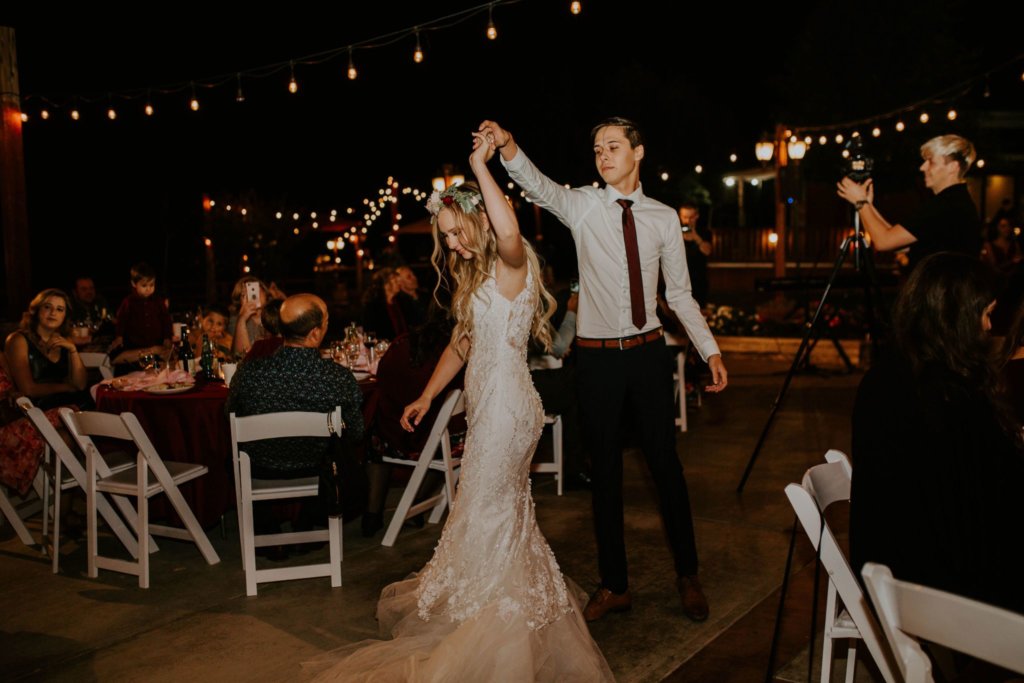 Style: #LD5058, Image Credit: Jordan Elizabeth Photography
1. Pick a wedding song that's really meaningful to you
The first rule of dancing like a pro is to choose a song that you want to dance to. A song that you're familiar with, ideally one of your most played, would be perfect. Also, no matter how hardcore a metal fan you are, no loud head-banging pieces, please. You want to show everyone how much you love your fiancé with the song you choose, so pick a melodious love song with lyrics that speak to you and your significant other directly; a song that won't look out of place in a wedding.
2. Practice
This one's pretty obvious, isn't it? If you want to dance like a pro, you have to dedicate your hours to it. You can't assume that you'll magically figure out the science behind dancing without ever having done it before with a YouTube dance tutorial. Although we kind of wish that could happen. Of course, if you've never danced together before and neither of you know how to dance, you'll need some kind of instruction.
So, find someone who can teach you how to dance. This could be your friend, grandparents or even your next door neighbor. Don't really know anyone who has good rhythm? Or maybe you want to surprise your guests with the dance, hmmm? Well, in that case, sign up at the local studio for a couple one-on-ones instead. Take some friends with you and make them support you. (What are friends for anyway?) And then once you've had some lessons, practice dancing in your mermaid wedding gown. Every time something fun is on the radio/sound system/whatever you're calling it, sweep your fiancé into your arms and waltz through the apartment. Stare into one another's arms, laugh with joy. And suddenly, you won't just be dancing, you'll be making love…ly memories!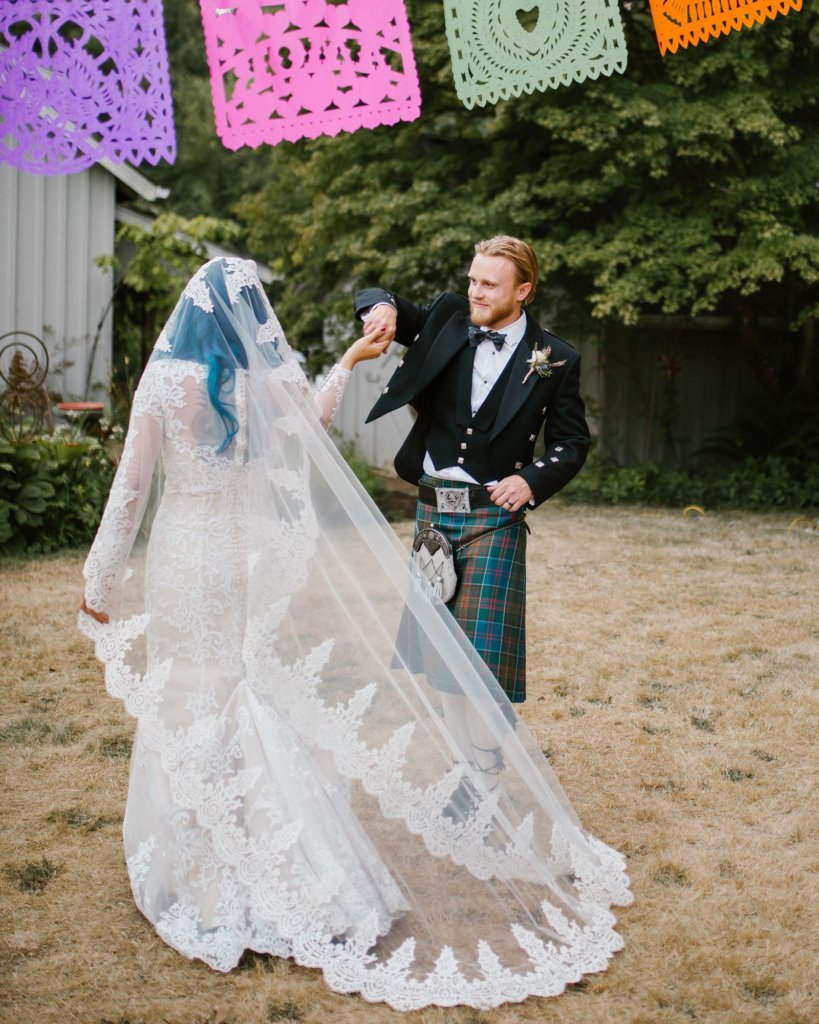 Style: #LD3906, Image Credit: Kailee Elizabeth Photography
3. Dress appropriately
No, we're not going to talk you out of your mermaid wedding dress. We're talking about your footwear. Dancing – whether you're doing the soft 'sway' or fast-paced 'salsa' – can get really uncomfortable really fast if you're wearing the wrong shoes. So, maybe ditch the high heels and slip into a pair of comfortable flats before hitting the dance floor.
4. Don't sweat it
It doesn't really matter if all you can do is rock back and forth and pump your arms up and down or you've just won a national dance tournament, your wedding dance is still all about how much you love your soon to be partner for life. It's about gazing into one another's eyes and being transfixed not only by how much you love your significant other, but also by how much love is shining back at you. There are no judges and no dance trophy here girls. So, just let it go and have fun. Dance to express, not to impress.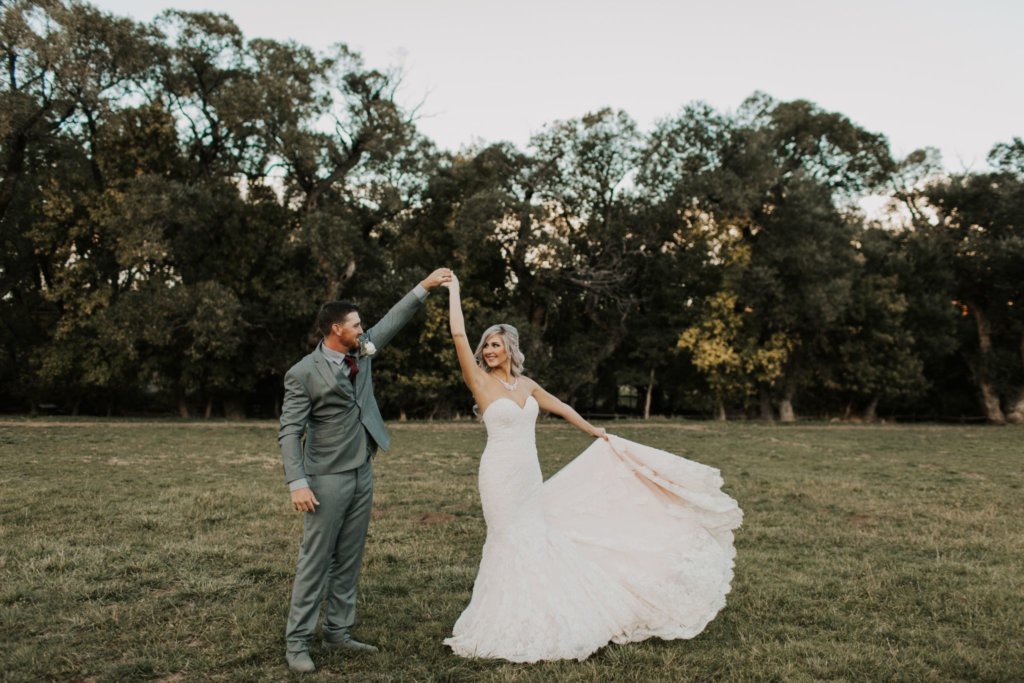 Style: #CWLT14036, Image Credit: Ashley Meagan Photography
What's the takeaway?
Give your relationship the chance it deserves to succeed wildly, against all odds! After all, you deserve it. Your relationship deserves it! So, go for it! Have fun! Turn up the music and dance your way through your wedding planning, your wedding day and your marriage! It'll make things a lot more fun.