"The goal is to laugh forever with someone you take serious." ❤ Kimberly & Bernard definitely had one Pinterest-worthy wedding. Their special "Classic Cocktail" themed nuptials were set in Embassy Suites Golf Resort and Spa Concord, NC! Everyone enjoyed a relaxing cocktail hour with a night of laughter, dancing and love! And Kimberly was so glowing in her dream #cocomelodydress, we're really honored to help make her dream come true! Wish this sweet couple a life time happiness!
All photos were taken by Sweet Bliss Media.
Wedding Dress Style: #CWLT16002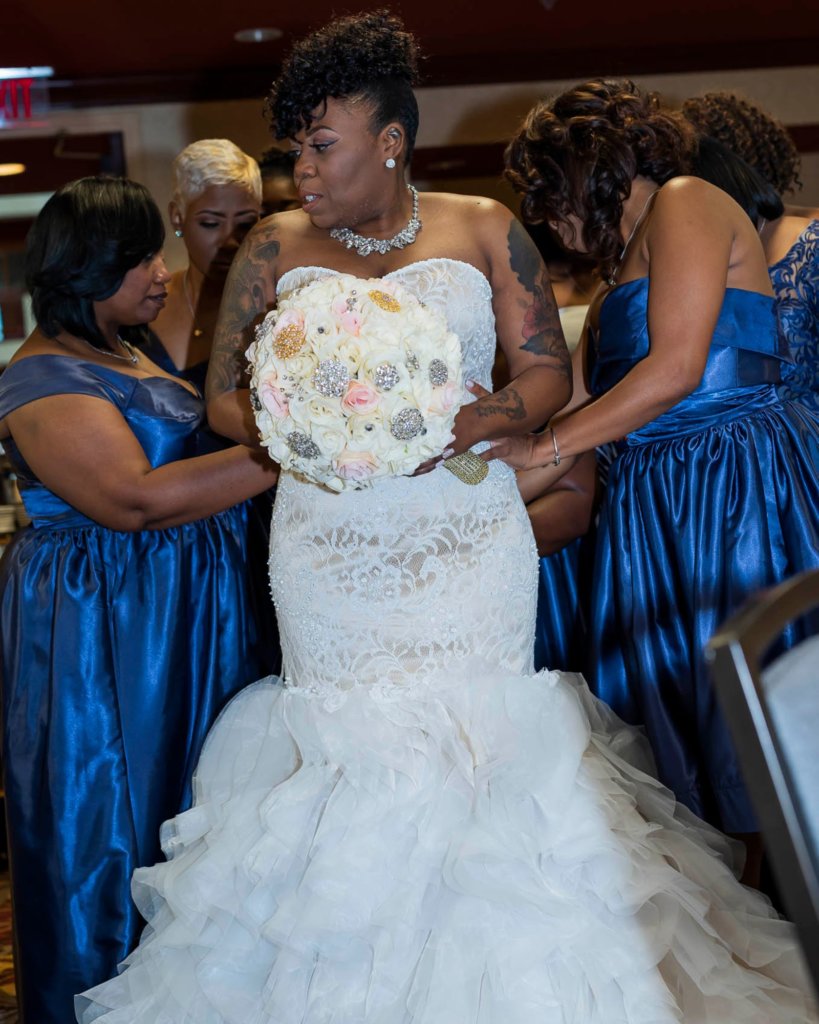 Q: Any advice or tips for future Mrs.?
Take your time to enjoy the process but don't spend too much time on the mere details. Some things will fall short of your expectations – but only you will know that detail so press forward with a smile! And last but not least….delegate, delegate, delegate!
Q: What was the inspiration behind your wedding theme?
We wanted our wedding to be classy but not uptight. We chose a cocktail hour theme that focused on our guest being entertained in their best attire but comfortable enough to loosen your tie for the reception. Our guests enjoyed a cocktail hour with countless hors d'oeuvres, a glass of two of carefully chosen wine all while being serenaded by a special guest. All leading to a night of laughter, dancing and love!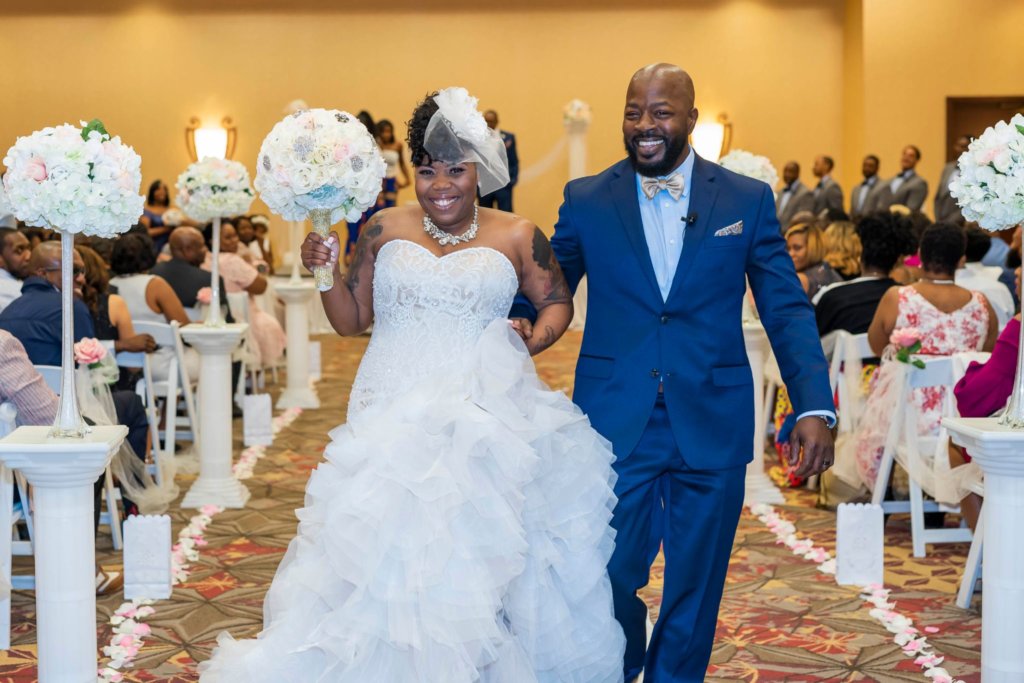 Q: What was the best/most memorable part of the day?
The absolute best part of the day was the moment that we shared our union with our girls through pouring of the sand and the Lord's prayer.
Q: Tell us your love story! Where & How did he propose?
After an awesome church service, my college friend (my MOH) and I were invited over for a cookout. Let's say that a group of older ladies decided that Bernard and I must sit with each other after I mentioned how cute I thought he was. The rest was absolute history in the making. We've been together ever since; we've waited for quite some time but the time was needed to bring us right where we are. A place that I do not think either of us would have appreciated had it been any earlier.
Q: How would you define the message "Dare to Love"?
Dare to love – means giving in to being open to someone loving you as much as you love yourself. To learn how to be vulnerable but trusting that your vulnerability leads you to a place of comfort. Means meeting halfway and sometimes meeting all the way. Recognizing that difference doesn't have to be difficult. To know that love takes work, dedication, understanding – and if you work hard enough it will work!
Q: What did you love most about your #CocoMelody dress (es)?
You know a wedding is a big step in life. To chose to purchase your dress from an online vendor is not always a pleasure. I've seen some horror stories. I can honestly say that I loved EVERYTHING about my wedding dress. When I opened it, I was blown away with the lace and beading over the bodice and the amount of fullness from fabric layering on the skirt and train to the crinoline underneath. The corset lacing up the back was amazing. I am still receiving compliments. I did not need any alterations – it fit like a glove. The construction was more than I expected for the price. It was absolutely perfect!
Q: What do you think about CocoMelody and the customer service?
Oh my goodness – you guys are the greatest. I appreciated the extra mile to make sure that my sizes were correct and offering the links to the tutorial to make sure that I understood how I should be measured. Any time that I inquired, your response time was great. You always worry about ordering online and to order your wedding dress and it is beyond your expectations is a wonderful feeling. Highly recommend CocoMelody!!