Tanisha married her dream man in her dream dress – style LD3912. Tanisha & Troy had a country rustic wedding in Apple Valley, CA which reflected their love for laid back style. Tanisha looked absolutely stunning in our fit-and-flare gown with an interesting double keyhole back. Congratulations Tanisha & Troy!
All photos were taken by Eric Gregory of Gregory Photography.
Wedding Dress Style: #LD3912
Q: Any advice or tips for future Mrs.?
Don't worry, everything will fall into place! I was so worried about all of the little details leading up to the wedding but, the day of none of that really mattered. I was so nervous & excited that i didn't even notice little things missing or out of place(neither did my guests lol). Just take your time & enjoy it! It goes by too fast.
Q: What was the inspiration behind your wedding theme?
We're very laid back & love to have fun, so we wanted something that reflected that. We choose to use our lifestyle as apart of our wedding. It's who we are, so it came naturally.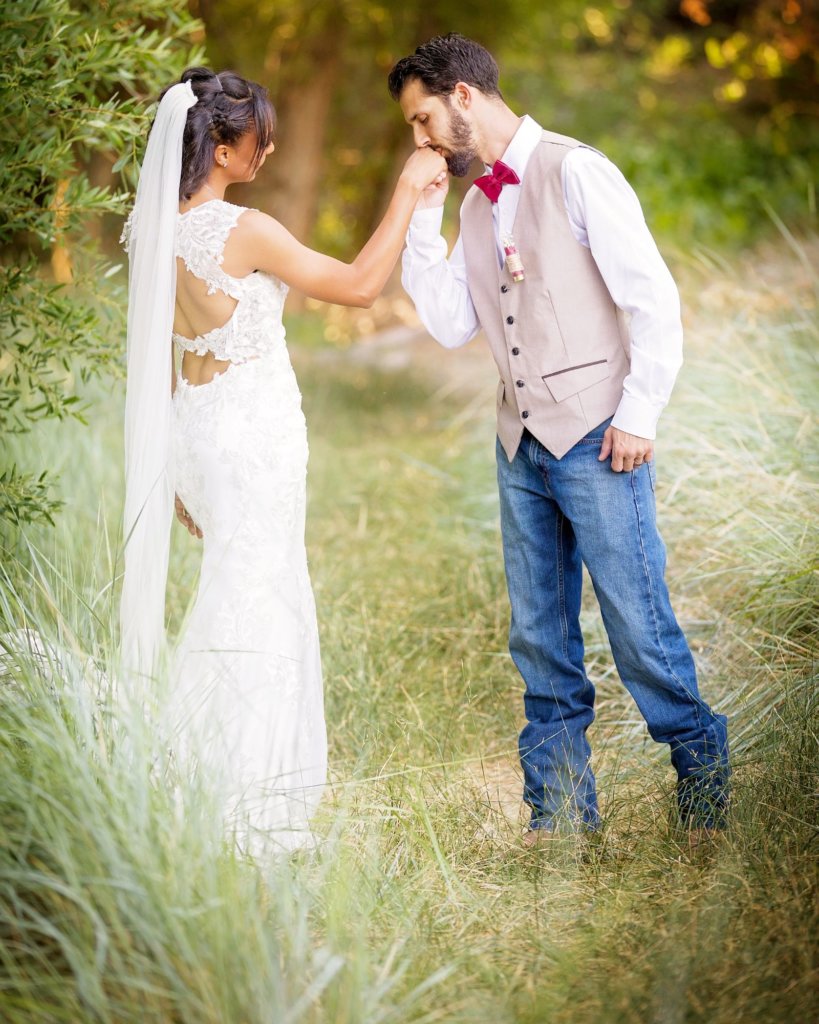 Q: Tell us your love story! Where & How did he propose?
Our birthdays are two days(& nine years) apart, so every year we plan to do something together. In 2016 we decided to take a trip to ​Monterey California. Little did I know what Troy had in store for me. On the morning of my birthday he suggested we take a walk on the beach.
After a little exploring he led me over to a bench overlooking the ocean and said he'll be back he had to grab my birthday present. When he returned he had his guitar case and said he wrote a song for me( at this point the tears are already starting to flow). He hands me his GoPro and begins to play the most beautiful song I've ever heard ending with the question I had been dreaming of. I barely managed to say yes through all of the tears lol. I don't think birthday presents get much better than that. The best part of all was he asked my dad for permission, something that meant the world to me.
Q: Did you enjoy the wedding planning process? Why or why not?
I enjoyed the process for the most part. My biggest problem was being afraid to ask for help. Just remember that's what your bridesmaids are there for. They want to be apart of the process just as much as you.
Q: What was the best/most memorable part of the day?
Definitely the cake cutting! I'll put it this way, cake simply tastes better all over your face!
Q: What did you love most about your #CocoMelody dress (es)?
It's hard to pick one detail, it fits like a glove(with no alteration), was amazingly comfortable & the detail work was stunning! I lobe my wedding dress so much!!
Q: What do you think about CocoMelody and the customer service?
CocoMelody has been wonderful throughout this whole process! Like a lot of brides I waited until the last minute to get my dress. I was soo worried that it wouldn't arrive in time but they assured me everything would work out. They kept in contact with me, giving as many updates as possible. They definitely put my mind at ease!