Denise & Gary's wedding in Colony Palms, Palm Springs California was a total dream! They were very unconventional and told their friends and family that they were attending an engagement party. 30 min after the cocktail reception, Denise went to change and all guests were excorted into a surprise wedding ceremony room! No fuss and no muss and definitly no outragous wedding bill. Denise & Gary planned this intimate Mexican Fiesta wedding all under $8000!! Read Denise & Gary's beautiful love story below, and take a look at some of our favorite shots from this one-of-a-kind wedding:
All photos were taken by Brianna Broyles Photography.
Wedding Dress Style: #CWZT15008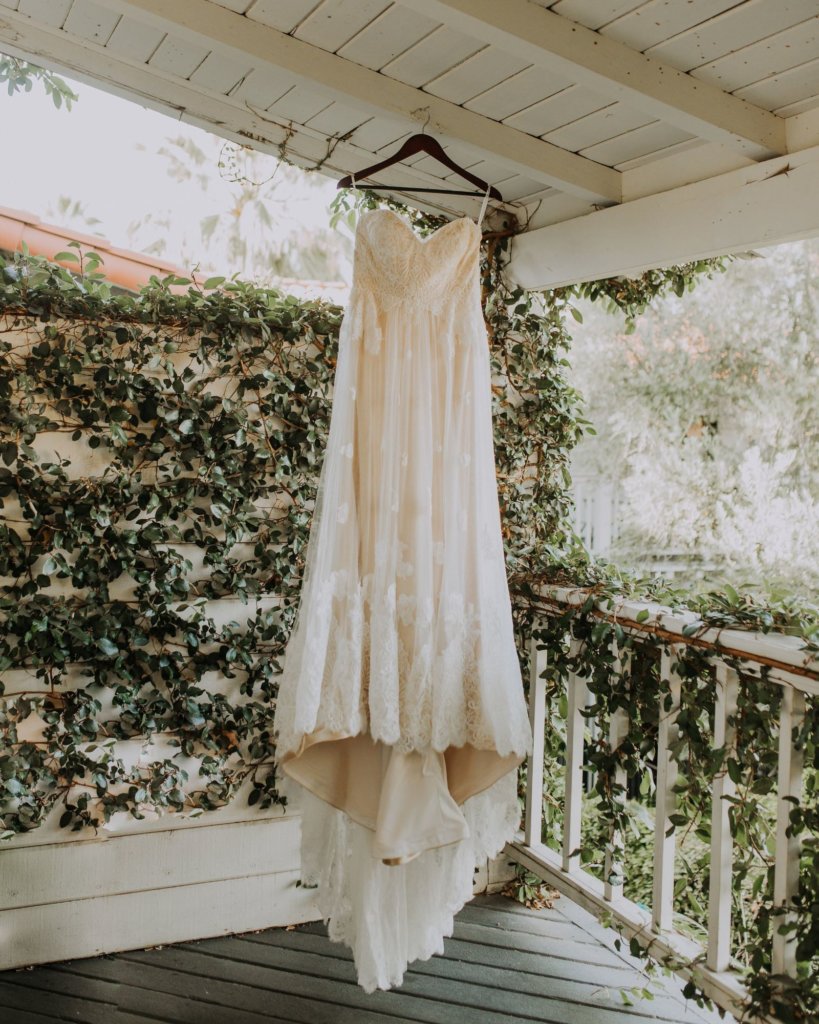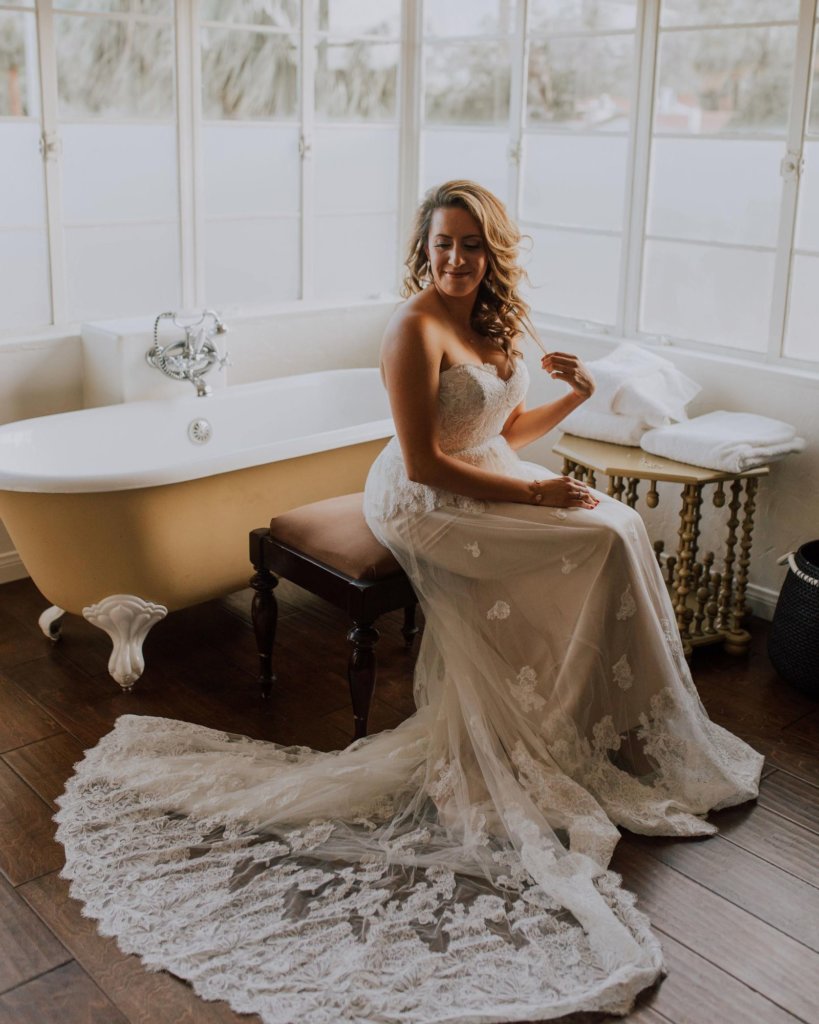 Q: Any advice or tips for future Mrs.?
Don't spend a ton of money on your wedding and remember the wedding day and event is about you and your future husband. Disregard the little stuff, something will go wrong, nothing is perfect.
Q: What was the inspiration behind your wedding theme?
Well, we were very unconventional. We told all our friends and family that they were attending an engagment party. 30min after the cocktail reception, I went to change and they were excorted into a surprise wedding ceremony room where my DAD officiated. It was priceless and a huge surprise to everyone. We wanted something intimate and private with close friends and family. We also wanted guests to have fun and be casual if they wanted to. No fuss and no muss and definitly no outragous wedding bill. We did it all under $8000.
Q: Tell us your love story! Where & How did he propose?
He proposed on Christmas Day with our 3 year old son by his side. It was private and lovely. Gary and I met at work and he was very shy. He was coming off a long 17-year marriage and was devestated to leave his kids. All he talked about was how much he loved his children and I think I fell in love with him then. He had a gentleness about him, sincerity and a love of travel and adventure most didn't see, but I did. I thought he was so handsome beyond intellegent and a music lover, which was a huge plus, we both love music.
Much to my surpirse we had a ton in common considering our 15year age gap. We started by sharing travel photos with each other, music and it spiraled into this amazing frienship we both had never had before. We took our time to be friends and shortly after we got pregnant with our son Brayden with was a huge surpirse as I never imagined having kids. Gary had 3 older children, I thought I'd just be the cool step-mom, but God had other plans for us. We waited a while to get married and it was the best thing for us both. We had a lot of growing to do and now were are happily married and ready to grow and build our life together.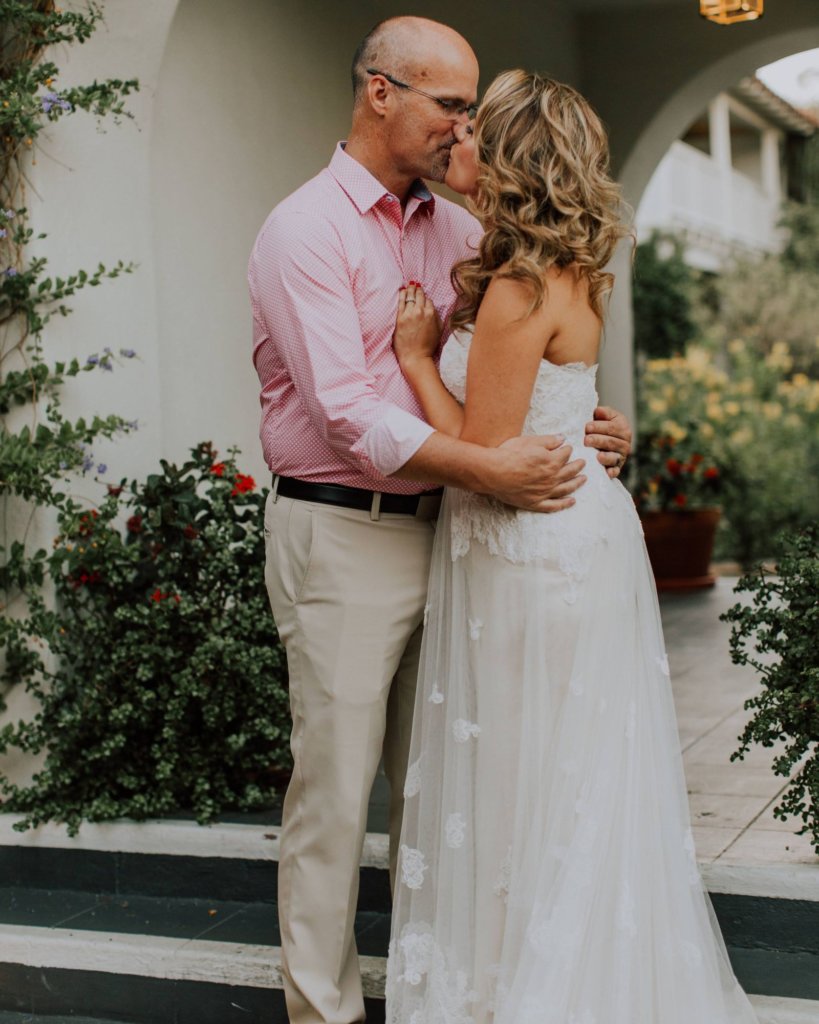 Q: How would you define the message "Dare to Love"?
Dare to go beyond your comfort of Love. Sacrifice, commit and love with an unselfish heart.
Q: Did you enjoy the wedding planning process? Why or why not?
Yes! I did most of the planning as my hubby to be travels a ton and works a lot. but he made the final call for things once I needed his help and I valued his opinion. Our wedding was a DIY for the most part. I bought the flowers, made all the arrangements with the help of friends and family and all the decor was us! We did it all. It was fun and had a personalized touch by some close members that were in on our little secret.
Q: What was your hubby's reaction when he first saw you on your big day?
He had a big smile on his face. I was raving about how much I loved my dress and he thought I looked beautiful. He was surprised to see it. He was taking photos of me which he never does. I was shocked but pleasantly surprised. I take photos of him all the time and of our son and pretty much anything that moves me, but he's much more reserved and private. He likes to embraced the moment rather than capture every little thing. He did say to me once that he only takes photos of things he's really interested in. So, I guess he's really interested in me! LOL Geez, I hope so.
Q: What did you love most about your #CocoMelody dress (es)?
I was a little stressed getting to the LA location as we live in Palm Springs, so on a good day in LA traffic thats about 2 hours. I arrived 15min late to my appointment and was so dissapointed because they were booked that day. I was told I could look for 15min and come back for a full hour at 1pm as there were appointments back to back. So, my wedding dress process took less than 15min. Literally, no joke only 15min. I timed it. Girlie our dress specialist was soooo helpful. I told her exactly what I was looking for, tried on my dress, was measured and out the door. I knew the moment I put it on it was the ONE! Sadly I don't have the photo that was taken when we were there. I wish I would have asked your team for it. It was a photo of me and my mom. The process was seamless!
Q: What do you think about CocoMelody and the customer service?
Fantastic! Everyone was so helpful, my dress was rushed and they made it happen, no problem! They answered every email, every call and Girlie was so sweet and kind. I wouldn't go anywhere else. The value for the detail on these dresses is fantastic. I don't understand why anyone would or could pay 5K for a dress when you can get a beautiful CocoMelody dress for $500 it blows my mind. And the quality of the fabric and speedyness of the service set my mind a ease. I've been telling anyone I know whos's getting married to go to CM. I had a great experience.