Can't imagine your big day without your best friend? Let's face it – along with your gorgeous lace wedding dress and a picturesque wedding venue, having your goofball-turned-groomsman in attendance on the big day will make the day even more special.
If you want your fur friends to be involved in your wedding celebrations and are wondering how to get them involved, plenty of inspiration is available online. So here, we will share five cute and unique ways to get your dog to play a part in your wedding.
1. Walk you down the aisle
If you really want your pooch to play an important role in your wedding, why not let them walk you down the aisle, carrying the rings or flowers? All your guests in attendance will aww at the sight of your pup trotting down the aisle as a ring bearer or a flower girl.
2. When you get ready
Don't leave your pup out of your getting ready routine. Having them by your side when you are putting on your lovely A-line wedding dress will allow for some really adorable photographs and will also keep you calm and reassured for your big day.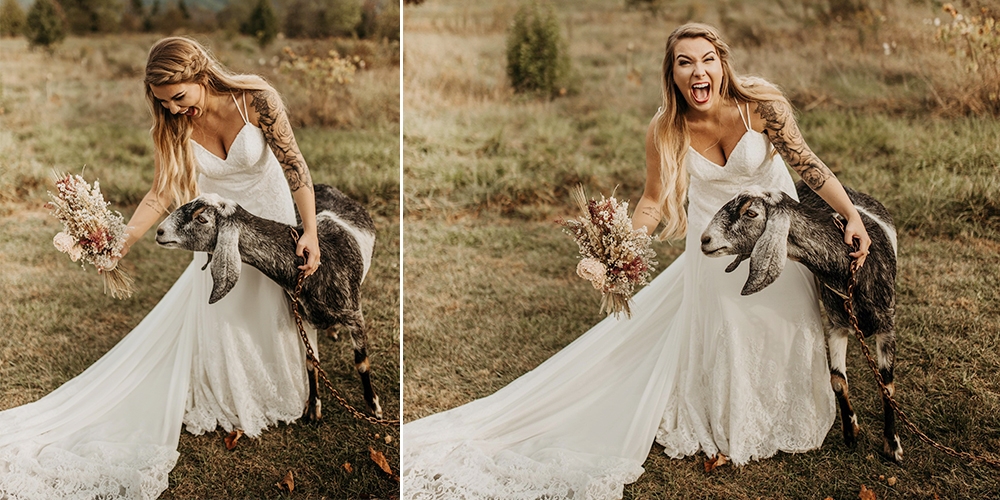 3. Dog of honor
Are there ever enough groomsmen to attend to everything on the big day? So why not appoint your pup as one? Have your baby meet and greet with the guests on their way in and also accompany them to their seating. Your guests will certainly be delighted by the sight of your furball welcoming them in.
4. Bearing witness
Your pooch cannot actually be a formal witness at your big day. However, you can have them be by your side during the paperwork part of the wedding ceremony.
5. In the photographs
Shop for fancy collars for your puppy (maybe even a pup tux) and get him all pimped up for your wedding photographs. When your furball is clean and well-groomed, not only will he look amazing in the photographs but you also won't have to get worked up about fur getting caught in your wedding gown. Having your baby in your wedding pictures will make them even more special and memorable.
Tips for including your dog in the wedding
All things said, having puppies (or any other pet, for that matter) in weddings call for a few extra steps that you wouldn't normally need to take. We know you have already gone all out settling on that flawless A-line wedding dress but trust us, planning this is just as important. This will allow your baby to be included in your wedding ceremony without a hitch and not have your big day to turn into a disaster. So, let's talk about the special preparations you need to make to have a pooch-friendly wedding.
1. First things first, some of your guests can be allergic to dogs and you must take this into consideration when you're considering taking your dog in the wedding hustle and bustle. Of course, having your guests sneezing the whole time they are at your wedding is the last thing you want. Make everyone on the guest list informed that you plan to have your pooch in your wedding. So your guests with allergies can at least prepare for it.  
2. Taking the guests into consideration, it's best if you plan an outdoor wedding ceremony so your pooch's dander does not turn into an issue. Keeping up with the dander, is your pooch good around people and other pets? If yes, you can keep him out in the open and in sight. If not, better keep that bad boy away from the wedding ceremony and your guests. If your pooch is leash trained, you can even ask someone in the family to keep him sitting with them throughout the ceremony.
3. One more thing! If any of your guests are bringing their pet to the ceremony as well, you must make sure that they are not aggressive and won't make a mess of any part of the day. Their pet(s) should go along with yours so there's no fighting behind the scenes when you're walking down the aisle in your beautiful wedding dress with sleeves.
It's a fun idea to incorporate your terrier into the wedding ceremony, just bear in mind that it has to be done tactfully to allow your guests to get a thrill out of your special day as much as you will!