Fall is the best season for the celebration of love. The colors are warm, the air is crisp and the weather is just right to host the perfect wedding ceremony. And with Thanksgiving just around the corner, what better way to celebrate it than to incorporate it in your wedding.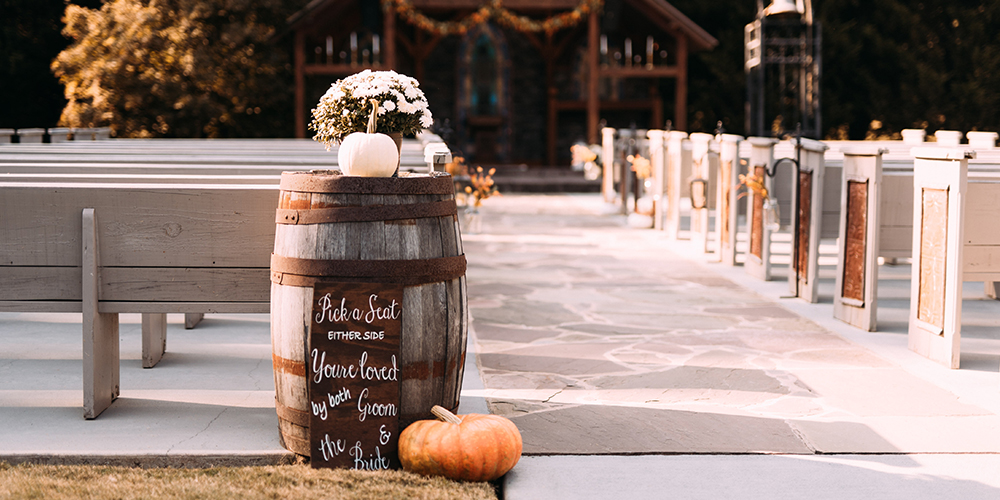 We've come up with the best Thanksgiving wedding ideas to make the most of the season's offerings:
1. Thanksgiving Inspired Menu
What better way to bring family tradition into your wedding than by sharing a family recipe with the guests? Incorporate some of your favorite Thanksgiving food into your wedding menu and add flavor to the day by sharing your house and heart with your loved ones. Switch up the menu by incorporating subtle twists of traditional turkey, potatoes, pumpkins, cranberries, and other seasonal varieties. It won't be the same as your grandma's handmade recipe but it'll taste delicious nonetheless.
2. Decor
Engage in the Thanksgiving spirit by incorporating it into your wedding decor. Try putting up a family tree with every family member's name and an additional branch with names of your friends on it. Incorporate bedazzling pumpkins, lots of leaves and wooden centerpieces to your decor. The decor can include a display of family photographs and that of the bride and groom from childhood to courtship. Don't forget to include lots of candles to create a warm and inviting atmosphere and scent the air with classic fall fragrances.
3. Wedding Attire
Take advantage of the rich array of deep fall colors and skip the traditional white wedding dress for peach, ivory, muted pink and lighter shades that reflect autumn leaves. For bridesmaid dresses, try pops of pink, reddish hues, orange, and deep yellow. Try a combination of navy, purple, scarlet and green to make a bold statement. If you're looking for something soft, stick with elements of gray or neutral tones like pastels and blush.
4. Cocktail Hour
Incorporate the Thanksgiving essentials into the cocktail hour by arranging a coffee bar with a variety of special creamers so that guests can enjoy different flavors. The cool temperature definitely calls for some pumpkin or squash soup shots to give your guests some cozy indulgence. You can also spruce up your champagne toast with a splash of apple cider and cinnamon to add to your Thanksgiving-themed menu. Also, try mini cupcakes with touches of fall berries to surprise your guests with a sweet fall treat.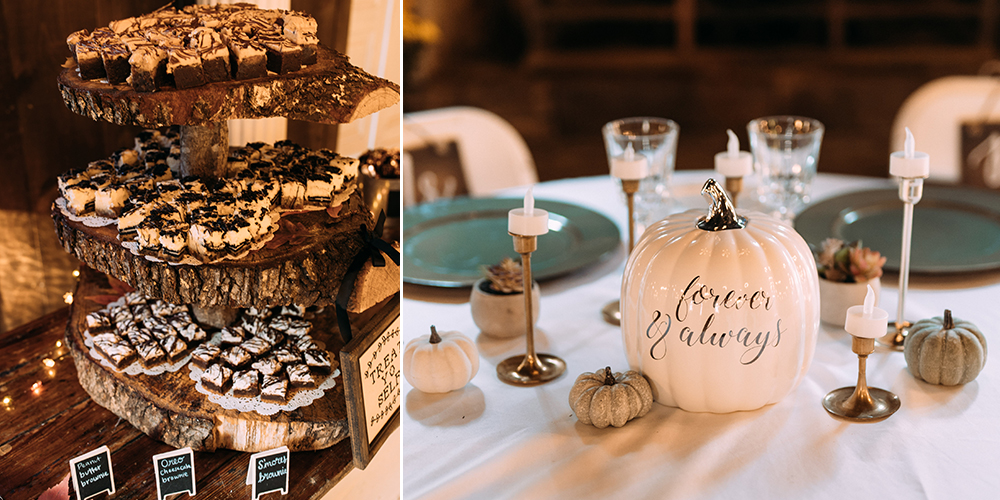 5. Wedding Invites
Give your guests a hint of the wedding theme by incorporating some Thanksgiving elements to your wedding invite. Consider inserting tiny silk flowers, either in pastel watercolor or deep hued colors to accentuate the wedding theme. Add leaves and wooden elements to the invite to accentuate the theme of the wedding. Fall fruits like apples, cranberries, pumpkins, and pineapples also make for fun elements to include in your invite. Match your invites to your wedding theme by having them printed in the same color scheme.
Thanksgiving weddings are intimate, cozy and really fun. It is a time to be thankful for everything in your life, and what better way to celebrate than with the gathering of friends and family to welcome the new chapter in your life with love and gratitude while rejoicing in your happiness.