You have finally found it… The wedding gown you have dreamt about since you were a little girl. And it is everything you envisioned – layers of delicate fabric in an elegant style that flatters your distinctive silhouette.
On your big day, you will walk down the aisle looking drop dead gorgeous in this lovely dress – or so you would have thought. What if your gown actually looks like a wrinkly ensemble hanging off you? It may sound dreadful but it happens more often than you would suspect. No matter how cared for or well-pressed, all your bridal gown needs is a couple of hours of walking around before the creases settle in.
While this "wrinkly" situation might be inescapable, we have come up with some clever tricks you can employ to keep your wedding dress wrinkle-free throughout your big day.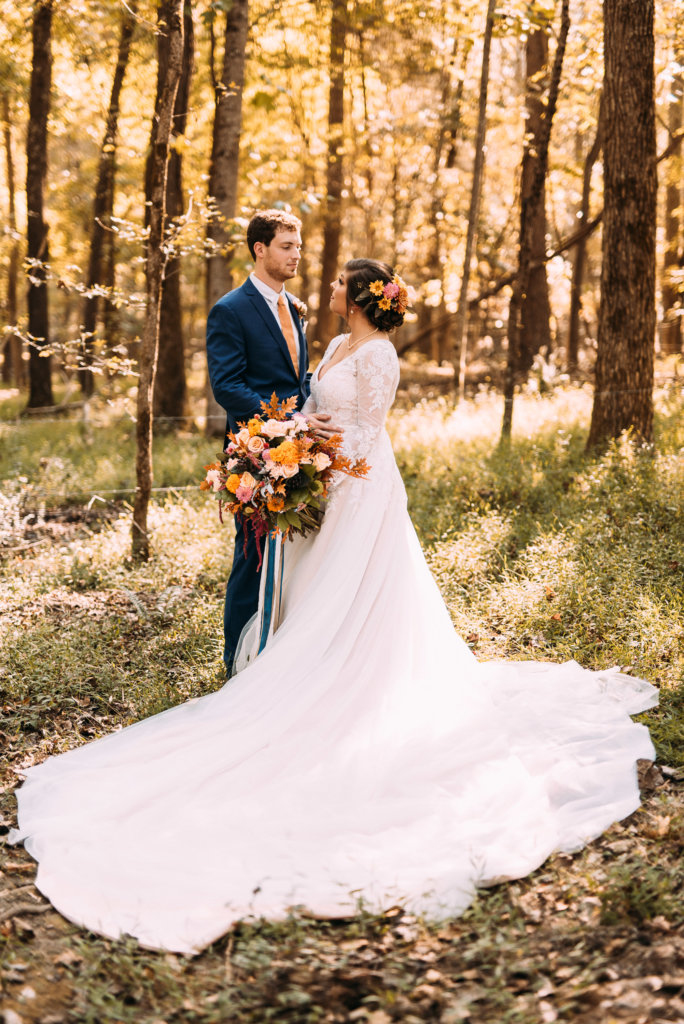 Style: #LD4432, Image Credit: Mary Claire Photo 
1. Things to do when your dress leaves the boutique:
Have your wedding dress steam pressed at least a good 24 hours before it leaves the boutique. This will give your dress enough time to dry and help prevent wrinkles from settling in. It is also ideal to have the dress on a padded hanger that could support its weight as it will help prevent accidental slips and falls that could result in wrinkles.
Gently fold the dress and tuck it inside a vinyl or cotton bag.
When traveling with the dress, try to keep the bag from dragging around to prevent crushing and wrinkling the fabric. If you are traveling by car, you can gently lay it across the passenger or back seat. If you are traveling by plane, you can ask the flight attendant to lay it in the overhead bin or in their closet.
As soon as you pick up the dress or you have arrived at your wedding destination, gently remove the dress from the bag and hang it in a closet. Keep in mind: the closet should be in a cool, dry spot that would provide your gown with plenty of room.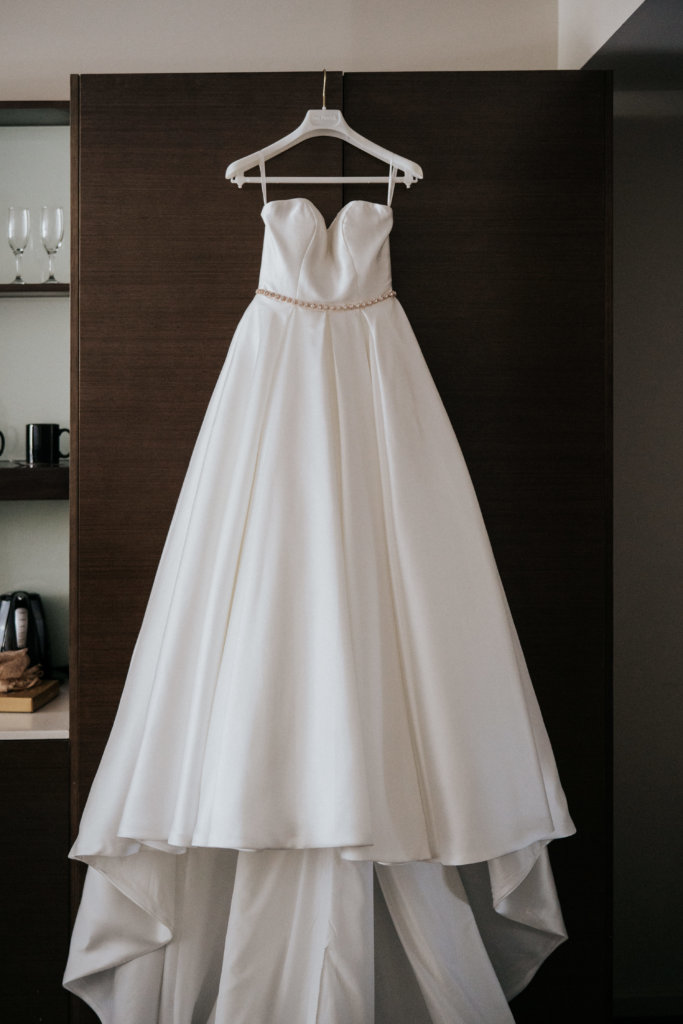 Image Credit: Nathan Story from Story Studios 
2. Prepping tips
Keep it dry: Warm or the slightest bit damp fabrics are most likely to crease. So, if your mermaid wedding dress just came back from dry cleaning, leave it to cool at room temperature and make sure it is completely dry before putting it on.
Iron it well: In order to minimize the creases you create throughout the day, iron your wedding dress inside-out, and along the seam lines. Remember that this is not your average ironing job. A hot iron could burn and ruin the gown; so, use the iron slowly and on a cooler setting. First, inspect the gown all over. Be aware of embroidery, appliqués, tiny beads, lace, and sequins – all of which can snag or melt under an iron. Turn the garment inside out so that if you mess up, it will not be on display. Use a plain fabric or pillowcase to cover the garment – don't iron directly on the garment. Raw silk can be stretched by an iron leaving your garment out of shape or the wrong length. Work carefully when using an iron.
Steamy-bathroom: Hang the wedding gown in a steamy bathroom for 15-20 minutes and smooth out the wrinkles using a clean, white cloth or towel. You will be surprised how well this works for most fabrics! However, you will have to take some precautions with this approach. Before proceeding, make sure your hands are clean and free of any oils, lotion, makeup, the perfume which could stain the garment.
A steamer really should be the last resort: If you think your wedding gown does not look seamless, steam it 24 hours ahead of the wedding to remove any creases. If you are using a garment steamer, be sure to hold the steamer at least 6 inches away to avoid melting delicate items or creating water stains. Steamers should not be used on raw silk because water stains will appear and stain the fabric. Water will bead up on many other fabrics with shine, so use the steamer sparingly.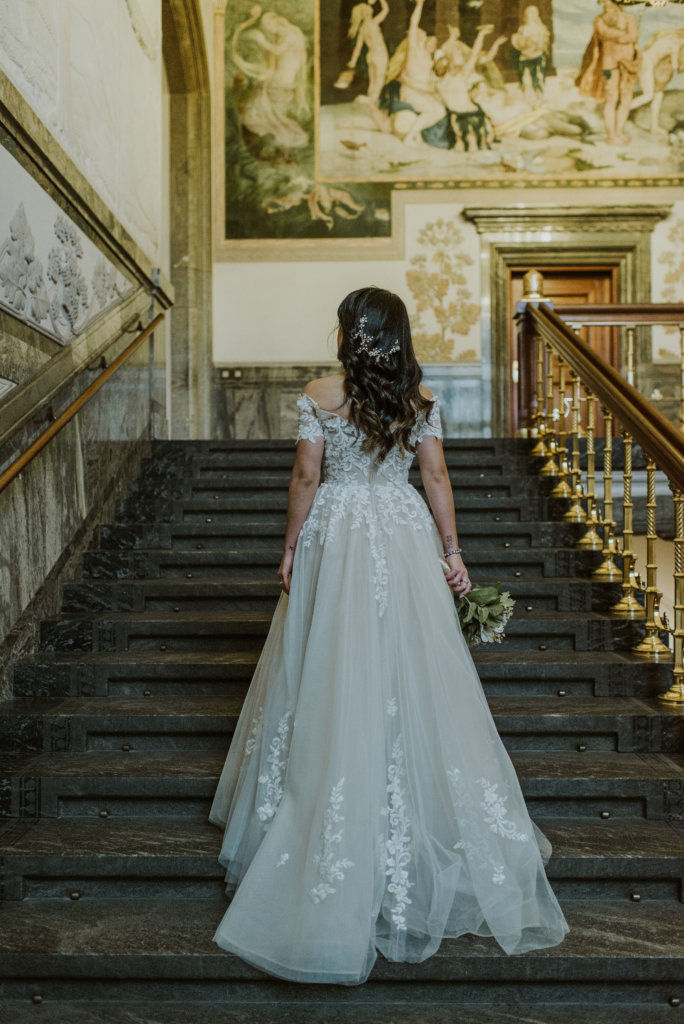 Style: #LD5830, Image Credit: Faces of You 
In conclusion
Try to your best to care for your wedding dress and keep it wrinkle-free for the big day. However, if you are still a little rumpled in areas, don't sweat it. Most people will not notice the wrinkles anyway. So, get married, dance and have fun.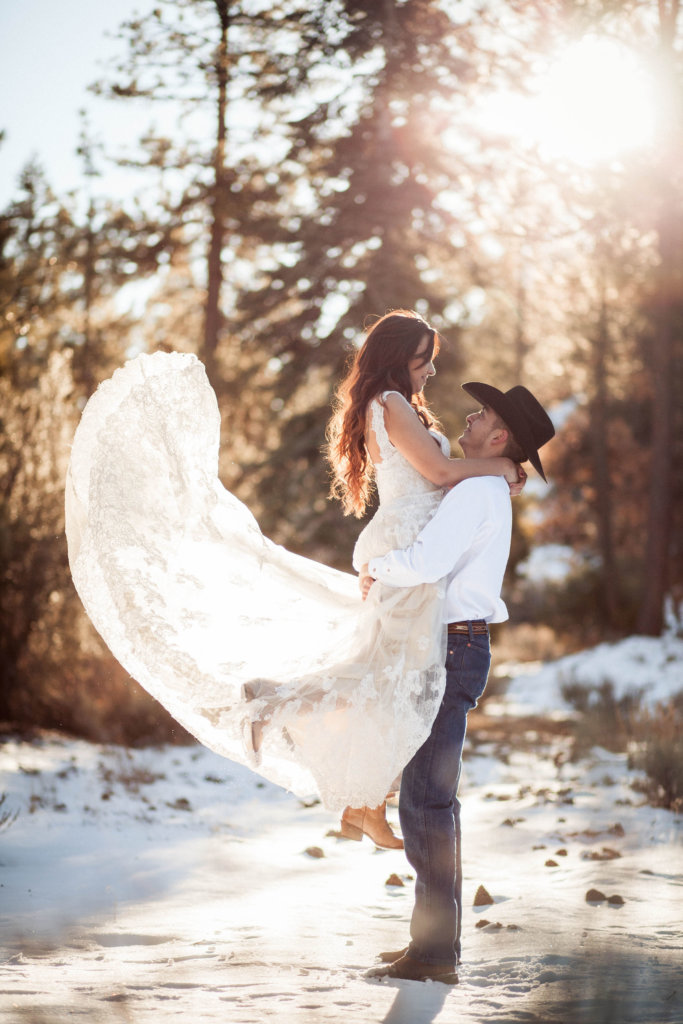 Style: #CWZT15008, Image Credit: Faythful Photography