Since this was their second time marrying each other, Maggie and Robert had a very intimate wedding in Black Canyon Inn, Estes Park Colorado, just family and closest friends joined there for a Mother's Day weekend. They chose their favorite color blue as the wedding color and added red roses for contrast. They wanted their kids to be as much a part of the day as they were. Their kids stood up with them as Best Man and Maid of Honor. It was all about a sweet family coming together again!
All photos were taken by PZK Photography.
Wedding Dress Style: #CWLT1600C
Bridesmaid Dress Style: #COZF17008
Necktie Style: #CZ170003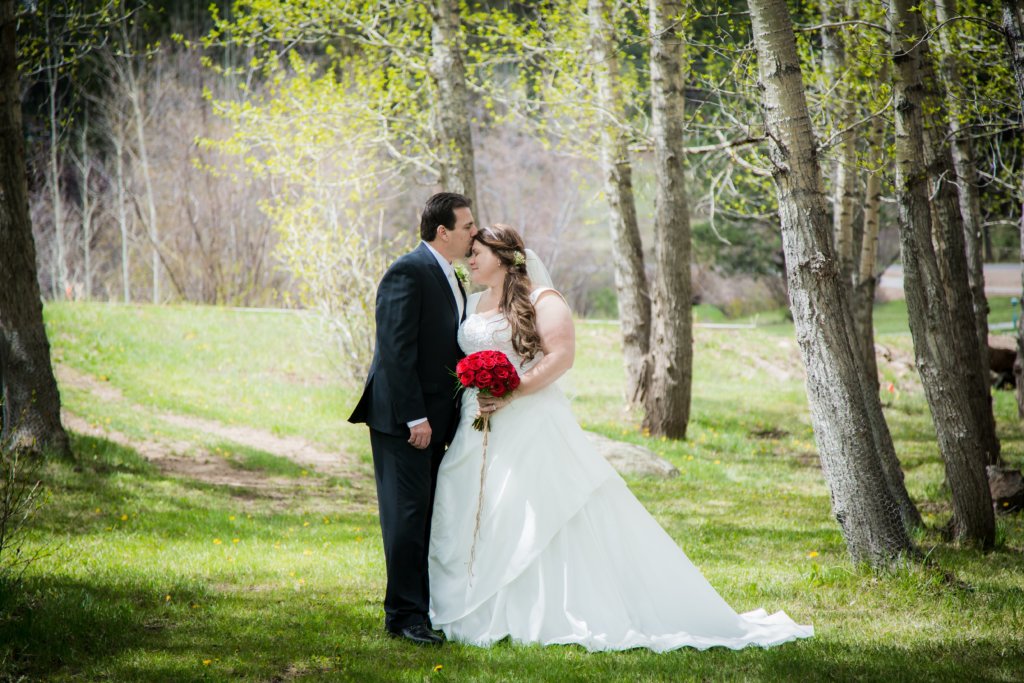 Q: Any advice or tips for future Mrs?
Don't sweat the small stuff. There are so many things we cannot control and nor should we. I enjoyed everything that happened on our special day that we did not plan for. The humor came from those unexpected moments and I would not trade them for anything, so let things be the way they might. So, when the florist breaks your cake topper, tell her you're not stressing over it so she shouldn't either, find some tape, and piece it back together. Enjoy every moment of the planning and your special day. Laugh at what does not go perfectly.
Q:  Tell us your love story! Where & How did he propose?
Robert was a courtesy clerk at the grocery store Albertsons. I was a courtesy clerk at another Albertsons but I applied for a job in the bakery at the Albertsons Robert worked at and I was hired. On my first day, my boss told me to watch out for this one guy, Robert, because he applied for the same job but they hired me so he might be mad at me. To this day, we joke about me stealing his job, but it was fate and we wouldn't have it any other way. Our first date was at Disneyland, California. We dated 3 years until we visited Disneyland again and Robert gave me a penny to throw in the wishing well. I made my wish, threw the penny in and he did the same. We walked over the bridge and he got down on one knee and proposed to me. We were married a year later, in April 1997. In July 1998, our son, Cole was born. Cole was 3 years old when I graduated from college, and we moved to Las Vegas for my first career job. Our daughter, Paige was born in 2005 in Las Vegas. We moved to Colorado Springs for a few years, then Wyoming. It was there where we separated. It took us 3 years apart to find our way back to each there. We started over as friends. We both moved to Fort Collins, CO where I went to Colorado State University and attained my MFA degree. Once again, we dated three years and were engaged a year. I graduated May 11 and we were married three days later, on May 14. I feel so lucky to marry the love of my life twice.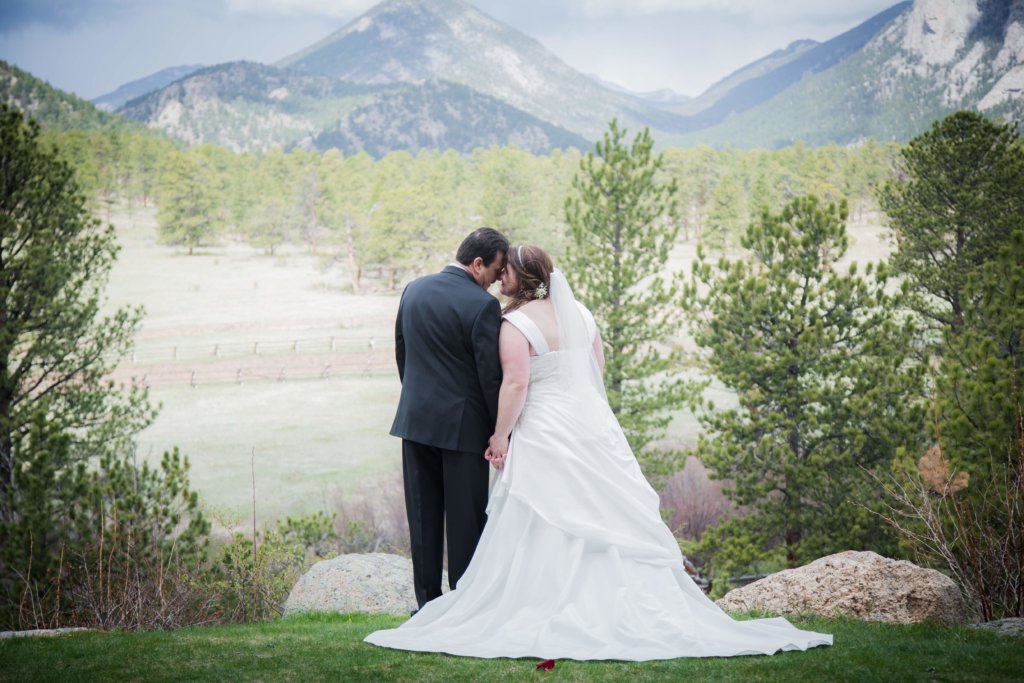 Q: How would you define the message "Dare to Love"?
Loving someone takes patience as well as good times and bad. There is nothing like spending your life with someone you love. Dare to Love to me, means take the risk on love because it is worth it in the end!
Q: Did you have a particular theme or color scheme? Is there a story behind this color theme and why you chose it?
We love Colorado! Getting married outdoors in the mountains in May could have meant rain, snow, or anything in between. We wanted the outdoors to speak for itself. I was secretly hoping for snow, but we had a little afternoon drizzle which made for some great umbrella pictures. As for the color, I told my daughter to pick her dress in any color and that would be the color of our wedding. Blue is both of our favorite color so she picked a blue dress and we added red roses for contrast. We wanted our kids to be as much a part of the day as we were. They stood up with us as Best Man and Maid of Honor. It was about our family coming together again.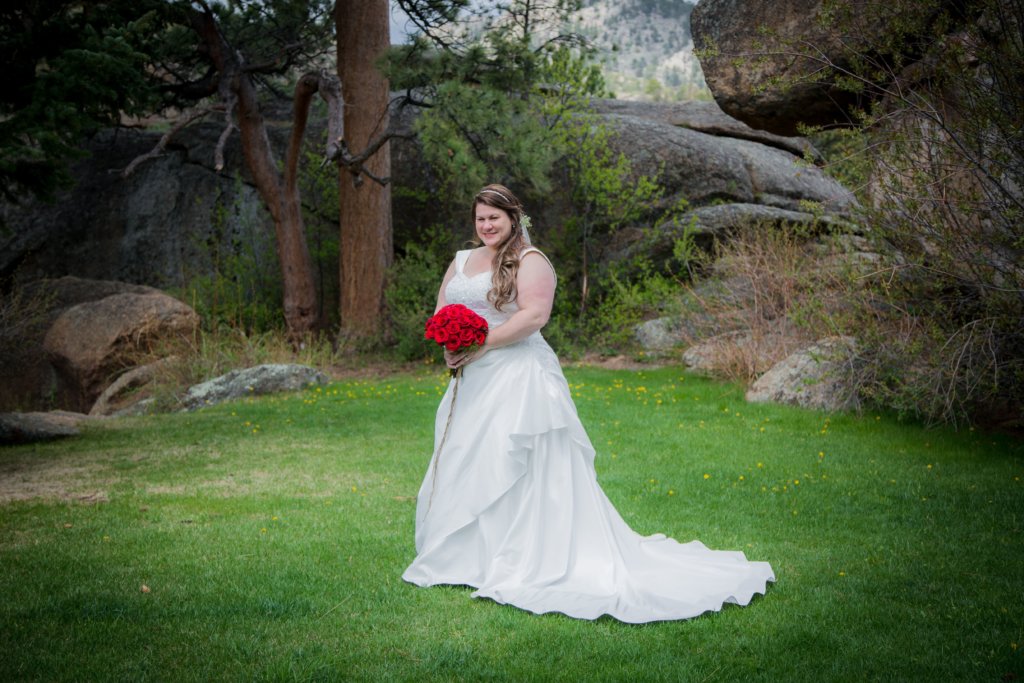 Q: Did you enjoy the wedding planning process? Why or why not?
Since I was in my final semester of Graduate school while planning my wedding, I did my best to keep things simple and stress-free. I enjoyed planning my wedding with my daughter so she felt part of the day.
Q: What was the best/most memorable part of the day?
Seeing Robert, our son and daughter in the gazebo waiting for me just melted my heart. Marrying my best friend the second time was the best part of the day. Sharing this day with our family and closest friends was so special. Having our kids stand up with us as we exchanged vows is something I will never forget. Spending the rest of the day with family and close friends walking the river in Estes Park and just enjoying each other's company was the best way to spend the day.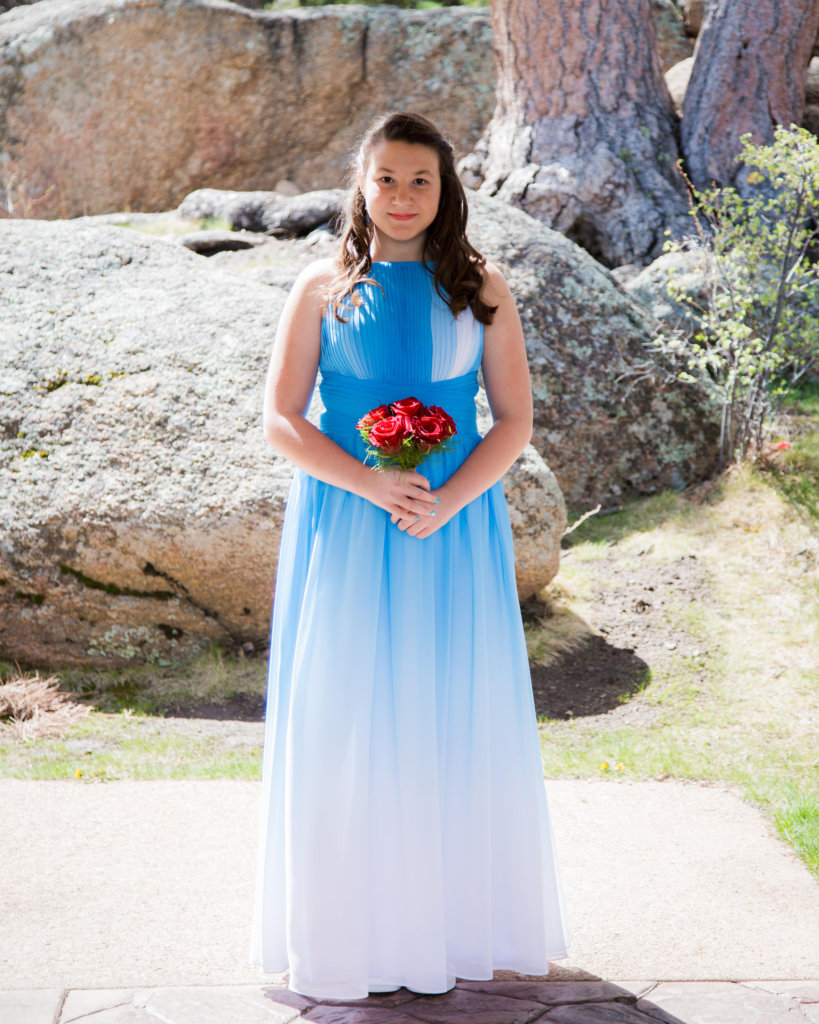 Q: Why did you choose Cocomelody for your bridesmaids?
After looking online for the perfect wedding dress, I liked what I saw on the Cocomelody website. I tried on dresses at a few stores close to me and I knew I wanted to try some of the dresses on at Cocomelody. I made an appointment at Cocomelody, Los Angeles, during my Christmas trip to visit family, and I said yes to my dress. My daughter had also picked out dresses to try on and she loved the ombre style dress. Cocomelody made the process easy for my teenage daughter who has had little interest in wearing dresses for any occasion. She loved getting dolled up in her Cocomelody dress.
Q: What did you love most about your #Cocomelody dress?
I love the quality of my Cocomelody dress. It was comfortable to wear and I loved that I could take a strapless dress and add straps to be more comfortable for me. I loved that the straps were snap on so I could wear the dress with or without the straps. There was nothing I did not love about the wedding dress, I loved it!
Q: What do you think about Cocomelody and the customer service?
I felt like a princess at Cocomelody trying on dresses. The customer service was amazing and my dress was exactly what I was looking for.