Honestly, who doesn't live for a dreamy bridal moment like this?! Danielle & John's beach wedding in South Carolina was extremely intimate. Surrounded by close family and loved ones, they had a fun time! Congratulations to Danielle & John and wish them all the best in the new journey!
All photos were taken by  Hal Mitchell Photography.
Wedding Dress Style: #B14A0067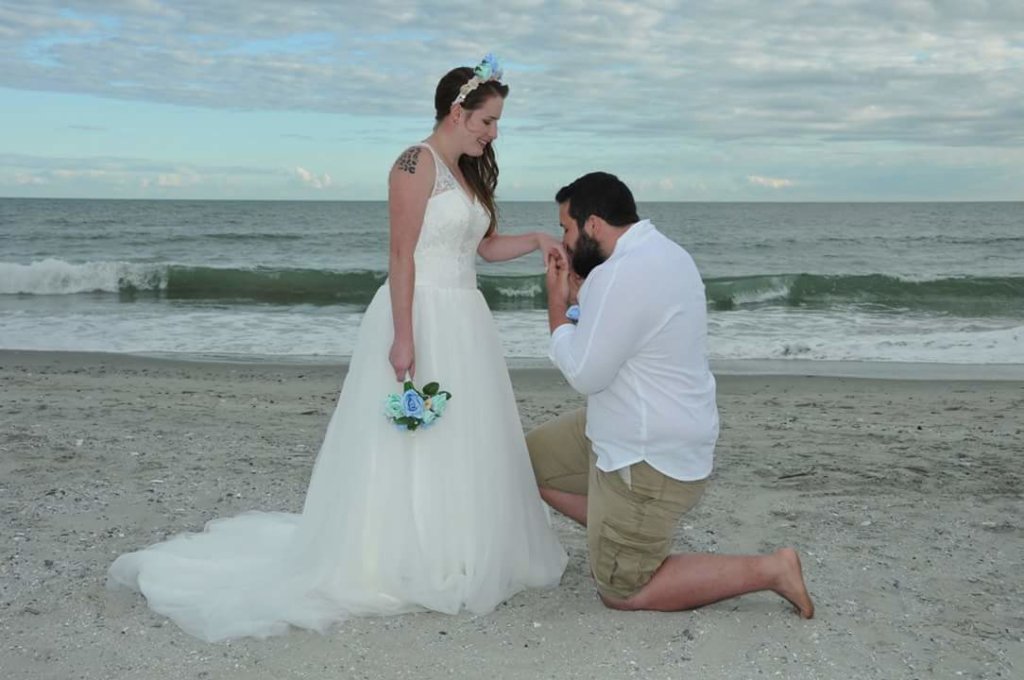 Q: Any advice or tips for future Mrs.?
Never go to bed mad at each other, just hug it out!
Q: What about your love story? And where did he propose? 
Our love story began with John's cousin forcing us to go to senior prom together, and if it wasn't for her we might not have met as soon as we did. But even though it was love at first sight for us both, every fairytale has it heartbreaking parts to it, …sadly John had to go back to his home town Texas. Years passed until one sunny day while shopping at Krogers I saw a handsome, familiar face walking my way. With just a smile and a hug, all emotions came flowing back into our hearts as if we never had parted. Ever since that day, we haven't gone far without the other following close behind, best friends forever!
John had been patiently waiting until we closed on our house and moved in before he wanted to pop the question. On one beautiful November day after eating at 2nd Street dairy bar, he proposed at my favorite flower garden down by the river in Ohio. He definitely surprised me on that day, and we couldn't wait to start our journey together.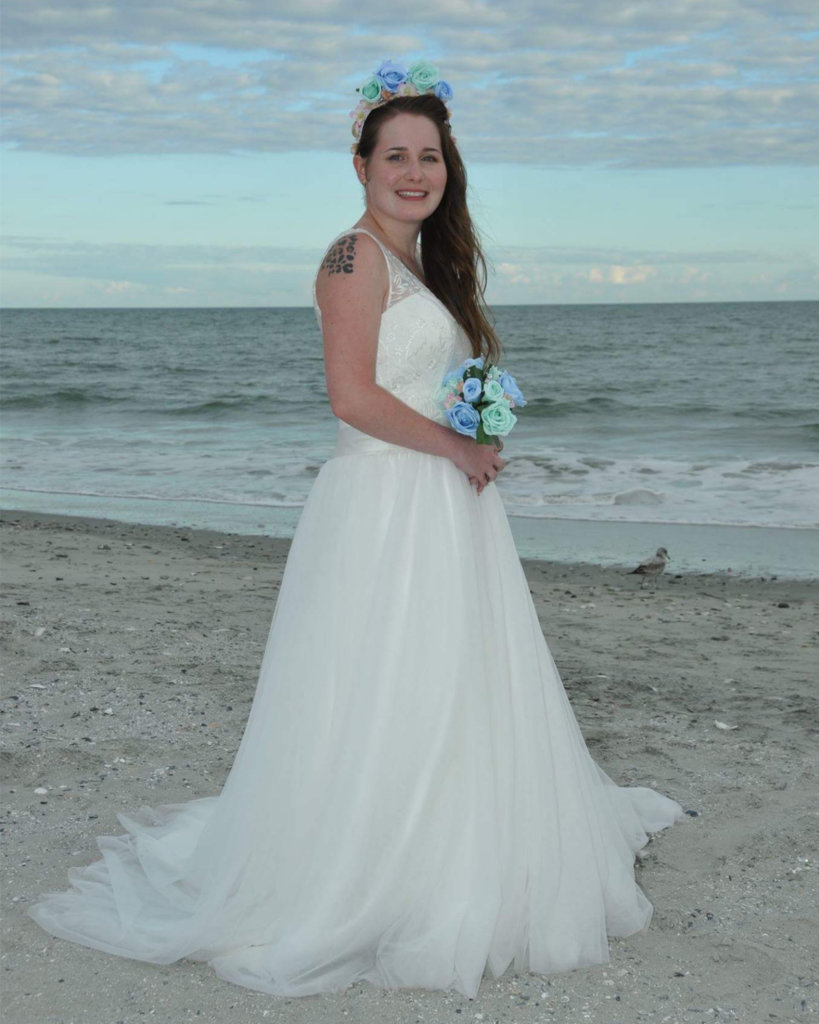 Q: What was the inspiration behind your wedding theme? 
When John and I decided to get married on the beach it just seemed that the perfect theme was to just embrace the beauties of the ocean. Since I'm obsessed with mermaids and seashells I just couldn't pass it up.
Q: Did you enjoy the wedding planning process? Why or why not? 
Having a small/simple wedding with close family and loved ones made the process not stressful at all. I found myself wondering why I wasn't stressed at times and I realized it was because of that reason. Plus I loved being able to be crafty and make pieces for our wedding making it even more special.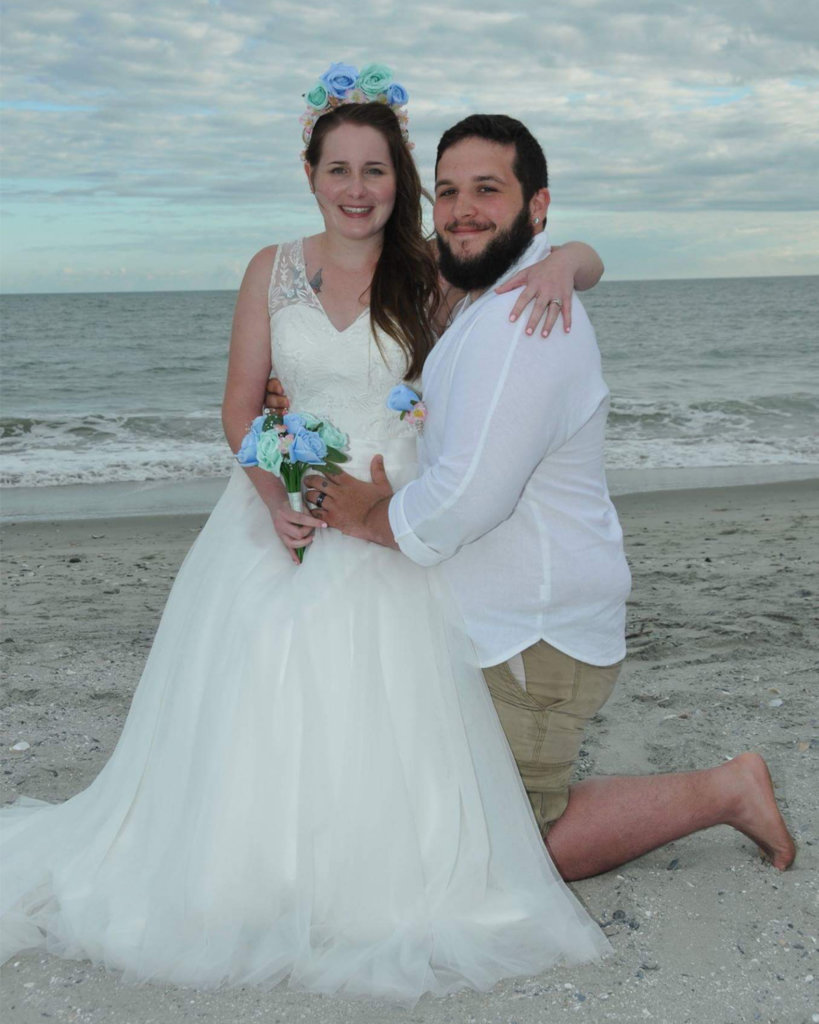 Q: What was your hubby's reaction when he first saw you on your big day?
Having John couldn't stop smiling when he saw me walking toward him, and right after I saw his face, I couldn't stop smiling either.
Q: What did you love most about your #Cocomelody dress? 
What I loved most about my wedding dress was that it was made specifically to fit me, and the design/style of dress I wanted was spot on, it was absolutely perfect!
Q: What do you think about Cocomelody and the customer service?
Even though I'd never met the crew in person that helped make my dress, by messaging/talking on the phone I felt as if I had met them on a personal level. Plus the delivery was very quick and on time just as they promised, 5 stars rating! 😀 Thank you Cocomelody for my fabulous wedding dress, your amazing!