Weddings have become more dramatic today, won't you agree? Over the past few years, we have seen a rather large number of couples doing their best to add certain striking elements to their big day to make their wedding all the more dramatic… and special – whether that be an unconventional yet stunning wedding gown, an off-the-beaten-path location or even a theme inspired by a Comic book, anything goes!
Are you tossing around the idea of having a dramatic wedding as well? Well, in that case, you must not forget about your entrance. Yes, as you plan for the whole wedding "drama", the most important part would be your walking down the aisle. So, your entrance should look as magnificent as possible and leave everyone gasping for breath. With that in mind, we have compiled a list of some fun and unique ideas for you to impress your crowd with your entrance.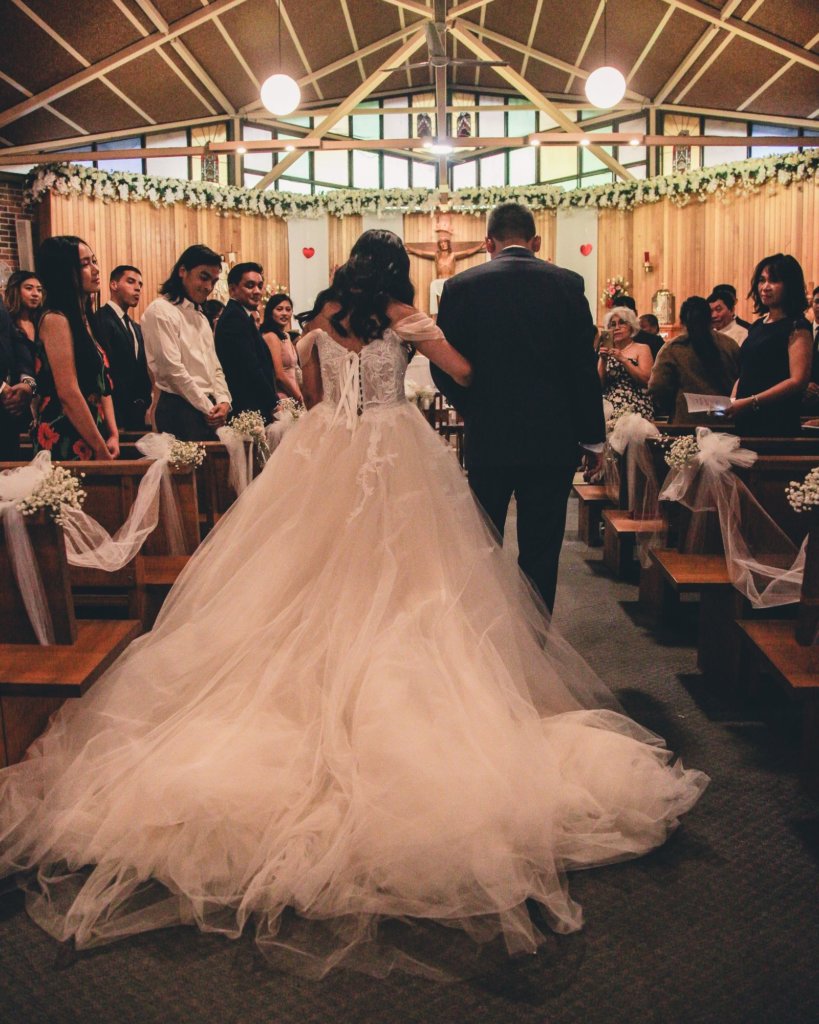 Style: #LD5066, Image Credit: Pauline Nicole Photography
1. Let a unique song be the perfect canvas for your grand entrance.
If you want to wow your crowd with an awe-inspiring wedding entrance, why not do it with a song that will get everyone in the mood to celebrate? We would recommend going for classics such as "Love Train" by The O'Jays, "Celebration" by Kool and The Gang, "It Had to Be You" by Harry Connick Jr. or "The Best Is Yet to Come" by Frank Sinatra instead of the same, old, traditional, "Bridal March" or "Here Comes the Bride" song. All of these hip, fun songs have lyrics and music that will surely get your crowd to kick up their heels and get their boots tapping and make your entrance all the more exciting, fun and very unique!
2. Make your entrance more colorful with smoke bombs.
Smoke bombs are a hot wedding trend this year, so why not consider bringing these gorgeous clouds of color into your wedding entrance in some way? You can line the entrance with them or set them off in the background or foreground for a truly breathtaking entrance. Colorful, vibrant and exciting, smoke bombs are all you're going to need to make your entrance grand. Oh, and they also make for some bold wedding photography!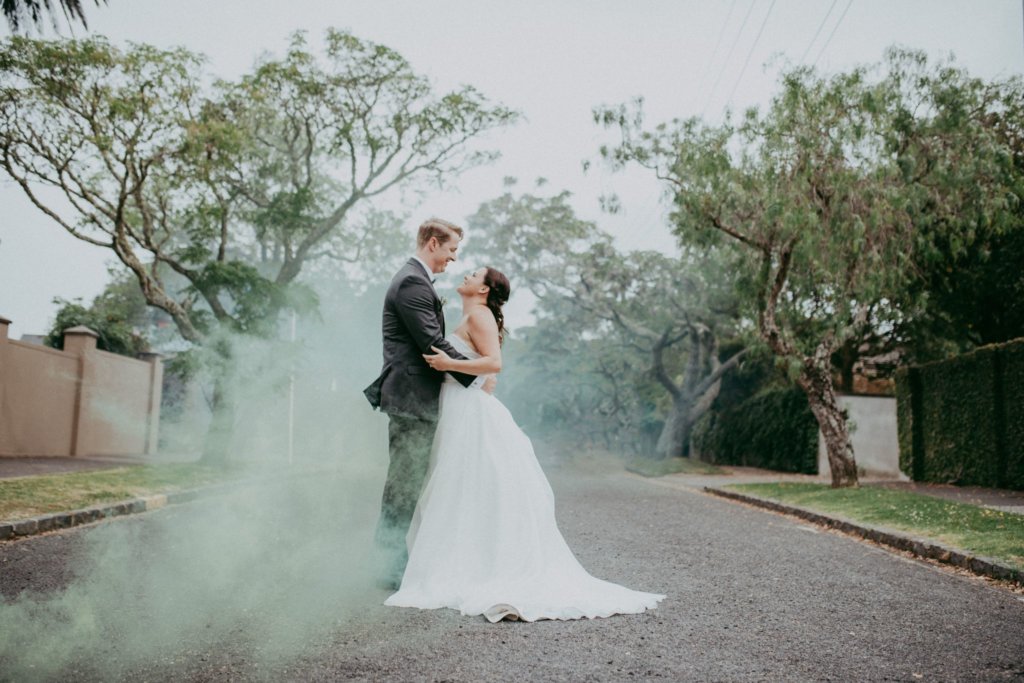 Style: #LWXT14092, Image Credit: Levien & Lens Photography
3. Brighten up your entrance with candles.
Okay, maybe candles aren't as flashy as smoke bombs but they are definitely very dramatic! Whether you choose to illuminate your ceremony hall by placing pillar candles to fill open spaces, place taper candles on an elegant tabletop or hang glass orbs filled with tiny tea lights, the amber glow of all those flickering flames will undeniably make your entrance feel very majestic. Just imagine how gorgeous you'll look walking down the aisle in your stunning ball gown wedding dress when cast in a flattering, romantic glow!
4. Turn your entrance into a party with confetti.
As the DJ or MC announces your entrance into the ceremony hall, you'll hear loud cheers, louder music and huge smiles. Wait… there's something missing from the picture, don't you think? Ah! A dazzling effect, that's what! Well, confetti poppers have you covered. Give each one of your bridesmaids a popper and let them bombard you by a beautiful cloud of shimmering strips. We are not inclined to believe that there can be anything more magical than that wonderful moment when the confetti flies, floats, and flutters through the air as you walk down the aisle in your equally wonderful A-line wedding dress.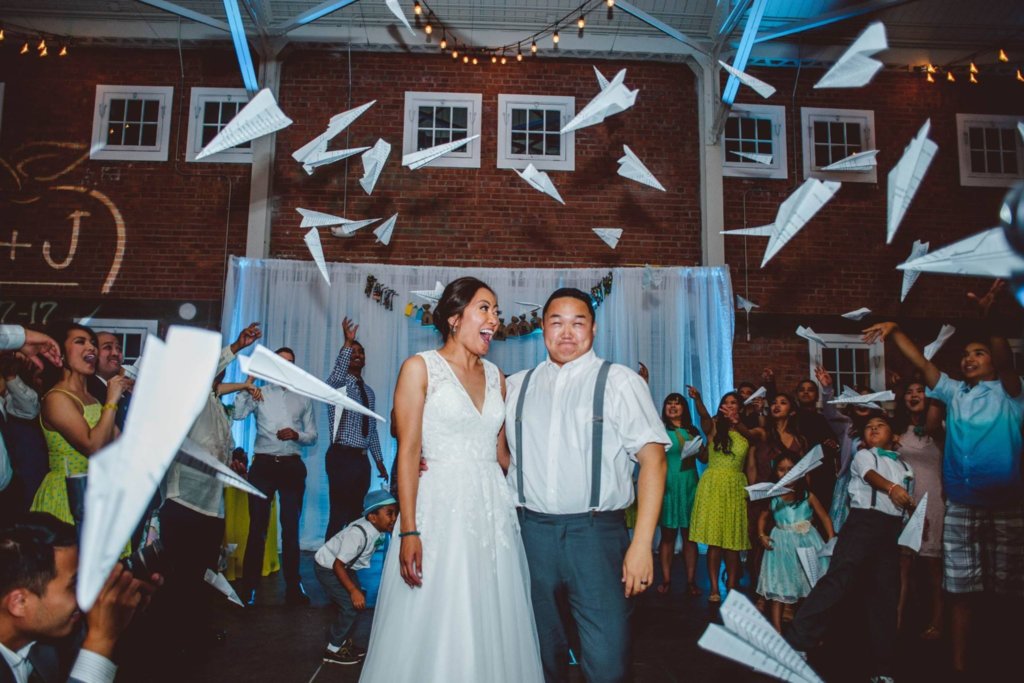 Style: #LD3932, Image Credit: Color & Cake Photography
5. Turn up at the ceremony from the sky!
A limousine, vintage car and horse-drawn carriage are all cool ways of arriving at your wedding, but we are looking for something out of the ordinary. To truly make an entrance that will blow all your guests away, you may want to consider the most epic way to arrive at a wedding ceremony, in our opinion: a hot air balloon. A hot air balloon entrance will surely get your guests all excited and make your wedding unforgettable. Talk about adding some drama to your big day!
Arriving at your wedding needs to make a statement! This is after all the first impression that your guests are going to have of you and the theme of your wedding. We hope the ideas listed above will help you make a grand entrance that will turn the "drama" of your wedding up a notch and make it a day nobody in attendance will soon forget.
With these ideas, you can make a grand entrance to your wedding, but can you make your exit in a similar fashion? Absolutely! Here are seven creative wedding send off ideas you can consider.