Are you looking for ways to make your wedding stick out a mile from the ordinary? Why not start with a unique color palette? Deciding on a color palette for your wedding can be a challenging task (we understand!) but it's definitely worthwhile. After all, the shades you pick can help set the entire mood as well as transform the overall ambiance of your wedding day.  Not to mention, they will be memorialized eternally in your photographs.
There are so many places where you can draw inspiration from – from the venue and the season to the mood you're aiming to set for your "big day." Would you rather go for lively and fun (vivid and warm shades) or lavish and intimate (jewel hues and premium textures)?
What if we tell you that it's possible to get all of that (and more) when you choose the biggest color trend of the year as your wedding's color palette?
Every year, the Pantone Color Institute sets the trend for colors in high-end fashion with their "Color of the Year". The 2018 Pantone Color of the Year has been announced as Ultra Violet. Recognized as an avant-garde and creative color, the shade stands for what is to come. We think that the color is dramatically alluring and reflective and exudes novelty, finesse, and elegance.
If you want your wedding to be on fleek, we recommend you to embody this shade into your special day. Moving over the décor and a large number of blooms that come in shades of Ultra Violet – orchids, roses, peonies, and dahlias, to name a few, you can also incorporate this exquisite hue in the bridesmaid dress theme, your wedding accessories, and even your own wedding dress!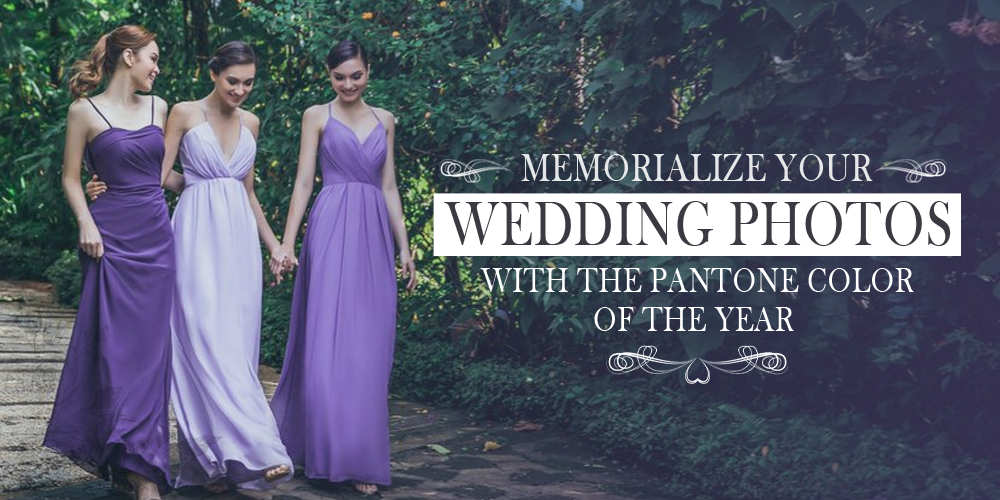 Bridesmaid dress – Out with the old, In with the new
Why would you want to stay the course to the oldies – burgundy or gold bridesmaid dresses? Needless to say, you'd want your bridesmaid to dress to complement your wedding color scheme and look à la mode. What better way to ensure that than to set the color of the year as the color theme for your bridesmaid dress?
While undeniably, the palest of pinks and soft blush bridesmaid dresses translate well at weddings. But, the flattering shade of Ultra Violet will catch every eye on your wedding day and most importantly on your bridesmaid photographs as it is a perfect backdrop for flowers and accessories. What we particularly love about Ultra Violet is its preppy style which compliments just about any skin tone and works well for both casual and formal weddings. If you're going this route, we recommend combining Ultra Violet bridesmaid dresses with metallic or jewel tones for a bold look or graceful pastels for a more romantic look.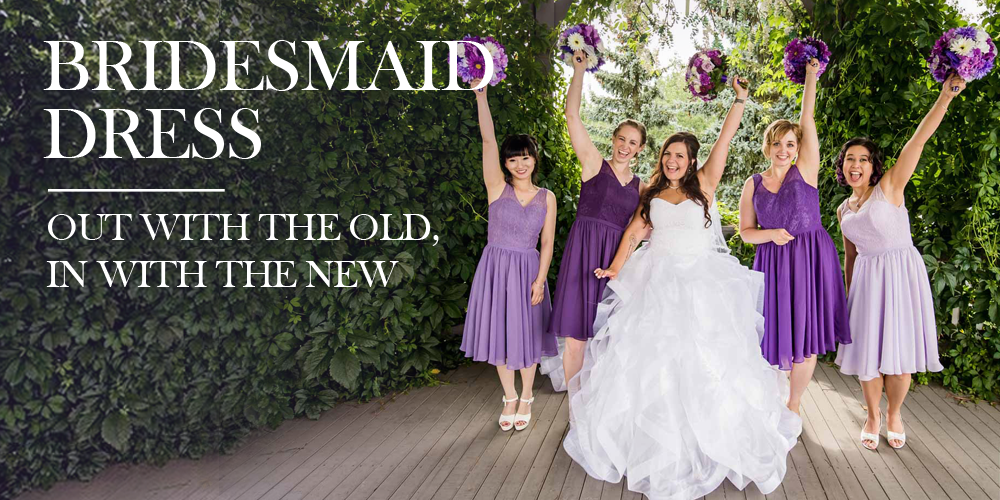 Have every eye on you when you walk down the aisle
Your wedding dress is beyond the shadow of a doubt the star of the show. If you have a flair for drama and are inspired by couture runway fashion, Ultra Violet is what your wedding dress color should be. Whether you want to go for an elegant, traditional look or a young, more unconventional look, the color of the year has got you covered.
You just have to make sure that you complement your dress with the right accessories to add a personal touch to your wedding gown. Though, we recommend you to not go overboard between a dizzying number of choices to make between shoes, jewelry, veils and other pieces.
Even though it has only now become the color of the year, Ultra Violet shade has long been a hot choice for runway fashion and grand weddings. But we think that the most important part about your wedding look is that you are not drifting too far from your natural grace. Do you usually wear rocks? No? Then you don't have any reason to drown yourself in diamonds on your special day. Your goal should always be to look and feel like the most beautiful version of yourself and then only will you be able to enjoy your wedding.