Sarah & Ashley had their fall wedding in Indian wood country club. They chose their favorite color purple and their engagement ring color rose gold as their wedding theme color; How Romantic, How Meaningful! We felted so honored to witness their happiness by customizing Sarah's wedding dress and the girls' bridesmaid dress!
All photos were taken by: Ginarelli Photography.
Wedding Dress Style: #CWZT15008

Bridesmiad Dress Style: #COZK16008  #COZK16003 #COZK16001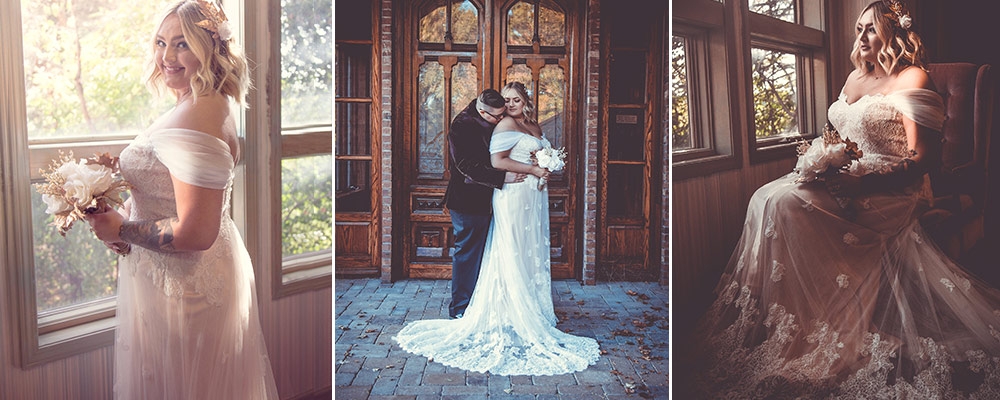 Q: Any advice or tips for future Mrs.?
Try not to stress! When the day comes it's going to fly by and all the little details don't matter as long as you marry the love of your life!
Q: How did you meet? And where did she propose?
We met on an online dating site, surprisingly they work haha! She proposed to me under the stars on lake Michigan in Mackinaw City! It was the most amazing night of my life.
Q: What location did you pick to have your wedding and why did you choose this place?
I love all things vintage and the venue had some of the most beautiful wood work I have even seen. As soon as I saw the fireplace I was sold!
Q: Did you have a particular theme or color scheme? Is there a story behind this color theme and why you chose it?
My colors were rose gold and purple, I picked them because my favorite color is purple and my engagement ring is rose gold. I loved the combo so much! my wedding band is rose gold and amethyst (purple) too!
Q:Did you enjoy the wedding planning process? Why or why not?
Yes! It was so much fun to get creative and I made most of the decorations myself!
Q: What was the best/most memorable part of the day?
The best part of the whole day was seeing my wife standing at the end of the asile. I was not sure we would be able to get married and I could not help but cry the moment I saw her!
Q: Why did you choose #Cocomelody for your bridesmaids?
I choose to get my bridesmaid dresses from Cocomelody because they were very well priced, I didn't want my bridal party to have to spend a ton to be in my wedding,  but I also loved the fact.  there were so many options, Cocomelody carries a dress style for every body type,  I was able to let my girls pic what dresses they would feel great in because Cocomelody has so many options!
Q:What inspired your gorgeous custom Cocomelody dress & How did you feel when you first saw the finished product?
I wanted to look like I came out of a fairy tale! The moment I saw the dress I cried because I knew it was perfect, it was my wedding dress! The color was exactly what I was dreaming of and it even had the lace and buttons down the back that my fiance wanted me in!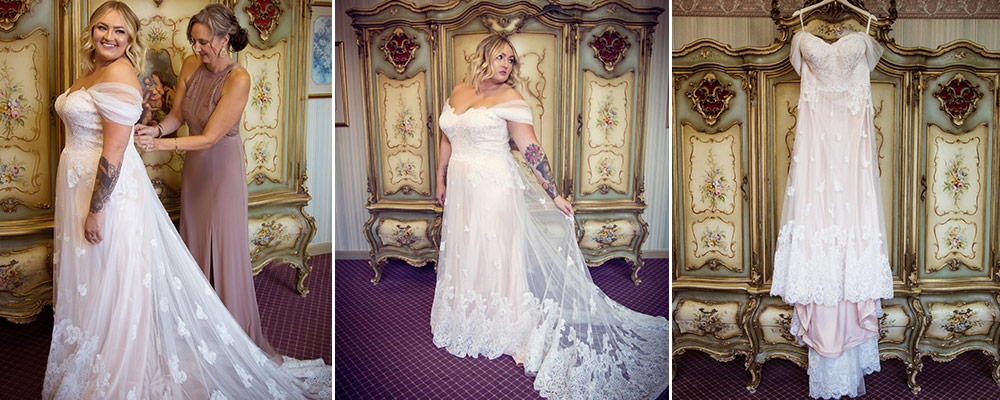 Q: What do you think about Cocomelody and the customer service?
I thought Cocomelody was amazing! they emailed me through the whole process even sent swatches to make sure the color was correct! It could not have been a better experience!