"I have never known a field as wild as your heart." – ☀️ Congrats to Adriana & Denis, who had their beautiful elegance wedding in San Francisco, CA! It was such a pleasure to make Adriana's dream dress and to see her stunning bridal glow! Congrats to these two lovebirds!
All photos were taken by Sasha Wedding Photographer.
Wedding Dress Style: #LD5054
Wedding Veil Style: #CV001500A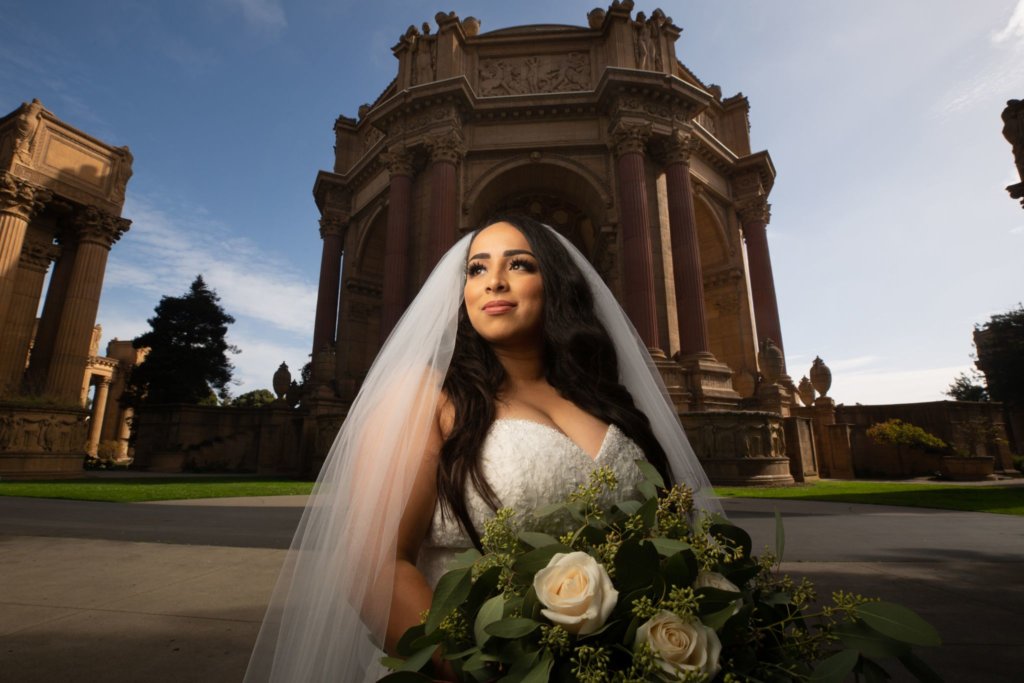 Q: Any advice or tips for future Mrs.?
The best advice I could give based on my experience is make your wedding truly yours. Don't worry so much about what others might think, and also involve your fiancee as much as possible. You'll be surprised how many men actually would like some input in their wedding.
Q: What was the inspiration behind your wedding theme?
The first thing I started looking for was a wedding photographer and I came across some wedding photographs that were taken in the San Francisco City Hall. I fell in love with the Hall and we decided to have our ceremony there.
Q: Tell us your love story! Where & How did he propose?
Denis and I met in November 2015 at a local Target. Our first date was at Redbrick Bar & Grill and a few other dates were in San Francisco to the Japanese Garden, Sacramento to Mangos Club and to a Oakland Raiders game. We became exclusive during a snowboarding trip a few weeks after meeting. We adopted a Shi Poo named Chloe in December 2015, a cat named Bleu Belle in April 2016 and a Goldendoodle named Lincoln in August 2017. On December 1, 2017, Denis proposed in our home next to our Christmas tree with our dogs sitting on each side of him as he kneeled on one knee. It was perfect as Christmas is my favorite holiday and my pets are my entire world.
Q: How would you define the message "Dare to Love"?
To me, Dare to Love means to allow yourself to be happy. One of the greatest emotions we have is Love and it's truly amazing when we find someone whom we can share our love with.
Q: What was the best/most memorable part of the day?
The most memorable part of the day was when Denis said his vows during the ceremony. His words were beautiful and they made me shed tears of joy and love for the man standing in front of me.
Q: What did you love most about your #CocoMelody dress (es)?
I loved the style of the wedding dress. It was exactly what I was looking for.
Q: What do you think about CocoMelody and the customer service?
I enjoyed my experience at CocoMelody.