Agnes and Michael had their garden wedding in Atlanta, Georgia in December, 2020. Although their wedding plan changed due to the Coronavirus outbreak, Agnes still made her dream wedding come true at their backyard. We are in love with Agnes' stunning and elegant bridal look in our A-Line wedding dress REMI! Congratulations to this sweet couple!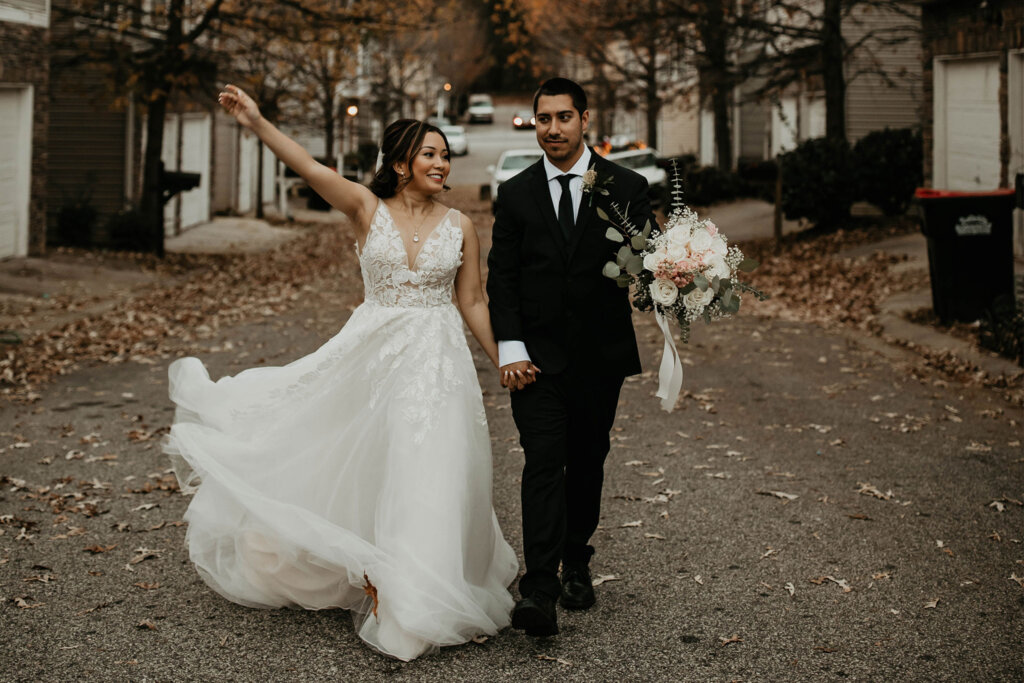 Photo Credit:  Peyton Mariah Photo ; Wedding Dress Style: REMI #CW2290
Q: Any advice or tips for future Mrs.?
Plan early at least close to a year of planning to give yourself some time to decide on what you really want for your dream wedding. Give yourself time to make orders online or find deals at your local stores. Also when you plan ahead, it gives you time to manage your money right, so you're not too overwhelmed, pay for things a little bit every month. Also, if you need recommendations, contact your close friends and family, I was so lucky to find a great photographer that a friend recommended to me.
Q: What was the inspiration behind your wedding theme?
I always wanted a garden wedding, I love flowers, and love nature. We were planning to have a destination wedding maybe at a garden close to the beach or in Italy because my fiancé is part Italian, but decided to limit our travels because of the Covid-19 pandemic. It's okay because it makes it easier for our friends and family to come to celebrate with us at our home. We have a nice size backyard that we're turning into our dream wedding. It's a romantic elegant garden theme, dusty rose and ivory are the main colors. Our photographer calls it dreamy, which I can't agree more, because it's literally my dream wedding. Oh, I also love the 1993 Fantasy/Drama movie The Secret Garden as a child, so somewhat subliminally maybe I was inspired by that movie.
Q: Tell us your love story! Where & How did he propose?
Michael and I met on the movie Godzilla: King Of Monsters about 4 years ago, I was hired as a specialty performer / martial artist and Michael worked with the construction team. I spent about a month training with O'Shea Jackson Jr., Aisha Hinds, and Anthony Ramos practicing shooting military guns and military combat before meeting Michael on set. We would see each other everyday. When Michael first approached me I thought he was very shy, but cute. We started dating after he kissed me on a roof top of a building unexpectedly. Michael proposed to me May 11, 2020 a few days before my birthday. I was confused and thought he was joking when he told me to check on our dog Rizzo, because Rizzo had something for me. To my surprise I saw a silver diamond engagement ring tied with a brown string on Rizzo's collar. I checked and it looked real, I was so surprised and happy.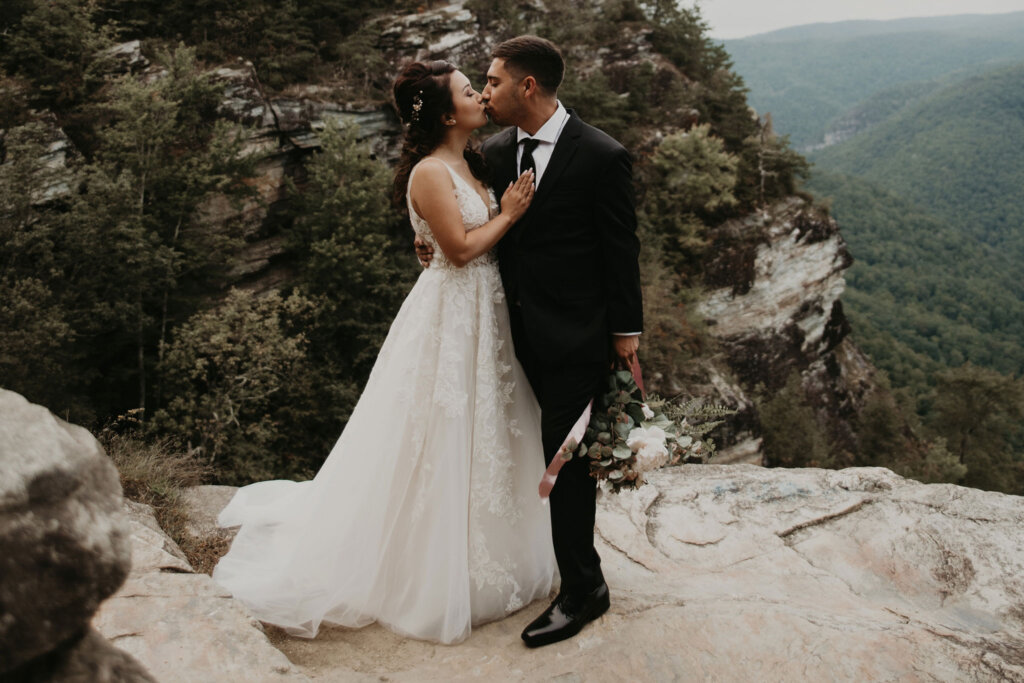 Q: What was the best/most memorable part of the day?
For our photo shooting,  it was the most beautiful location I have ever been to. The cliffs were really high and I learned that my fiancé was afraid of heights.
Q: Where did you hear/find Cocomelody?
I spent a month looking at dressing online from google search and in stores, but I kept coming back to Cocomelody because it had my dream dress on there and such amazing reviews.
Q: What did you love most about your #Cocomelody dress?
I love the design, it's beautiful, elegant, and not too heavy. The quality is amazing and truly more beautiful in person.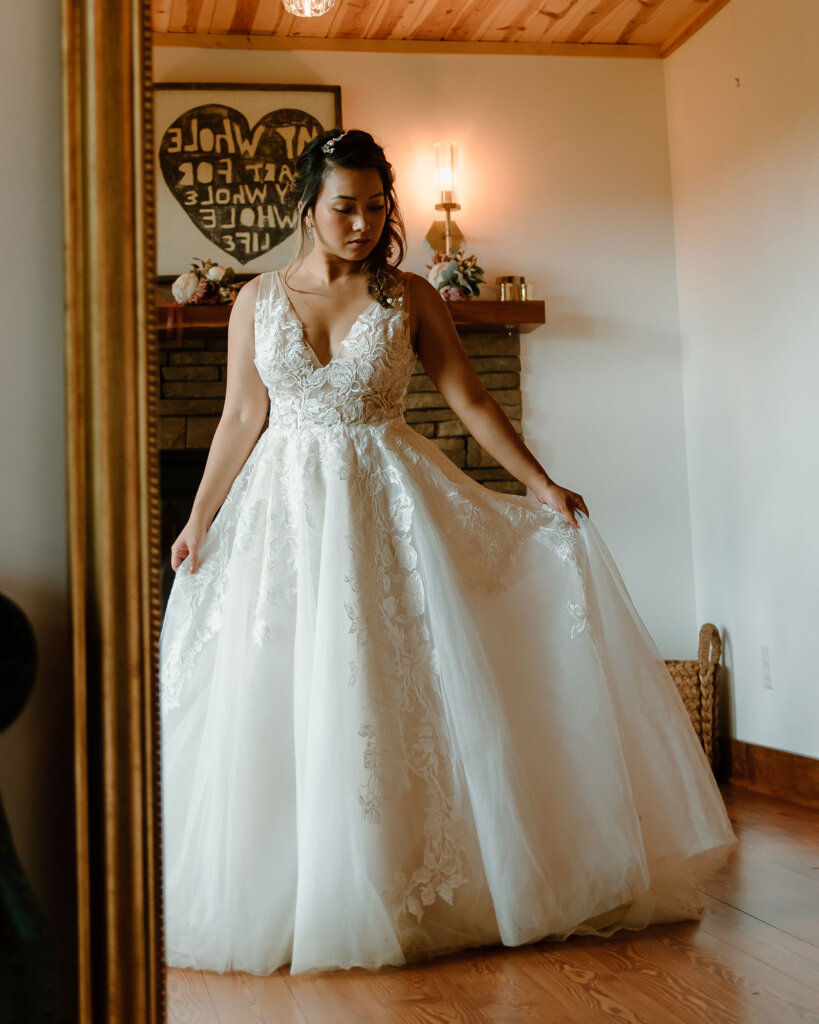 Q: What do you think about Cocomelody and the customer service?
I love that Cocomelody which has so many beautiful dresses you could choose from online. Anyone can definitely find their dream dress at Cocomelody.