"Laughter is the shortest distance between two people."― Victor Borge ❤️ Alessia & Luis's "Enchanted Forest" themed wedding in Giardini Del Castello, Tegucigalpa, Honduras totally melt our hearts! And Alessia was simply glowing on her special day, we're so happy to make her dream come true! Congratulations to these two lovebirds!
All photos were taken by Daniel Gandour.
Wedding Dress Style: #LD5771
Q: Any advice or tips for future Mrs.?
Enjoy every single moment, treasure them on your heart and involved your must loved ones, specially mother, mother in law, father and father in law.
Q: What was the inspiration behind your wedding theme?
I always dreamed of an outdoor wedding like a Fairytale, with lots of greenery and daylight, but also to enjoy the romantic lights at night. That's how we decided the palette of colors and main decoration items: olive green, white, gold, marble, hexagons, lots of candles and sparklers. I found this Castle, and the first thing I thought "This is so Instagrammable" oh Gosh, how I love instagrammable stuff. My best ally was Pinterest, I used to spent lots of hours looking for wedding decoration and inspiration, that's how I found my theme, Enchanted Forest.
Q: Tell us your love story! Where & How did he propose?
We met at high school, but we start dating when we were on college through 7 years with many lessons and lot of love, until we became strong and mature together, with God within us. We got engaged on our trip to Paris on October 8th, 2018 and it was the most romantic thing EVER, you can find our engagement details on my Youtube Channel, link to video: https://youtu.be/zdQQIUO1Q
Q: How would you define the message "Dare to Love"?
To never give up, keep loving, keep fighting and keep praying together.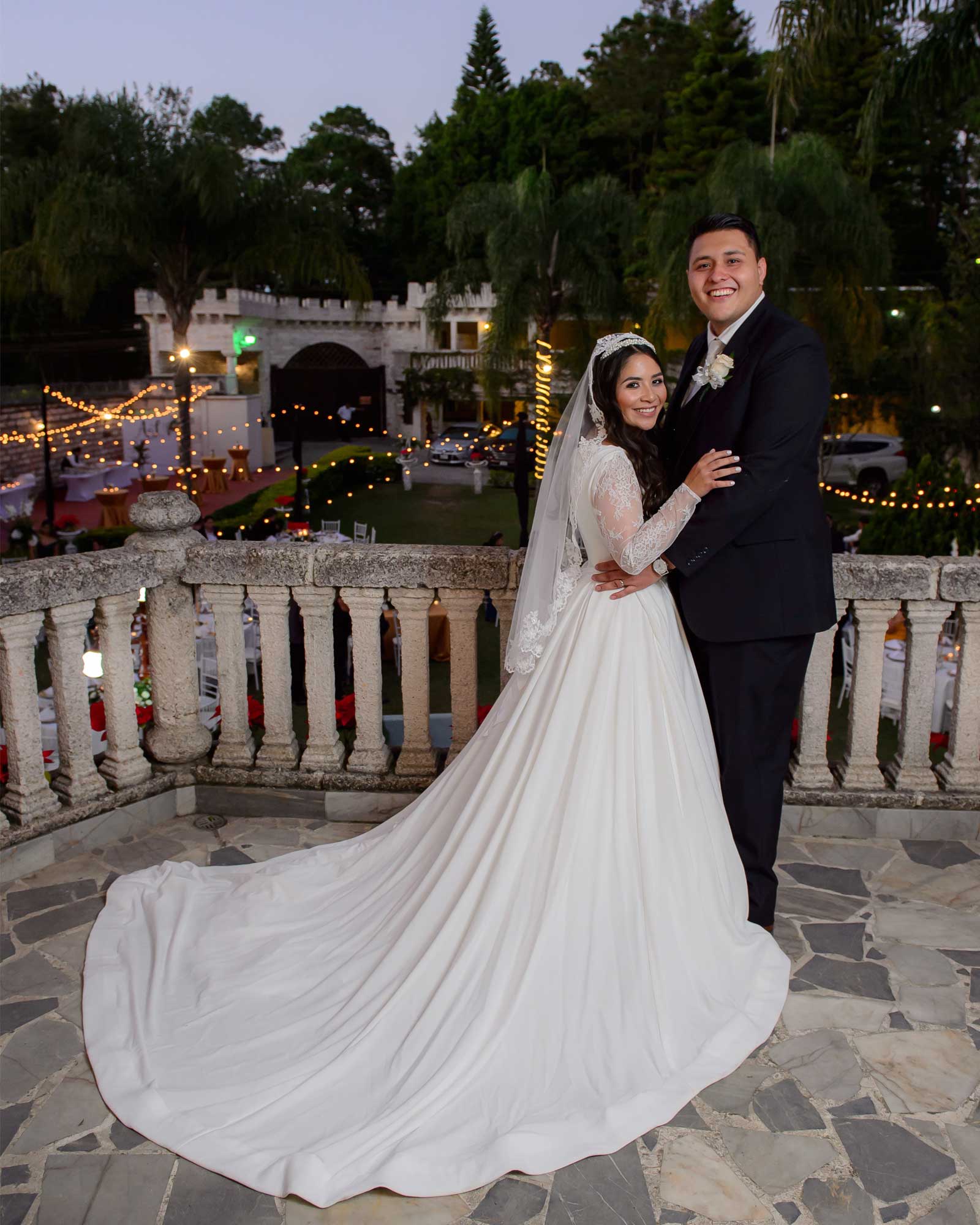 Q: What was the best/most memorable part of the day?
The Ceremony was absolutely my favorite part, I dreamed about that day my whole life, and we couldn't stand to cry almost the whole ceremony, God was within us, we felt the holy spirit, because we were making God's will. We had the perfect entrance lots of green foliage, just how I imagine it, my dearest ones, the love of my life waiting for me with that big smile while tears ran down on his beautiful face. When I say perfect, I mean it looked and feel like heaven on earth.
Q: Where did you hear/find CocoMelody?
I literally google this: "Beautiful and affordable wedding dresses", and I found a blog that mentioned a few I look for every of them, but the one I absolutely love was CocoMelody, and the main reason was because they post Real Brides, and I could appreciate the beauty of every bride, and to look at their wedding pictures.
Q: What did you love most about your #CocoMelody dress (es)?
I loved the style, the neckline and the way it fits my waist, I felt like a Princess. And also quality, is a High-End wedding dress, I loved the fact that it took time to arrived, because it was handmade by order, which means Eco-Friendly!
Q: What do you think about CocoMelody and the customer service?
CocoMelody have the best Customer service ever, I swear, you can literally ask for anything on their chat and they would help you. I love the fact that you can find real brides by searching the hashtag of their dress, that's AMAZING, so 2020!! Yeay!!