Both love to travel, Amanda & Aris tossed the tradition and decided to have a tropical elopement in Kauai, Hawaii. They kept the ceremony intimate and private. With the amazing natural backdrop, they enjoyed a sweet day that was all about the two of them only! Amanda was glowing in her dream #cocomelodydress. Such a honor to be a part of their wonderful day. Congratulations to these two lovebirds!
All photos were taken by Foto Pop Photography.
Wedding Dress Style: #CWZT15008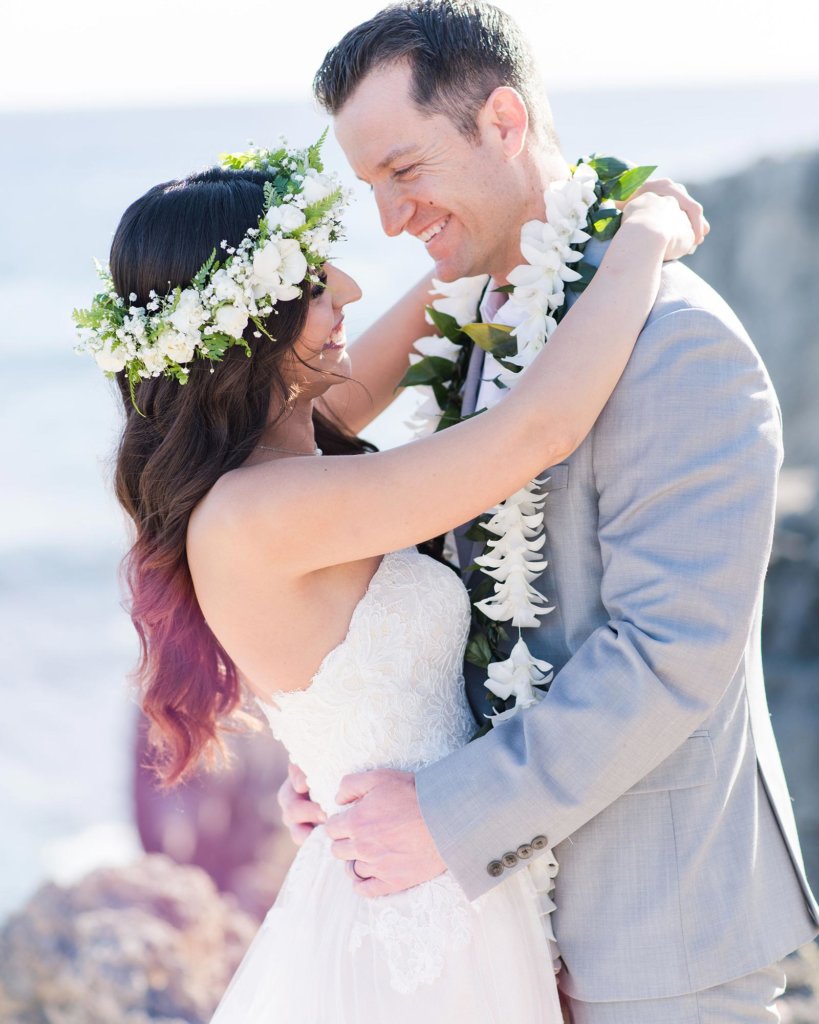 Q: Any advice or tips for future Mrs.?
As far as wedding planning goes, I definitely recommend keeping the end goal in sight! It is easy to become overwhelmed with the process of wedding planning and lose sight of your priorities. At the end of your wedding day you will have the supreme privilege of leaving with the spouse of your dreams! Remember to take time throughout your wedding planning to just enjoy your relationship and be excited for what is to come.
Q: What was the inspiration behind your wedding theme?
Aris and I both love to travel so the idea of eloping on a tropical island was ideal for us. While we wanted a tropical elopement, we also wanted to keep it intimate and private, this can be challenging in Hawaii. Our awesome photographer helped us find a beautiful ocean cliffside where we had exactly the ceremony we were looking for.
Q: Tell us your love story! Where & How did he propose?
We had our first conversation on the beach 2.5 years ago and quickly found we were a great balance for each other as we traveled through various national parks, states, and countries. A year ago Aris completely surprised me on a rainy five day camping trip in Northern, CA. During an 8 mile hike he reached down and picked up a piece of driftwood, little did I know this piece of driftwood was a handmade ring box he had collected from the stretch of beach we met on! On top of a 50 foot waterfall cascading onto a stretch of wild beaches, he asked me to be his wife!
Q: How would you define the message "Dare to Love"?
While love can be vulnerable it is also incredibly beautiful. When we take the time to allow ourselves to love and be loved in return there is so much added to our lives! Daring to love in my case brought me my best friend and husband. A dare I would gladly take again.
Q: Did you enjoy the wedding planning process? Why or why not?
The wedding planning process had it's ups and downs. Not only did we have a destination elopement followed by our honeymoon in Kauai, but we had a reception at home in California a month later with over 200 guests in attendance. It was exciting to create a vision for these events, and then slowly but surely bring all the details together. Wedding planning is no small task, but can definitely be done with some perseverance and loving family/friends! I think by the time everything was done my husband was probably tired of seeing so many to-do lists!
Q: What was your hubby's reaction when he first saw you on your big day?
Because we eloped we didn't have the initial first look that many couples have. We helped each other get ready and drove to the ceremony site together. While I adore the idea of a first look, I would not trade our day for anything! Despite it just being the two of us, our pastor, and photographers, we were both a little nervous. It was really comforting to be in each others presence the entire day.
Q: What did you love most about your #CocoMelody dress (es)?
I loved that my wedding dress was the perfect mixture of classic and modern. The beautiful lace train had my attention from the moment I stepped into the dress. The combination of ivory and champagne was a stunning addition to the classical charm as well. The dress was also surprisingly light weight and allowed me to move freely, which was great since I did a fair bit of walking to our outdoor ceremony location.
Q: What do you think about CocoMelody and the customer service?
I would recommend CocoMelody to anyone shopping for a wedding dress or bridesmaid dress. Prior to my purchase I went to the Los Angeles store where I was able to try on a variety of dresses. The value and craftsmanship was amazing. No detail was missed and no high quality fabric was spared in the making of the dresses. Delivery was prompt and customer service was great! I even had the dress custom made to my measurements.