Real #cocomelodybride Ana has lived a real life fairytale; from her romantic proposal by a lake to the day she exchanged vows with husband Jacob. Ana looked incredibly beautiful in one of our most popular long-sleeved wedding dresses LD4432. It's our great honor to make her dream become true! Read the sweet details of Ana & Jacob's romantic Utah wedding below:
All photos were taken by Charissa Lee Photography.
Wedding Dress Style: #LD4432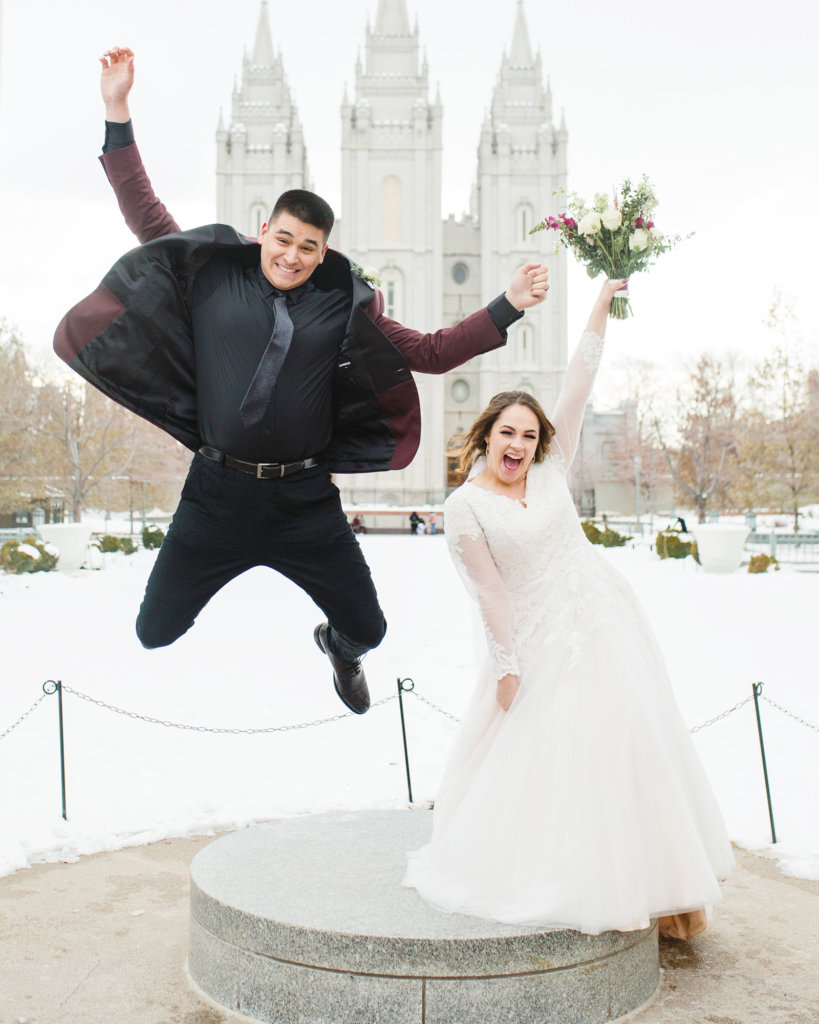 Q: Any advice or tips for future Mrs.?
Make a list of the three things that you really want. And then make sure no matter what you get those things. That way if for some reason you can't do something you have what's really important to you.
Q: What was the inspiration behind your wedding theme?
I really felt like I was living a fairytale marrying my husband. And I wanted those people who are close to us to feel that same energy. I wanted people to see that dreams still come true. So that's why we had a very romantic – almost fairytale like wedding.
Q: Tell us your love story! Where & How did he propose?
My husband and I met at church the first Sunday we moved to Orem. We lived in the same apartment complex. When we first saw each other we both thought – they're good looking but they aren't my type. A few weeks later we saw each other again at a sledding activity. After that we quickly became best friends. We were so close. We even set each other up on dates! I remember when I first met his family and thinking – I wish I could find a guy with a family like this. I finally realized I liked him after we went on a group date and I kept feeling weird when I saw him with his date.
And even when my date bailed halfway through the date I wasn't disappointed- because I just wanted to hang out with him! But I was afraid of ruining our awesome friendship so when he told me a few weeks later that he has feelings for him – I told him that I thought we should stay friends. The next day I couldn't take it anymore and I kissed him – although he will say that he kissed me. We dated and at first it was hard because we never thought we'd be with someone so opposite from us. But we were best friends so after awhile we began to love our differences. We quickly fell in love. After a year and a half of being together he took me on a moonlight ski lift ride where we just talked about our future together. As we were walking back he stopped by a lake – there were lights from the lodges around and it was so breathtaking. That's were he nervously went on one knee and proposed. Of course I said yes!! How could I not want to spend forever with my best friend.
Q: How would you define the message "Dare to Love"?
Dare to Love – I love that. Because before I met Jacob I though I knew the person I needed and had a whole list of things I did not want. I swore to never marry a military man – because that would be too hard for me. I swore I'd never date someone who played video games because they were boring. I didn't want to be with someone different then me. Jacob is all those things. Which is why I was so confused when I started having feelings for him. I realized that I was just being prideful. None of those things were important. So even though it didn't make sense at first – I jumped in anyways.
Q: What was the best/most memorable part of the day?
We got married in the Salt Lake City Temple in a small religious ceremony. I didn't know that everyone was already in the room and all of a sudden we take walk in and I see so many family and friends who supported us. It was amazing. I felt so loved.
Q: What did you love most about your #CocoMelody dress (es)?
I loved the sizing. My bust size is very different from my pant size and when I first went to local shops it looked as though I was going to have to order a dress several sizes bigger and than pay hundreds to get it altered to fit me correctly. CocoMelody made my dress with custom sizing. And even though I had tried on so many wedding dresses – it was the first dress that fit me like a glove. It fit so perfect. I felt beautiful – and it was easy to move around in. I've also have always wanted a winter wedding – and it was warm too!! I loved the color too. It was blush and white and oh so elegant. I can honestly go on forever. The process was so easy and the results – more then worth it.
Q: What do you think about CocoMelody and the customer service?
I love CocoMelody. The service was quick and the quality was amazing. Every detail was perfect. My best friend rented a dress for almost the same price that I bought my dress for!! It was so affordable. Customer service was amazing!!