Fairytale dreams came true for these mix-match wedding day looks ✨ Anjelica and her girls in style #LD5580 & #PR3584 have us at a loss for words. We're so in love with Anjelica & Andres's Black wedding in Tucson, Arizona, it was unforgettable from start to finish! Congratulations to Anjelica & Andres and wish them happy forever!
All photos were taken by Love & Lumen Photography.
Wedding Dress Style: #LD5580
Bridesmaid Dress Style: #PR3584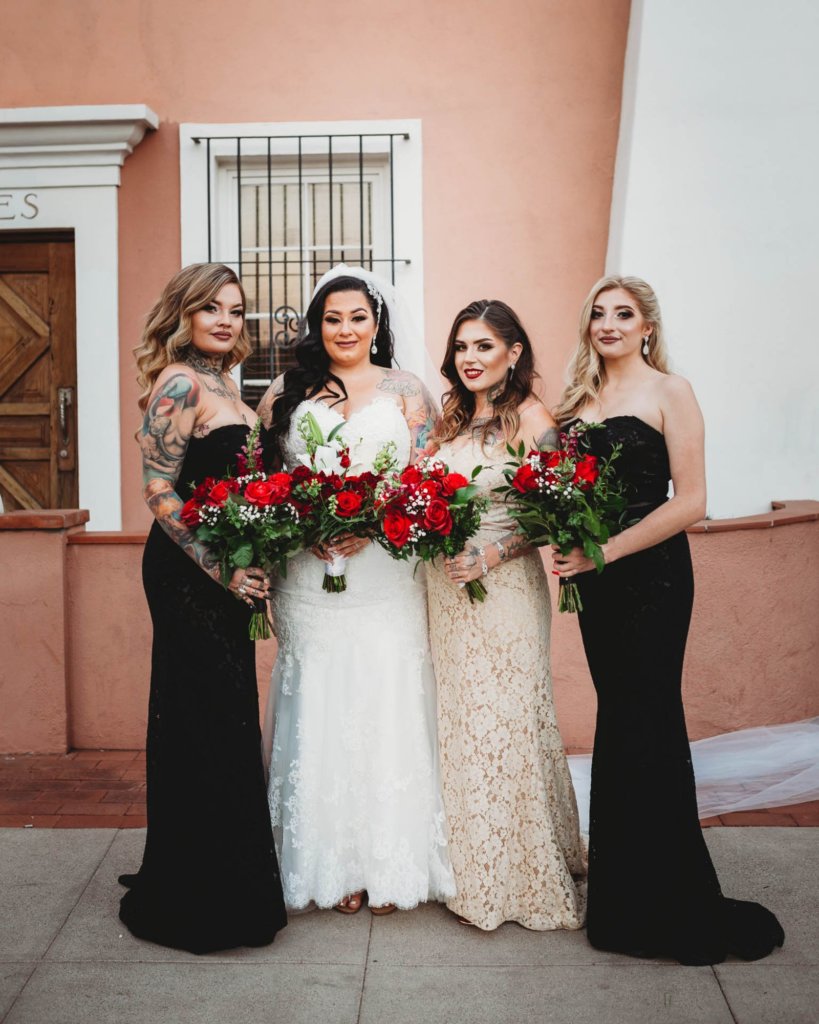 Q: Any advice or tips for future Mrs.?
Enjoy your engagement before anything else, everything will be perfect when you see him/her waiting on the other side. My biggest regret was stressing that it wouldn't be perfect, and it turned out to be better than I ever imagined.
Q: What was the inspiration behind your wedding theme?
I love black in general and dark themed things. So why not have a black wedding? I requested my guests even wear black. It was beautiful, I tried for a black wedding dress. But coming from a traditional Mexican family, there was no way my mother was going to allow her first child getting married to not wear white. So I opt for everything else to be back!
Q: Tell us your love story! Where & How did he propose?
We met back in January 2014, my daughter was diagnosed with Leukamia back in August 2013. A few of my close friends through a car wash fundraiser to raise funds for her medical bills and my husband likes to ride motorcycles with a group and they all rode up on their bikes for a wash. Word got around our city of this fundraiser so this group who I never met came! I noticed him in the back of the group getting off of his bike, we both smiled at each other introduced himself and then we went about our day. He sent me a friend request on Facebook ha-ha so cheesy!
Well we developed a friendship talking every day and seeing each other for dinner once in a while for 4 months. Finally May 19, 2014 he asked me on a real date. It was history from then on, we ended up moving in together 6 months later, we ended up having a son together in September 2016, he adopted my daughter in August 2017, and finally asked me to marry him in August 2018. Till now, when I married my best friend of almost 6 years October 19, 2019! Life works in such incredible ways. My child having cancer ended up starting Chapter 1 of our book of life and now we have the most beautiful love story and family story that we get to continue writing.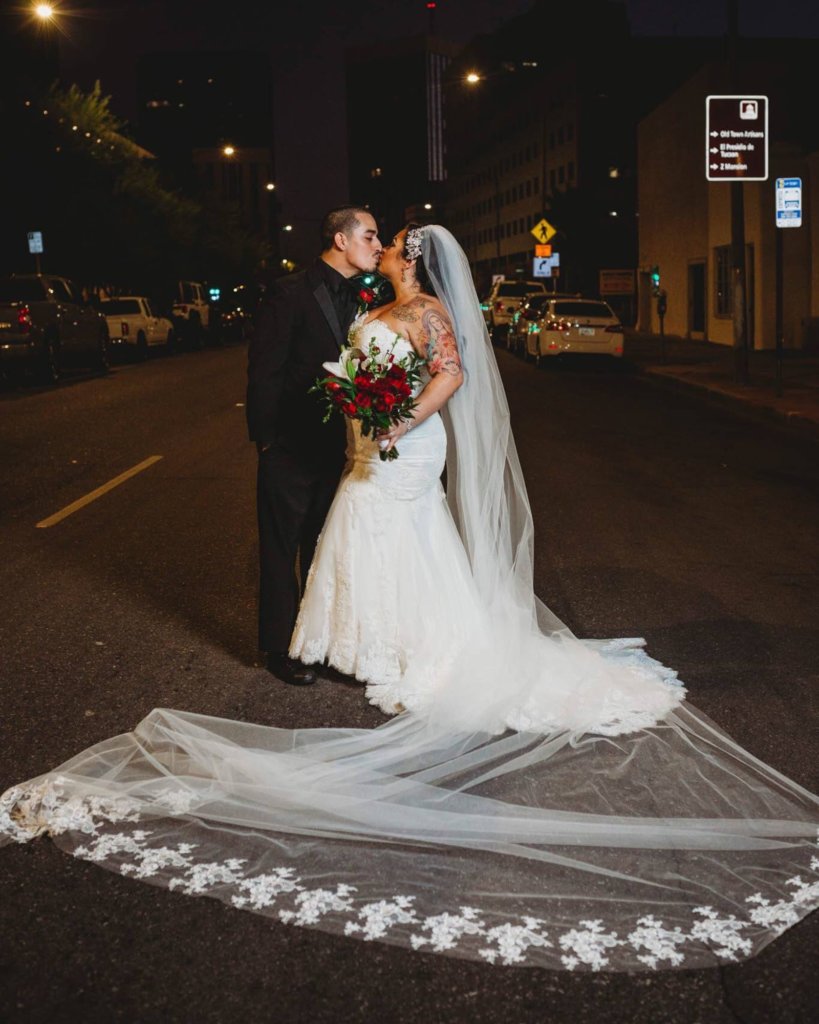 Q: How would you define the message "Dare to Love"?
One of my favorite quotes. "Maybe I loved you in another life, and I promised to find you somewhere on the other side. Or maybe you've always been in my subconscious, nudging me this way and pulling me that way until I found you again. Because I love you more than one life would allow." Don't be afraid to take chances and love, because we all are meant for someone. We all have that soulmate, so don't let it slip away when you have them in your arms.
Q: What was the best/most memorable part of the day?
The most amazing memorable part of my wedding day, was when they opened the doors for me to walk out with my dad. I see my then fiancé waiting for me on the other side. But the first time he looked at me he said WOW and smiled this smile I've only seen once when we kissed for the first time and then tears run down his face. At that very moment I didn't see anyone else around us, I only saw his face and I just wanted to touch him and kiss him and just be in his presence for the rest of my life.
Q: Where did you hear/find CocoMelody?
Facebook some how popped up advertisement about a year before I got engaged. The funny thing is, the advertisement was the picture of my wedding dress LD5580! I saw it for two years before I knew I was marrying him and I told myself THAT WILL BE MY DRESS.
Q: What did you love most about your #CocoMelody dress (es)?
I loved every single thing about my wedding dress! When I went to the LA Store I told them I wanted to try on LD5580 and my stylist Jade said to me "well let's try on a few others first and see if you like something else or still want to try it on". So she put 5 different dresses in my area and the 6th dress was LD5580. I tried on one dress and I love it, but wasn't in love, tried on the second and I still couldn't get into it. So I told her, let's not waste anymore time and let's try on my dress. As soon as I walked out of the dressing room and seen myself in the mirror I started to cry…that was MY dress and my heart knew it all along. I never felt so beautiful or so powerful in that dress. It was just all around the best fairy tale come to life.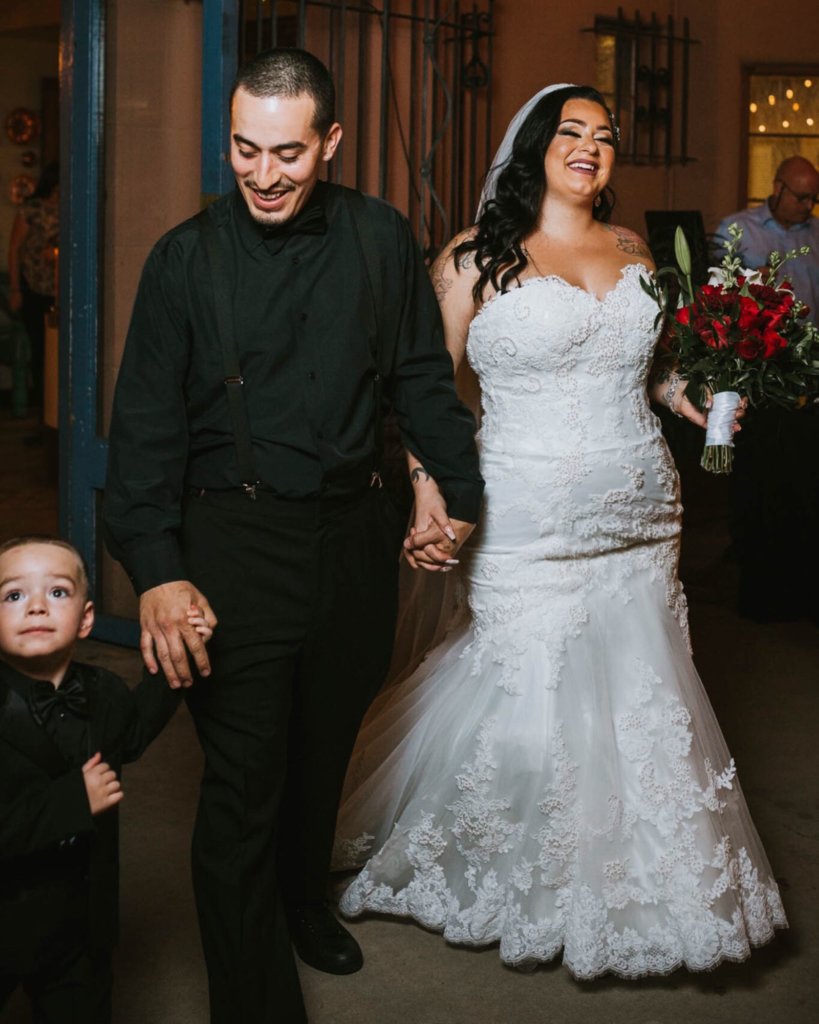 Q: Why did you choose #CocoMelody for your bridesmaids?
I loves my dress so much that I wanted my girls to have the best dress also. So when I saw their dresses online I just loved it. So when I went to try on my dress at the LA store I took my maid of honor to try on the bridesmaid dress in store and it was just so flawless in person also!
Q: What do you think about CocoMelody and the customer service?
I absolutely love CocoMelody. This has made my wedding experience perfect, from the gorgeous dress and veil and headpiece that I purchase from them. To my bridesmaids dresses. I'm just in shock on how beautiful my girls looked in their dresses. All different shapes sizes and skin tones and body builds, the dress was made to fit like a glove to women of different bodies. The staff, the stylists every person who I encountered and dealt with for our dresses was sweet and humble and amazing. I will recommend them to all friends and family who get married in the future. Thank you CocoMelody for every thing you did and created for my once in a life time day!