Michelle &Daryl planned a backyard rustic wedding in Gallup,NM Courthouse. The beautiful sunflower detail will make you swoon! Wearing a simply elegant strapless tulle wedding dress, Michelle looked completely romantic ✨ Read on for more about their stunning outdoor wedding!
All photos were taken by Kelly Stahp.
Wedding Dress Style: #LD4552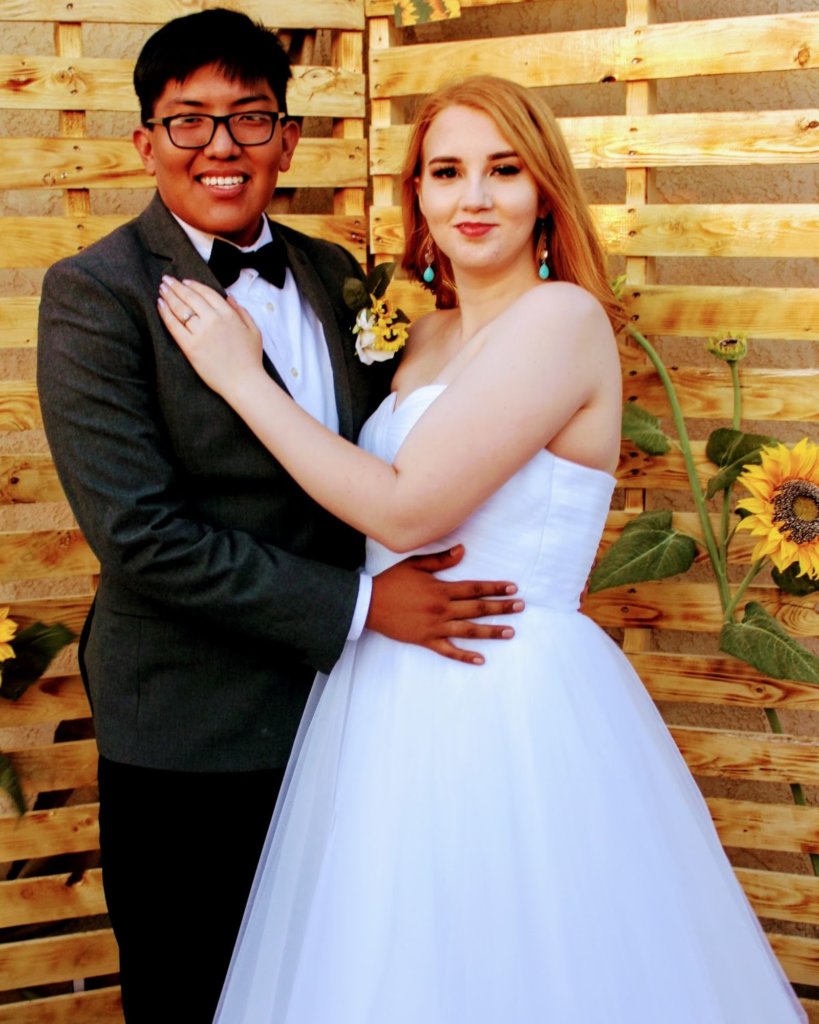 Q: Any advice or tips for future Mrs.?
Don't get caught up in the details. Enjoy every moment with your spouse! It goes by quick and you'll cherish the memories you make with your significant other.
Q: What was the inspiration behind your wedding theme?
It was kind of last minute. Me and my husband are simple people and we can be super cheap when it comes to spending money. We wanted to do a simple backyard barbeque, the"I do BBQ", and I love the rustic decor and I am obsessed with sunflowers so this worked out all together. My husband was fine with whatever as long as he had ribs and a nice suit to wear of his choosing.
Q: Tell us your love story! Where & How did he propose?
Daryl proposed to me after I woke up from a nap. I knew he loved me and meant it cause I looked like I got hit by a dump truck. I ran down the stairs of our place thinking something bad happened because he said "Michelle come down here quick." Then boom there he was serenading me with his love speech and we were engaged! I love simplicity oh so much.
Q: How would you define the message "Dare to Love"?
You have to be vulnerable with your significant other. It is quite a dare situation when finding love, you have to put yourself out there, as well as the other person. I will say though that is so worth it!
Q: Did you enjoy the wedding planning process? Why or why not?
We didn't plan too much, we spent a lot of days at the thrift stores hunting down the essentials. If we had down a legit wedding I would have went crazing with planning. This small reception really helped my sanity because even this was kind of a lot.
Q: What was the best/most memorable part of the day?
The best part was after we got hitched at the courthouse, before the reception, me and my hubby were starving and went to McDonalds. The stares of everyone were hilarious but I knew there is no one else I'd rather get looked at with than him. Plus we were so hungry and McDonalds always fills the spot!
Q: What did you love most about your #CocoMelody dress (es)?
Everything! This wedding dress surpassed all my expectations. I was a little sceptical because I didn't try it on and had to pick one that looked nice online. Well it was perfect and I felt like a princess!
Q: What do you think about CocoMelody and the customer service?
I emailed CocoMelody a day after I ordered and they replied almost instantly! I mean oh my goodness I love the personal touch and how amazing they were! Even though I didn't get a super expensive dress they treated me as priority!