College sweethearts turned husband and wife – it doesn't get any better than that! Real bride Brittany married groom Ryan in Koloa, Hawaii with a modern tropical theme – complete with a gorgeous mermaid lace gown with custom off-shoulders. All the bridesmaids were pretty in purple and they chose the different styles to show their own personalities. Read more about Brittany and Ryan's stunning wedding details below:
Wedding Dress Style: Customized Version of #LD3906
Bridesmaid Dress Styles: #PR3575 & #PR3577 & #PR3568
Q: Any advice or tips for future Mrs.?
Remember that at the end of the day, you're marrying your person. Everything could go wrong and it would still be good because you're starting forever with your best friend.
Q: What was the inspiration behind your wedding theme?
We got married at The Beach House in Kauai. We knew we wanted a more modern wedding and when we saw The Beach House online, we fell in love with the venue.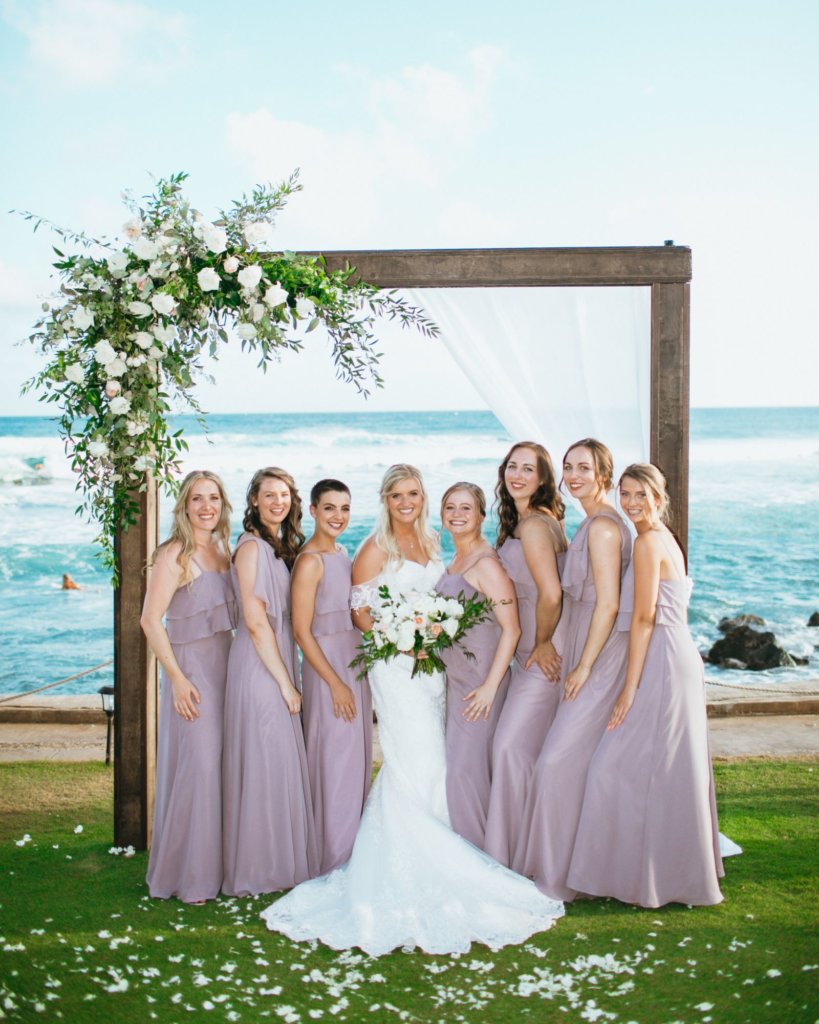 Q: Tell us your love story! Where & How did he propose?
We met our freshman year in college (we had chemistry together, literally). We didn't actually start dating until halfway through our senior year though. We felt like we had something special but we had only been dating for 6 months by the time graduation rolled around. I wasn't sure if I was ready to follow Ryan up to the Bay Area after school, so we decided to take a 3 week trip to Europe together. We had very little money so we flew budget flights with crazy layovers, stayed on friend's couches and in hostels, and did whatever we could to make our food money last. Almost everything went wrong on the trip with flights being delayed, traveling for 40+hrs but it was all amazing because we were together. After that trip, we moved up to the Bay Area together. 3 years, 5 apartments and one cat later, Ryan proposed to me at sunset on the beach while we were on a vacation in Maui!
Q: How would you define the message "Dare to Love"?
You don't know when you're falling in love if this is going to be your person. You need to open your heart and be willing to make sacrifices for each other. Realize that it won't always be easy, but it will always be worth it.
Q: What was the best/most memorable part of the day?
We did a destination wedding, so we met our officiant the day of the wedding. He called Ryan (my husband) Diego (the best man) when he was asking us to say "I do". Luckily, my husband corrected him before I married his friend.
Q: What did you love most about your #CocoMelody dress (es)?
My wedding dress and bridesmaid dresses were gorgeous and high quality for a fraction of the prices.
Q: What do you think about CocoMelody and the customer service?
I loved the LA showroom for the opportunity to check out dresses before ordering one. It made me feel confident in my decision and I'm so happy I got my dress from CocoMelody!