Carrie & Craig had a "Turtles and Penguins" themed wedding in St Christopher's Chapel, Kefalonia, Greece. Their wedding featured blue and yellow shades, every part of the day was so magical, special and memorable. Carrie has the most infectious smiles with all the girls stand by her in stunningly beautiful ombre blue. We just can't stop looking at these sweet moments and touching feels. Let's read about their love story here:
All photos were taken by Nikiforos Photography.
Bridesmaid Dress Style: #LOZF15045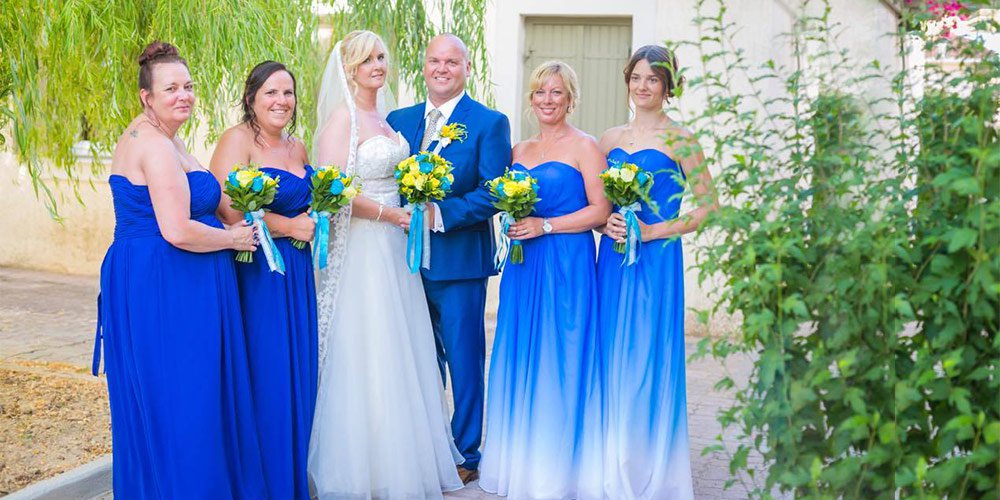 Q: Any advice or tips for future Mrs?
What can I say really ?? I spent so long waiting to marry the love of my life that I knew the day would be special, no matter what. Although I was in a position to be able to pay much attention to detail, it can spiral Out of control.
Have an idea of what you both want, remain disciplined and enjoy the process. It will all be fine, there are always hiccups along the way but as long as at the end of it all you are stood side by side, married to the one you love, everything else pales into significance.
It is your day, don't spend too much time trying to please everyone else, it's your special day.
The most important people and the ones that love you the most will almost definitely be there to share it with you.
Take it all in, take a little time throughout the day to have a special moment away from it all with your new husband and reflect. Enjoy the moments, they go so quickly.
Q: Where did you meet and how did he propose?
Craig and I met in 1995. I was working part-time at a petrol station as I was a single parent and had been since my son was born in 1992. Craig took a job working for Jaguar Landrover on the premises next to the petrol station and came in for snacks and drinks.
As he left the shop, I looked out of the window and watched him walk back to work. He had a lovely bum. He turned around and caught me watching him and just smiled. We were friends for a year until he asked me on a date. I refused and said I was sorry I couldn't so he said he would have to come to my house for coffee instead. I was confident that was not going to happen as he did not know where I lived. Half an hour later there was a knock at the door and he was stood there smiling. When I asked how he knew where I lived he said he had an idea of the village
I lived in so drove around until he found my little beige mini to find me ????
Craig did not propose to me, I proposed to him – it was a complete disaster!
In 2016 I decided that I was ready. I was going to take matters into my own hands and I made plans to propose to Craig. Plans in motion, He announced that Work had asked him if he would work in Dubai for 4 weeks. He went, all my plans went out of the window and I went into panic mode. I spoke to a Work colleague of Craig's that lives out in Dubai and he gave me the full address of the hotel
And Craig's room number so I sent a message in a bottle by international gifts so that I could still propose. The proposal was in the bottle, there were rose petals and the hotel put a bottle of red wine on his bed alongside my proposal gift and we all waited.
Craig just thought I was being soppy and said thank you. I was mortified. Why was he not acknowledging my proposal? I sobbed for days and his colleague in Dubai apologized and really did not know what to say.
Three weeks later Craig returned home and I was so hurt and upset. If he didn't want to marry me then I would rather he just say than not mention it. I lay beside him and he asked what was wrong so I told him.
It transpires he had no idea I had proposed as he hadn't opened the bottle with the message Inside to read it.
Needless to say, there were a few tears whilst he got the bottle and read the message and he accepted straight away.
Q: Did you have a particular color theme and is there a story behind this color theme and why you chose it?
We chose blue and yellow.
Our first family holiday was in Kefalonia and we had never seen colors before The colors of the ocean there. We were mesmerized. It was breathtaking. The Kefalonia 'eye' is also a beautiful soft color blue so we wanted colors to reflect the ocean and how much Kefalonia had had an impact on us as a family. Yellow contrasted with the blue we chose really well. The groom's tie was yellow with tiny turtles on and my 2 sons ties were yellow with tiny penguins on.
Q: Did you enjoy the wedding planning process? If so, why or why not?
I absolutely loved every minute of the wedding planning process. Craig even got involved in choosing table decorations for our UK Reception on our return and choosing colors, wedding favors etc.
It is such a special day, just one day, how could you not enjoy planning for that.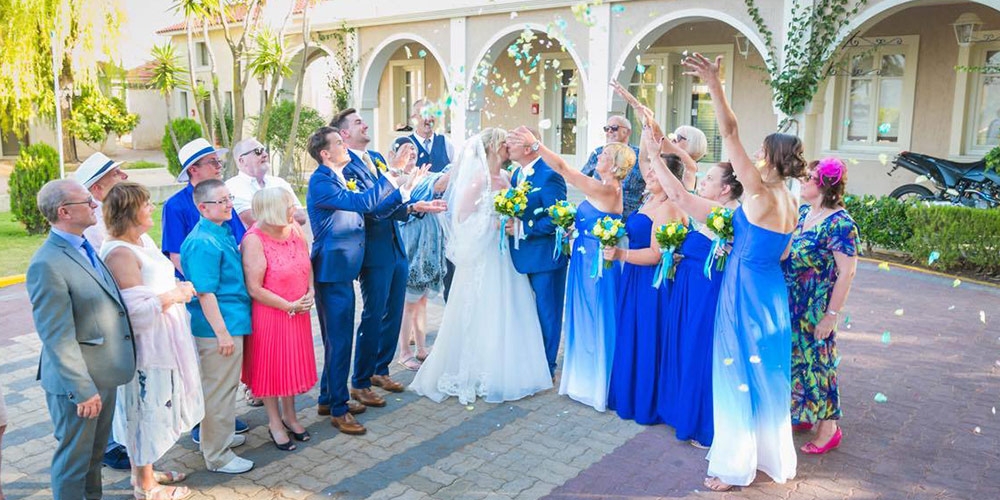 Q: What was the best/most memorable part of the day?
Wow – so many. My eldest son walked me down the aisle (Mountain to the chapel), my youngest son was Best Man, a mandolin and guitar playing as I walked to my husband to be, 23 of our closest friends and family and The first look from my husband. He was in floods of tears (happy ones of course) as were the entire congregation and I beamed at Craig and wiped his tears away.
When you have been in love as long as we have, every part of the day was magical, special and memorable.
Q: Why did you choose #Cocomelody for your bridesmaids?
So much searching for the perfect bridesmaid dresses and there they were !!!! My girls just fell head over heels in love. With them when I showed them your dresses. They were just stunning. The perfect shades of blue into white, the shape, and cut of the dresses were just beautiful. Day after day the girls would ask 'Have they come yet?' Just because they couldn't wait to try them on. No other dresses would have been as stunning for my 2 special bridesmaids as they were. Just stunning!
Q: What do you think about Cocomelody and the customer service?
I can honestly say, hand on heart I was initially dubious about buying my dresses online and outside of the Uk.

From the very first point of contact,

Cocomelody

has been amazing.   Attentive, reassuring and it felt like a really personal and intimate service. I cannot thank you guys enough.  Even after our wedding you made contact and were actually interested in how our day went.

I have shared your page many times and will continue to promote your company as I have no hesitation in recommending yourselves to anyone. 
Absolutely perfect, thank you so much.