Cassie & Devon tied the knot on the beach in Blue Bay Grand Esmerelda, Mayan Rivera in Mexico. They have a unique wedding theme of "Two Less Fish in the Sea" as they both have matching tattoos with fish that say that (Cassie's says two less fish and Devon's says in the sea) and they met off plenty of fish. All the bridesmaids were stunning in our ombré blue dress!
All photos were taken by Bree-Ann Merritt Photography.
Bridesmaid Dress Style: #PR3268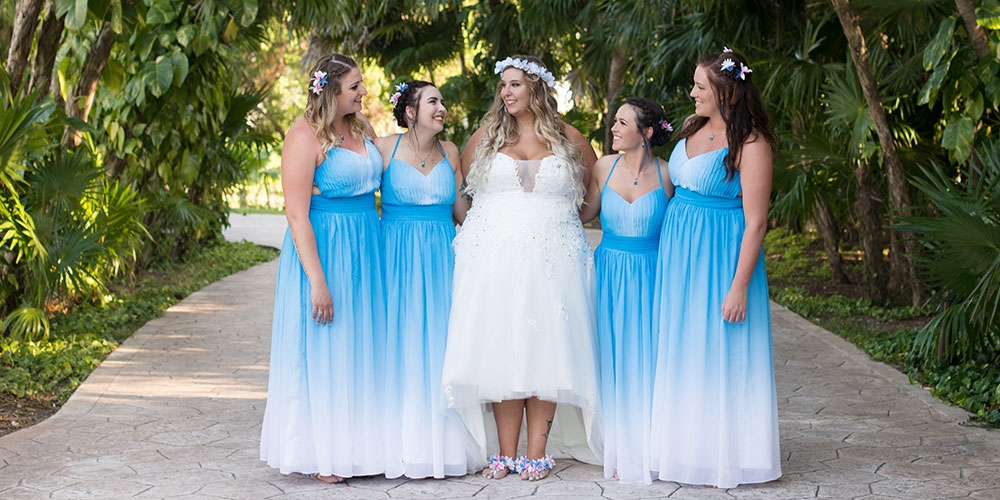 Q: Any advice or tips for future Mrs.?
Don't book a wedding a blue bay grand Esmerelda and also enjoy the day because before you know its done and your wishing you could do it all over again…. 
Q: Tell us your love story! Where & How did he propose?
We met almost 7 years ago.. I had just gotten out of a serious relationship and was looking for someone to hangout with not anyting serious… so I found devon on plenty of fish and decided to message him… he instantly responded saying he didn't go on there much and I should text him… so I did and the next day when I was babysitting .. (THE KIDS WERE ALREADY ASLEEP) he came over to keep me company … took me out to dinner that weekend and asked me to be his girlfriend.. and its been roses ever since…jk … three years in… we found out we were pregnant with our eldest daughter (Maci) shes almost four now… but when she was a year and a half.. I had a bummbed ankle and Devon wanted to go for a walk in our local park… so I was less the thrilled but had a feeling he was going to purpose…but then he wore paint stained sweats so I was disappointed and annoyed… we got to the park .. he said Maci had pooped and she had to change her… after he went and changed her he took us to a little bridge and when I wasn't looking he took her jacket off and on the front of her shirt it said "will you marry my daddy" and on the back after I said yes I saw it said "she said yes" in Devons terrible writing hahah… he hand made it!!! ahhh it was perfect … he even had a photographer hiding to take pictures there amazing .. did I mention I was two months pregnant with our youngest at the time… AHHH so emotional .. fast forward to about a year after we started planning our wedding in paradise .. and here we are! best day of our lives!!!!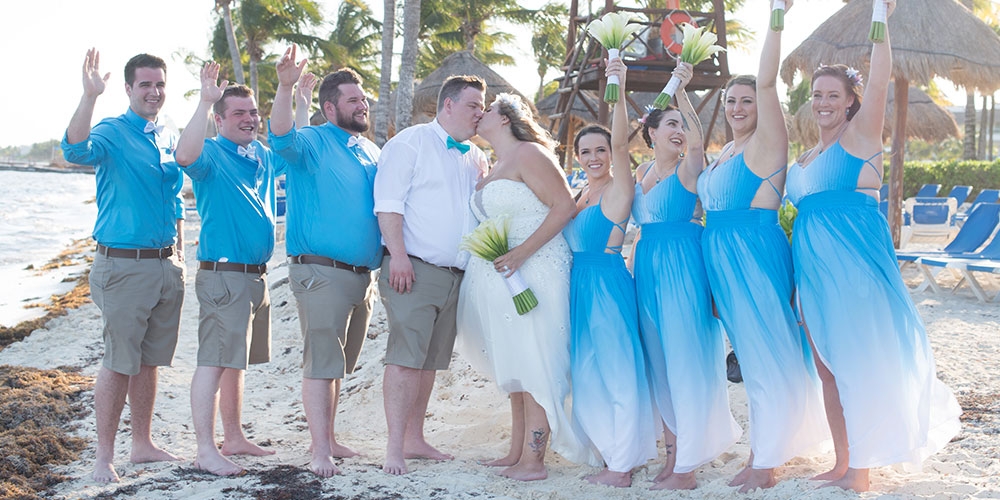 Q: How would you define the message "Dare to Love"?
Take a chance be open and never underestimate the power of love once you find it… cherish it and keep it alive as you'll never get another chance. marry your bestfriend! 
Q: Did you have a particular theme or color scheme? Is there a story behind this color theme and why you chose it?
It was the Blue like the writing I'm typing.. and theme was Two less FISH in the sea… as we have matching tattoos with fish that say that (mine says two less fish and his says in the sea) and we met off Plenty of FISH… 
Q: Did you enjoy the wedding planning process? Why or why not?
I did until I got to the resort and everything became so stressful… because they were unorganized and my wedding coordinator hadn't a clue what she was doing .. long story short the planning sucked but the day went on without a hitch and it was amazing!!!!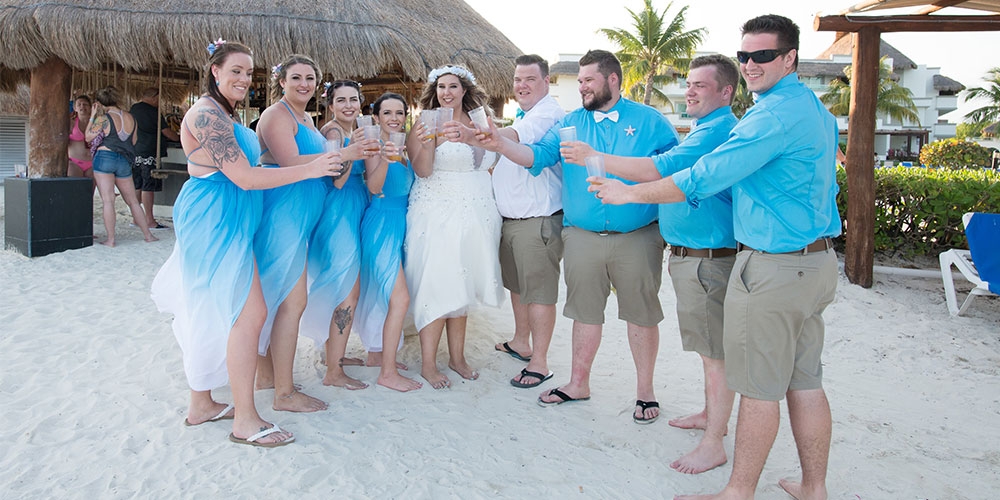 Q: What was the best/most memorable part of the day?  
The best part of my day was the vows … I thought mine were great and then I herd Devons and they were absloutly… amazing .. he had EVERYONE balling … as he mentioned our kids and how he was going to be my rock … it was hands down the best moments of my life. 
Q: Why did you choose #Cocomelody for your bridesmaids?
I had a picture of these ombre bridesmaid dresses with slits and a unique back and I found that through you guys and I couldn't have custom made a better dress they were exactly what I was wanting and even though I was sceptical of measuring ourselves they came in perfect sizes and were amazing material … I was just so in love!!!! 
Q:  What do you think about Cocomelody and the customer service? 
I didn't really deal with customer service but the shipping and quality were outstanding.. I cant thank you Cocomelody enough for creating such beautiful dresses ..