Daisy & Cain tied the knot in Riverside, CA. Their big day featured peachy and blush colors with a touch of glitter bling for a romantic wedding. We are seriously swooning over Daisy's elegant bridal look in that fit-and-flare gown with half sleeves! Read about their love story and take a look at some of our favorite photos below!
All photos were taken by Qphotoandvideo.
Wedding Dress Style: #LWXT15004
Wedding Veil Style: #AV0015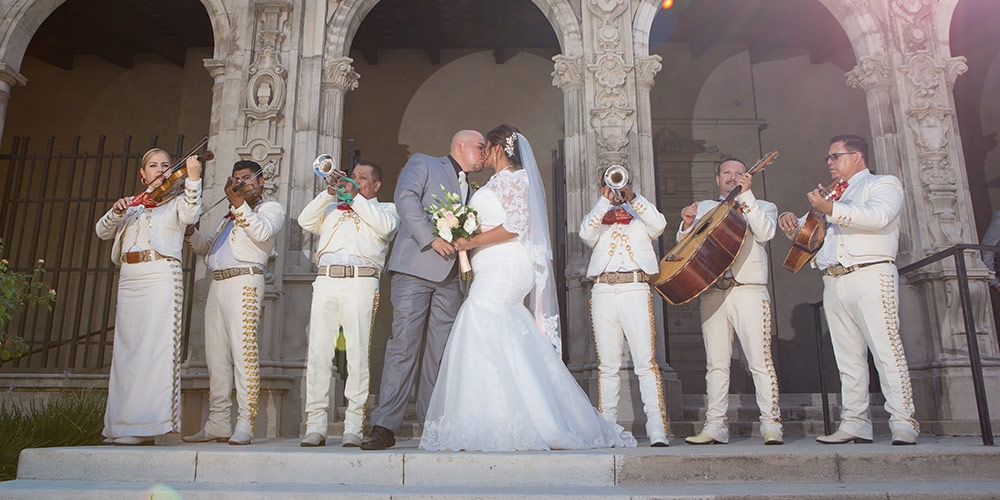 Q: Any advice or tips for future Mrs.? 
Never stop laughing. When you're sleep deprived, stressed over finances, or questioning why certain things do or don't happen in life the way you want them to, remember you are in this journey together and that laughter truly is the best medicine. Continue to build one another up. There may be times when you have to sacrifice what you want to help your partner achieve what they want. It's a game of give and take.
Q: How did you meet? And where did he propose?
Well, we met at a friend's birthday dinner. And I got proposed in my car while I was finishing up putting my eyelashes!! Omg. Still remember as it was yesterday!! It was not a very romantic way, but just the fact he decided to do so at that moment was everything to me.
Q: What was the inspiration behind your wedding theme? 
I love peachy and blush colors but also love glitter bling. I thought why not choose something that is romantic, elegant and feminine.
Q: Did you enjoy the wedding planning process? Why or why not? 
Yes, absolutely! There were times where I just wanted all the wedding thing to be over. It can be overwhelming but well worth it. But for most part I enjoyed every moment. If I had the opportunity to do it again, I would do it all over!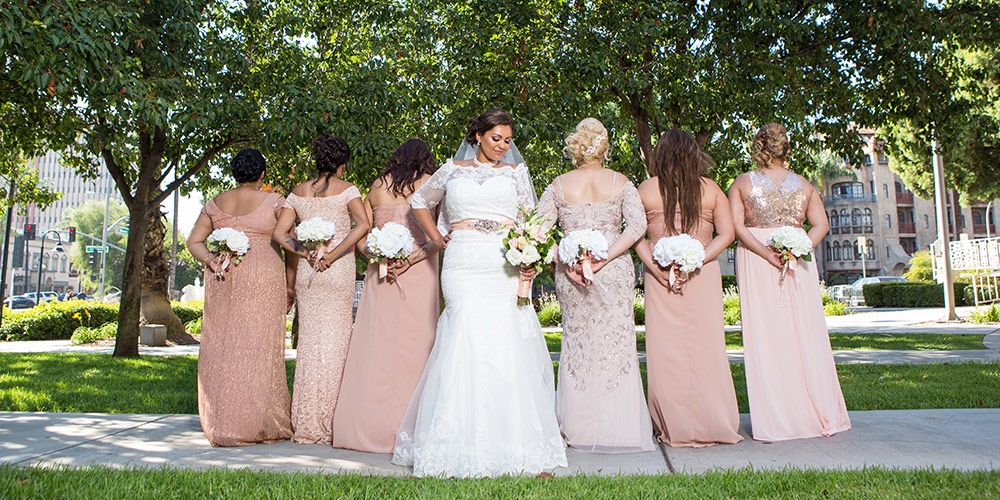 Q: What was your hubby's reaction when he first saw you on your big day? 
To be honest, I didn't really capture that moment. As I walked down the aisle, I had all kinds of emotions going on! Seeing all my guests just looking at me got me a bit nervous. i hope my guests were not  concentrating their eyes on my heels.
Q: What did you love most about your #Cocomelody dress? 
I think everything about my wedding dress was perfect! From the sleeves to the train and veil! But most I loved was how the dress accentuated my curvy body! It was just perfect!
Q: What do you think about Cocomelody and the customer service?
Cocomelody made feel welcomed. I knew from the beginning as I walked into the store that would be the place for my dress. Staff is very friendly and professional. They have beautiful good quality gowns and best at a very affordable price. I got many compliments on my dress!