No wedding is complete without your closest girlfriends being by your side making your big day memorable. Whether it is about reviewing the guest list or picking out the venue, they are your second opinion on everything. Dealing with your last minute jitters, helping you out to pee, dancing with your old uncle, even planning a bachelorette and a bridal shower that you dreamt of, they do it all!
Cause they are essentially superwoman in disguise, they deserve dresses that they feel beautiful and confident in. With dresses comes great responsibility, so many things need to be kept in mind whether it is a colour that suits all, the fabric, the neckline, a friendly budget and the list can go on and on. Well, being a bride isn't easy at all, amongst the avalanche of other wedding chores, choosing the perfect bridesmaid dress can surely be intimidating and time-consuming.

We have lined up a list of bridesmaid dresses that are modern and wearable that your confidants would absolutely love. This year the runway got us some chic yet wearable trends from some good lace to well-tailored fabric.
No, you don't have to spend hours scanning the various trends, that is what we are here for!
Ladies, here are 7 Super Sexy Bridesmaid Dress Ideas for you that your gal pal won't be able to say no to:
1. A very lacey affair
Lace is synonymous for sheer elegance and that's rightly so. Weddings have always been associated with lace, but the modern cuts give the fabric a very fresh accent. Lace looks quite romantic, so, team it up with pastel hues to give a flirty look that would totally compliment the occasion. As far as the style and the cut goes,  A-line maxis made of cotton lace and Fit-n-Flare maxi dress with an unlined back look really chic and suit most body types.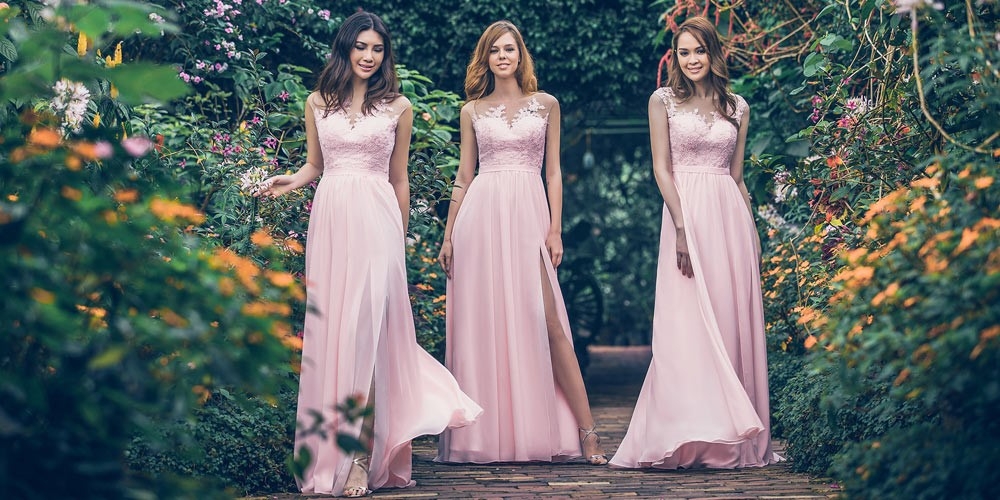 2. When in doubt, go with tulle
Modernistic and refreshing, the fabric, tulle is really taking over the runways. Best for summer weddings as this fabric is very light and seems airy as well. The best part about the material is the fall which looks really flattering on a longer skirt. Even though overall tulle gowns do look great, you could try out gowns with a tulle skirt and the bodice made with a different fabric to give the gown some dimension and pep it up with different textures. For something a little more unconventional than the same colour, same dress trend, your bridesmaids could pick out different colours of that same material as tulle in itself is a very distinct fabric giving the girls a similar look but not exactly the same. You can also find some pretty mix and match bridesmaid dresses from Cocomelody.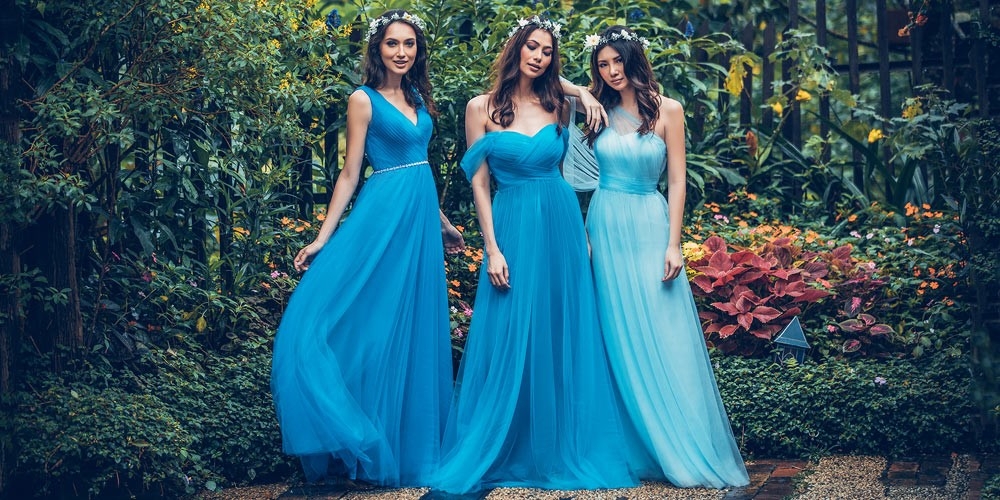 3. Corset gowns
No, corset gowns aren't just the one that you saw on Cinderella, they don't have to be so dramatic at all! We vouch for straight fit gowns with a corset-like bodice and a sweetheart cut to flatter the hot corset look which is just an evolved version of your traditional ball gown. Accentuating curves, this style also gives an illusion of a thinner waist.
For an additional touch of glam, embellishments donned on the corset's neckline look really great.
4. Tea length dress
The trend of the 1920s is hitting back the bridal magazines! Tea length dress is a midi dress that falls just below the knees and what can we say, bridesmaids, are loving it! They translate sophistication with a hint of retro and utmost flamboyance.
For a bridesmaid, tea length dresses look the best with a voluminous bell-shaped skirt and sewn-on strapless top giving it a classic yet posh finish.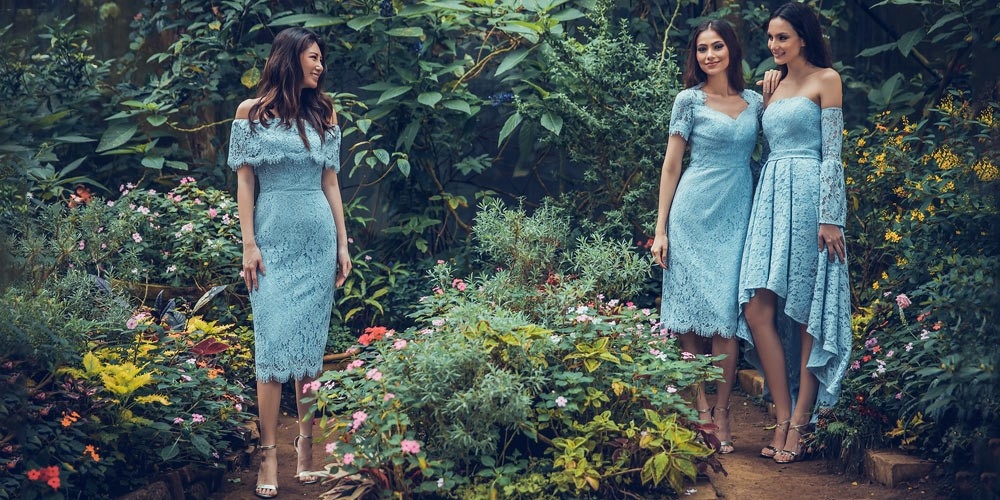 5. Shoulder play
This season, it is all about baring your shoulders in a modish way. From cold shoulders, off-shoulders to one shoulder or no shoulder at all, the mélange of this contemporary shoulder detailing with the typical styles of bridesmaid dresses evoke an enduring poise. We love some off-shoulder chiffons and one shoulder well-fitted tailored dresses with high slits, so that you can relax with style later in the day, sipping on some gorgeous wine!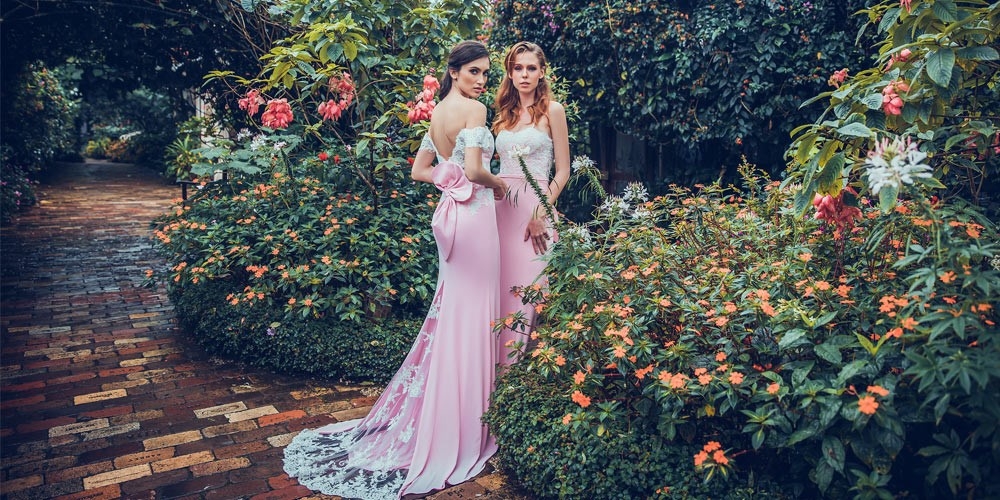 6. Convertible necklines
Dresses that have convertible necklines are truly sensational! It's absolutely normal to have a different sense of style and these dresses totally understand that. Usually, for the upper half of the dress, there is a set of two really wide (wide enough to cover your chest) that can be played around with, tied in different ways to achieve a number of styles and hence are also called "infinity dresses". With such dresses it doesn't matter whether you opt for classic champagne or gulp down a glass of whisky, as long as you're having fun!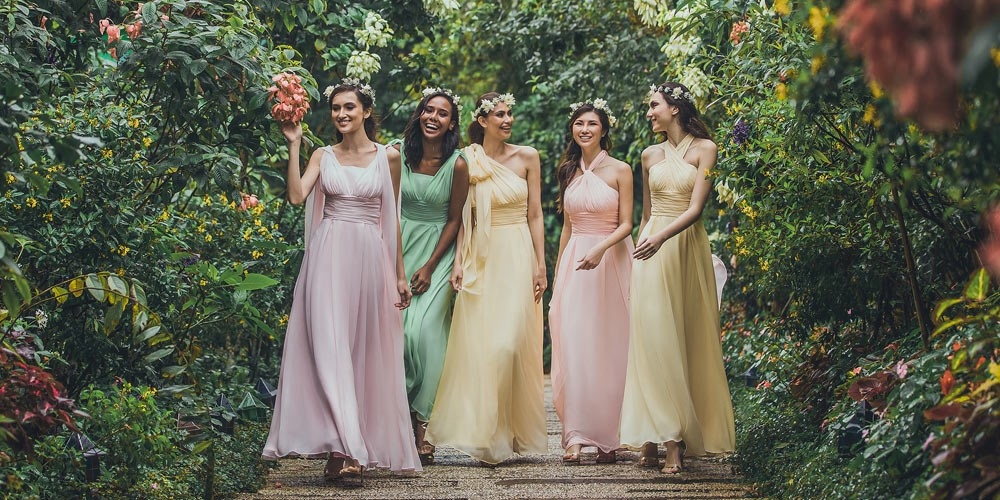 7. Think out of the box
Yes, you read it absolutely right, we are asking you try out something out of the box. We would certainly go with two pieces and jumpsuits. Style them up with some statement earrings and good hairstyles to make it look more wedding compatible. Definitely, out with the old and in with the new!
Weddings should be worth remembering and leave an indelible mark. Everything should be done with great precision and perfection to make this day one of the best ones that you experience in your lives.
Did we manage to relieve some stress? If yes, then we are more than happy to help. Watch out for more wedding-related articles that will make your life easier and the planning much simpler.