Mari and Chae tied the knot in December at the beautiful Montego Bay in Jamaica. they incorporated the Jamaica culture and spicy vibes into the big day which was stunningly fairytale, and Chae was totally blown away by Mari's gorgeous bridal look with wearing our best selling style #CWXT14061. Check out the breathtaking pics here:
All photos were taken by Epix Designs.
Wedding Dress Style: Customized version of #CWXT14061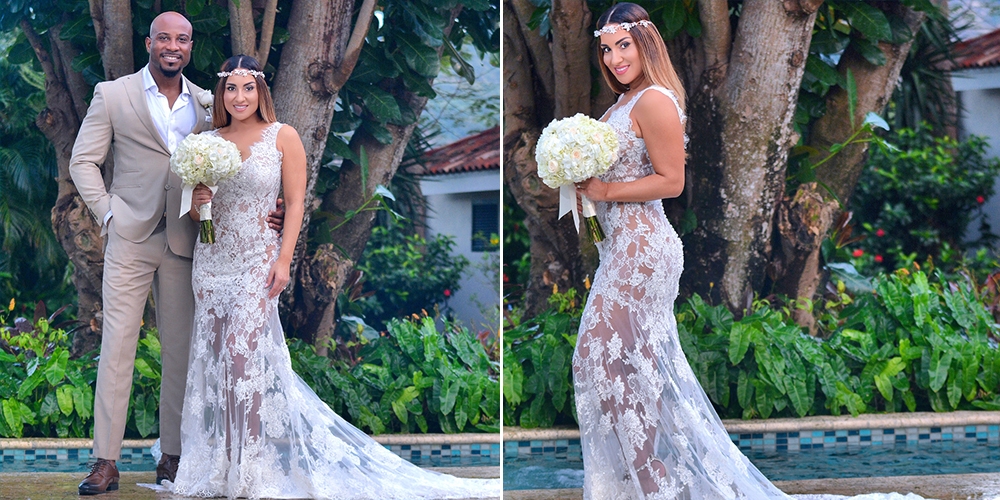 Q: Any advice or tips for future Mrs.?
A. Over communicate with your guests and double check everything twice! B. Don't forget on the day of your wedding that it's his wedding too.  C. When you are wedding dress shopping, come with your hair and makeup done nice. It makes it easier to envision yourself better the day of the wedding and makes you feel pretty during the fitting process. D. Snap shots or record every dress you like so you can reference how it looked on you later especially if you need time to think about it. Plus all your besties want to see what you picked especially if they couldn't make it there to shop with you. E. Start looking for your dress way in advance! I waited until 3 months before my wedding and had no clue how hard it was to find the dress I wanted at a price point I could afford. F. With all the headache and stress do your best to make love and not war (literally make love, it reduces stress and releases oxytocin that helps you feel bonded during the process ).
Q: What about your love story?
My husband and I met through a mutual friend. I was coming out of a bad relationship and wasn't in the headspace to recognize how amazing he was. Months later we ran back into each other at fight party and have been together since.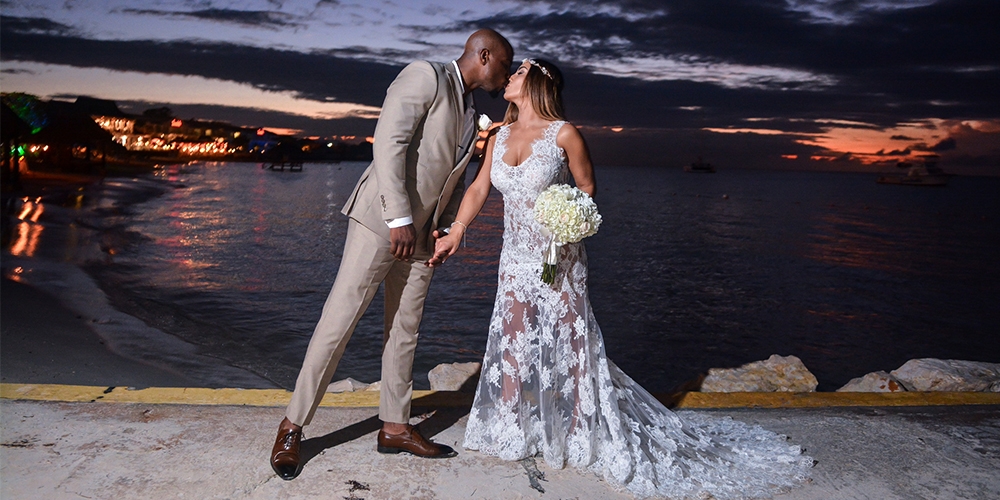 Q: What was the inspiration behind your wedding theme? 
My husband is from Jamaica and love's his culture. I have a radio show where I give relationship and dating advice called #SpicyTips. My radio name is SPICY MARI. My husband also joined me in launching The Spicy Life Inc. a relationship consulting firm ( thespicylife.com ).We help individuals strengthen their interpersonal skills to develop healthy relationships and make better connections through the spicy life program. SPICY stands for Self, Passion, Intimacy, Communication, and learning to say "Yes."
Q: Did you enjoy the wedding planning process? Why or why not? 
I absolutely hated every step of the wedding planning process. I was running a business at the same time and launching a new product so the stress from that coupled with the tedious planning of a destination wedding drove me nuts. 
Q: What was your hubby's reaction when he first saw you on your big day? 
My husband was blown away! He felt like I was investing too much in alterations, the commute and search process, but then when he saw me, he realized it was all worth it. I haven't heard a complaint since.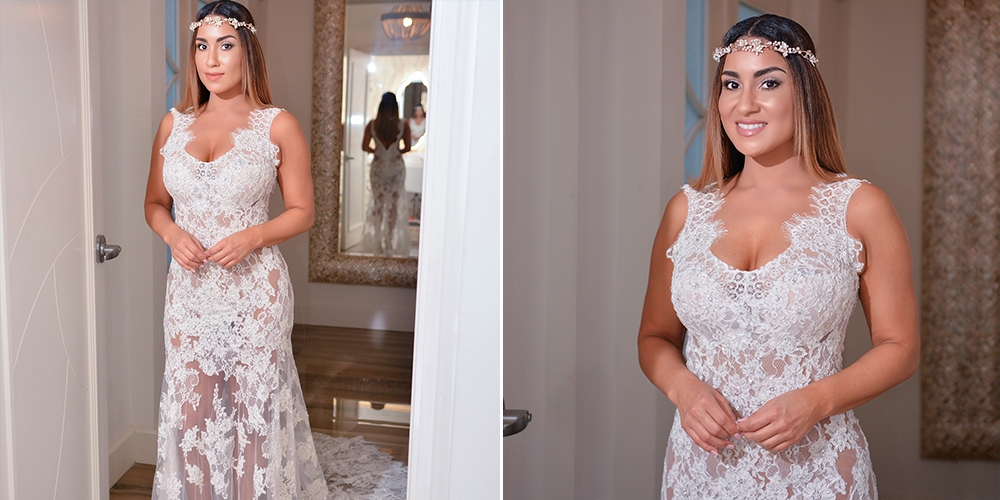 Q: What did you love most about your #Cocomelody dress? 
I loved that my wedding dress was sexy! I was adamant about not having a conservative dress. I absolutely hate the bulk and puffiness of the princess, sweet sixteen looking wedding dresses. Matter fact, I wanted everyone in swimwear at the wedding but that got vetoed. I knew I wanted a lace dress that looked like Berta but cost less than my monthly car note lol. A friend recommended me to coco melody and there were so many beautiful dresses to choose from but this particular dress was the perfect amount of spice! By removing the champagne slip it came with I was able to achieve the wrapped in lace bohemian beach look I wanted. Plus I now had a satin slip that I could wear for another event of my choosing because it looked like a red carpet dress.
Q: What do you think about Cocomelody and the customer service?
The customer service at Cocomelody was so pleasant. I had been to so many stores where the sales reps were treating my friend and I as if we were inconveniencing them. Cocomelody understood exactly what type of dress I was looking for and gave me several options that all had potential to be on my body! The sales rep at Cocomelody helped me take on and off as many dresses as I asked, snapped pictures, and recorded every dress for me so I can reference them later and send to all my friends. Any other person would have been ridiculously irritated by me but not my sales rep. I also appreciated the ease of ordering my dress and checking out. It was shipped to me on time and in mint condition.