Danielle & Justin celebrated their marriage in Tuscany, Italy. Their color scheme was shades of blush pink and rose gold with a hint of turquoise throughout. Since they are both lovers of travel and adventure, there were definite nods to that in their decor (from luggage tag inspired place settings to a wedding cake topper that read "And So Our Adventure Begins"). What's more, Danielle and her mom even handmade her bouquet, and added vintage rhinestones and pearls, along with a piece of silver that belonged to her Bushie (grandma in Ukrainian). How meaningful!

All Photos were taken by Cameron Hein Photography.
Wedding Dress Style: #LD3906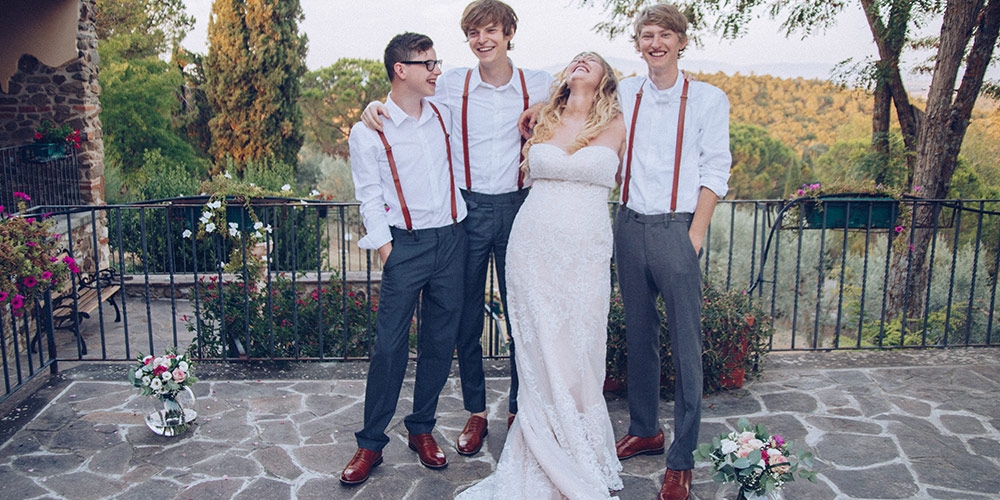 Q: Any advice or tips for future Mrs.?
Don't stress. Everything will be perfect, even if doesn't go perfect. This is one of the greatest days of your life, be present for it. Fully. Having a small and intimate destination wedding was perfect for us. It allowed us to spend quality time with our loved one's for the duration of our stay, so our wedding day wasn't consumed with small talk and the obligation to make the rounds. We were able to dance, eat, and spend quality time with each other, and the one's we loved.
Q: What about your love story?
Justin and I met on the set of a movie we were both working on, in Michigan. I am originally from Michigan, and he had come into town from Charleston, SC to work on the film. After a few weeks of flirting in the halls, I worked up the nerve to ask him out. From the first date, I knew he was going to be a big part of my life. A few months later he had to head back home to South Carolina. We dated long distance for a year, visiting each other whenever we could. I even took a Greyhound bus 24 hours to see him for 3 days, when my car broke down! Eventually I moved down to Charleston, so we could truly start our lives together. We dated for over 5 years, bought a house, parent a lovable dog together, and travelled the globe together, before he popped the question on Christmas morning of 2017. We were married exactly 8 months later, in Tuscany, surrounded by our family and dearest friends.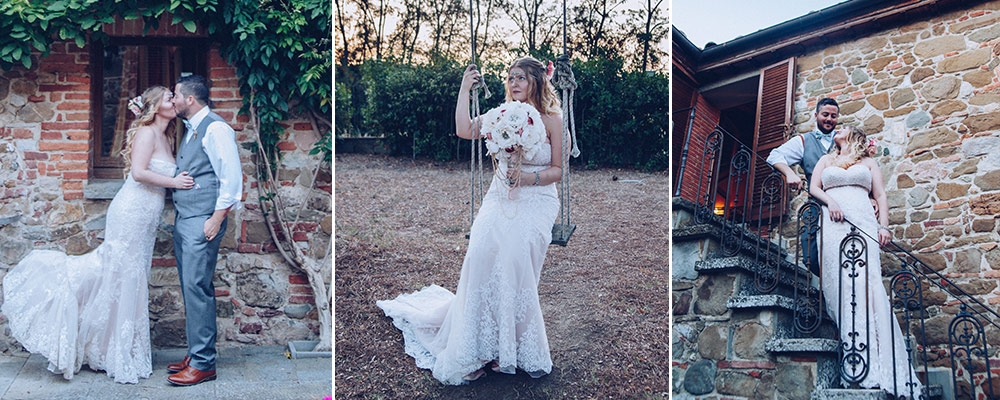 Q: What was the inspiration behind your wedding theme?
Our love for travel really inspired everything about our wedding. A lot of our family and friends had never traveled outside of the country before, and we really wanted to share our passion for exploring new places with them. After we discovered Villa di Leonardo, everything just fell into place from there. It was more incredible than either of us could have ever imagined. From the scenery around us to the incredible food, and of course the wine, we were overwhelmed with happiness.
Q: Did you enjoy the wedding planning process? Why or why not?
I LOVED it! I have always been a bit of a planner and organizer, it's my happy place. Being able to not only plan my special day, but also organize travel for friends and family, it was a dream came true. I actually found myself loving it so much, I have since started planning other people's weddings, and helping to organize events.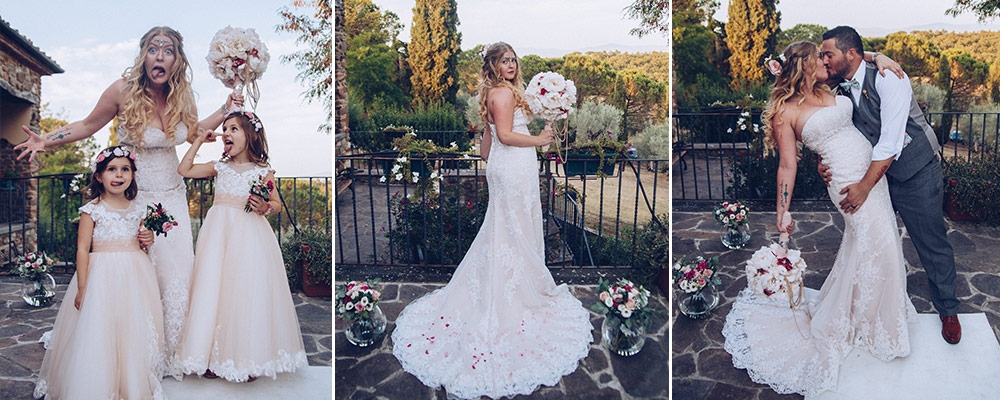 Q: What was the best/most memorable part of the day?
Everything about the ceremony is perfect. Honestly. From the minute I started walking down the aisle, and could see my husband waiting for me, with tears in his eyes and a huge smile on his face, I knew I needed to try to remember every moment. My brother was our officiate,, and hearing his genuinely loving words about myself and my husband, made our wedding so much more special than (in my opinion) someone we hired ever could have.
Q: What did you love most about your custom #Cocomelody dress?
I loved so much about it, but all of the detail that went into it was incredibly beautiful. I didn't want a bright white wedding dress, it's just not my style, and white doesn't look great on me. I loved that I had the option to get a blush colored underlay. It went along with the colors of my wedding, and fit my taste perfectly. The silhouette was so perfect for my body shape, as I'm a fairly curvy woman, and this dress made me feel so beautiful. And then the lace, and buttons all the way down the back…WHOA! I was seriously in love! I tried on quite a few dresses, elsewhere, before taking the leap and ordering offline from Cocomelody. I absolutely adored the fact that I could put in my exact measurements, and have my dream dress, without shelling out half my lifesavings. It was so inexpensive, the quality was impeccable, and I received it in a timely manner, so I could get the very few alterations needed, done in time.
Q: What do you think about Cocomelody and the customer service?
Cocomelody was wonderful from start to finish! I have been raving about it to every future bride I meet!