Have you ever dreamt about an eclectic bohemian wedding ceremony? Elizabeth & Scott did it, they read their touching vows in Crown Point, Indiana! Everything was perfect, especially Elizabeth's bridal look, breathtakingly beautiful! Can't wait to see the rest of her big day photos? Check out below right now!
All photos were taken by Rainstorm Photo.
Wedding Dress Style: #LD5190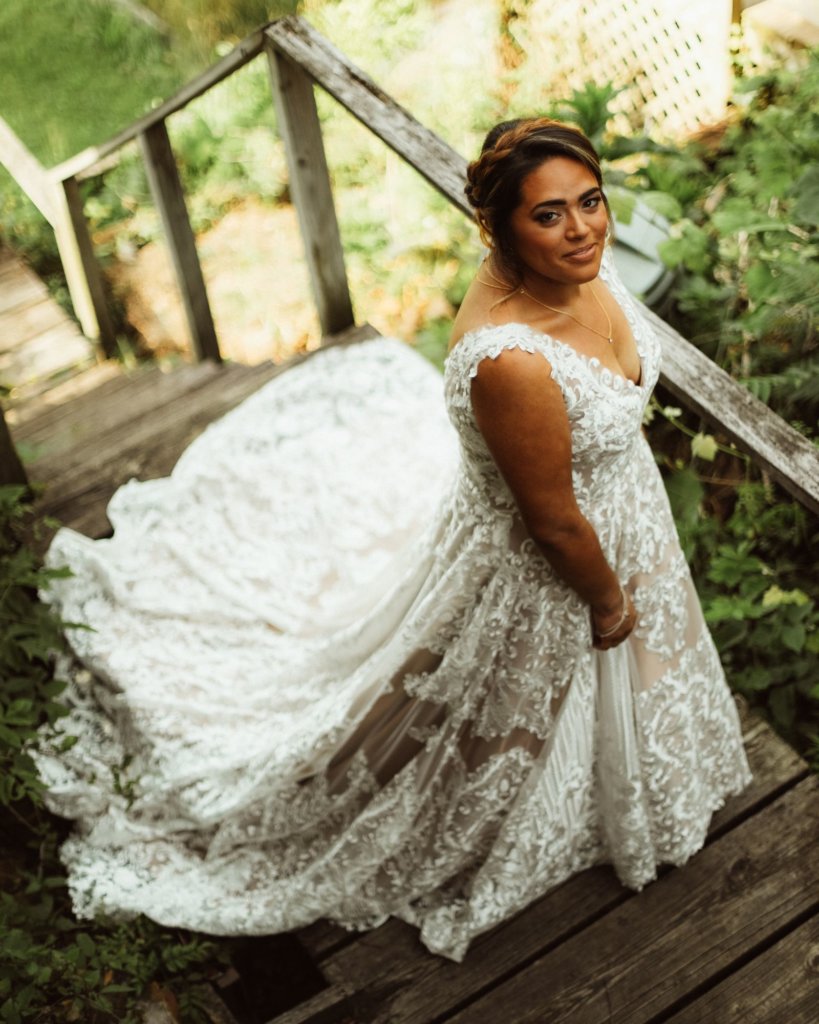 Q: Any advice or tips for future Mrs.?
I'm sure every single bride can agree with this but do not sweat the small stuff. Trust me when I say no one will care if you don't have the right colored candles or the wrong fold on the napkins. Enjoy the wedding process. For some this is a huge transition in life and it can be consumed with the small stuff. Also! Take time before the wedding to spend with your parents or someone who has truly invested in your life. They and you will never forget those precious moments.
Q: What was the inspiration behind your wedding theme?
I absolutely love the eclectic bohemian vibe. I actually based my wedding on my dress! The dress I ordered from CocoMelody was the first dress I saw when I got engaged and the only dress I tried on when I got it in the mail. I just knew that it was my wedding dress.
Q: Tell us your love story! Where & How did he propose?
We have a mutual friend and she invited my sister and I to Scott's house for a game night. I have never met Scott prior to that night and I didn't even talk to him the entire time we were there. Flash forward a few weeks and the same friend invited me to dinner. Scott and I both arrived 30 mins early and sparked up a conversation. As the night wrapped up I still wanted to talk to him so I created a Pinterest board on a topic we talked about, found him on Facebook and messaged him. Since that night we have been inseparable. Scott proposed to me on October 21,2019 at a spot where we knew we wanted to pursue each other unconditionally. Through my ugly cry I said Yes!
Q: How would you define the message "Dare to Love"?
Daring to love can be terrifying. It's taking a step with the blindfolds on trusting you won't fall. I dared to love by messaging him first because I didn't want to let him slip through my fingers. It's about trusting your partner with everything you are and everything you hope to be. At times it can be difficult but if you dare to love then you will be rewarded with something far better then you can dream of.
Q: What was the best/most memorable part of the day?
While I was finished getting ready for my wedding I was able to read a love letter from Scott. Surrounded by my sister and my 4 cousins, Reading his thoughts and feeling what he felt when he wrote it was beautiful and something I'll forever cherish. As I was waiting for my part to walk down the aisle the last moments with my dad was something I'll never forget. He has invested so much into my life to get me to that moment. Than seeing my husband absolutely lose it at the altar.
Q: What did you love most about your #CocoMelody dress (es)?
I love how unique the wedding dress is!! Everyone couldn't believe how much I paid for it and for the quality of the dress. Absolutely exceeded my expectations.
Q: What do you think about CocoMelody and the customer service?
I loved working with CocoMelody. My rep was beyond helpful and made my custom fitting dress process a breeze! So glad I choose them as my dress shop. I would recommend them to any bride looking for a wedding dress!!