Love Jesi & Samuel's picture-perfect vintage wedding in Provo, Utah Temple! Our real #cocomelodybride Jesi is the epitome of modern style in Greta Dress – a classically simple wedding dress with just a touch of updated glamour, which totally catched our hearts! Congratulations to Jesi & Samuel and wish them happy forever!
All photos were taken by Katie Griff Photo.
Wedding Dress Style: #LD5817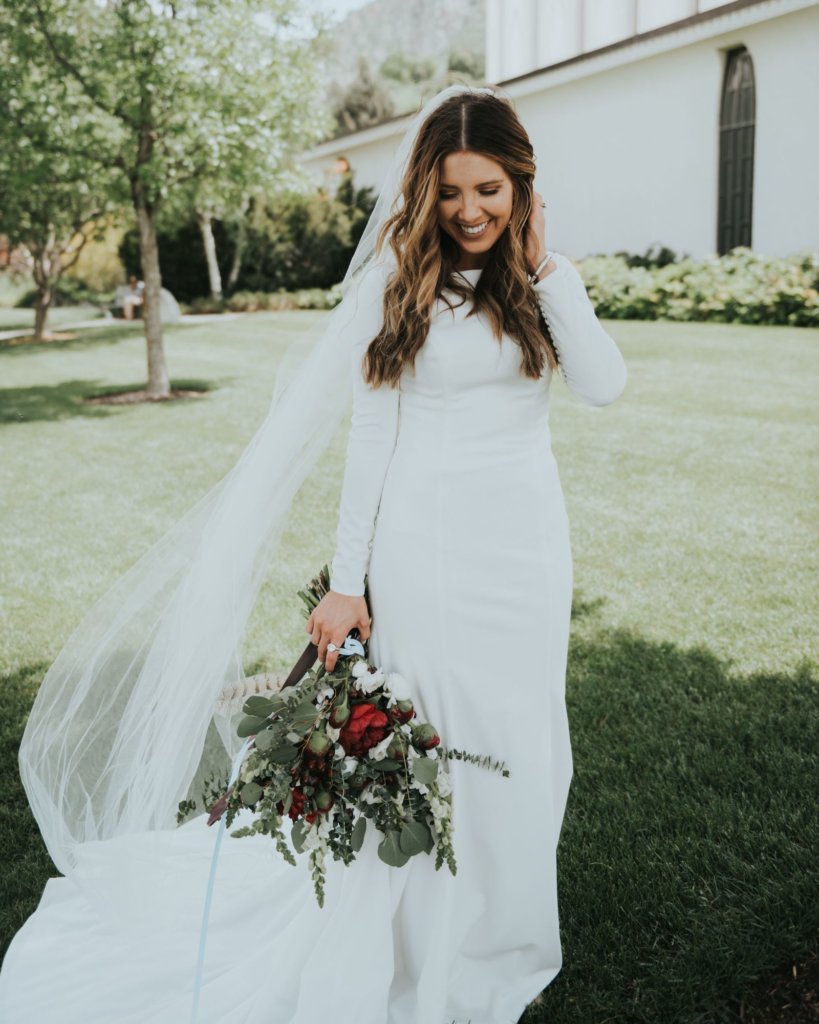 Q: Any advice or tips for future Mrs.?
Make time on your wedding day for a nap.
Q: What was the inspiration behind your wedding theme?
Just classic vintage style… we are old souls so it was very fitting for us!
Q: Tell us your love story! Where & How did he propose?
He scheduled a photoshoot for us and so we hiked up into the mountains and were taking photos for about an hour and when "the lighting is perfect" he got down on one knee and said "Jesi, you are the love of my life. Will you please marry me?"
Q: How would you define the message "Dare to Love"?
It's always scary to put yourself out there and let another person that you love them… but it is the most rewarding thing. Especially when they love you back!
Q: Did you enjoy the wedding planning process? Why or why not?
I did, I did everything myself from the catering to the flowers and decor… it was stressful but I knew that everything would be exactly the way I wanted it.
Q: What was your hubby's reaction when he first saw you on your big day?
He was so excited to see me… mostly Because he hadnt seems me for so long… and we just really missed each other!
Q: What did you love most about your #CocoMelody dress (es)?
The simple design and the beautiful material that was so easy to move in! I love my wedding dress!
Q: What do you think about CocoMelody and the customer service?
CocoMelody was great! They stayed within the 85 day timeline and when I started to get worried about the dresses arrival and emailed them, they responded right away!