Erin & DJ tied the knot in Clarksville, Tennessee. They didn't really have a true theme like most couples do, just went something that reflected both of their personalities. They had a fall wedding in the most beautiful industrial-esque building with amazing garage doors overlooking a small lake and lots of greenery. They chose black, white, and grey with touches of gold, greenery, and peach as their colors, which were so different than most fall weddings and it felt fresh while still feeling appropriate for the season. They also wanted to bring in a lot of wood elements as well and lots of candles for a soft romantic feel. They had over 300 candles throughout the ceremony and reception space. They also tied in some Southern touches such as the Spanish moss and the use of the soybeans they got from a field down the street from DJ's grandparents house. We loved the final results! Congratulations to Erin & DJ and see some of our favorite wedding photos below.
All photos were taken by Christy C. Photography.
Wedding Dress Style: #LD4534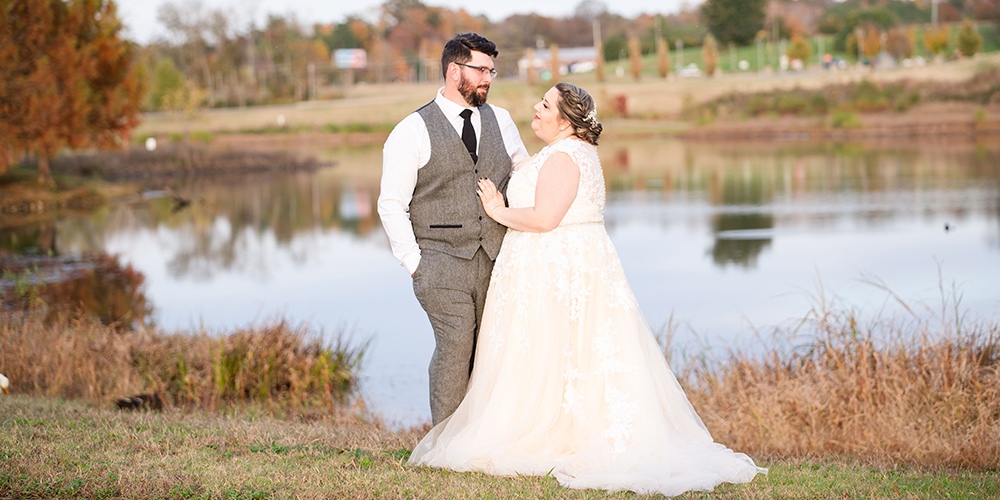 Q: Any advice or tips for future Mrs.? 
Try not to sweat the small stuff. Things will go wrong on the day of the wedding, people will forget to RSVP, and you will probably forget some things, but in the end, your day will still be amazing. Take some time before the wedding and intentionally spend time with your future husband without talking about the wedding as well.
Q: Tell us your love story! Where & How did he propose? 
It really is the classic tale of country boy meets city girl – the one where they fall in love despite having grown up in two different worlds! That's us and for us, it just works! We compliment each other so well, but more importantly, we encourage each other to be the best version of ourselves that we can possibly be.
DJ was so nervous the night he proposed. I noticed he was more dressed up than normal for our typical date night. He took me out to dinner and I could tell he was acting a bit strange – like he was antsy about something. Unknowingly I set up his proposal perfectly. While waiting to be seated, I asked him why he loved me. He had a whole speech prepared that actually fed into my question. I kept interrupting him through trying to get him to laugh or give me little kisses on the forehead and he kept acting more and more strange – little did I know he was trying to propose to me! He finally made it through his speech and got down on one knee. It was a blur from that point on. I assume I said yes, because now I am officially married to the most amazing man for me. It was the sweetest and most endearing moment.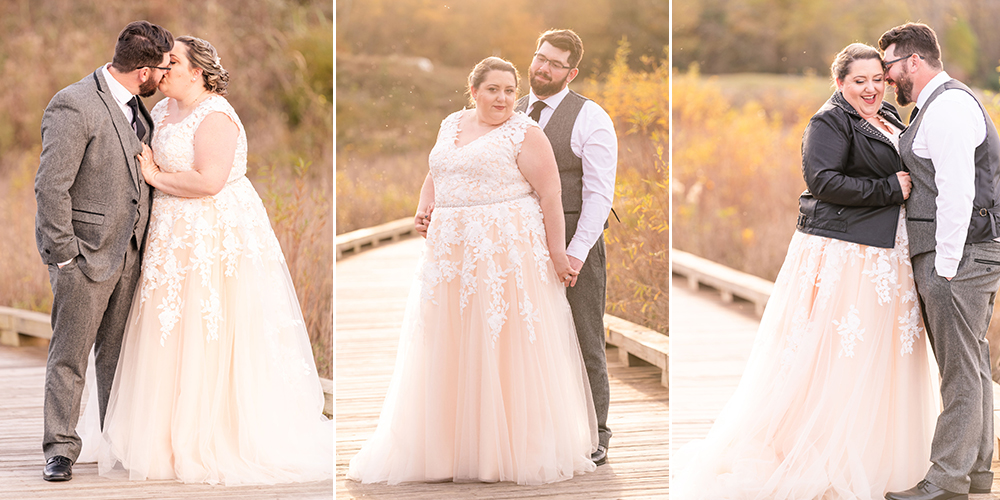 Q: How would you define the message " Dare to Love"? 
When we are "dared" to do something it is a challenge for us to go forth and accomplish the task at hand. When we dare to love, we are challenging ourselves to unabashedly care for, respect, and love someone else…. or better yet, ourselves.
Q: What was the inspiration behind your wedding theme? 
DJ and I wanted to hand make a lot of our decor because we wanted the day to be reflective of who we are as a couple. I envisioned the centerpieces and DJ made them come to life. All of our wood candle holders were made by hand, as well as the gold hoops and the arches. We spent a lot of time discussing colors and we first settled on using burgundy for the wedding, but when I found my dress, it all changed. In the end, when we saw it all come together, I knew we had created something so unique and special to us!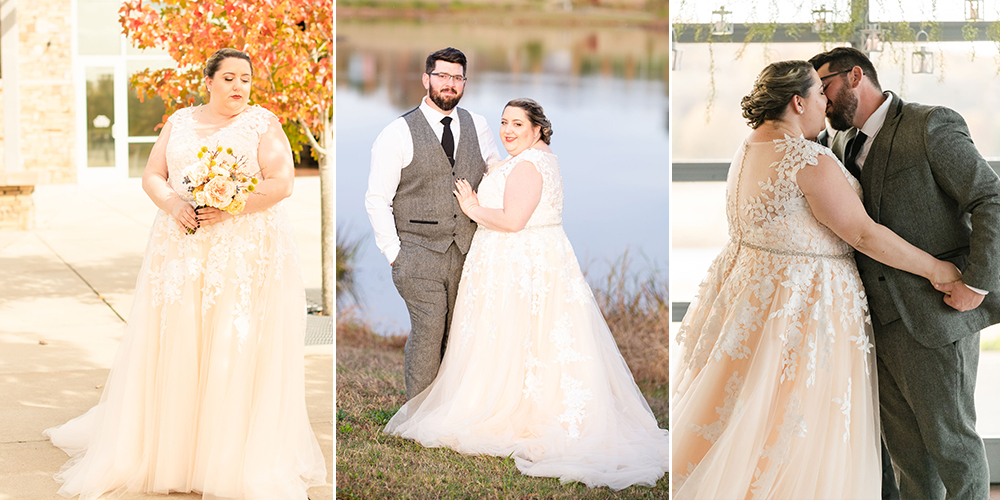 Q: Did you enjoy the wedding planning process? Why or why not? 
I did enjoy the planning process. It was a lot of hard work, but in the end, it was amazing to see my vision and ideas come into fruition. I would say though that planning everything by yourself is exhausting while working. Most of my family and bridesmaids live out of state so I really had to rely on DJ a lot more, but it was a great experience for us to work together on it. If I had the choice to go back and hire someone to help, I would consider it. It would help take a lot of the pressure off and allow me to enjoy certain parts of the process more.
Q: What was the best/most memorable part of the day? 
Seeing DJ get emotional as I walked down the aisle. He rarely cries and to see him so overwhelmed with love for me was something that I will always cherish.
Q: What did you love most about your #Cocomelody dress? 
I loved my wedding dress! It was absolutely stunning. From the quality of fabric, to the detail of the appliqués, down to the impeccable craftsmanship, my dress was everything I ever dreamed of. The color was also so dreamy and unexpected for a fall wedding. I received so many compliments from our guests and even from my seamstress. I also loved pairing my gorgeous dress with the leather jacket and detail on the back I got to design!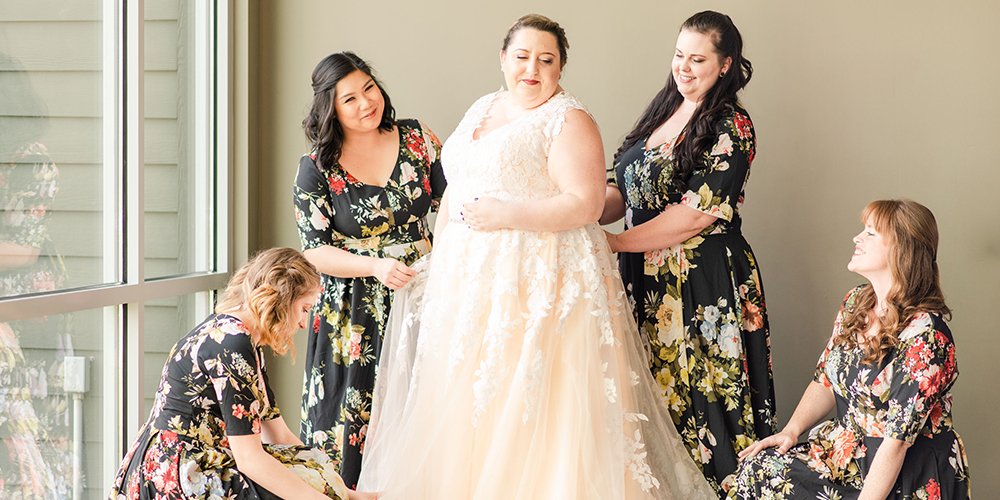 Q: What do you think about Cocomelody and the customer service?
I had a really positive experience with Cocomelody overall. If you get the opportunity to visit the store, I strongly recommend that you do, but if you can't then the online stylists will help you through the ordering process with great care and detail. I also recommend joining the Facebook group. There are a lot of amazing brides in the group that help you navigate through the process as well as help you find your dream dress. But most importantly, I loved being able to afford my dream dress! Thank you Cocomelody for being a special part of my wedding day!