Jessica & Nicholas's rustic, vintage wedding in The Well Venue, Sky Valley CA was the most special day!! From the little details, like the venue Botanical Garden and wooden tables, to the most gorgeous wedding dress with exquisite applique details, this wedding will give you ALL. THE. FEELS. of vintage charm! Congratulations to Jessica & Nicholas and wish them happy forever!
All photos were taken by Erica Mendenhall Photography.
Wedding Dress Style: Customized Version of #LD5580
Q: Any advice or tips for future Mrs.?
Hire a Wedding Coordinator, it makes the planning process less stressful, your able to enjoy your special day without having to be the go-to person. Everyone was just able to relax and have fun knowing you were in great hands. ❤️
Q: What was the inspiration behind your wedding theme?
Our venue when we seen it we fell in love with the Rustic feel of it, we love being outdoors in the desert and it just resonated good vibes with the Botanical Garden mixed with wooden tables, and Vintage charm.
Q: Tell us your love story! Where & How did he propose?
Believe if our not we met in Prison! I'm a Nurse and he is a Correctional Officer, we hit it off and started dating, he proposed after our oldest Son was a little over a year in Idylwild Ca, it had snowed and he wanted to "see the snow" so we drove there and played in the snow, little did I know he had planned to propose there! Next thing I know he had Ayden hand me a box with my ring and he asked me to marry him. We've been engaged almost 8 years and never felt the pressure to marry, fate brought our Wedding Planner who happened to be our Nextdoor neighbor and I together, and well you see the rest is History! ❤️
Q: How would you define the message "Dare to Love"?
I would define this message as take risks! Go after your happiness and conquer it! Nicholas and I have always had a strong bond because we both uplift and support one another, in my vows I referenced him and my Sunflower, Sunflowers face the Sun and get their energy from it, so when the Sky is cloudy they will turn and face each other and share each other's energy, well Nick is that for me, we build each other up, and lean on each other for support so that we can thrive together. To me that defines Dare to Love, we love beyond the limits, sunny or cloudy…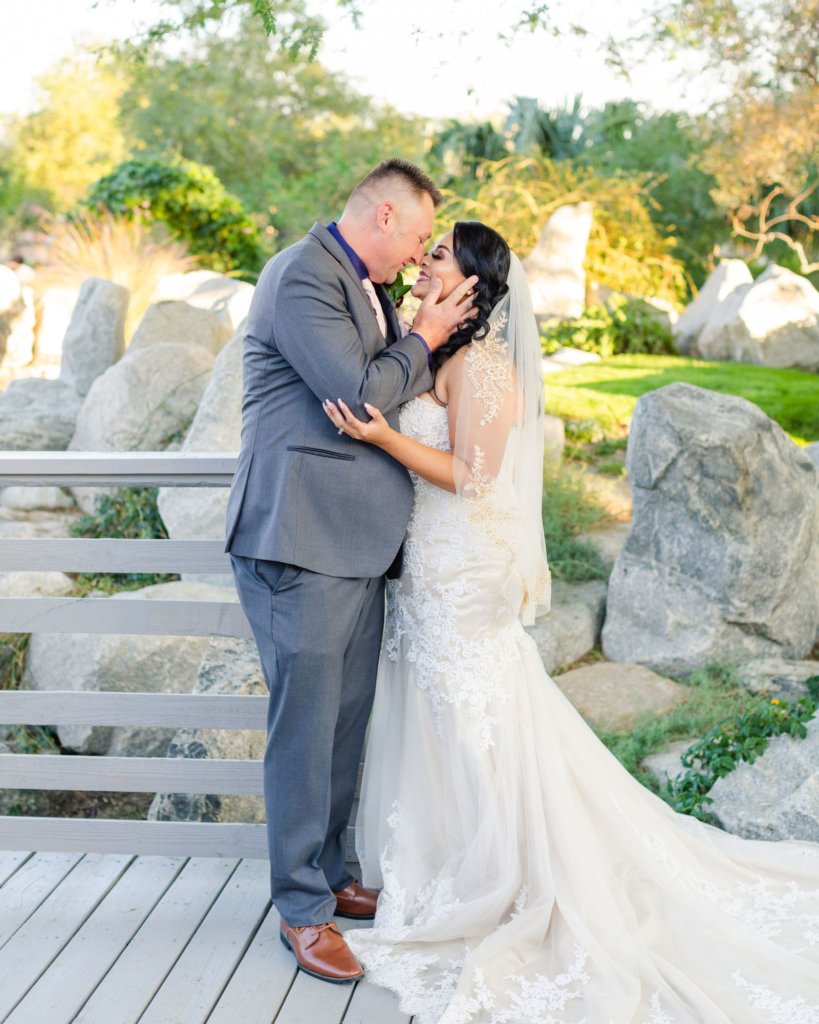 Q: What was the best/most memorable part of the day?
The most memorable part of the day was our first look, we were able to capture our true expressions seeing each other for the first time. It was a moment where I was walking towards my soulmate, locking eyes and feeling like it was the first time we seen each other when we first met. It was nice to be able to have that time together before the Ceremony.
Q: Where did you hear/find CocoMelody?
My wedding coordinator suggested I go look at the dresses there, so we went to the La shop, the experience was excellent! I had Jade as my consultant and she made me feel just as you should feel, like a bride! She helped me step out of my comfort zone and picked this beautiful dress for me to try on, I knew as soon as I put it on that it was my dress!
Q: What did you love most about your #CocoMelody dress (es)?
The lace detailing and beadwork, I wanted an old Hollywood vintage feel with the champagne color and lace combination. I had custom alterations done by @CLdesignerstudio, and the way the wedding dress fit was just everything. The quality of the fabric is just superb!
Q: What do you think about CocoMelody and the customer service?
As I mentioned I definitely recommend CocoMelody to future brides! My experience was fantastic!