Every now and then a bride comes along and just leaves us speechless – and also very jealous we didn't attend her wedding! Real bride Joy could not have been a better boho bride! From her seriously killer greenery crown and DIY elements, to her wedding dress with lace sleeves and amazing ranch venue, Joy & Cory wedding in Alachua, Florida was truly unique and special. Keep reading for more on their simple, rustic, elegant/boho wedding!
All photos were taken by Sarah Dey Media.
Wedding Dress Style: #LD4203
Q: Any advice or tips for future Mrs.?
Use a wedding planner! They save your life! And let all your stress out before the wedding. Day of you shouldn't have a care in the world (hint that's where the planner helped gloriously!)
Q: What was the inspiration behind your wedding theme?
Pinterest.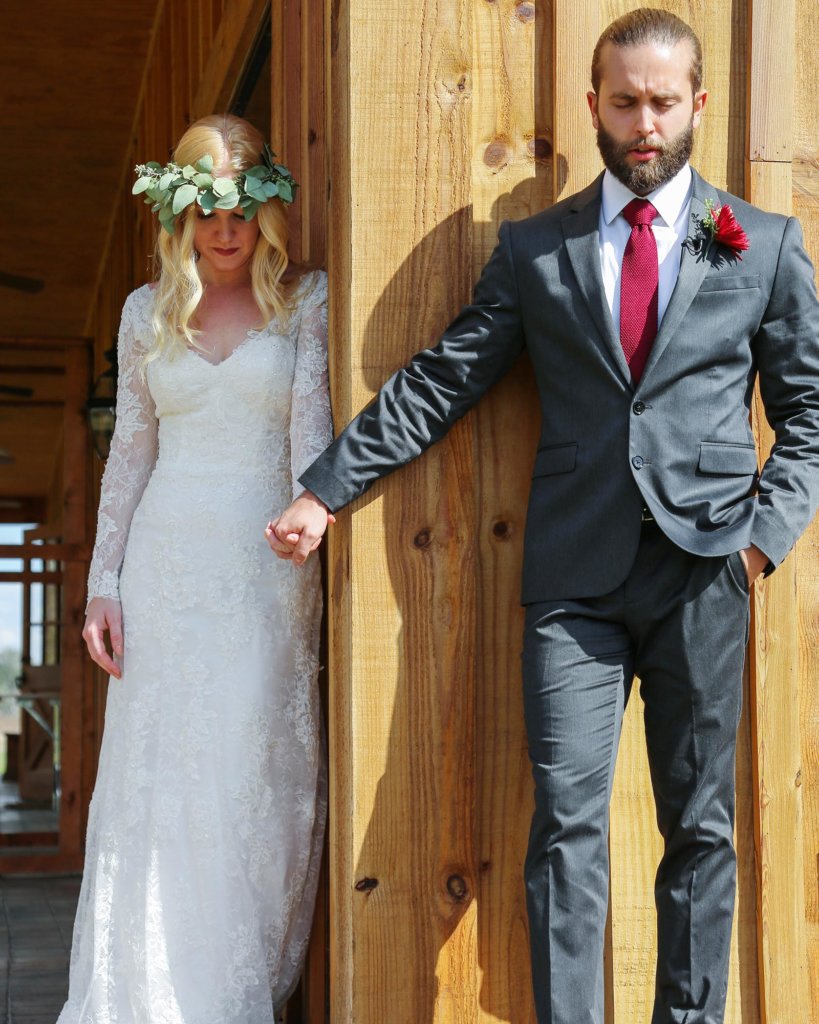 Q: Tell us your love story! Where & How did he propose?
I love sunrises on the beach! One of my favorite scenes in this world. My brother lives on the beach so my husband convinced me that he found this restaurant on the beach that opens in the morning before sunrise for breakfast and that we should go. Of course my brother was invited! My husband told me this place was kinda nice so I needed to wear a dress. Morning of I'm debating between two dresses one my mom had and another my sister sent me from Southeast Asia. She was a missionary at the time so she couldn't be there, so I chose my sister's dress!
When we went out to the car my husband told me to put a blindfold on because I wasn't allowed to see where we were going. This wasn't a surprise to me because he had done this before. So we get in the car, me with my blindfold, my husband driving aimlessly to kill time while my brother in the passenger seat is trying to FaceTime my sister in Southeast Asia. All while I have Disney playing on Spotify without a care in the world. We finally get to "this restaurant." I'm let out of the car with my blindfold still on as my husband leads me.
I'm placed in position and he takes the blindfold off for my eyes to open and see the beautiful beach in front of me, a photographer capturing that moment, and about 100ft away a white sheet with a bench on it, a basin, soap and a pitcher of water with flower next to it as two of our really good friends standing on either side one playing guitar. My husband lead me to this bench, sat me down, untied my shoes and began washing my feet as our friend played Your Love is Extravagant. Meanwhile the sun was coming up the whole time on a cloudy morning. After he washed my feet he read me a note pulled out the ring and asked me to marry him. I said yes, and my brother called out 'say hi to your sister!' She had been watching on FaceTime from Southeast Asia the whole time!
Q: How would you define the message "Dare to Love"?
Love is taking your heart; the most fragile, most vulnerable piece of yourself and putting it in the hands of someone who is imperfect, flawed and just as fragile and trusting them to take care of it. And even if they don't, which they won't, trusting that that love you were founded on will heal it all. Love is a risk to be utterly destroyed or experience the greatest happiness you'll ever know. But you won't know until you dare yourself to let it happen!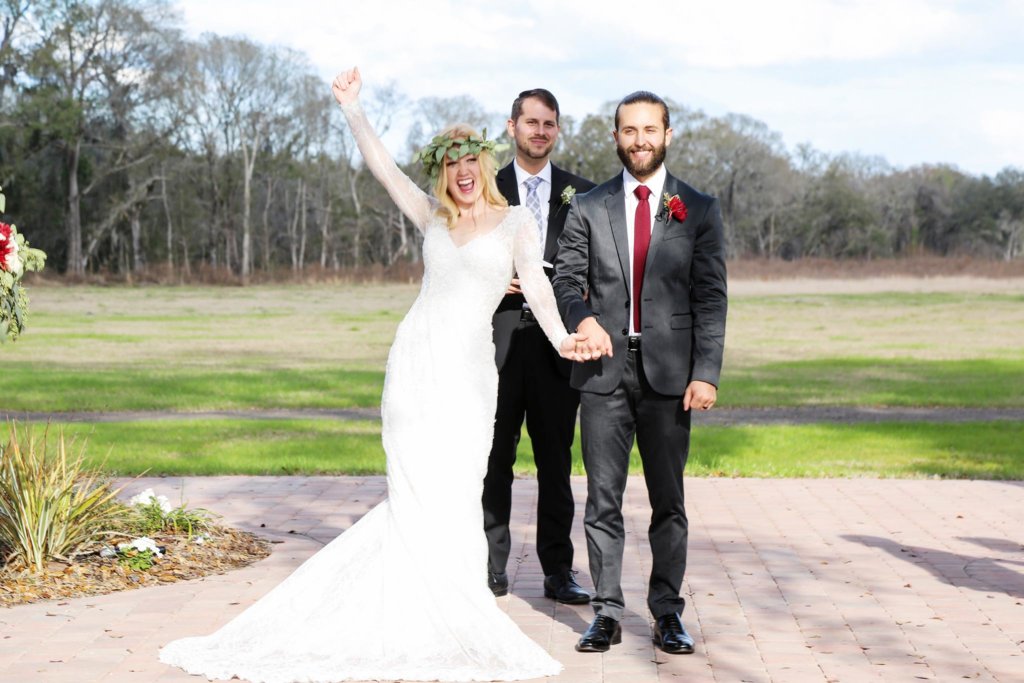 Q: Did you enjoy the wedding planning process? Why or why not?
Not really, it's hard for me to pick something and stick with it. And I'm not the girl that grew up dreaming about that day my whole life. It was much more exciting for everyone else around me than it was for me.
Q: What was your hubby's reaction when he first saw you on your big day?
He literally burst into tears!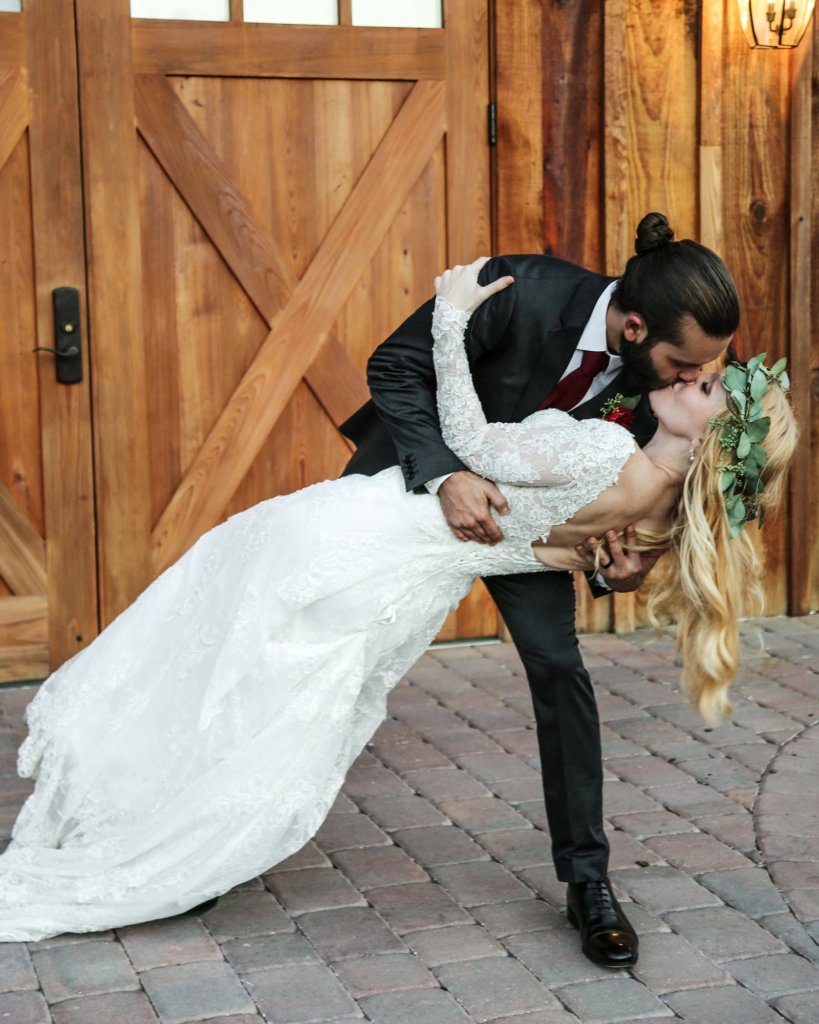 Q: What did you love most about your #CocoMelody dress (es)?
Honestly everything of my wedding dress! There wasn't one part I loved more than the other. I love the fit, the long sleeves, the lace, the train, the low back! It was to a T exactly what I was looking for!
Q: What do you think about CocoMelody and the customer service?
I think you guys are awesome! You helped me so much! The dress came quick/when you said it was gonna come. And you were easy to contact! I have been very pleased with CocoMelody and customer service!