Krystina & Chris exchanged the emotional vows in Estate at White Hall, King George, Virginia, Chris wore green at the wedding so that was automatically a color, Krystina's favorite color is pink, In order to mute the contrast they threw Maroon in as the contrast and made pale pink/blush as the neutral color. and All the girls were looking dazzling in a pretty green dress, which it all came together so perfectly with the gold accents to make a country rustic feel perfect for Fall.
All photos were taken by Rachael Rhodes Photography.
Bridesmaid Dress Style: #COZF140A1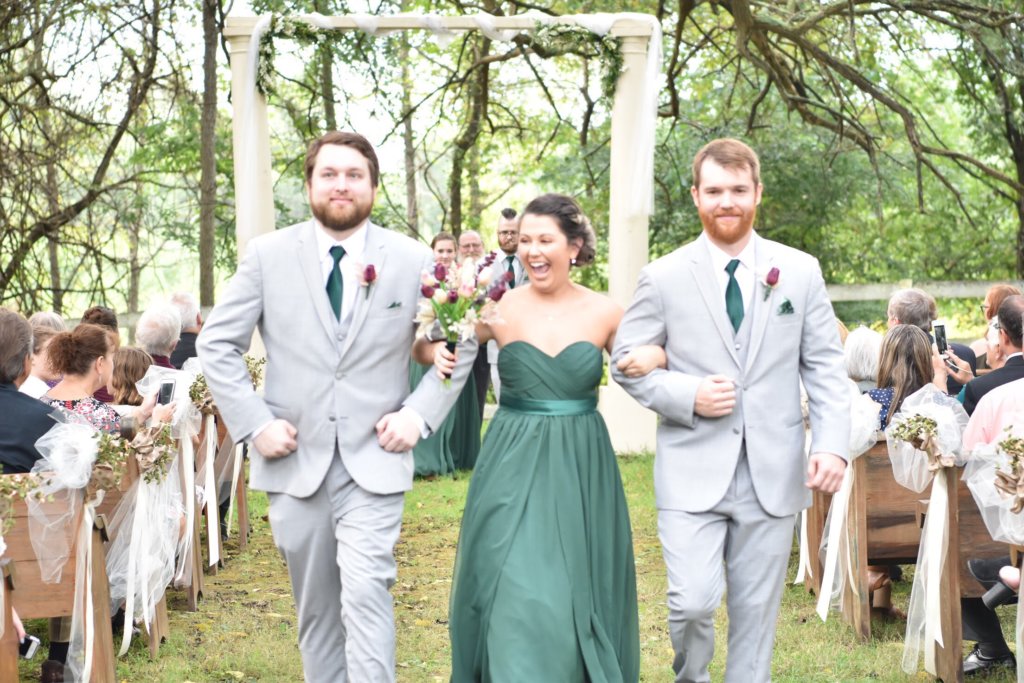 Q: Any advice or tips for future Mrs.? 
Do not sweat the weather – as cliché as it sounds the day is about you and your husband and the love you share for one another. Everything else is a bonus.
Q: Tell us your love story! Where & How did he propose? 
We've known each other since high school, but recently reconnected in 2014 and became friends fast. In 2015 I went from Richmond, Va to Clemson, SC for a football game with a friend. I came back to Virginia with a boyfriend. 2 years later, on October 25, 2017, I was having a rough day. Everything had been going wrong in October for me. I came home and Chris was hiding his hand in the pillows but I just thought he was being weird and thought nothing of it until he pulled out the box – I almost threw it at him because I thought he was joking. Of course, I said yes.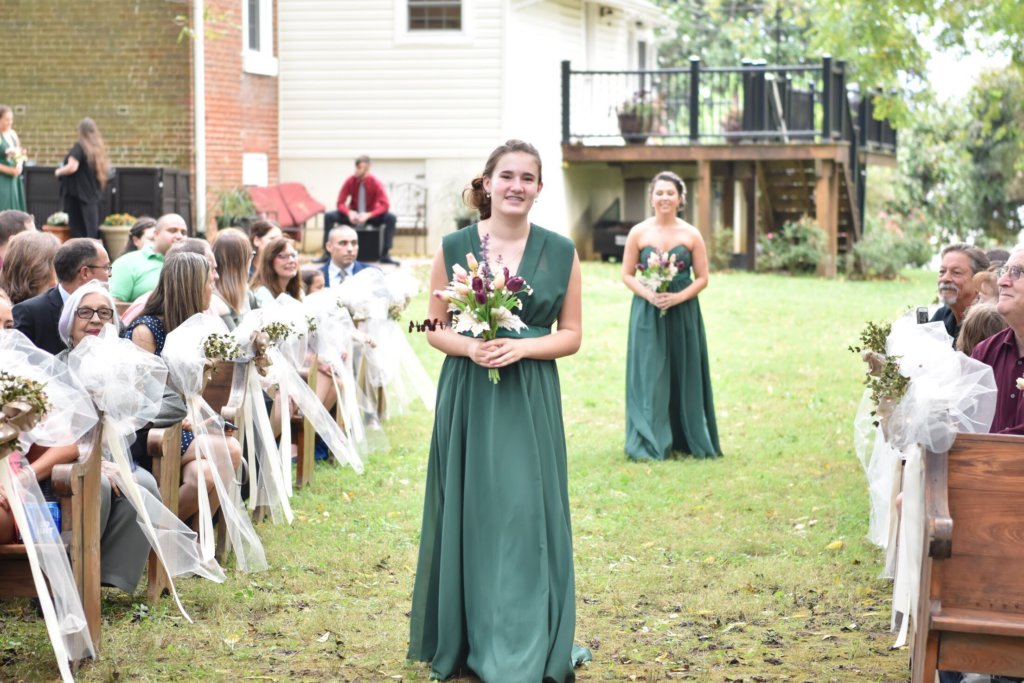 Q: How would you define the message "Dare to Love"?
I think it means to take a chance – my husband and I started dating during a period in my life where I was very guarded. I took a chance and I'm glad I did.
Q: Did you have a particular theme or color scheme? Is there a story behind this color theme and why you chose it? 
My husband insisted he wears green at our wedding so that was automatically a color. My favorite color is pink so we wanted to incorporate that as well. In order to mute the contrast we threw Maroon in as the contrast and made pale pink/blush our neutral color. It all came together so perfectly with the gold accents to make a country rustic feel perfect for Fall.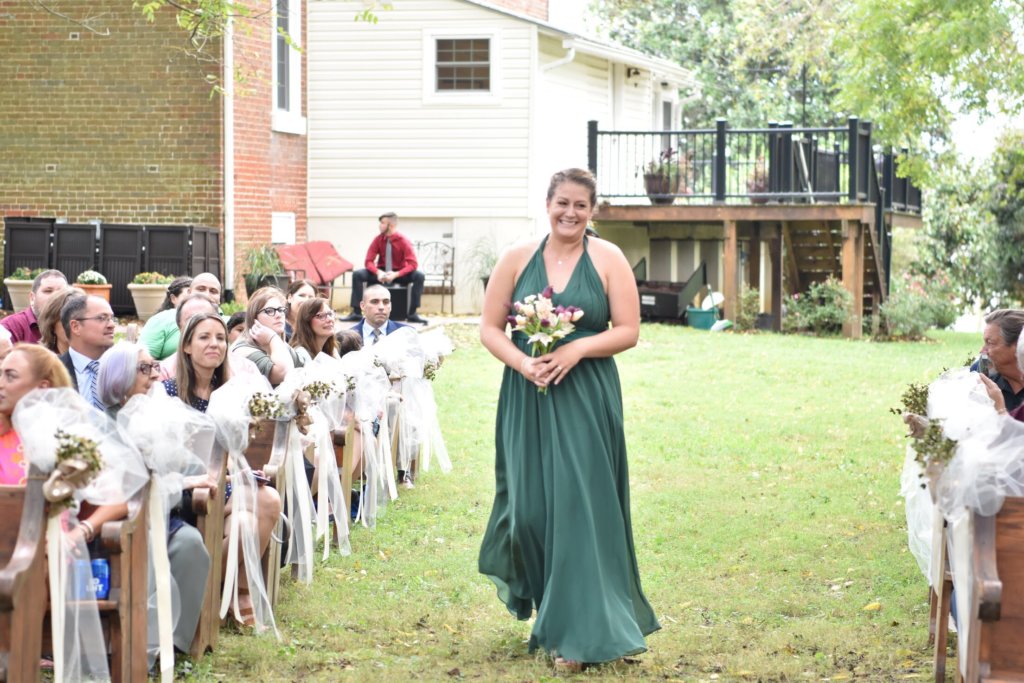 Q: Did you enjoy the wedding planning process? Why or why not? 
I did – up until two weeks before. We had the pleasure of dealing with a potential category 5 hurricane (Florence) impacting not only our ceremony but our honeymoon and much of where our family and friends lived. A lot of people came to our wedding not knowing what they would go home to. One of my bridesmaid and our ring bearers actually called at the very last minute to say they couldn't make it out and we're safer to stay put. In the end, we made it work a bridesmaid down and added ring dudes (Played by my uncle and his neighbor). While no bride likes last minute changes, this wedding taught me to go with the "Flo".
Q: What was the best/most memorable part of the day?  
The best part was probably the first look – I played a prank on my husband where I sent my brother out in a wedding dress to meet him. Both were great sports. Also, it only rained for about ten seconds right before the ceremony which was good luck I hear.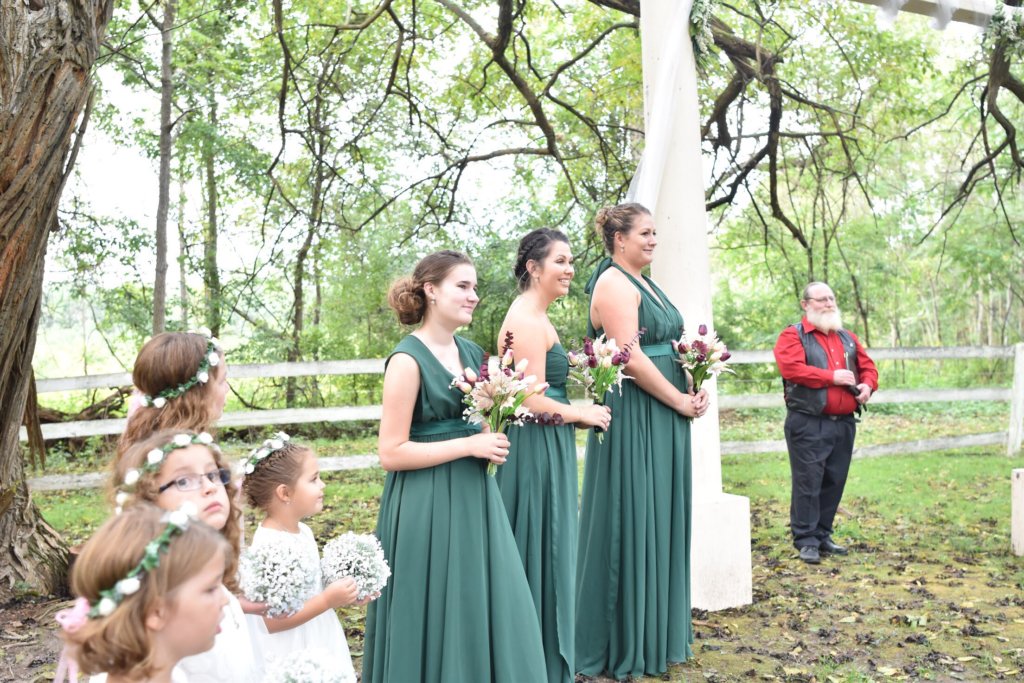 Q: Why did you choose #Cocomelody for your bridesmaids? 
The affordability and the colors and the ease – my girls loved that their bridesmaid dresses were excellent quality for 100 dollars. Also, the look was very similar to a bridesmaid dress I had been crushing on but could not justify asking the girls who are already doing so much for me to get (it was close to 400 dollars)
Q: What do you think about Cocomelody and the customer service? 
The customer service was phenomenal! And we got the dresses early. Just wish Y'all had a store on the east coast when I got married and I probably would have gotten my wedding dress from Cocomelody too.