Two souls, one heart ♥️ Krystina & Elon were married in Williamsburg, VA and had a romantic garden wedding with a hint of flair and sparkle! And Krystina was looking like a dream in style #LD5580, holy gorgeous! Can't wait for you to check their amazing wedding details below:
All photos were taken by Lindsey Mccoy Photography.
Wedding Dress Style: #LD5580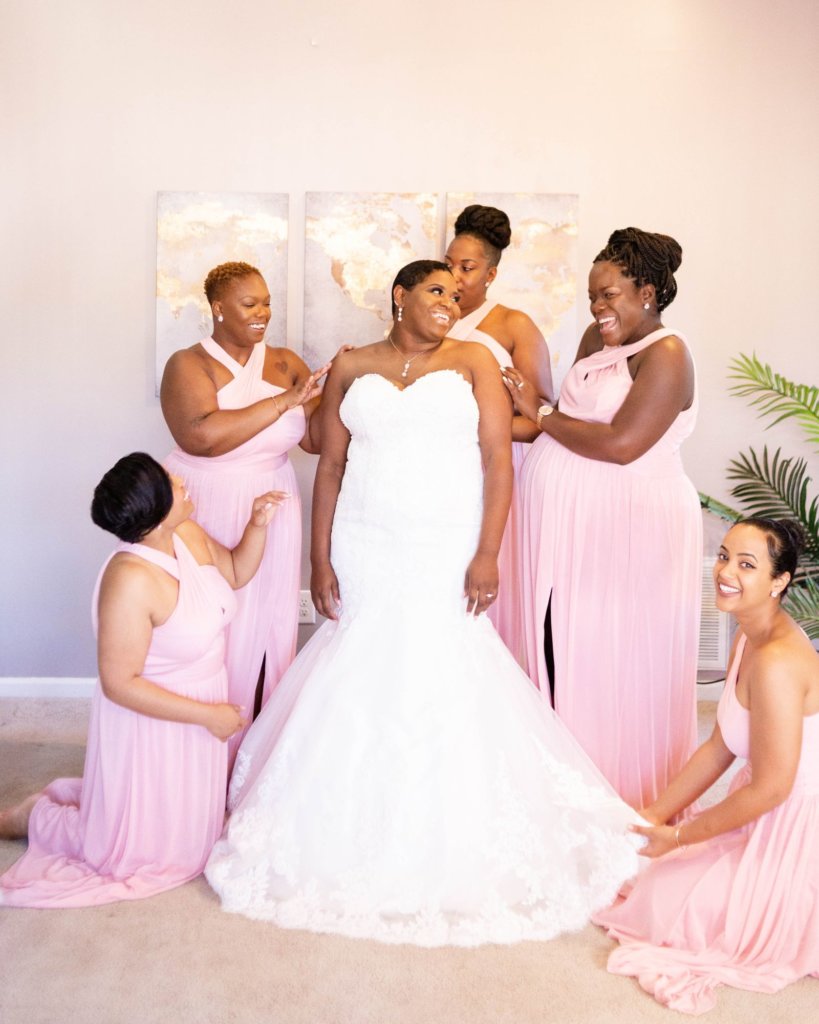 Q: Any advice or tips for future Mrs.?
Remember that this day is a representation of the love you share with your future spouse. But it is only ONE day, everything will not be perfect or the exact detail you thought your wanted. But i assure you, if you are marrying the love of your life- nothing else and no one else, truly matters.
Q: What was the inspiration behind your wedding theme?
My husband and I are opposites in that he loves the simpleness and minimalist side of everything. I, as the only girl of 4 children, am dramatic and and love everything to sparkle. Our wedding planner helped us find the compromise to that.
Q: Tell us your love story! Where & How did he propose?
Elon and I met in 2016 at our church. We both were at the singles conference to support our friends and we sat next to each other and immediately started joking the speaker. After that, we became really close friends, we talked often and hung out. but never romantically. Then a mutual friend of ours, pulled us aside in April 2017 and asked us had we ever considered dating. They thought we looked good together. I found out later my husband liked me all along but was shy to admit it. We started dating in June 2017 and in March 2019 he proposed. He had a few of my close friends convince me to go to a local brunch spot one Sunday and when we went upstairs to the rooftop, Elon was there with music playing and flower petals and proposed! By far the best day and so intimate. I loved it!
Q: How would you define the message "Dare to Love"?
"Dare to Love" means in spite what anyone else feels, or how the odds seem unlikely, that you give love a try anyway. This is so especially true for Elon and I as when we decided to get married my parents refused to participate. And though it hurt at the time, we knew our love was real, and was worth it. We "dared" at this point, to love each other if no one but us and God agreed.
Q: What was the best/most memorable part of the day?
The best part of our wedding was at the reception: Our wedding only included about 60 people. We wanted our wedding to be intimate and surrounded ourselves with family and friends who knew us best. Our DJ had each table come to our sweetheart table and lip sync (or sing! hilariously!) a love song in order to enter the buffet line. To see them all – my grandmother singing the temptations is still the BEST- serenading us really got the party started!
Q: Where did you hear/find CocoMelody?
I came across CocoMelody through Instagram and then my photographer who had also used it confirmed how awesome they are!
Q: What did you love most about your #CocoMelody dress (es)?
I loved the style and quality of the dress and of course- the PRICE!!!! The wedding dress was made so well and my tailor commented on how great it was and she thought I had bought it or thousands at a fancy boutique.
Q: What do you think about CocoMelody and the customer service?
CocoMelody was fast and efficient. I was given notification of the process every step of the way. I'll admit when I first saw the box for delivery, I was concerned that I had made a bad choice. But as soon as I opened it, I cried real tears. It was perfect!