Kyra & Stanton were married in San Francisco City Hall. The overall inspiration about their wedding was a very vintage look, with victory curls and 1940's accessories. We love Kyra's bouquet her mom made for her out of grocery store sunflowers, the beautiful red velvet wedding cake, her dream dress with flowy tulle skirt, and every detail about her big day. Congratulations and thanks for trusting us to make your dream dress!
Wedding Dress Style: #LD3932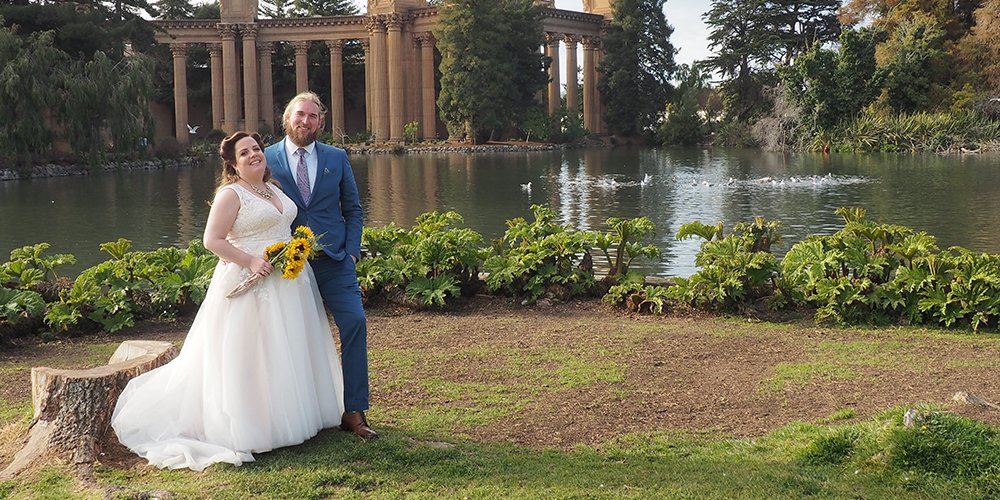 Q: Any advice or tips for future Mrs.? 
Don't sweat the small stuff this is going to be one of the happiest days of your life. Also, celebrate how you want to! A wedding with 200 guests or running away to city hall! In the end, we will all get to live happily after. I'm the end it's about your love whether you spend $20,000 or $200.
Q: Tell us your love story! Where & How did he propose? 
Our story is kind of a funny one, we actually grew up in the same town, however never really knew each other on outer circles of similar friends. My actual only memory of knowing him as a teenager I was a freshman in high school and he actually was dating my friend and one night I was with her when he snuck out of the house to hang out. Who knew that 14 years later we would be married! 
But anyways fast forward 7 years and I see him during my best friends birthday and a couple months later my friend was like Stanton likes you, and eventually, he started driving every weekend to come to see me in Milwaukee. This went on for a while and we were happy but never defined who we were. Along comes Valentines Day, and he asks me to be his valentine and I being the worse person on the planet told him I didn't like him anymore! But he wasn't going to give up! He had gotten us concert tickets prior to this and we agreed to still go! Well on that night we saw Mewithoutyou 03/07/12 and we've been stuck like glue ever since.
As for his proposal, it couldn't have been more us! I'm NOTORIOUS for stealing his ray-bans! I would constantly wear them even though I have like 20 pairs of sunnies. Well it was my birthday back in November and we were getting ready to go to breakfast and he hands me a box and says Happy Birthday! As I start to unwrap the box I begin to laugh because he got me my own ray bans! But as I'm opening the arms I see that they are engraved with the words "I love you, will you marry me?"
I was so shocked I think I said "really?!" About twenty times!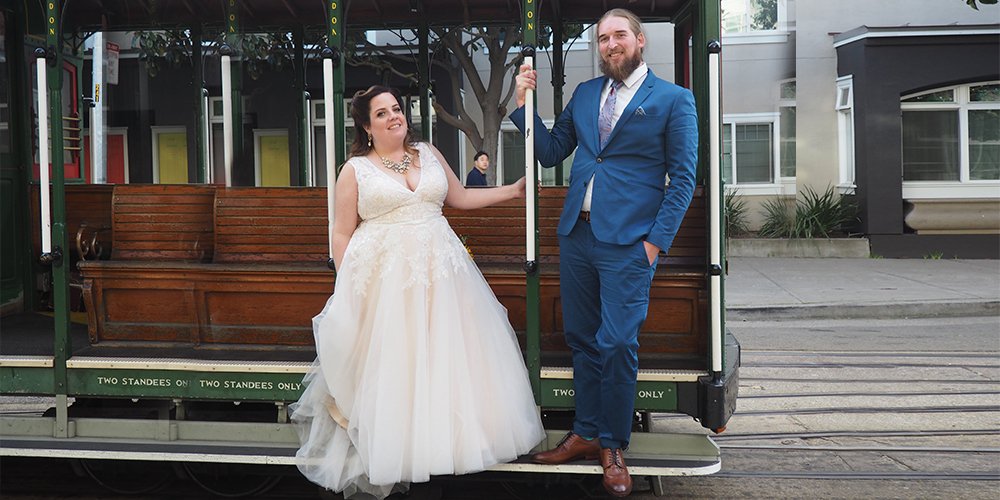 Q:  How would you define the message " Dare to Love"?
Dare to Love" Don't be afraid of love! Be open because you never know what could happen! What if I never went to that concert? I couldn't imagine that last six years any differently!  A life without Stanton is something I never want to know! 
Q: What was the inspiration behind your wedding theme?
We agreed to not start our life in debt and get hitched at city hall. The only thing I really wanted to make sure I had was the dress! So thanks cocomelody!
Q: Did you enjoy the wedding planning process? Why or why not?
I was very fortunate that I had it rather easy! Only a handful of things to do! But had we done the big wedding! Oh boy, I bet I would have been frazzled!
Q: What was your hubby's reaction when he first saw you on your big day?
As is the story of life, we tried to keep apart till we had to leave. But my husband couldn't find his wallet and we had to leave about 15 minutes ago! So as many of y'all can attest to I knew I'd find it in 5 seconds! So I rushed over there and saved the day! But hey I was his vision with good vision ha!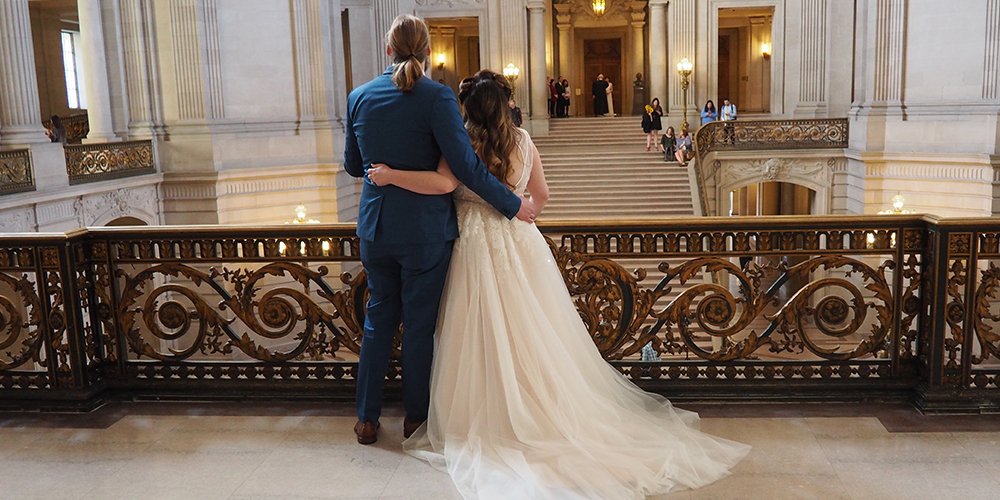 Q: What did you love most about your #Cocomelody dress?
Everything on my wedding dress! I had been casually looking and this dress just kept popping up! It was a sign! I felt so beautiful in it and loved that I was able to achieve a vintage look. I also can't bring myself to put it away in hiding yet, so it's still hanging in our room so I can look at it.
Q: What do you think about  Cocomelody and the customer service?
I would say overall your customer service is supreme! I had several ordeals on the way to my day! I had originally ordered with you guys online, and we had begun the process than about week in of communication, I was told that they didn't think they could finish in time and canceled my order. They told me to maybe try the store and see if they could help. So I reach the SF Cocomelody and they said If I paid the expedited fee it could be done!! I was so excited because I was devastated when I thought it wasn't going to happen. So the following day we drive up there to order the dress and get my measurement taken. Almost vomited when she told me it was going to be almost $800 so double the cost of the original! But I wanted this dress! So I accepted that they totally ripped me off, looking at the invoice the math just doesn't make sense! And I leave, so I was told that it would arrive like the end of January and February comes and still no communication. So I reach out to the store and see what's up, and then has the audacity to say it wouldn't be ready for another month! So the original production time. At this point I'm livid!! Thankfully this ridiculous place only communicated via text! Because I had the screenshot promising the January times. I had a mini meltdown on Facebook sorry guys!! But you know what two days later you guys made sure my dress was in the mail. When I received it however that disappointment returned. Did I pay $800 for this? I had done custom measurements, my dress was so huge that if I grabbed the sides that I could gather both hands full and it was about a foot too long. Thankfully my friend's cousin was a seamstress because she literally had to take the entire dress apart and reconstruct it and bless her heart only charged me $100. In the end, you guys got the horrible satellite location to at least refund me like $150 and am so Grateful you guys went separate ways so no one else can experience what I did.