"Where better to get married than Rocky Mountain National Park when you met working at Death Valley National Park. From the desert heat to the high snow mountains!"  – by Meagan
Meagan & Travis had an intimate outdoor Cinco de Mayo wedding in Estes Park, Colorado in Rocky Mountain National Park at Sprague Lake. It's so sweet and romantic! Congratulations to the beautiful couple, and we wish you a very happy and long marriage life!
All photos were taken by Becky Young Photography.
Wedding Dress Style: #LWXT1406E
Q: Did you have a particular wedding theme? Is there a story behind it?
Our theme was intimate and outdoors. I lost my father a few years ago to cancer, and it was tough trying to plan a large wedding. We wanted something that said ""us"" with just our family. Both our families flew in from Texas (We are from Houston) and my best friend and her husband who are stationed in Germany with the Air Force surprised us and showed up. The following picture shows the shoes I wore – they are light up Cinderella shoes meant for kids. When I was 16 I asked my father for them for my wedding one day, he didn't want to buy them because they were unnecessary, and who knows when I was getting married? Then, while I was in college he passed away after a very short two month battle with cancer. When I got engaged my family went on a hunt to find those shoes somewhere in the house. We found them, and they still lit up. Ten years later. So I knew my father was walking with me every step of the way. I chose my dress based on me feeling like a modern outdoor princess, and it was perfect.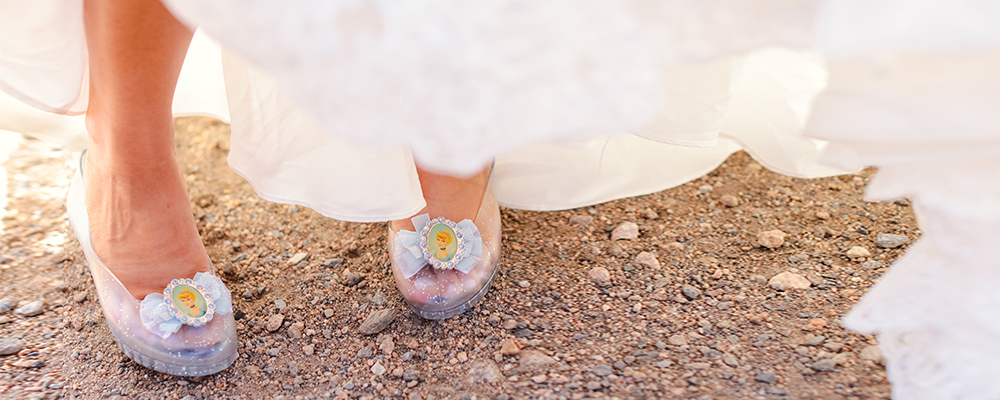 Q: Any tips or advice for anyone getting married soon?
Plan the wedding you want – not what you think other people want. We were planning a large wedding, and changed to a destination elopement with our families. We still had a beautiful cake, a reception, hair and makeup, bridal showers, and all. But the day of was truly about us. Less stress and leaves amazing memories.
Q: How did he propose?
At first we were a long distance couple – we met in the desert of California in Death Valley National Park. I was working as a geologist, and he started working as a Park Ranger. After our assignments we up we both moved back to Texas – him to Dallas and me    back to Houston. He eventually moved down to be with me after I got an amazing job, and he had a small infinity ring selected, with black and white diamonds. I grew up in geology and he knew how much I loved gems. He told me that I was his future, and he would gladly uproot to follow me for my career. Later on, he took me to Zales and I was able to pick any ring I wanted 🙂 I settled on a beautiful Neil Lane ring that was very me.
Q: What made you pick Rocky Mountain?
We chose Rocky Mountain National Park because once we decided we wanted a small wedding, we wanted to get married in a National Park. Because we met in one and had the best memories at parks, we chose one we hadn't been to together. One that had beautiful scenery and a rich history. One that would give us an opposite flare to Death Valley. From low, hot, and dry, to high, cool, and snowy.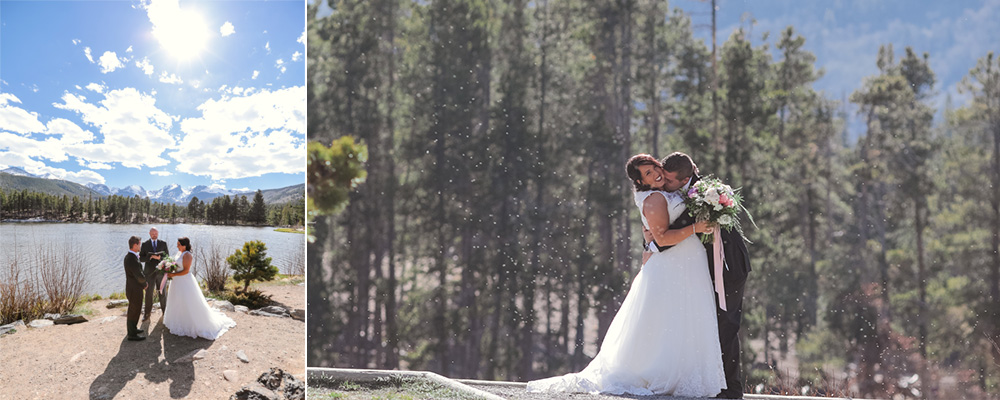 Q: What was the best/most memorable part of the day?
My favorite wedding memory was being able to be in one of the most beautiful locations, where I was stressing and worrying about it snowing and raining, but it turned out to be the most perfect day. My best friend surprised me, and I knew my father was there looking over us.
Q: What did you love most about your #Cocomelodydress?
What didn't I love?!? I had it custom made with a sweetheart neckline and a cathedral length train. It was also custom made to my measurements. The quality was outstanding and would probably cost me thousands at a bridal shop. The craftsmanship was impeccable, and the details and lace were beautiful. I didn't have to do a single alteration. It also was done in 30 days, and shipped in 3. It was absolutely the easiest part about the wedding!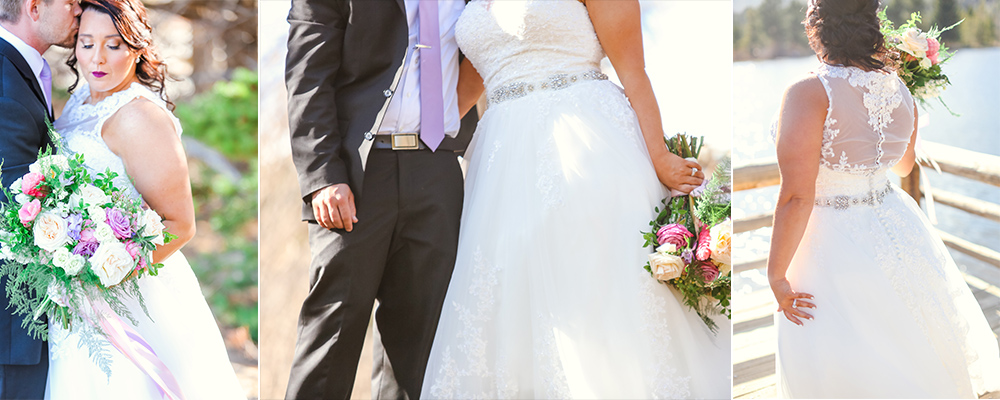 Q: What do you think about Cocomelody?
Cocomelody is an amazing company! The customer service is OUTSTANDING, as well as the quality and selection of wedding dresses at amazing prices. We paid for our own wedding, so this was a big selling point. Everyone is always nervous buying online because of the horror stories, but Cocomelody is completely reputable and worth every penny. Thank you Cocomelody for making me feel like Cinderella on my wedding day!