Michaelann & Tom were married in Reptacular Ranch Sylmar, CA and had a wedding theme of Neon/Glow peppered with Simpsons in neon pink, blue, and yellow color. They are both huge Simpsons fans, so the neon shades represented their deep foundation love between each other. Our favorite part is that Michaelann dyed the color of her veil by herself, which added a touch of drama to the entire big day look!

All photos were taken by Vanessa of  XO and Fetti Photography.
Wedding Dress Style: #1064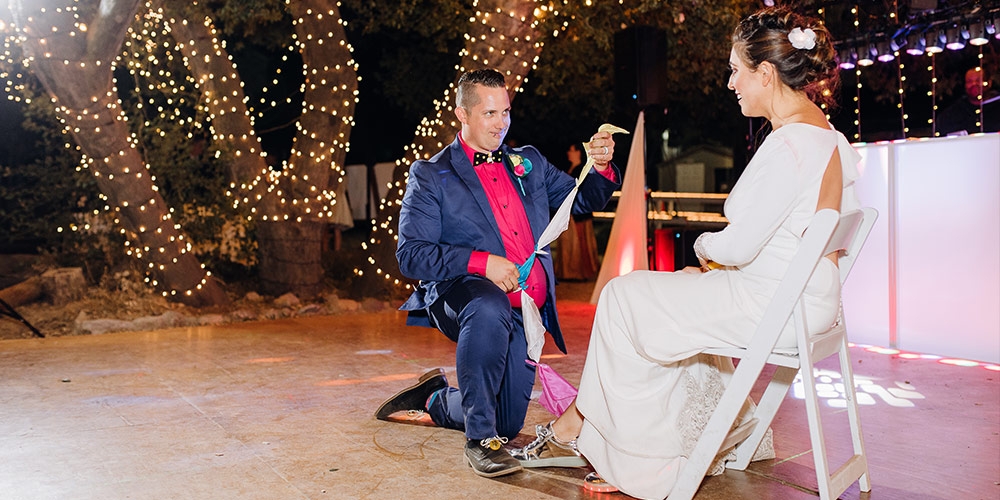 Q: Any advice or tips for future Mrs.?
Hire a planner/coordinator that understands your vision and is easy to communicate with.  Even if you're doing a lot of DIY (which we did), a good coordinator can keep you on track so you're not pulling all-nighters trying to finish up projects leading up to the wedding. Also, something not many talk about, is how much money they can save you! Our planner, Debbie from Fandom Affairs, negotiated with our vendors and got us professional discounts that more than paid for her fee. She was also able to be the point person for vendors and over-baring family members the day of, so we were free to enjoy our day.  A planner is worth every peace-of-mind-cent, in my opinion.
Q: What about your love story? And where did he propose? 
Tom and i met freshman year of college at california state university, fullerton. i was fresh out of ohio and Tom was leaving behind the inland empire. We were both theatre majors and were assigned to the same voice and movement class. it's exactly as dorky as it sounds! awkward theater kids learning to connect their voice with their body. i and Tom became fast friends when he decided to knock her over in the middle of triangle pose instead of saying hello. luckily, I have an amazing sense of humor and appreciated the bold move. it wasn't long into our first year that we were cast in a scene together. that scene involved Tom proposing to me! can you believe it? if this were a movie, the foreshadowing would be so obvious! however it's not, and we were just oblivious 18 year olds. our friendship grew over the next few years and we enjoyed spending sundays together, making nachos, and watching the simpsons. it wasn't until after five years of best friend-ery that we decided to start dating. over the last ten years, yes, you read that right, ten years, we've built a strong foundation and have come up with numerous creative answers to, and We had the most amazing proposal at Universal Studios Hollywood.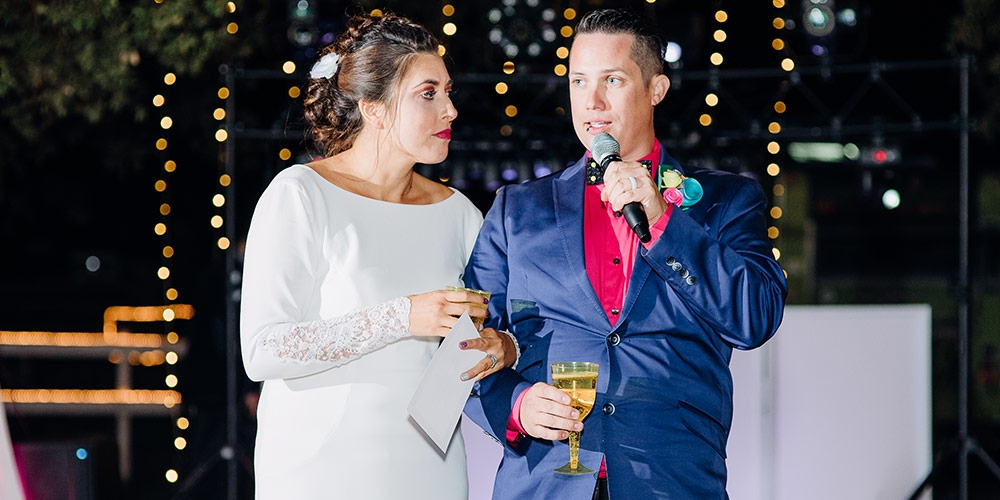 Q: What was the inspiration behind your wedding theme? 
Tom is a graphic designer with a background in color theory and it was really him that picked all the colors.  I've always loved bright neon colors and Tom decided to use the primary colors, which is the base for ALL colors, in their bright neon forms.  So, we had neon pink, blue, and yellow as our colors. We also grew up in the 80's so it represented our foundation as well.  We are huge Simpsons fans and it only felt right to have some in our wedding as it was a huge part of our engagement.
Q: Did you enjoy the wedding planning process? Why or why not? 
 I did enjoy the planning process! Yes, it was stressful at times because you have so much pressure to put on this once in a lifetime day, however, I tried to keep the perspective that this is supposed to be exciting so I'm going to choose that emotion every time stress arrives! Plus, we had so many little surprises for our guests that I couldn't wait to share it with them! For example, I'm a magician, so I floated the ring onto Tom's finger, we had a zebra for cocktail hour, and I walked down the aisle twice just to take it all in! I figured, I only get to do this once so I might as well!
Q: What was your hubby's reaction when he first saw you on your big day? 
Groom's Reaction: I don't think I've ever seen him smile that big! He had never seen any photos or anything related to my dress! So he had no idea what to expect.  I think he was blown away by my hot pink and blue veil! He held it together when he saw mw but the second he started is vows the tears started streaming down his cheeks.  It was a sweet moment I'll never forget!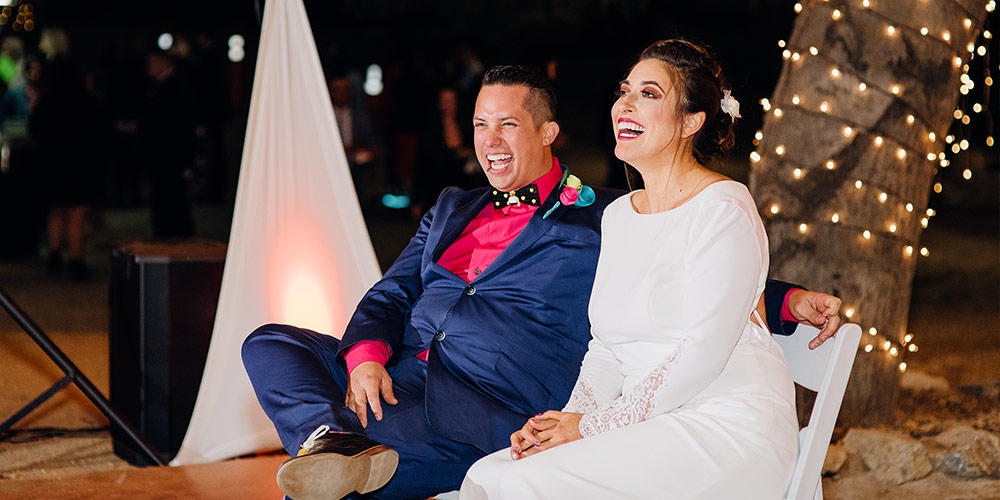 Q: What did you love most about your #Cocomelody dress?
Loved about my wedding dress: Where do I start? I loved everything about this wedding dress! It was a total departure from all the dresses I had previously tried on and it was a total, well let's see moment! I thought I would want something with a lot more beading and lace, but this dress changed the game! It was so classy and flattering! I absolutely loved the detail on the sleeves as well as the bottom of the dress.  It was nice to have that classic look in the front and the deep plunge in the back.  I definitely wanted to feel sexy and beautiful in my dress so this fit the bill! It let me show my curves and keep a modern classy silhouette.  I felt amazing on my wedding day in that dress!
Q: What do you think about Cocomelody and the customer service?
Customer Service: The customer service was OUTSTANDING! They were a few hiccups with the alterations, but I guess there was an issue in that department. It just delayed my pick-up date to 3 days before my wedding, which was a little stressful, but everyone assured me that it would and it was! The manager hand delivered my dress to my door which in my opinion, is going above and beyond! I was so grateful for that! Benjamin was a dream to work with as he helped with the ordering process and making appointments. I just adored him. Then Jerry was my alterations guy and he made my dress fit like a glove! He was so knowledgeable and helpful that I wish I could have him as my personal stylist all the time. I'm so happy I purchased my dress from Cocomelody and I would recommend them to everyone! Thank you for making me feel so fantastic on my wedding day!