"Nobody has ever measured, even poets, how much a heart can hold." ❤️ Surrounded by family and friends, Monica & Timothy tied the knot with a beautiful woodland wedding in Chillicothe, MO and enjoyed a wonderful day! Monica looked stunning in her dream chiffon gown! We are so lucky to be a part of their big day that we can finally share their new chapter life here!
All photos were taken by Chelsea Boyd Photography.
Wedding Dress Style: #CB0245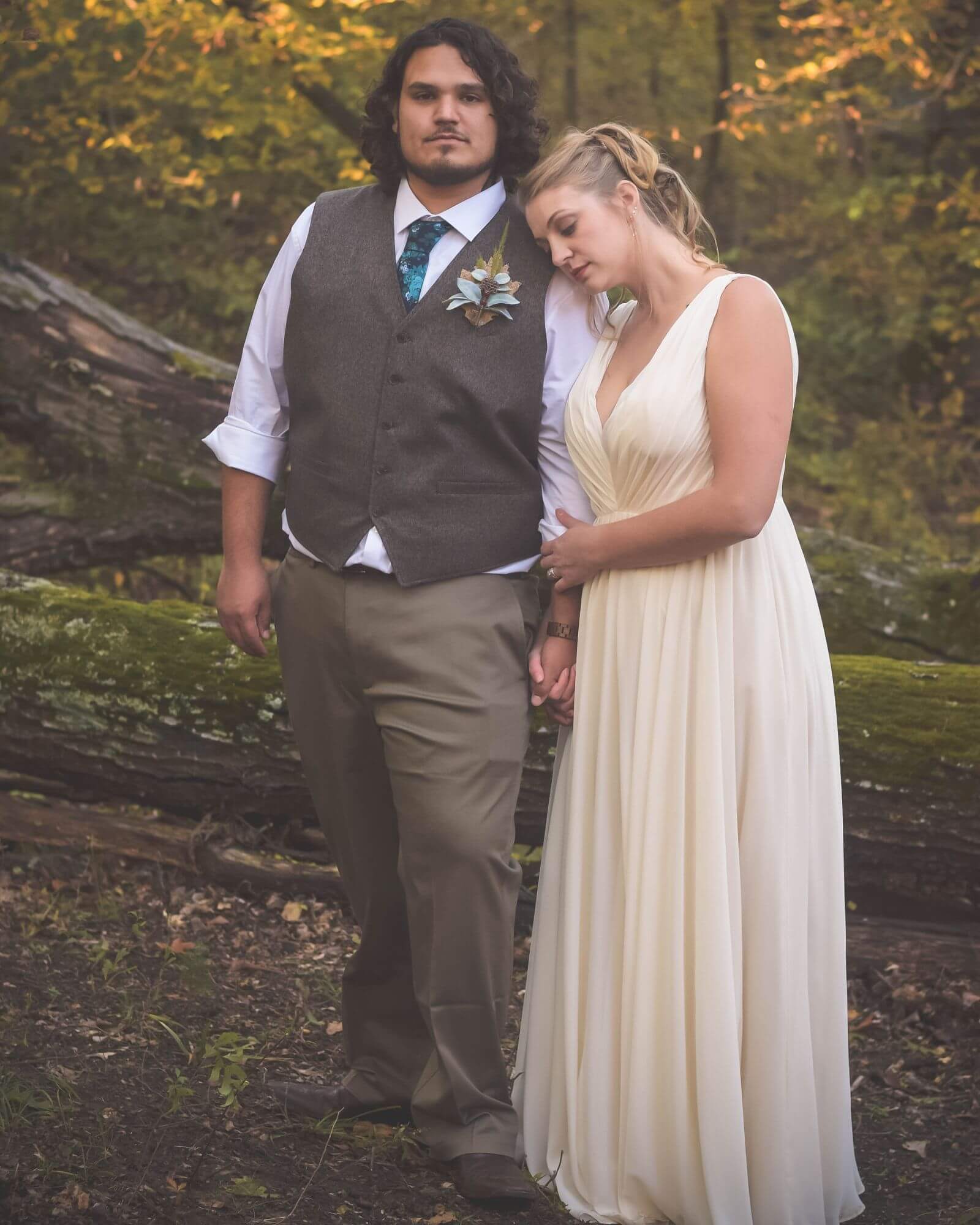 Q: Any advice or tips for future Mrs.?
Be flexible with your planning. Recognize that many things won't go as planned and everything will still work out. Don't worry about tiny decorations and details. People will remember that they had fun, not what your table centerpieces were! Be open to advice and ideas from other people, but don't let them distract from what you and your partner want. Take help when it is offered and ask for it when you need it! Take time with your partner every once in a while to have a date night/focus on something other than wedding planning!
Q: What was the inspiration behind your wedding theme?
We knew we wanted to have our wedding outdoors but were having trouble agreeing on a venue that we both liked that was in our budget. We also wanted something unique that would stand out from other weddings and reflect who we are, so we decided to do a woodland theme in the woods on my parent's property. We both love spending time in nature, so why not get married in the middle of it?!
Q: Tell us your love story! Where & How did he propose?
Our first date was at a concert in Kansas City where we saw one of my favorite bands play. He was so incredibly handsome that I thought I might die. We had such a good time together that we went out after the concert was over and stayed out until all hours of the morning. After that, we spent as much time as we could together living 2 hours apart. We eventually moved in together and then picked out an engagement ring together, though he insisted that the actual asking part be a surprise. He brought me coffee in bed one morning and asked, "Would it be okay if I called you my wife?"
Q: How would you define the message "Dare to Love"?
Dare to Love means having the courage to share your whole self with someone-despite past hurts and mistakes and having the strength to love someone with your whole self, despite their flaws and imperfections.
Q: What was the best/most memorable part of the day?
It is hard to pick just one because everything was so perfect! Reading our vows to each other was very emotional and made me so glad that we decided to write our own. Feeling the love and support of our friends and family who showed up to celebrate with us was a high that lasted the whole day. We started our first dance by ourselves and then invited everyone else to join us halfway through the song and it was so perfect having the dance floor crammed full of people so in love with each other.
Q: Where did you hear/find CocoMelody?
I first heard of CocoMelody from other Coco brides in several Facebook groups.
Q: What did you love most about your #CocoMelody dress (es)?
I actually chose a bridesmaid dress as my wedding dress because I wanted something simple that I wouldn't have to drag around the woods with me all night. I loved the cut, as it highlighted the parts I wanted to highlight and was very comfortable to dance and move in all night. Plus, it had pockets!!
Q: What do you think about CocoMelody and the customer service?
I am floored with the quality and service I received from CocoMelody. I ordered custom sizing and once I received the dress, the only additional alterations I needed were shortening the straps slightly. The quality of the fabric and sewing were phenomenal and for a fraction of the cost of a dress from a bridal boutique! I loved the wide range of color and styles they offer and their willingness to work with you to customize to make your dream dress!