These are the moments that will last a lifetime. ? And all of the #couplegoals right here… soo in love with Rebecca & Victor's simple, rustic wedding in Missoula, Montana USA (the Barn on Mullan)! It was such a pleasure to make Rebecca's dream dress and to see her stunning bridal glow! Congrats to these two lovebirds!
All photos were taken by April Payton Photography.
Wedding Dress Style: #LD5698
Q: Any advice or tips for future Mrs.?
Don't sweat the small stuff on the big day! At the end of the day, you will be married to your sweetheart and that's what really matters. My mantra for when something wasn't right was, "it'll be fine," said with a smile. Everyone couldn't believe how calm I was.
Q: What was the inspiration behind your wedding theme?
I found wood flowers online at solawoodflowers.com, and I decided to try and use them in a wreath for a friend. After working with the flowers and falling in love with them, I decided to use ONLY wood flowers for my wedding! The cocomelody dress I ordered was the perfect shade of ivory and champagne, it matched the raw flowers beautifully! I also saved money by using wood flowers and cocomelody. I grew up in western Montana around horses and mountains, and when I showed Vic pictures of the area he insisted we have our wedding there! He studied turf management in college and is an avid and amazing golfer. We looked at our venue, which was a barn on a golf course, and knew we had to have our big day there!
Q: Tell us your love story! Where & How did he propose?
We met online in a small town in North Dakota. We met up at a diner for breakfast face-to-face Andre quoted my all-time favorite TV character. I knew he was something special then! Shortly after we met, he moved in. We then got engaged New Year's Eve. He pretended to trip and hurt his bad knee, so I bent over to check if he was okay. He said, "Yeah, I guess you just make me weak in the knees!" Then he pulled out the ring and asked if I would make him the happiest man alive. It was perfect! He was deployed to the Middle East in August of 2017, so most of the big decisions were made over video chat or messenger. It was really tough spending eight months apart, but his homecoming was very sweet! Three months after he returned, we got married in beautiful western Montana!
Q: How would you define the message " Dare to Love"?
Our officiant, my brother, actually defined this very well! He explained: To entrust your love in another can be scary, after all there is a reason it is called falling in love. Any rational person would be afraid of falling. However, falling in love doesn't have to be scary. There is still the fundamental choice between love and fear. These two people before me, have achieved something miraculous. From the moment they met, they chose not to fall in fear, but to fall in love. In doing so, they have allowed themselves to find passion, excitement and acceptance in each other. They let love guide them.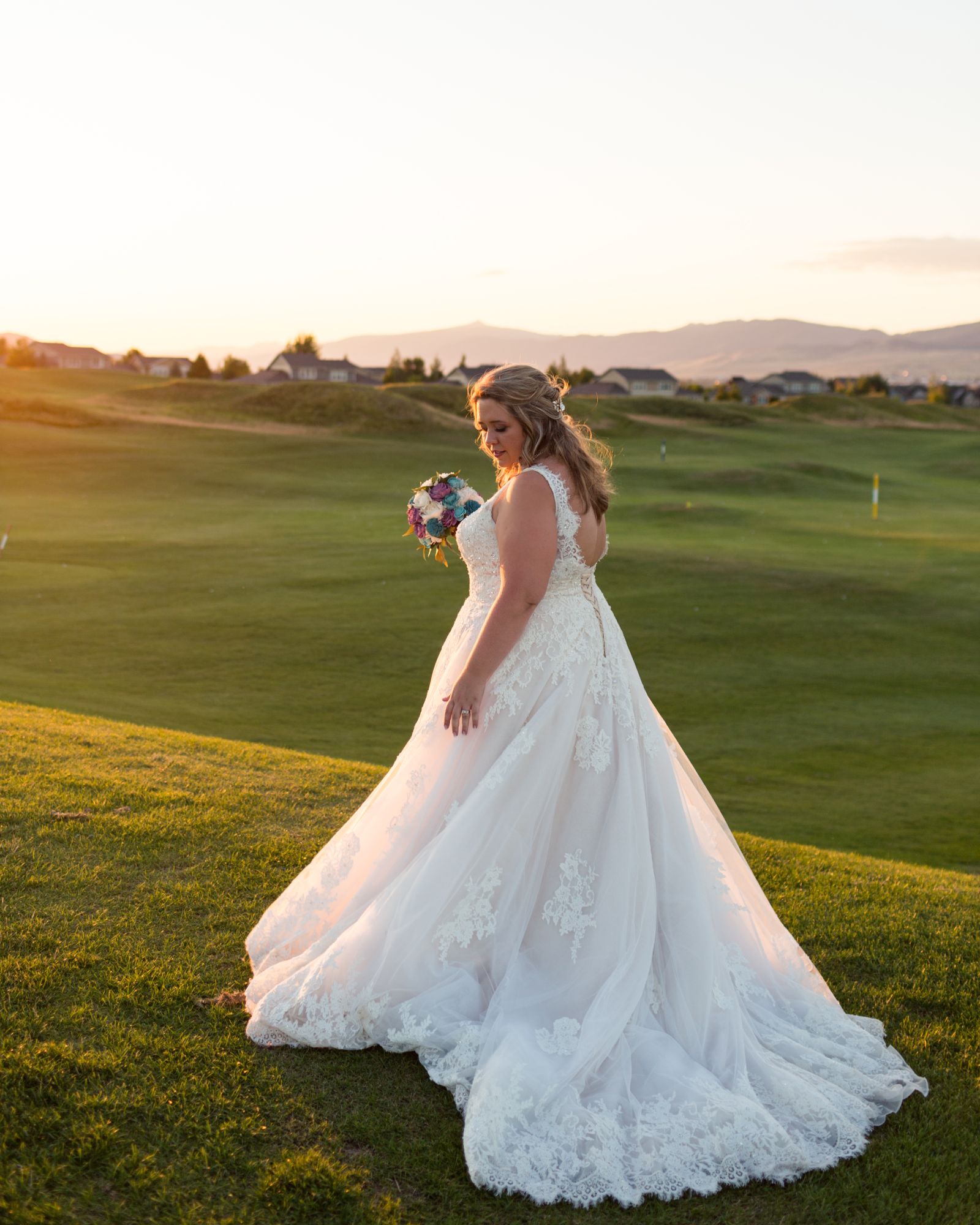 Q: Did you enjoy the wedding planning process? Why or why not?
I did at first. The details that come right before the wedding were tough because I hadn't thought of a lot of them. I think for very particular brides planning might be stressful, but I loved spending the winter getting my flowers ready and working on the bigger picture. I'm also a teacher so I had thevsummer off to spend the weeks beforehand focusing on the planning.
Q: What was the best/most memorable part of the day?
So many things! From the wonderful venue to the photographer, my brother being officiant and almost his entire guest list from across the country coming, the whole day was chalk-full of memories! If I had to pick, I would say all the love and support that we felt from our vendors and guests. Everyone told us how in-love we looked, and everyone got along so well! It was truly a special day and looking back I can't really say anything went wrong!
Q: What did you love most about your #CocoMelody dress (es)?
I LOVED the color and lace! I wanted to wear it longer! It is a very quality product, and everyone was shocked when I told them how little I paid for my wedding dress. It was very much worth the price I paid, and I would order it again in a heartbeat.
Q: What do you think about CocoMelody and the customer service?
The customer service was wonderful! They double checked my measurements and they double checked with me on my customization by sending me pictures of similar items (I had a lace-up back replace the buttons). Their social media pages are also very easy to browse and even contact people who know more about products! I will continue to recommend CocoMelody to people for years to come.