Renée & Gary's had a unique wedding with a theme of "Storybook Worlds" in New Orleans, LA. They blended their love of books and imaginative storytelling into a richly colored wedding palette. Surrounded by their favorite friends and family, they enjoyed a lot. The entire day looked like a magical fairytale and Renée was absolutely gorgeous in her dream tulle gown with beautiful illsion long sleeves. Now, take a look at some of our favorite shots from this one-of-a-kind wedding:
All photos were taken by Wes Ellis.
Wedding Dress Style: #LD4567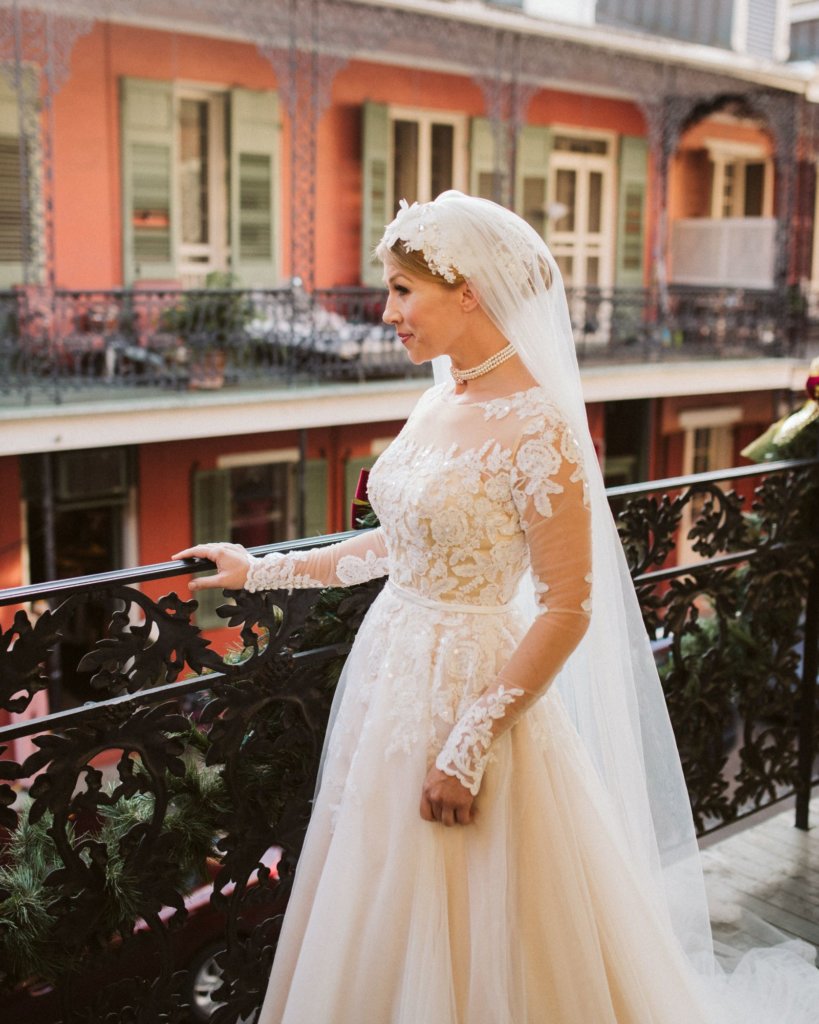 Q: Any advice or tips for future Mrs.?
If you are doing a destination wedding, hire a planner! We found the most wonderful lady based out of New Orleans. We are from Florida, so we needed a local expert to point us in the right direction in such a storied city. Once the venue was booked, it was a huge relief. Elizabeth Burkhardt Events made the process simple and stress free for us! In doing a destination wedding, our joke was that we tricked all our friends and family into coming on vacation with us!
Q: What was the inspiration behind your wedding theme?
New Orleans, a city of a million charming stories. We love reading and maps (especially maps from the fantastic worlds of literature!) New Orleans was the perfect place to spend the weekend celebrating with our favorite friends and family. We blended our love of books and imaginative storytelling into a richly colored wedding palette. Harry Potter, Game of Thrones, Star Wars, and Disney fairy tales such as Frozen came together in the happiest wedding decorations we could imagine. We drove piles of our own books to use in the centerpieces and I made the maps to reflect each storybook land. It was such a fun aesthetic to go along with all the French Quarter architecture and charm!
Q: Tell us your love story! Where & How did he propose?
We met working at Walt Disney World. We both work in the Entertainment department, and treasure the unique nature of our careers there. We have the most wonderful time together, laughing so much and working hard to support each other. We had been dating for fourteen years when we decided to get married. Marriage was never truly a priority for us in all that time, but one day, it just became obvious that we should celebrate our love with the party of our dreams! On our first date, we had gone to see the film, Love Actually, and he noticed how much the wedding scene touched my heart. We have watched it nearly every year around Christmastime since. When the band starts playing All You Need is Love, I can't help but cry tears of happiness. Gary proposed in April; we were walking along the water at Disney's Boardwalk Resort when he stopped me at the gazebo area. He had hired a band to surprise me by playing the Beatles song I loved so much. He got down on his knee and then our friends burst from their hiding spot to celebrate with us. We spent the evening celebrating around the World Showcase at Epcot.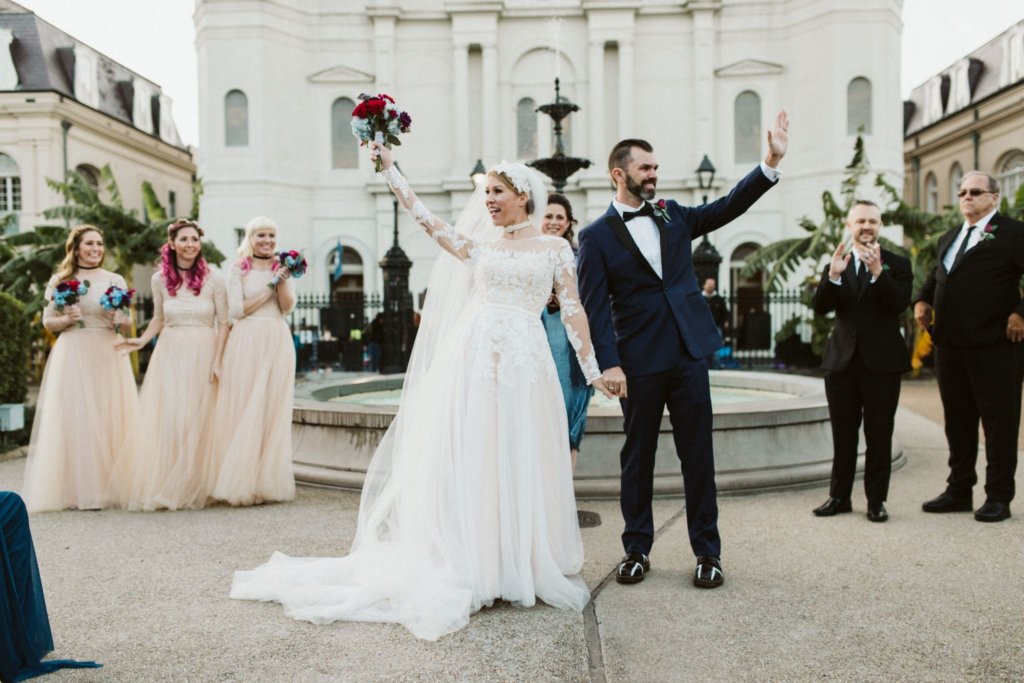 Q: How would you define the message "Dare to Love"?
Dare to love means opening up and not falling victim to fear. Love means sacrifice, love means selflessness and when you give of yourself to someone else, you are rewarded beyond imagination.
Q: What was the best/most memorable part of the day?
We got married in Jackson Square, which is a public park in front of St. Louis Cathedral, and then had a New Orleans style "second line" jazz parade around the block. There were so many people wishing us well every step of the way, during the ceremony, parade, and even at the after parties in the French Quarter.
Q: What did you love most about your #Cocomelody dress (es)?
The ability to customize the dress at an affordable price point was what sold me. I fell in love with the keyhole design on the back of the dress I chose and the rest is history. My wedding dress felt like a combination of Mary Poppins, Cinderella and Julie Andrews's wedding gown in The Sound of Music.
Q: What do you think about Cocomelody and the customer service?
I was a fan of CocoMelody from the start. I joined the Facebook group and followed the journey other women took. I flew to LA to see the options in person and placed a custom order with Clay. My experience in the shop was relaxed and exciting all at once! Though there were some significant bumps along the way, production wise, color wise, communication wise, and timing wise, I am so happy with the final result. Long story short, the color sample for the lining I was shown in the showroom was NOT the color that arrived to my house. I was instructed to send that dress to LA and they would remake it. The next dress arrived and the keyhole back detail and buttons were missing. It was definitely stressful, and I was running out of time, but I was given a small refund toward the local alterations place applying the missing details. What it felt like to me, is that Coco was growing at an exponential rate and some of the growing pains just happened to happen to me. I ordered in April and got my corrected dress by Mid October. Everyone said my dress reminded them of a royal wedding and I was so comfortable in it. Amazing quality on the final product!