A super romantic Honolulu proposal, an ultra dreamy wedding dress shopping experience and a wedding that topped it all of! We're so obsessed with bride Samantha and groom Jason's Fall, shabby chic, woodland fairytale wedding we just had to share! They incoporated warm tones and colors of the turning leaves in all details, including decor and wedding party attire. They are also big Disney fans, so they chose to add small Disney details, such as love quotes at each guest table sign, that would add to the fairytale romanticism they were looking for. Samantha was truly like a fairytale princess in style Carissa. Can't wait for you to see their dreamy wedding photos below!
All photos were taken by Melanie Shelton Photography.
Wedding Dress Style: #LD5861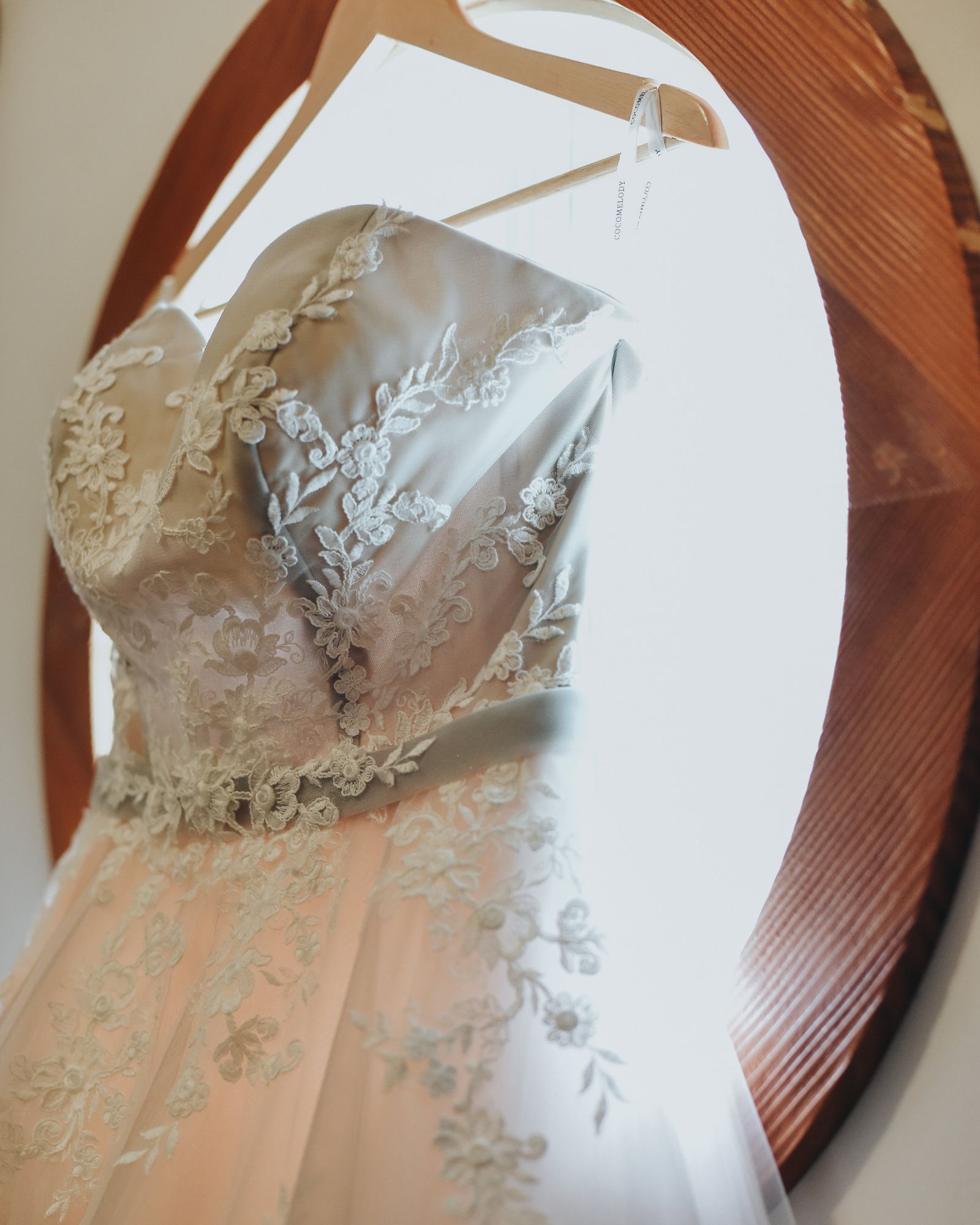 Q: Any advice or tips for future Mrs.?
Stay organized and don't be afraid to ask for help! I sometimes got frustrated with my fiance because I was working 40-50 hours a week and finishing my bachelor's degree while planning our wedding, and at times I felt like he wasn't contributing any opinions or research. I soon realized that he thought I was fine doing everything because in the chaos of everything, I never truly asked him to help except for taking care of food and beverages.
My mom and I did everything when it came to decor and details and we were definitely stressed in the last few weeks leading up to things. In the end, my parents boxed up everything we needed to take to the venue in an organized fashion with labels and directions for our coordinator. This helped tremendously as they set up and cleaned up at the end of the night. Lastly, enjoy the wedding planning process! Often times the drama our friends and family caused affected me to where I was over the planning process and just wanted to get the whole thing over with. In hindsight, I wish I hadn't let those petty things get to me so much because overall, crafting a wedding that was unique and true to us as a couple was an incredible experience I will never forget.
Q: What was the inspiration behind your wedding theme?
My ultimate goal for our wedding was to create a romantic, outdoor fall wedding. My husband and I knew from the start we wanted to get married in the fall because it is our favorite season. We were inspired by the warm tones and colors of the turning leaves and incorporated them in all of our details, including decor and wedding party attire. We are big Disney fans and we chose to add small Disney details, such as love quotes at each guest table sign, that would add to the fairytale romanticism we were looking for. For decor, I was really inspired by the shabby chic decors seen on Pinterest and felt like this route would help us keep things unique and budget friendly.
Q: Tell us your love story! Where & How did he propose?
Jason and I met at the Starbucks I used to work at about 7-8 years ago. He was one of my regular customers and I knew him as an acquaintance through becoming friends with many of my coworkers and customers. We eventually started to get to know each other and while at a bar with our friends one night, he asked me out on a date and ever since then, we've been inseparable. In September of 2018, we made a trip to Honolulu with a group of friends. On our first night there, we had dinner at a restaurant at Disney's Aulani Resort. While waiting to be seated, we were all wandering along the beach and just having a good time and I decided to take a few photos of the resort skyline. When I turned around Jason was on one knee, asking me to marry him and I said YES!
Q: How would you define the message "Dare to Love"?
I would define it as challenging the status quo of what love is, who people should love, and how love is expressed between couples. In the age of social media, there is such a dire need to keep up appearances and get likes by posting content that portrays people in a certain way. We should be bold enough to love who we want and brave enough to show the world that love however we want or however it manifests without caring what everyone thinks. Moreover, dare to love means breaking down barriers to reveal our true selves to our partners and ourselves in order to facilitate the most open, loving and caring relationship possible.
Q: What was the best/most memorable part of the day?
Jason and I have a long standing rivalry of which baseball teams we root for; I am a die-hard Dodgers fan and he is a Giants fan. During my dad's speech, he noted that it was a special day not only because of our wedding, but because it was the day the Dodgers got a new fan. He then proceeded to pull out a Dodgers had that was embroidered with our wedding date on it and everyone cheered and chanted for Jason to put the hat on. Needless to say, he was super embarrassed, yet grateful of the gift/gag.
Q: What did you love most about your #CocoMelody dress (es)?
The elegance, quality of materials, craftsmanship, & convenience of customizing the wedding dress.
Q: What do you think about CocoMelody and the customer service?
CocoMelody is an amazing company that creates wedding gowns that are equally as gorgeous as they are affordable. I went to the Los Angeles boutique to try on dresses and I cannot say enough great things about the high level customer service and attentiveness the stylists provided. I was able to find my dream dress through customizing and my stylist did an amazing job keeping me up to date on the production of the dress itself. I would highly recommend that every bride checks out this brand because the possibilities are endless.