Sandy and Chris hosted the most romantic backyard wedding in Phoenix, Arizona! From their beautiful venue to their sweet ceremony set up and Sandy's GORGEOUS off-shoulder tulle wedding dress Giulia, it was a beautiful celebration surrounded by family and friends. Read on to swoon over her best day ever!
All photos were taken by KoosFord.
Wedding Dress Style: #LD5830 (in ivory/silver grey)
Q: Any advice or tips for future Mrs.?
I wouldn't worry about the small details like napkins, cake toppers, and decor. We had an incredible time and our friends and family did too. We never once looked at the decor or tables and our friends didn't care much either. I was told by several people how they thought our wedding was one of the best they'd been too. I think if you truly have a good time and are happy they feel that joy and peace with you and it's overall an incredible experience. Better than trying to please or meet expectations on a day that's about you, your love and the start of your future!
Q: What was the inspiration behind your wedding theme?
To be honest, I only picked a color scheme and threw it together. I had just graduated from GCU a month prior. My friends were a huge help, I basically got all the things I liked and they put it together. I gave them a few inspo pics to go off of and this was the outcome. I was trying for a backyard romantic feel, perfect for us.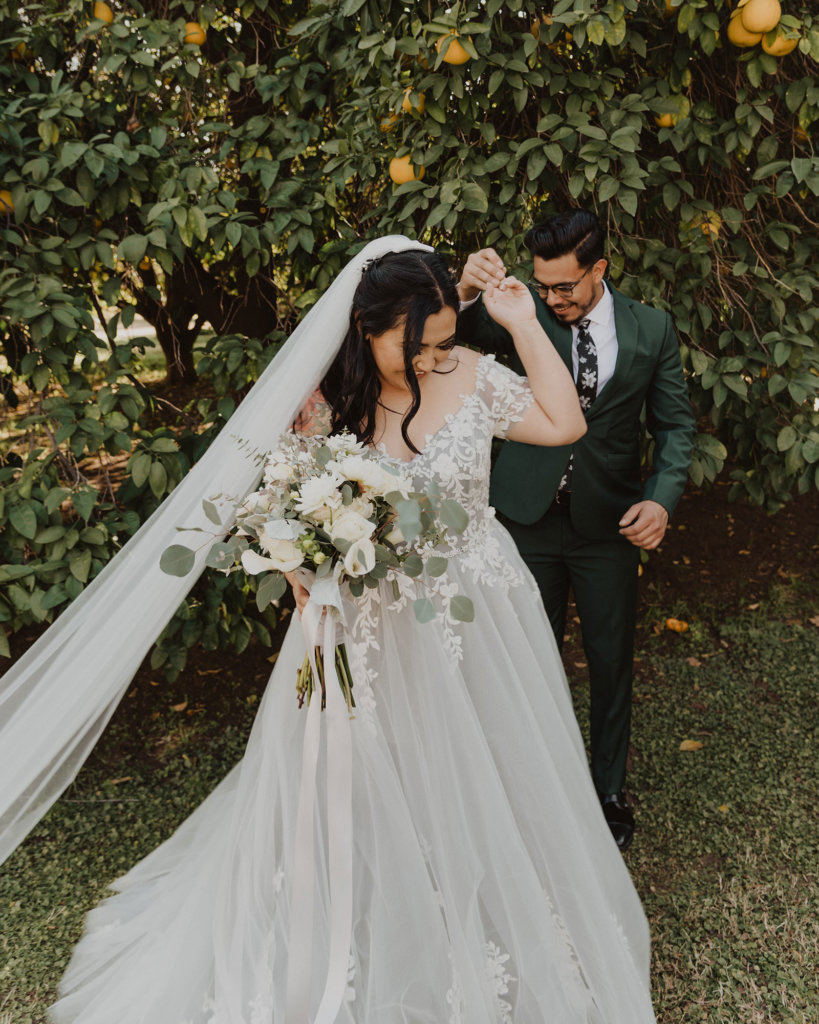 Q: Tell us your love story! Where & How did he propose?
We met in May of last year, I was attending the same graduation ceremony and he was a graduate from the same program I had completed the year prior. I was their to support other friends and he walked right up to me introduced himself and that was the start of it. There was a celebratory cruise that followed and he sat across from me on the bus turned in his seat facing me to be in my conversations, and then we ended up having dinner together and talking the night away about life, his story and what he was hoping to do next. He lived in Dallas at the time and I, in Phoenix yet we met in California. It was out of nowhere that he came into my life and we reconnected immediately following that cruise, we only struggled with distance when he was on a two week trip in Israel and again when he was in North Carolina for ministry camp.
We had so much in common it was like we were instantly best friends. He flew out to visit me in July and stayed for two weeks, it took him 5 days before he kissed me! but when he did I felt something I hadn't ever before. From there we made our relationship official and did the long distance thing from then til December as he proposed to me in November. He took me to the top of a hill at one of the parks where we would go with my son, he had my best friend set up a picnic blanket, wine and bouquet for me. I was so clueless I yelled at him "what're you doing"? that's someones stuff! He just ignored me and laughed and then picked up this binder of his top 5 moments with me and shared with me those precious moments again and how he sees me, my value and worth and how he wants to partner with me in life. It was beautiful and I was a mess. From there he went back home, prepared to move out here unsure if we'd even find a temporary place for him until our wedding. Although, I had a son from a previous relationship at 18 I decided to wait until marriage to be with someone else, he was on the same page and had been doing the same. He moved here a week before my graduation in December and a good friend of mine offered her guest home to him for free for the time before we were married and living together. We wed on a sweet Friday evening on January 18th, it was a small, romantic evening filled with tons of laughter and cheek cramping smiles!
Q: How would you define the message "Dare to Love"?
To love requires a lot from you, mutual effort, respect, intentionality, intimacy and more. To dare to love is to risk the comfortability of your independence for something that may feel better at times but requires you daily and entirely. See when its just YOU, you are in charge of the way you prioritize yourself but add love or those you love and require your love whether that's time, touch or affirmation. That requires your effort, your time, your schedule to revolve around more than just you. Dare to love to me, means dare to risk the comfort for the forever commitment of love. Love unending, love ever lasting, unconditional love, and to do that means to risk the routine for the effort and the need love calls us to do.
Q: What was the best/most memorable part of the day?
Our first look, it was us two before the guest arrived; before the ceremony it was just us for a good half hour. Waiting to see each other was so hard and the excitement was build up. When I finally got through hair and makeup and changed I nearly ran to him! He was so anxious he cried and was so moved. We embraced each other and were so ready for the ceremony to follow.
Q: What did you love most about your #CocoMelody dress (es)?
It fits perfectly, the wedding dress didn't look cheaply made and it was perfect.
Q: What do you think about CocoMelody and the customer service?
Great! Thanks a lot, CocoMelody!