Can you say breathtaking? We fell in love with this small, intimate wedding as much as we love the sunrise view! Sandy & Ryan chose to say I Do at Horseshoe Bend in Page, Arizona at 6 a.m. on September 3, 2017. Surrounded by their loved family members and close friends, they enjoyed their special celebration "on the top of the world"! Congrats!!

All photos were taken by Eve Rox Photography & Andrew Tomayko.
Wedding Dress Style: #LWLT15032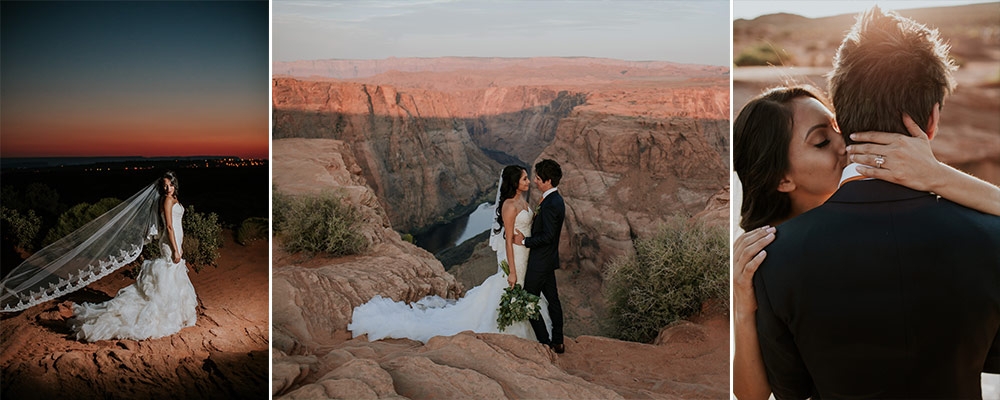 Q: Any advice or tips for future Mrs.?
Focus on having the wedding that you and your partner want. Don't worry about needing to do things the traditional way if that's not important to you both. Determine what is important and focus on that. For us, it was to have our family there and getting married outside in nature. Literally nothing else mattered to us, and we figured out the rest of the details a couple weekends before the wedding with the attitude being, "If _____ doesn't happen or get booked, it doesn't matter. It'll still be the best day of our lives."
Q: What about your love story?
We met online on OKCupid four years ago. We were just two crazy kids looking for adventure and not much else. He wrote me a short and thoughtful message and ended it with, "Want to eat delicious food with me on a mountain top?" Writing back was the easiest and best decision I've ever made in my life.
Q: What location did you pick to have your wedding elopment and why did you choose this place?
I wouldn't consider our wedding to be an elopement because it wasn't a secret and it wasn't rushed; we had wedding guests and for the most part enough time so that our guests could plan their travels. We got married in Arizona but our family is from Michigan and California, so it was important that they had enough notice to book flights.
Our small, intimidate wedding ceremony was at Horseshoe Bend in northern Arizona. Ryan and I were there a few years ago when we were road tripping through national parks one summer. I remember being there looking in canyon thinking, "I'm here in this gorgeous place with my love. Nothing else matters. I have the best life." When we got engaged, I brought it up to Ryan and he loved the idea.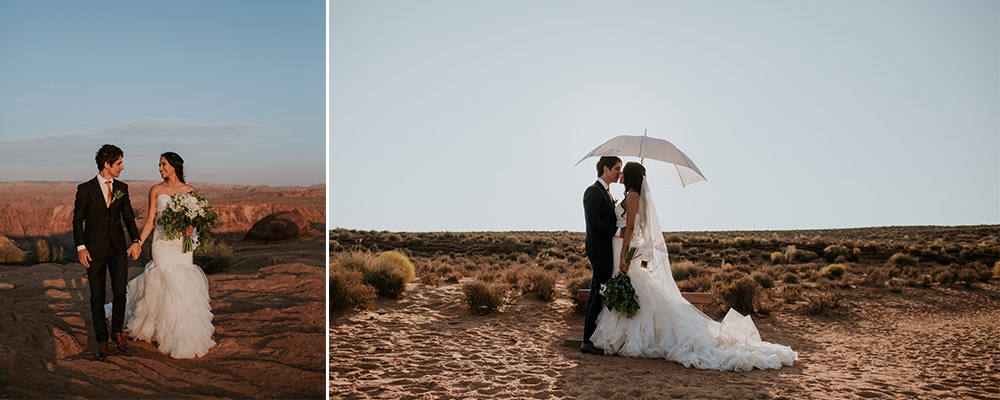 Q: Did you enjoy the wedding planning process? Why or why not?
There honestly wasn't much to it. Planning was brief and completely stress-free. Everything was either a quick phone call or email. We didn't need to book a venue. Our photographer found us. We called a florist to design my bouquet, my sister's bouquet, and the boutonnières; we just told her our budget and she handled it. Called a BBQ restaurant and made a reservation for 28 people. I found my amazing makeup artist Chrissy (@bombshell7beauty on ig) through a quick google search who traveled to me from Phoenix. For my dress, Cocomelody made everything super, super easy. They let me roam the store and try on whatever I wanted. I fell in love with the third dress I tried on, but I got to try on everything my heart desired. Dress fittings were also easy, quick, and painless. The whole dress shopping process was very enjoyable. The best part was that I stayed within my budget!
Q: What was the best/most memorable part of the day?
Saying our vows is one of my favorite memories. We decided to whisper our vows to each other because we didn't want our vows to feel like a performance where you feel like you have to be funny or say a certain thing. That felt very cheap to us and less meaningful because in the end our vows are for each other and not our guests. Don't get me wrong, there definitely were jokes in there along with promises, but they were for us. We held one another as we laughed and cried while whispering our vows in each in other's ears.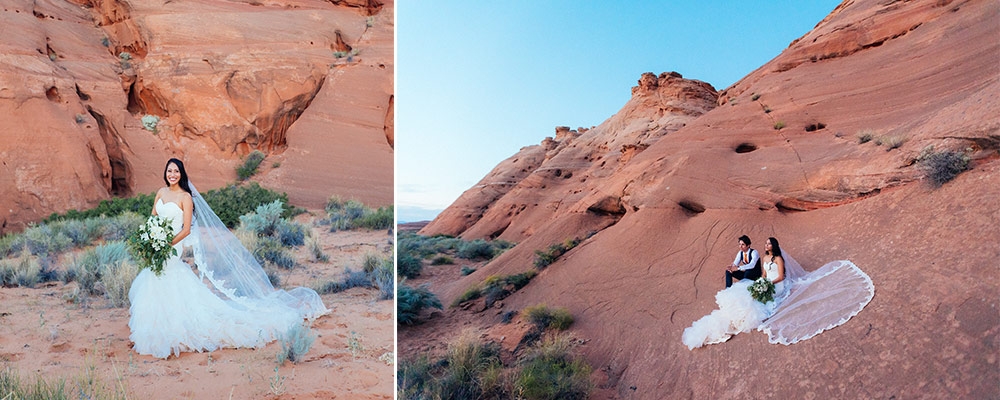 Q: What did you love most about your #Cocomelody dress?
I absolutely love all the poofy ruffles of my wedding dress! It's big and dramatic without being over the top. I also love my veil; it's ridiculously long with delicate embroidered details. They were made for each other.
Q: What do you think about Cocomelody and the customer service?
Cocomelody is so attentive and on it! I was a little concerned that I wouldn't get my dress in time because when I bought my dress in March, I originally told them that I was getting married next year, so I was supposed to pick it up at the end of summer which wasn't a problem because I had so much time. However, some time during the summer my husband and I thought it was silly to wait a whole year. We wanted to be married sooner than that! So we decided to get married during the next big holiday so that our families have time to travel. It turned out that would be Labor Day weekend. I messaged them on Instagram about my problem and they immediately responded and took care of me. Turns out my dress would be done sooner than expected and I had an appointment for my first dress fitting a couple days later. Alterations were also very quick and I had my finished dress that fit like a glove a week after that. Dress or no dress, it would've been fine, but I just loved and appreciated the quick response times and constant communication.