"To love is nothing. To be loved is something. But to love and be loved, that's everything." — T. Tolis 💗
Surrounded by the magnificence of the nature, Sungkyung and Mark said their I do's in one of the most beautiful places —— Port Angeles, WA, which was the background town of movie Twilight series. Sungkyung chose our top seller Giulia and was absolutely gorgeous. Congratulations to this sweet couple and wish them happy forever!
All photos were taken by Olga Andreyanava Photography.
Wedding Dress Style: #LD5830
Wedding Veil Style: #AV160020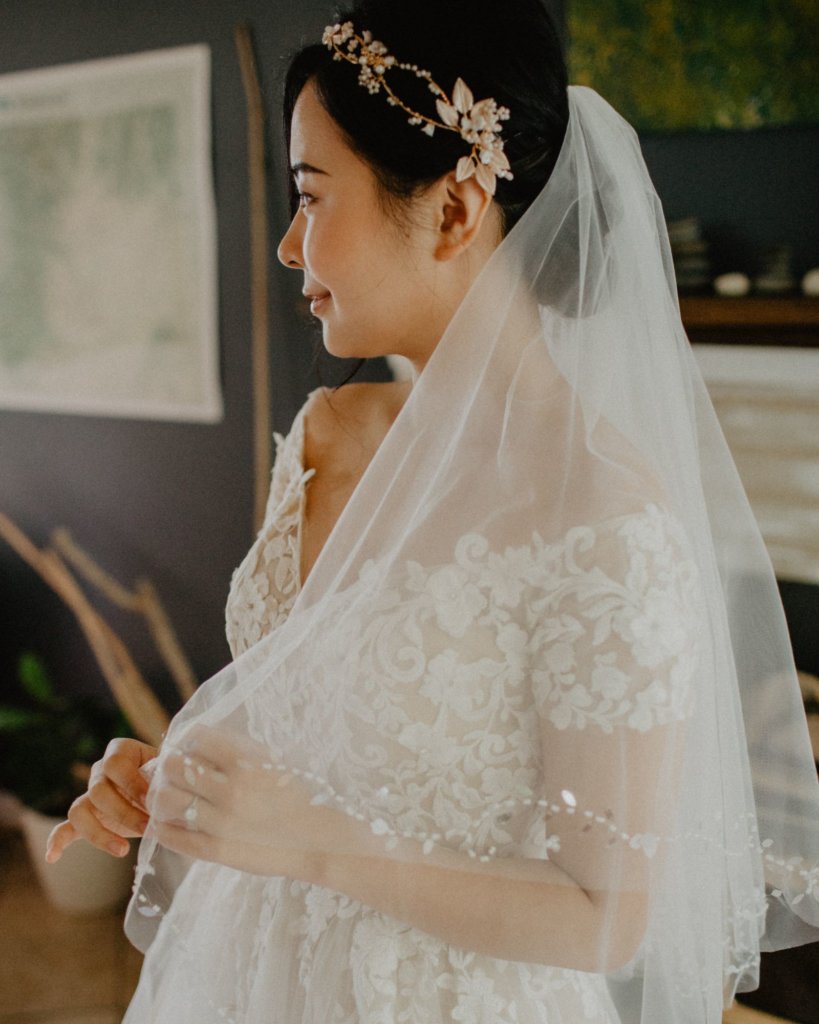 Q: Any advice or tips for future Mrs.?
Stay positive! It's really easy to get frustrated and stressed out but do not let it overwhelm you. Try to enjoy each every steps of the journey. What I did was that I made my wedding diary and started to write down not only the things I need to prepare but also my emotions and feelings. When I look through it now, every moments was precious and memorable. Always remember what wedding is about! It is to promise the love with some you chose. Make everything in love because you came this far to deserve what you've dreamed about!
Q: What was the inspiration behind your wedding theme?
I didn't have color theme or style theme but what I wanted was nature. I dreamed to have my wedding on the top of the mountain where the sky covers us. I didn't have to decorate much for the ceremony because it already did everything as how it is. The magnificence of the nature, of the mountain was my theme and it was more than what I could ever dreamed for.
Plus, if you guys are fan of movie Twilight series, it's the background town of the story, Port Angeles.
Q: Tell us your love story! Where & How did he propose?
Me and my husband Mark used to tell each other that the chance of us to meet each other and fall in love is one in a billion. I was born in South Korea and came to American in 2014. Mark was born in Ukraine and immigrated to the U.S. a year after I came. We met in university in a small town, Hammond, Louisiana. We were born and grew up in two different sides of the world and met in a small town in America! We dated for 3 years and a half. Because his family live in Washington state, Mark was there for the summer and I visited him. He took me to Diablo Lake to hike on 20th April and he asked me if I would marry him. Everything was so perfect. It's a place where the water is emerald blue with dark green trees surrounded. If anybody wants to guarantee 100% success on propose, take your girl to Diablo Lake.
Q: How would you define the message "Dare to Love"?
Dare to love means you are ready to share your last piece of sushi. If you can give the last piece of sushi to your partner without any doubt, that's true love.
Q: What was the best/most memorable part of the day?
Definitely the first look. Mark had never seen my dress or me in the dress. He didn't have any idea what I was gonna look like on the wedding day. We picked our first look place at Lake Crescent, WA. He was facing the water on the deck and I walked down to him. Before the first look, we read vows for each other and finally he turned around to see me. At the moment he saw me in the dress, he had big smile on his face and he told me that I look really gorgeous. Later, Mark told me that he still gets goosebumps to think about that moment.
Q: What did you love most about your #CocoMelody dress (es)?
The quality. I think many people come to CocoMelody at the first for the affordable price. However, that's not where people get surprised. When I tried on CocoMelody wedding dresses, I couldn't believe how amazing the quality it is. The details, lines, fabrics, and even options you can choose to alter in your taste!! Ever since I experienced CocoMelody, I recommend it to every engaged women around me because I know it won't disappoint them.
Q: What do you think about CocoMelody and the customer service?
I visited pop-up store in New York. As soon as I walked in, there were staffs who welcomed me and my family to sit and feel comfortable. As I try different dresses, the staffs helped me and even suggested different options that I'd like. It was very pleasurable experience. I purchased my dress and hair veil right in the store before I walked out and never regretted one second. I loved the honest opinion from the staffs. Regardless of the big price difference, they were very honest to tell me what looks the best for me and my wedding. Highly recommend CocoMelody!!