Suzanne & Joshua tied the knot in the Chapel of St. Joseph's Youth Renewal Center in Rosemead, CA and a wonderful reception at Beauty & Essex in Hollywood. They did not want some huge over the top wedding. Although there're only 45 guests, everything was simple but elegant. Congrats to Suzanne & Joshua and wish them both happy forever in their new chapter life!
All photos were taken by Jose Zakany Photography
Wedding Dress Style: #LWAT1503E
Wedding Veil Style: #AC1017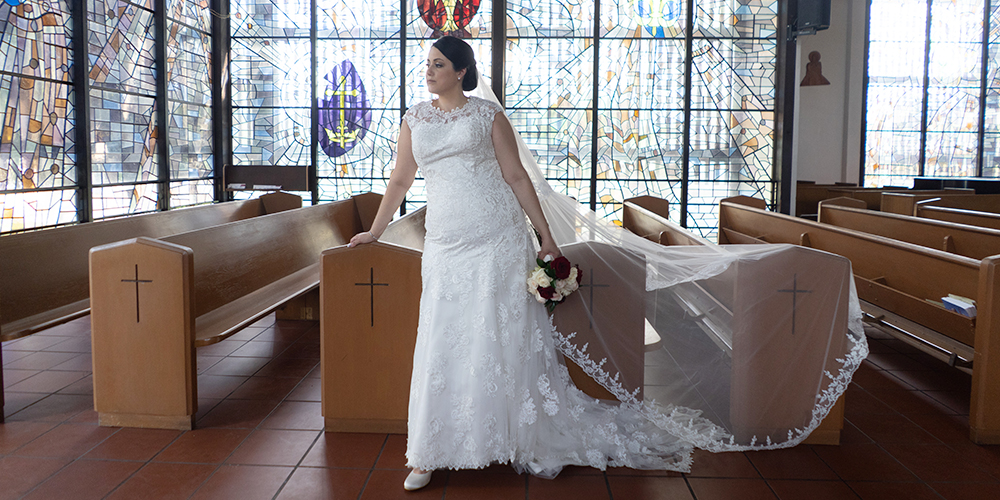 Q: Any advice or tips for future Mrs.? 
I was told by another 2018 bride "Lessen any fights and stress, IT WILL ALL GET DONE. Increase your laughs and memories with your Mama and friends and of course your soon to be hubby." She couldn't be any more right. She told me this with plenty of time to be able to enjoy everything to the fullest and low and behold it all got done. The wedding process is not a time for tempers or drama, it's a blessed journey to a divine destination. Allow yourself to enjoy it. Worked for me.
Q: Tell us your love story! Where & How did he propose? 
Since we had been dating since July 15th, 2012 we've taken many weekend trips and it was no different on our 5th anniversary. We went to San Diego for a night. Joshua took me to a restaurant on the waterfront and we ate like royalty. Everything was so perfect. Every time the local baseball team would make a home run, you could see fireworks from our table. After dinner, we went to explore and ended up finding a bar that was floating on the water. With the San Diego skyline right in front of us, a worker asked if we would like a picture taken. Without hesitation, Joshua said "yes" and gave him my phone. One picture was taken and then Joshua got down on one knee and simply asked: "Will you marry me?" I, of course, said "yes" and the worker captured several very cute pictures of the moment. The people at the bar began to clap and cheer and the bartender ran over to us to congratulate us with two glasses of champagne. It was a beautiful setting, timing and yes he had the exact ring I wanted. Emerald cut diamond on a simple white gold band. It was perfect!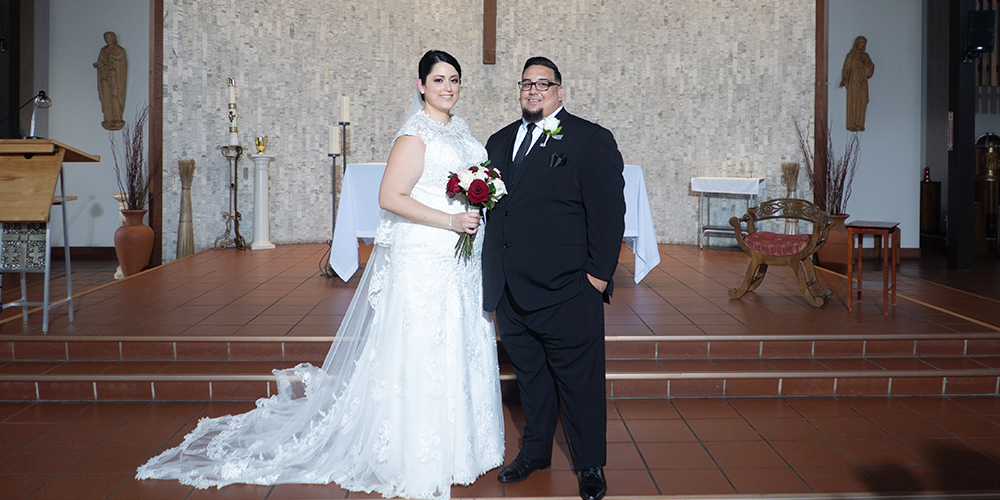 Q: How would you define the message "Dare to Love"?
I know all too well what it means to "Dare to Love". It was very scary going from an apathetic dater to someone who really couldn't live without a person not too long after meeting him. At times I wanted to push Joshua away before he pushed me away. I would imagine how crushed I'd be if Joshua lost interest or just in some way wasn't in my life. The thought alone was painful. I had to be daring to allow myself day after day to keep seeing what this connection could lead to. The day Joshua said "I love you" was not only shocking but also overwhelmingly wonderful. I felt shocked because someone as wonderful as him said that to me, no one else, just me. You have to be daring in love, it can go either way very quickly but if you both dare to love, then the scariness wares off and that bliss you feel is, well…badass.
Q: What was the inspiration behind your wedding theme? 
We began planning our wedding and then I suddenly got pneumonia and bronchitis in November. Being sick for as long as I was, I had time to think about what the wedding we were planning. Once I got some of my voice back, I talked to Joshua and we ended up scrapping everything. We opted to pursue getting married in the Chapel on the grounds of where we met and had our first date. We also decided we wanted to the eat and share the delicious dishes we had at Beauty & Essex on a previous trip to Las Vegas, since to our benefit a location opened recently in Los Angeles. Thankfully my Mother has a history of successful events under her belt and with all the love in her heart took the reins and planned, prepared and executed the perfect wedding. Joshua, I and our family were in awe of this beautiful celebration. It was a huge undertaking, and we are still so grateful. Joshua and I are simple people. We did not want some huge over the top wedding. We had 45 guests of the only family (by relation or friends that became family). Everything was simple but elegant.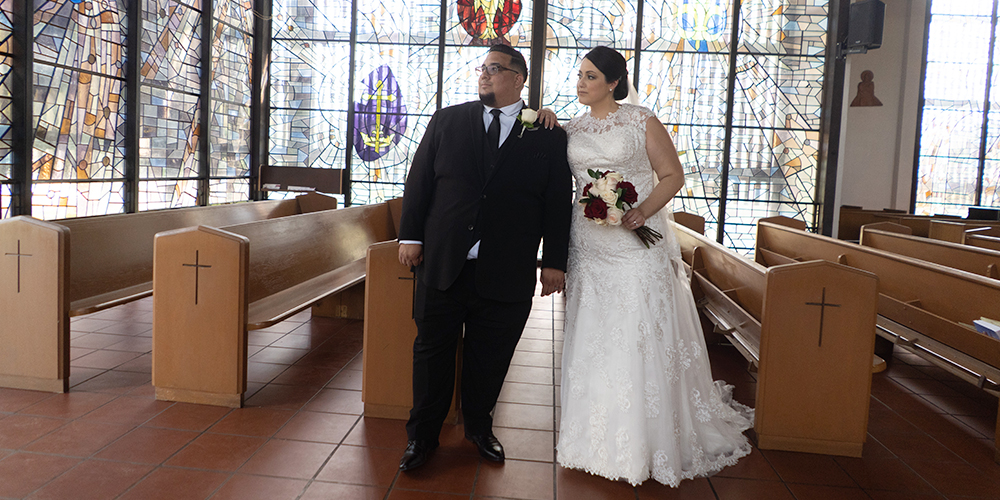 Q: Did you enjoy the wedding planning process? Why or why not?
I would say at times when something wouldn't pan out the first or second time, it became daunting, however, to be honest as I started my Mother was the planner and cultivator of mostly everything. Once the vision was there, I would step in as a worker bee of sorts and carry it out. That system has always been successful amongst my Mother and me. I can say that I did appreciate the fact that my Mother would plan, then Joshua and I would "do" and we have some great memories of our wedding favors assembly line. A lot of times, thing are what you make them so the process was great and we enjoyed it a lot.
Q: What was the best/most memorable part of the day? 
There were so many that it's hard to pinpoint one particular moment as most memorable. However, I loved seeing Joshua at that alter waiting for me. He had the most gorgeous smile on his face. I was overcome with emotions thinking "Oh my God, it's actually happening" and "He chose me!" I am so happy that smile I saw on his face made onto a precious photo. That face meant something, it meant to love. Every moment after that I kept getting reminded of this great man's love for me had me then and has me now floating on cloud 9.
Q:  What did you love most about your #Cocomelody dress?
The thing I love most about my Cocomelody dress is how traditional the dress is. In my dress and veil, I was the quintessential Catholic bride. Among the huge selection of all types of beautiful dresses that Cocomelody offers, I found the traditional dress I really wanted. I also absolutely loved the train. I felt like royalty. Other things I love, is the quality, detail, and price. I still feel like I committed some form of dress larceny.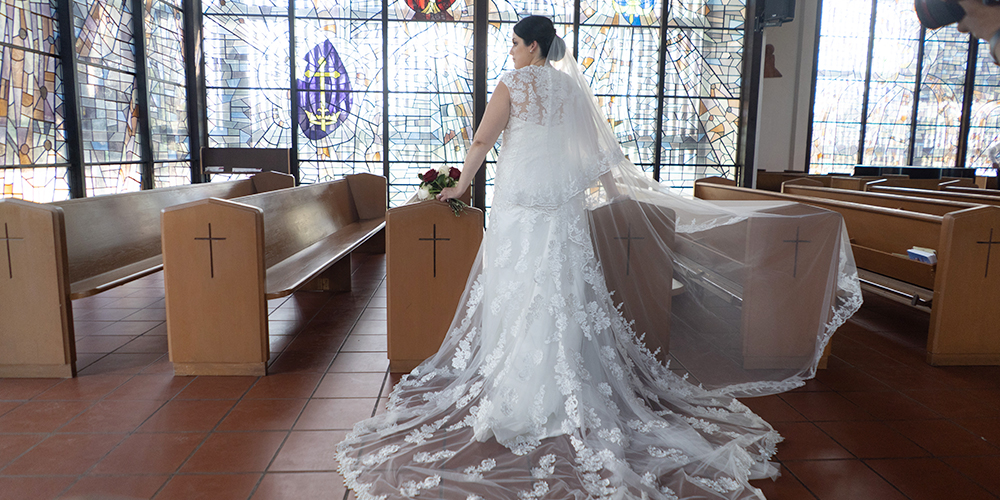 Q: What do you think about Cocomelody and the customer service? 
From the time I went on to the Cocomelody website for the first time, to my sizing appointment and both my fittings, it was all great experiences. Clay and Melinda were amazing. I never felt like I was in the wrong place. By the way, their location in Los Angeles is super chic and the bridal experience feels a lot more complete and glamorous than just going to the backroom of a random bridal shop. I can't wait for vow renewal time to do it all over again…I am thinking not so traditional next time.