Have you ever seen a more loved-up pair?! Yesenia & Isaias tied the knot in Palmdale, CA and they had a unique wedding theme of ""rustic candle lit dinner in Mexico" that paid tribute to their heritage. Yesenia wore a long-sleeved lace gown with detachable train and was stealing our hearts. How wonderful the wedding day was! Cheers to this beautiful couple!
All photos were taken by Alicia Razo.
Wedding Dress Style: #LWKF15003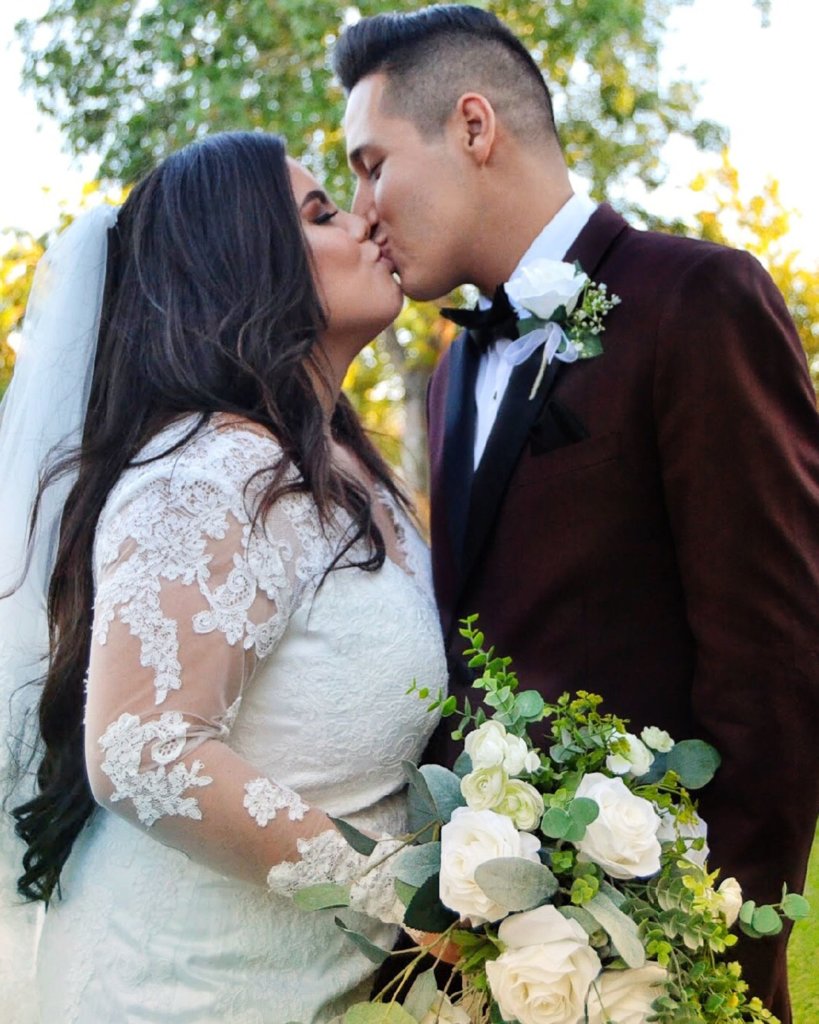 Q: Any advice or tips for future Mrs.?
My advice for future brides has to be "just enjoy every moment of this process, from your engagement all the way to the wedding night". There will be several stresses that arise, but don't let the stress of the little things (and even the big things) take away from the love you and your future husband will share for many years to come. Your wedding day is one day, and as magical as you may want it to be, the most important is that your love remain as magical as the day you said "I will" when he asked you to marry him!
Q: What was the inspiration behind your wedding theme?
My husband and I both really enjoy rustic decorations and since he and I are both Mexican we knew instantly that we had to incorporate our heritage in some way! We also really love candle lit dinners. Our first anniversary was held at my house and I made a candle lit dinner for him with the help of my mother and sisters help!
Q: Tell us your love story! Where & How did he propose?
Isaias and I have known each other since we were kids. There were alot of bumps in our love road. Such as me moving away from our hometown in Palmdale, CA to Lancaster, CA. For some time, I just mainly focused on school not really wanting to be in relationships and he was total opposite. He started dating at a very young age so we really didn't see each other as anything more than friends at the time (However, I still kept a humongous crush on him ever since we were little, I just never had the courage to tell him I liked him, so just having him in my life as a really good guy friend was more than enough for me).
A few years passed and I graduated high school and I moved back to the Palmdale, CA area and that is where he and I reconnected. We then both were single and he actually was the one to confess to me (via text message of course haha) that he liked me and I too confessed that I had the biggest crush on him for years. We then had some problems where other people tried sticking their noses where it shouldn't have been and they tried to break he and I up (before even starting to date) that is where we both held on to our Christian faith and turned to God to let him be the one in control of our "relationship".
A few months from that time passed and we took the leap of faith in one another and started dating and that was on 07/16/2014 that he and I officially became boyfriend and girlfriend. 2 months into our relationship is when Isaias asked me to marry him, on my lunch break, at my job lol (but at that time he didn't have a ring or anything because he was in the struggle of finding a job) We both were still very young, but very much in love. So I said yes. Again, no ring. But for me? That was okay! Because I knew he was the one I wanted to spend the rest of my life with. Of course over the years (we've been together for four years before finally tying the knot) there were some trials that we had to face and lots of things that, again, tried to tear us apart. We fought together, cried together, and just struggled to keep this relationship going because in my heart I knew he was the one I loved, despite all the problems that arised in the relationship and I knew he loved me, because he showed it to me time and time again.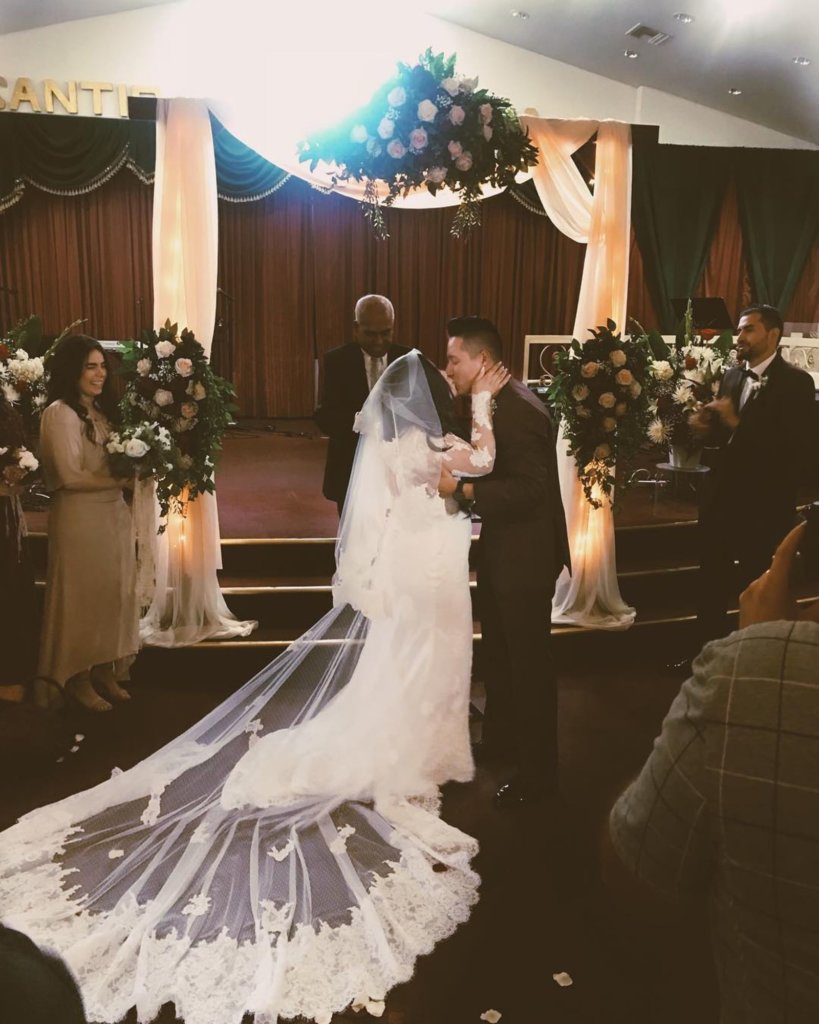 Finally on our third anniversary, he proposed (07/16/2017). But before that date, I actually found out in a very cute and funny way that he was going to propose again (but this time with his ring for me that he worked so hard for.) His mom actually thought he was going to propose that year on my birthday, so when I was at church she asked me "so how did it go?! Did he give it to you already, Do you love the ring??" and because it had been sooo long without a ring that I still had no clue what she was talking about that I just told her " Lupe, I love your son and all but, I don't think I'm getting a ring any time soon" and she just said (I guess realizing she almost ruined the surprise!) "Aww my poor son, he can't even afford the ring".
That night I did visit him (with my little sisters in the car with me) at his house before going back home and he was having a get together with some guy friends and I told him what his mom had told me and I just started laughing because I was telling him it was just so cute and funny how excited she was for something I thought wasn't going to happen any time soon and then he yelled out "WAIT! She told you?!" I had no idea what he was talking about and then he told me "I got you your ring babe, I finally got you your ring" and I instantly cried tears of joy and because I knew he was proposing I wanted to help him plan a surprise engagement mainly for our family members. Which we had like I said before on our 3rd year anniversary. It was such a beautiful and memorable moment!
Q: How would you define the message "Dare to Love"?
For me, dare to love means….don't be afraid to love. Even if at times it's little scary, and confusing. Don't be afraid to take a leap of faith in something that makes you happy. Despite the hard times it may bring (because there will be some) love is actually such a beautiful feeling that you shouldn't hold yourself back, from feeling.
Q: Did you enjoy the wedding planning process? Why or why not?
I definitely did enjoy the planning, but of course there were some scary stresses that arose. Such as, losing our caterer and having to find a new one with only a few months left to find one. And then having the trouble of finding a venue that accommodated mainly our budget. Other than those minor details, the planning was so much fun!
Q: What was your hubby's reaction when he first saw you on your big day?
My husband cried♥️ I honestly didn't think he was going to. I personally didn't get to see him cry as soon as I walked in because I was sooooo nervous and I just walked in with my head kinda down and just looking at our guests that I completely forgot to look at my husbands way. But plenty of my family members and friends saw his tears and they even got some video and pictures of it. It was definitely a heart warming feeling to hear that he did that.
Q: What did you love most about your #CocoMelody dress (es)?
What I loved most about my wedding dress is that it was absolutely everything that I ever wanted! The lace pattern it had was everything I ever dreamed of and I just didn't think I was able to afford a dress like that but cocomelody made it so possible for me to receive the dress of my dreams!
Q: What do you think about CocoMelody and the customer service?
CocoMelody's customer service was absolutely amazing! I accidentally made a mistake on clicking on the wrong color choice when I did my ordering and I NEEDED a white dress for my big day and I was FREAKING OUT! Lol I instantly contacted them via email and they immediately contacted me back and then they made the change quick and easy for me that I honestly felt really at ease knowing that everyone in customer service knows how important that day is for you and they just want to make at least the dress process easy for you!